Anyone who has cracked the code to selling their products to multiple retailers knows the importance of perfecting your distributor pitch deck. If you want your product to appear on the shelves of major retailers (or wholesalers), you'll need an effective retail distribution deck to deliver your pitch.
Winning a deal with a big-box store (ie. Walmart), or leading distributor (ie. Southern Glazers, for the wine & spirits space) is an exponential growth opportunity for early-stage consumer product goods (CPG) brands. Getting picked up by major retailers instantly increases brand exposure, sales volume and consumer trust for a brand.
That said, distribution deals do not happen overnight — just like when you pitch potential investors for funding, you'll need to prepare a pitch for retailers and distributors.
Our team of experts have honed a winning formula based on our experience creating decks that have won millions in distribution deals for nascent brands with marquee retailers like Target, Starbucks, Walmart, 7-11, GNC and more.  Although your pitch will vary depending on the audience, most retail distribution decks include the same key topics — ranging from pricing and unit economics to differentiation and consumer demographics: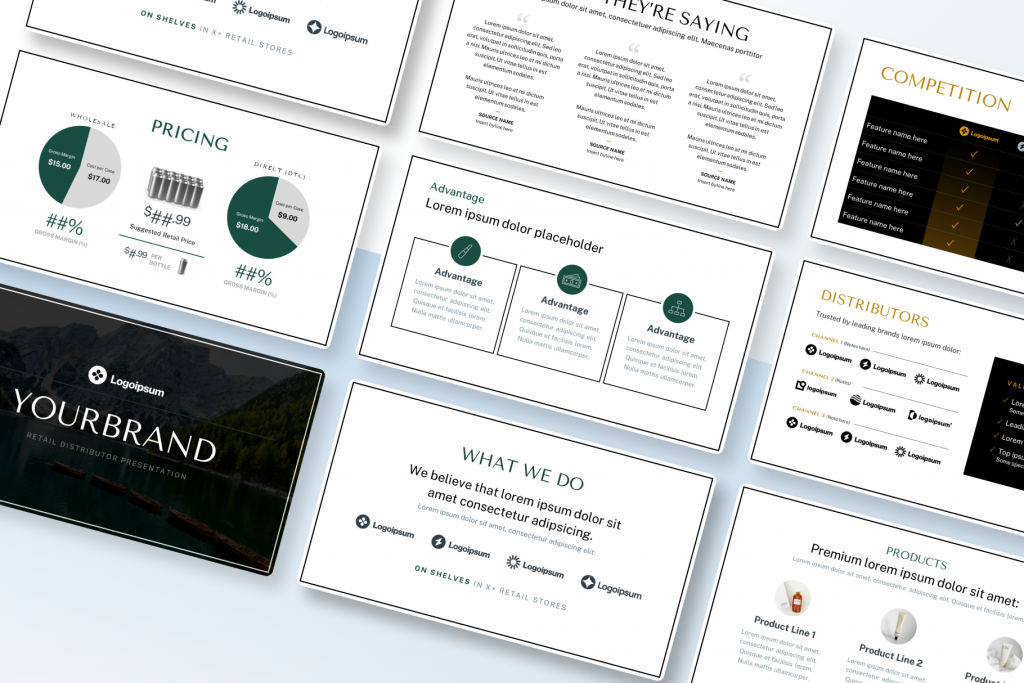 A retail distributor deck is expected to include the following key slides:
What slides should you include in your retail distribution pitch deck?
Creating a compelling retail distribution deck is the key to getting your products on the shelves of big-box retailers. Our team of experts have refined the formula for creating winning distribution decks that have enabled our clients to secure significant deals with major retailers like Walmart and Target. Here's what to include in your retailer or distributor pitch decks:
1. Highlights/ Executive Summary
The first slide of most distributor pitch decks will offer a comprehensive look at the business, with details such as mission, vision, and performance highlights. This slide should be concise and direct, focusing on the unique aspects of the business that make it stand out from competitors, as well as its potential for growth and success. It should also touch upon the company's core values and how they are reflected in its strategies and operations, as well as its commitment to delivering quality products. The purpose of the executive summary slide is to allow your audience to quickly gain an understanding of the company, with a high-level overview of the company's goals, unique value proposition and recent success.
2. Market Analysis Slide
The market analysis component of your presentation offers a window into the market in which your business operates, with key insights into current trends, competitors, and target customers. This slide should paint a comprehensive picture of both the market landscape and target customer, helping to identify strategic growth opportunities. Distributors & retailers will want to see that their typical customer falls within your target audience. Your analysis should include specifics regarding customer demographics, buying preferences, and common pain points. Some decks will also include a brief overview of the customer journey and how the business's products and services can add value to their experience. By analyzing the competition and what customers are looking for, businesses can gain a better understanding of how to position themselves in the market.
3. Products Slide
The product slide is the focal point of every distributor deck and is often broken up into multiple pages. This slide should dive into your product lines and focus on the features and benefits that set your products apart from others in the category. The goal of the product slide should be to emphasize what makes each product line unique and demonstrate its value to consumers. Use vivid photos (featuring real customers, if possible) and packaging mockups to provide visual representations of the products and create an engaging presentation. Short demo videos can help to illustrate product features that cannot be conveyed through text or images alone. You may also include high-level details such as SKU count and pricing ranges. If you're selling to big-box retailers, you'll probably want to include a schematic, planogram, or photo showing how your products appear on shelves. If your products are food-related, distributors will expect you to include a description of the ingredients and nutrition information at some point.
4. Competitive Advantage Slide
Distributors want to understand how your products are different from competitors (whose products they may already carry), and why customers prefer your products to others. Ideally, you'll focus on what makes your product unique, with a clear explanation of how you address customer needs more effectively than competing products. Features tables and petal diagrams are two effective visualizations to summarize key differentiators. To truly differentiate yourself from the competition, you'll need to provide evidence to back up your claims — citing testimonials and survey data is one proven way to do so. The purpose of this slide is to communicate what makes a customer choose your products over another company.
5. Traction Slide
Big-box retailers will want to see that your company has achieved significant growth and recognition before putting your products in front of their customers. The traction slide should showcase both quantitative (ie. sales volume) and qualitative (ie. press & awards) proof of your success, in order to establish credibility and trustworthiness. This can include logos of any notable partnerships and/or media features, as well as metrics ranging from revenue to social media growth. The objective should be to convince your audience that your product has been well-received and is poised to expand.
6. Unit Costs & Pricing Slide
At the end of the day, the unit cost and profit margins are arguably what matters most to retailers and distributors. Distributors will want to know that they can make a healthy profit by carrying your products, so it's important to have this information readily available on your pitch deck. Include a breakdown of costs & margins, with recommended retail price (MSRP) and the cost to distributors, retailers, or wholesalers for each product line. Often, your distributor deck will be accompanied by a one-page sell sheet that summarizes product lines & pricing information.
7. Channel Strategy Slide
How do you currently promote your business? The channel strategy slide should describe what marketing tactics and go-to-market channels you use to advertise your products. Distributors will expect that you have a robust omni-channel marketing strategy in place to drive brand awareness and growth in new markets. You need to describe how your marketing efforts function to drive customers to your distributors' doors. This slide often includes customer acquisition metrics such as average order value (AOV), lifetime value (LTV), and repeat purchase rates.
8. Team Slide
No presentation is complete without a section dedicated to the team. Distributors and retailers will want to get to know the team behind the products they carry, and the origin story of how the company came to be. The team slide should include a brief overview of the executive team's experience, listing a short bio and the role for each person. Some retailers have commitments to supporting minority and female-founded businesses (ie. Target has pledged to invest $2 billion with Black-owned businesses by the end of 2025), so be sure to highlight that if applicable. 
9. Financials Slide
Historical financial performance is an optional slide that most distributor decks will include. At the least, retailers will expect to see an annual sales summary, so they can understand the history and growth of your brand and product lines. Unlike investor pitch decks, projections are not necessary on this slide — strictly past performance is sufficient. This slide is often a good place to highlight other key performance indicators (KPIs) that showcase your growth and success.

10. Call-to-action Slide
Every pitch deck should conclude with a clear call-to-action (CTA) slide that defines the next steps for interested parties. Generally, this slide will include the contact information (both phone & email) for the regional director or head of sales. Keep this slide simple and clear: it should be easy for anyone to understand who they should reach out if they are interested in partnerign with you — avoid including multiple CTAs to keep your prospects focused.
What key topics should a distributor pitch deck address?
Below are the questions every retail distribution deck should answer:
What is your product and how is it better than others in the category?
Who is your target customer and what are their needs and preferences?
How will your product be of benefit to the distributor or retailer's business and its customers?
How do you support distributors in the promotion and sales of your product?
What is your pricing and how does it compare to competing products on the market?
What are your channels and strategies for marketing and promoting your product?
What is your company's track record and experience?
What is your historical and projected performance for sales and revenue?
Pitching retailers & distributors? Check this out:
You might be interested in the expert-designed Retail Distribution Pitch Deck Template created by our team at VIP.graphics: cutting-edge slides based on experience closing millions in deals with marquee brands like Walmart & Target. Compatible with PowerPoint, Google Slides, or Keynote, this template offers you ready-made elements & all the essential slides to convince leading retailers to carry your products: it takes a matter of minutes to create a convincing & professional distributor deck.