Airbnb Pitch Deck Template
Design a powerful presentation with slides from the original Airbnb pitch deck.
Download Now
Download Now
The Airbnb deck is a timeless classic in the world of startups (and no surprise, considering the founders are designers); we couldn't resist taking a fresh pass at redesigning the slides with our most popular templates!
🎁 SALE: First 50 downloads are PWYW ($2+), then $9 regular price!
Follow along with the pitch teardown here, or download the abridged template below for your own use: available for a limited time at JUST $2 — only for the first 50 downloads (a steal compared to the usual $20+ price tag for our professionally-crafted templates).
Perhaps the most popularly referenced and emulated decks of all time, the Airbnb deck has set the standard for thousands of startups since! Today, Airbnb is one of the most valuable private startups in the US, and a trusted community marketplace for people to list, discover, and book unique accommodations around the world.
Airbnb's pitch deck exemplified how to present a market opportunity & the demand for the solution in a simple and visual manner. Below are all the exact slides from this article, reimagined using VIP Graphics' pitch deck templates.
This completely editable and flexible template is quick and easy-to-customize for your own purposes: just add your content, drag-n-drop photos, and change color/fonts with a few clicks as desired. Our slides & templates were designed to help startups create high-quality and impactful pitch decks that accelerate the fundraising or sales process.
Read the accompanying article —  "Airbnb Original Pitch Deck: redesign & breakdown" on VIP.graphics →
Download Now
Download Now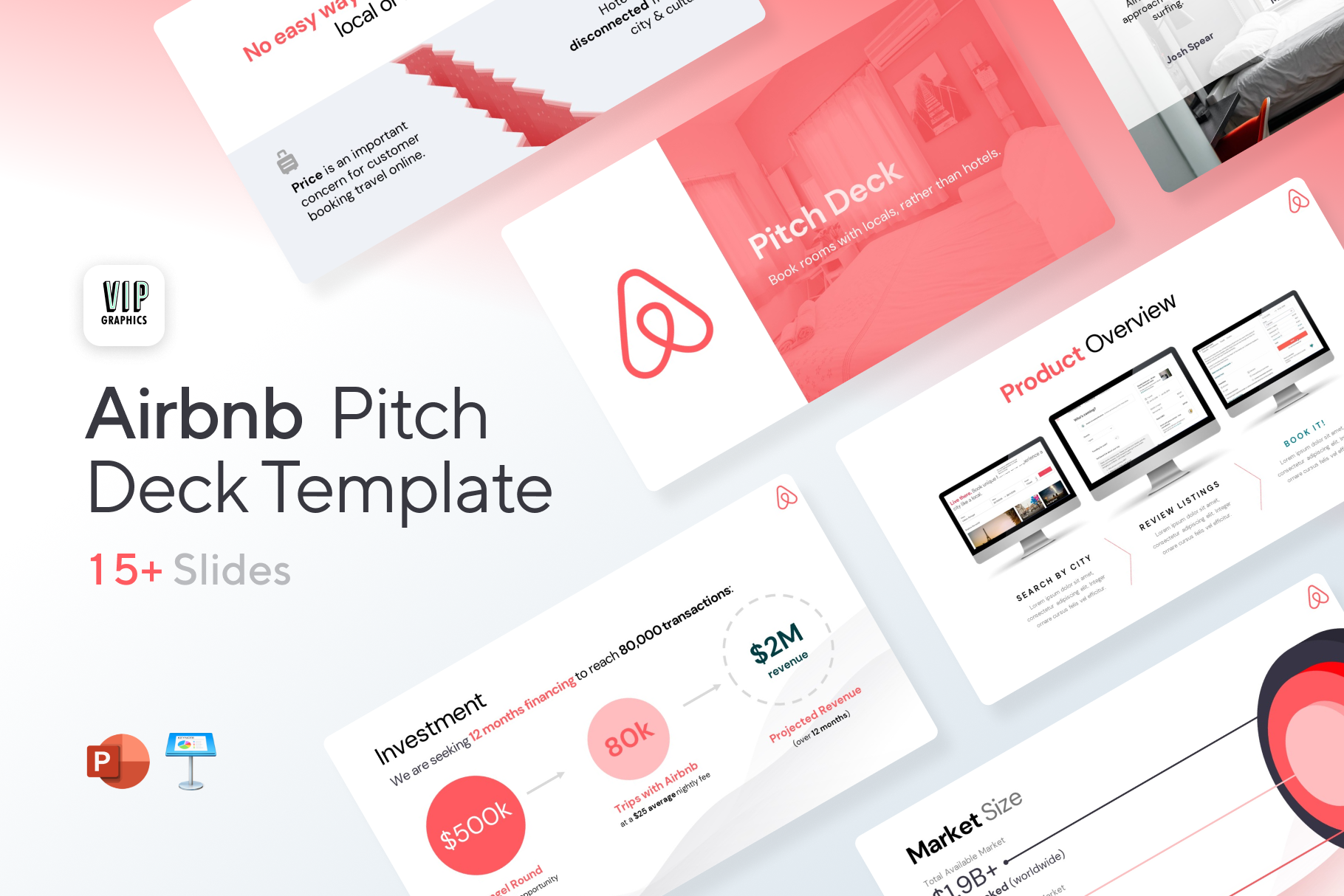 Features
15+ Fully Unique, Creative Slides
200+ Modern Graphic Elements
Compatible with PowerPoint &Keynote
Hi-Resolution / 16:9 Aspect Ratio
1-Click Font & Color Updates
Ready-to-Use Slides
Pixel-Perfect Design
Well-Organized and Easy-to-Use
Free Google Fonts used: DM Sans
Download Now
Download Now