A pitch deck is a brief presentation that gives investors an overview of a business plan, product, services, and growth traction. Because pitch decks are usually the first line of communication between the investors and the startup, they have to be captivating to pique the imagination of the audience. 
If you look past behind the jaw-dropping scale of some of the biggest companies today, you will see a humble beginning and a compelling pitch deck to woo the investors. Getting investors to fund your project can be a difficult and time-consuming process. It is therefore absolutely critical that a startup's investor pitch deck is flawless and articulates a compelling and interesting story.
If you have a business presentation coming, you are going to need a beautiful pitch deck. We have done the heavy lifting for you and compiled a list of the 15 best pitch decks for business plan presentations. 
Best Pitch Decks Templates
Before we begin with our top 15 list, we want to mention two of the most amazing pitch decks that can help entrepreneurs with any pitch situation. These decks have won millions of dollars in funding, with winning slides used by Fortune 100 companies as well as award-winning (ie. YC, 30u30) startups:
As the name implies, this pitch deck collects all the best pieces from numerous decks and presents them in a package with creative infographics, editable charts, and vector maps. Flexible presentation design included with this asset to effortlessly make your next presentation professional and stunning. This completely editable and flexible template is quick and easy to use: just add your content, drag-n-drop photos, and change color/fonts with a few clicks as desired.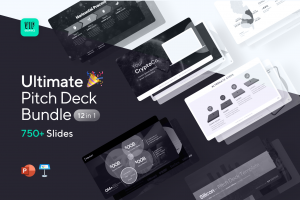 Silicon Pitch Deck template is perfect for entrepreneurs presenting their startup companies, products, or services to investors, partners, or customers.
Create an overview of your business or opportunity that's compelling and visually appealing using this all-in-one presentation template. Inform investors and prospects about your business plan using infographics, diagrams, and charts. Based on over 100 winning presentations that closed over $100 million in business, this PowerPoint presentation template was crafted by expert consultants.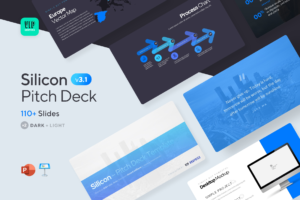 Top 15 Pitch Deck Templates
1- Real Estate Pitch Deck Template
You need an institutional-quality, comprehensive pitch book to communicate your point effectively to real estate investors. 
The Real Estate Pitch Deck was designed especially for real estate; make your presentation more engaging and clear to impress your audience. This customizable and clean presentation template is perfect for any kind of real estate business: from local/independent real estate agents and instant home-buying startups to multi-million dollar real estate investment funds
Adding your business ideas, inserting your data, and showcasing your innovative solution is easy. With the Real Estate Pitch Deck template, you can craft the exact slides you need to win the room and gain investment.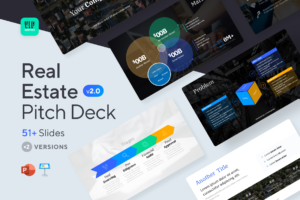 With the Music Pitch Deck template for PowerPoint & Keynote, you can present the next big deal in Music and Technology. Create a business pitch presentation that stands out with this set of creative slides. This pitch deck template provides a lot of professional presentations, graphs, charts, and tables.
With its inspiring design and sophisticated features, this template is sure to impress. The deck is completely editable and flexible: there's nothing to learn, just drop the photos, change the colors and fonts as desired. Create pitches for mobile apps, podcasts, music technology, and more.
Craft a professional presentation in minutes by customizing this template with your content & styles.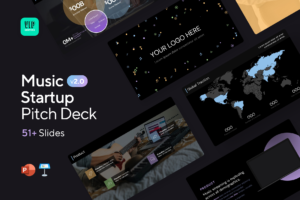 3- Food & Beverage Pitch Deck Template
"If you can't tell the story of the company in five minutes then you're either overthinking it or you haven't simplified it down enough." – Mike Vernal, Sequoia Capital
Based on the above principle, Food & Beverage Pitch Deck template for PowerPoint and Keynote has been handcrafted by industry experts to help food & beverage companies increase their chances of securing funding, partnerships, deals, and acquisition. Whether you are talking to investors, retailers, distributors, partners, or anyone else, present your idea with confidence!
The Food & Beverage Pitch Deck template is easy to use in PowerPoint or Keynote and offers you ready-made elements to help you stand out: you can create and share this professional presentation in minutes with your stakeholders & investors.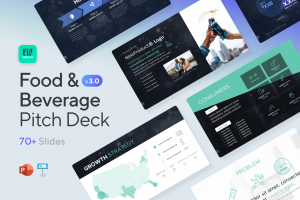 4- Health & Medical Pitch Presentation
The healthcare industry offers several multi-billion dollar opportunities, but also presents unique regulatory and distribution challenges. For the investors to consider your business idea, you need to explain the core information in your business plan in a straightforward way. The Health and Medical Pitch Presentation Template will help you accomplish that goal. 
There's no better way to tell your story than with these best-selling PowerPoint & Keynote templates built to show wellness startups, telemedicine companies, and pharmaceutical services their solutions in a clear, concise way. This deck is designed to help you capture the attention of your audience, whether you are presenting to an investor or a potential partner.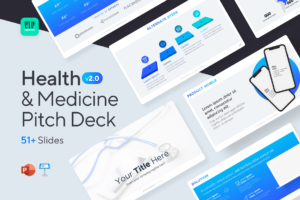 If you are building a new startup in the crypto or blockchain industry, choose the Cryptocurrency & Blockchain Presentation Template: designed for presenting a new cryptocurrency, blockchain platform, ICO, or any other crypto application for deals & investments.
This deck comes with 50+ Modern And Creative Slides and 200+ Unique Graphic Elements. Simply add your content, drag-and-drop photos, and change colors or fonts with a few clicks to make it your own.  You will have your audience on the edge of their seats with this ultra-slick and sleek Crypto Pitch Deck presentation template.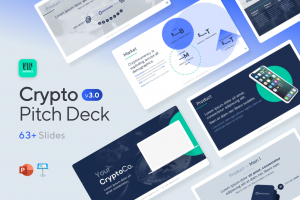 6- Fintech Pitch Deck Template
Founders in the Fintech industry can use this ready-made template for creating a financial or technology presentation in PowerPoint or Keynote: perfect for startups working in payments, crypto, application development, and much more. With these slide designs, you will find bold colors and modern gradients.
This pitch deck offers a completely editable and flexible layout: just add your content, drag and drop photos, and change color and font with a few clicks. This presentation provides a quick overview of what your business or company does, your company's value proposition, and your business model.
Demonstrate your unique solution to the problem. Make your business model attractive to investors by presenting key figures that support market validation.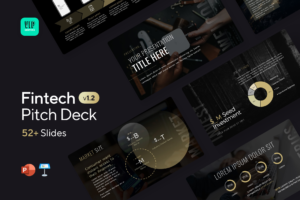 7- Series A Pitch Deck Template
Smart, actionable slides for startups and founders. The slides included in this template have been used by companies that raised more than $84M in deals & sales. Simply edit the template and toast your success!
The layout is completely editable and flexible: you can drop pictures, add your content, and change the colors and fonts with a few clicks. To assist startups in raising funding or accelerating sales, these slides & templates were developed. From Silicon Valley startups to Fortune 100 companies, our templates include elements that are consistently successful.
Startups, entrepreneurs, and founders can use the Perfect Pitch Template to create a great pitch presentation. There is everything you need to pitch investors in it, including all of the elements.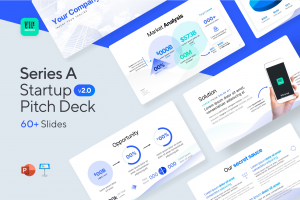 8- Agency Proposal Presentation Template
Every slide in this template addresses the key topics that any agency or freelancer's proposal should address if it's going to succeed. There are 50+ agency and proposal-specific pages included.
The template has fully editable graphics and easy-to-use layouts: just add text and images, drag-and-drop photos, and change colors/fonts with just a few clicks. To help agencies present their ideas effectively and accelerate sales, these slides and templates were designed to include all the resources you'll need for your next proposal: based on the most successful agency presentations across industries, with over 50 slides and 500+ elements.
This is a 100% customizable and editable PowerPoint and Keynote presentation template designed by our team of experts to help your agency share your proposal and services with prospective clients and partners.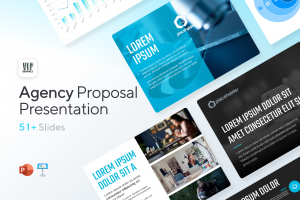 9- Hotel & Resort / Travel Pitch Deck Template
The Hotel & Resort / Travel Pitch Deck Template is a perfect choice while presenting new resort or hotel developments, hospitality services, or short-term rental platforms like Airbnb. Contextual icons, placeholder text, and relevant photos all included in the format of the slides, making it easier for viewers to grasp the concept behind them.
Use the Hotel Pitch PowerPoint and Keynote Template to save valuable time and money. This presentation has everything you need to attract investment, a partnership, or financial backing for your hotel, resort, or travel business. Specifically created for the travel and hospitality industry, these slides cover everything from amenities to accommodations and construction plans.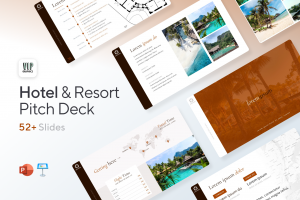 By using this PowerPoint and Keynote template, you can easily create an awesome, professional-quality pitch deck for any cannabis business idea or hemp or CBD product, service, platform – or for any other industry that requires a customizable presentation. Just open it in PowerPoint or Keynote and start editing.
Create your business-specific pitch deck for PowerPoint using this fully customizable template. With its flexible design, creative infographics, editable charts, and vector maps, this template makes your next presentation professional and stunning.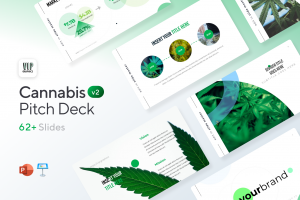 11- Restaurant & Spirits Pitch Deck Template
The Restaurant & Spirits Pitch Deck Template is designed to highlight your food service or beverage brand's vision, mission, products, and offerings. Ideal for companies ranging from breweries and new alcohol/spirits brands (ie. spritzers) to dining & food delivery companies, this template was built for the food industry. You can use this template to prepare to ace your next pitch presentation, with all the necessary elements to make it look professional and unique.
This pitch deck contains 52+ Modern And Creative Slides and 500+ Unique Graphic Elements. Each of the 50+ pages of this template is restaurant & beverage-specific and every slide of this template focuses on the key topics that every new restaurant or spirits business should address in order to succeed.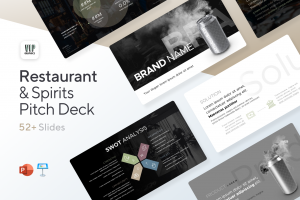 A good film pitch deck will help you sell your big idea to sponsors, crew, and even your future executive producer. Whether you are pitching a short film, indie movie or series, our Film Pitch Deck template will help you communicate your ideas and help people envision your project.
This film and TV pitch template includes everything a new project needs: It has over 50 slides and more than 500 elements, containing everything a successful pitch deck should contain.
This template makes generating a planogram / POG / retail schematic faster and easier than ever: simply drag images of products onto the empty shelves to create a professional & clean grocery store or supermarket diagram. The slide templates are compatible with Powerpoint and Keynote, allowing easy creation of planogram presentations.
This template comes with 12+ Modern & Creative Slides, 3 Color Schemes (changeable with just one click), 4 Unique Retail Store Shelf Layouts, and more.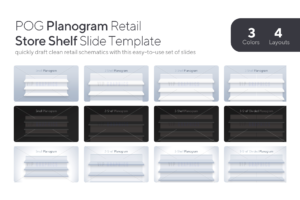 14- PE / Hedge Fund Pitch Deck Template
An investor pitch deck is a must-have for any founder of fund manager seeking capital. The PE / Hedge Fund Pitch Deck Template pitch deck provides a quick overview of your firm, your strengths, your investment values, and your fundraising plan. 
We crafted PE / Hedge Fund Pitch Deck Template especially for later-stage businesses entering more sophisticated discussions such as mergers & acquisitions (M&A), late-stage investment (Series C+), or other partnerships & financing opportunities. Our team of experts created this presentation to empower founders to present with confidence to investment banks, private equity (PE) groups, and/or hedge funds (and vice versa).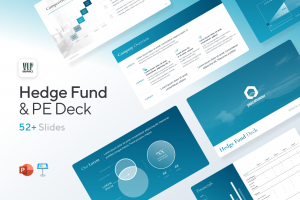 15- Airbnb Pitch Deck Template
Perhaps the most popular reference of all-time for new entrepreneurs is Airbnb's original pitch deck from 2009. The pitch deck was one of the first unicorn company's pitch decks to be released publicly, and it garnered lots of coverage. 
Most importantly, the pitch deck is still a great example to follow. This short piece hits all the right notes, hits every high note, and most importantly, provides a clear picture of why the company is important. We couldn't resist taking a fresh pass at redesigning the slides with our most popular templates!
You can edit and customize this template quickly and easily: just add your content, drag and drop photos, and change colors/fonts with a few clicks as required. Using our slides and templates, startups can quickly and easily create high-quality pitch decks to accelerate the sales or fundraising process.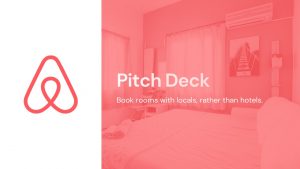 Five tips for pitch deck design
1. Keep it simple: 
In your pitch deck, don't try to cover everything. In-person presentations allow you to emphasize important information and add new information. It is better to provide financial details in a follow-up instead of providing excessive amounts.
2. Don't use low-quality or superfluous graphics
Your pitch deck shouldn't have a poor layout, bad graphics, or a low-quality "look and feel." Think about hiring a graphic designer to make it more professional (or consider our expert-designed templates!)
3. Tell a story
Story elements that make up a good pitch deck should be the same as those found in a good book: action, excitement, problems, and solutions. By the end of your pitch, investors should care about your venture.
4. Keep your pitch deck short
Don't make the pitch deck more than 10-15 slides long (investors have limited attention spans). If you feel you need to add more information, include it as an appendix.
5. Highlight market opportunity
Try to convince the investors that the market opportunity is large and that now is the critical time to invest in it. Create urgency and FOMO to accelerate your fundraising process.
What slides should a pitch deck include?
Though it usually varies from business to business, the most common slides in pitch decks are as below:
Problem

 Solution

Market

Product

Traction

Team

Competition

Financials

Investment Ask 
What topics should my pitch deck address?
More broadly speaking, a robust pitch deck should present the following key questions that investors will be interested in:
Who is interested in your product or service?
What makes your product or service unique?
What is your pricing and profit model?
What traction or experience have you achieved?
How do you acquire customers for your business?
What investment (or deal) are you looking for? Why?
What are your goals & key milestones? What are you going to achieve?
Building a pitch deck?
Our team has designed investor presentations and pitch decks that have closed $100M+ for leading companies (ie. F500, YC, 30u30) — if you're creating your pitch deck, you'll probably want to check out our collection of stunning Pitch Decks created by the experts at VIP.graphics →