A pitch deck serves as your company's first impression to potential investors, and so it should be considered one of the most important startup documents that you'll need to create. A well-crafted pitch deck is an essential part of fundraising, as it will help you inspire potential investors to support your business. Moreover, a good pitch deck can position you positively when speaking with them. Here are 7 templates you can refer to as a good starting point in crafting your own pitch deck.
A strong deck will help you make a great impression and attract more investors. It might also be the difference that leads you to millions of dollars in investment, or keeps your investors away from your startup. Pitching your business will be easier if you have the right tools. That's why we've created this ultimate list of templates for your pitch deck. Each template is ready to use with a practical, versatile set of layouts.
In this article, we've put together 7 brilliant pitch deck templates, inspired by real-life startups and successful companies, to help you attract investors and support for your own business.
Looking for pitch decks that helped raise millions of dollars? Take a look at these templates.
These top PowerPoint pitch decks were crafted by the experts at VIP.graphics, designers who have worked on pitches that have closed over eight figures (~$100M+) in deals & investments.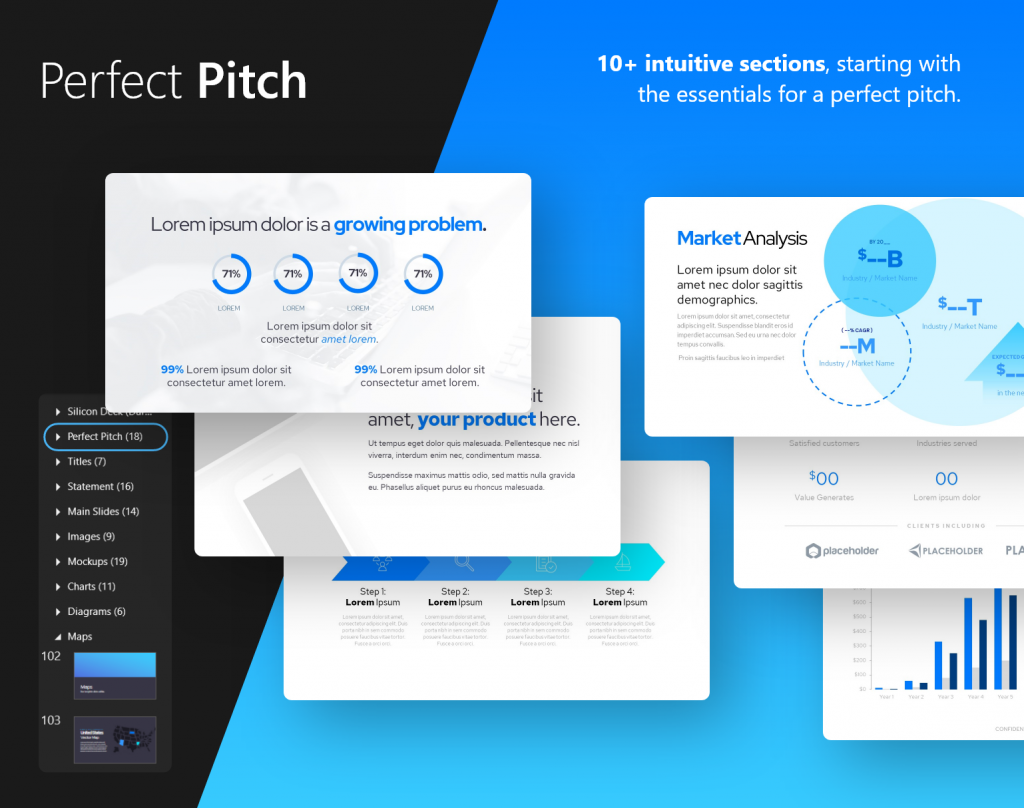 Silicon Pitch Deck is the most popular choice among VIP.graphics pitch deck templates. This template has been adapted from slides that raised millions of dollars, with clean, sophisticated, and purpose-driven graphics.
It is perhaps most extensive VIP.graphics template (except the all-in-one Ultimate Pitch Deck Bundle) with 110+ versatile & easy-to-edit slides, available in both dark & light scheme. The Silicon pitch deck template includes more than 60 infographic elements such as charts, graphs, maps, lists, etc, with image placeholders so you can quickly add your own images — enjoy limitless possibilities with all 7+ color themes and 4+ font themes included: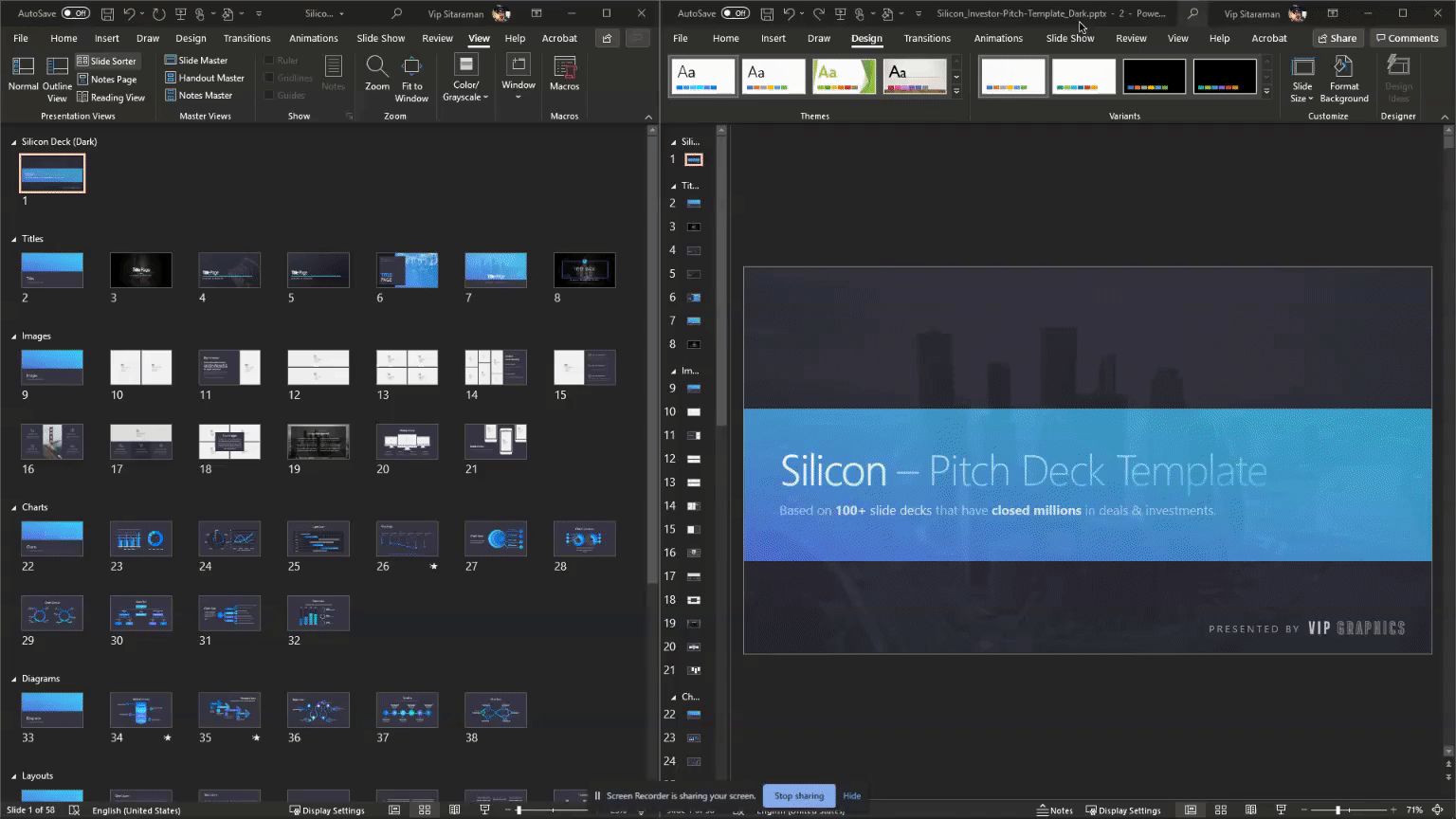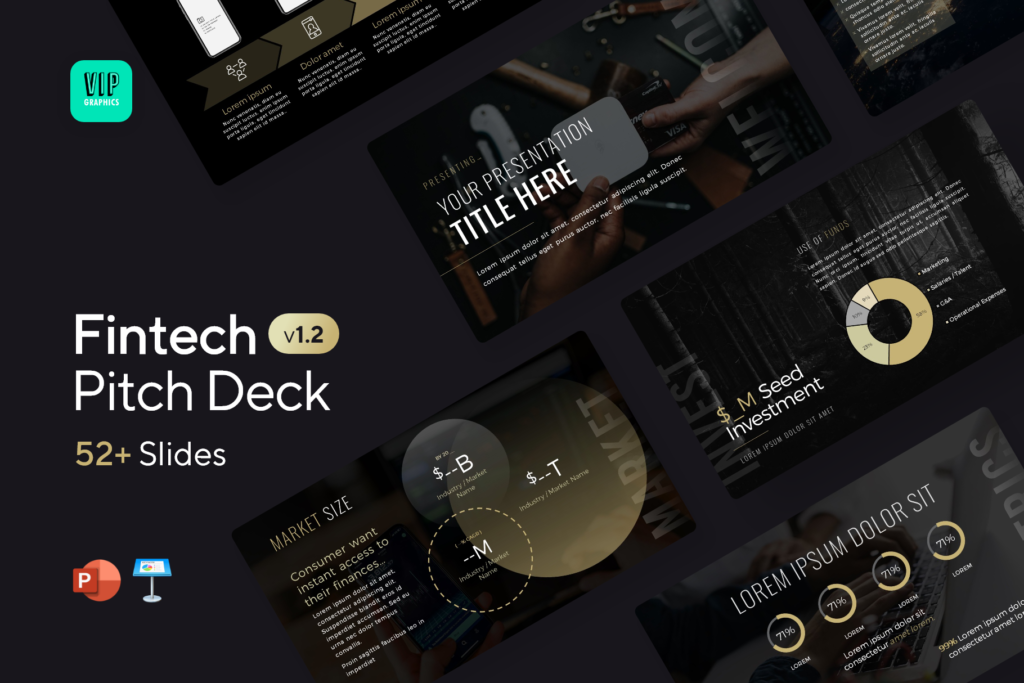 We are very excited to introduce the new Fintech Startup Pitch Deck. This template's cutting-edge look will help you to build an amazing pitch for your new product or service. It has over 52+ unique slides, giving your presentation a polished, professional look with every use.
This PowerPoint pitch deck is designed to stand out in the crowd. It provides a solid overview of your company and its unique value proposition, which will help you create a strong case for investment. This professional business pitch template includes everything you need to deliver an unforgettable presentation.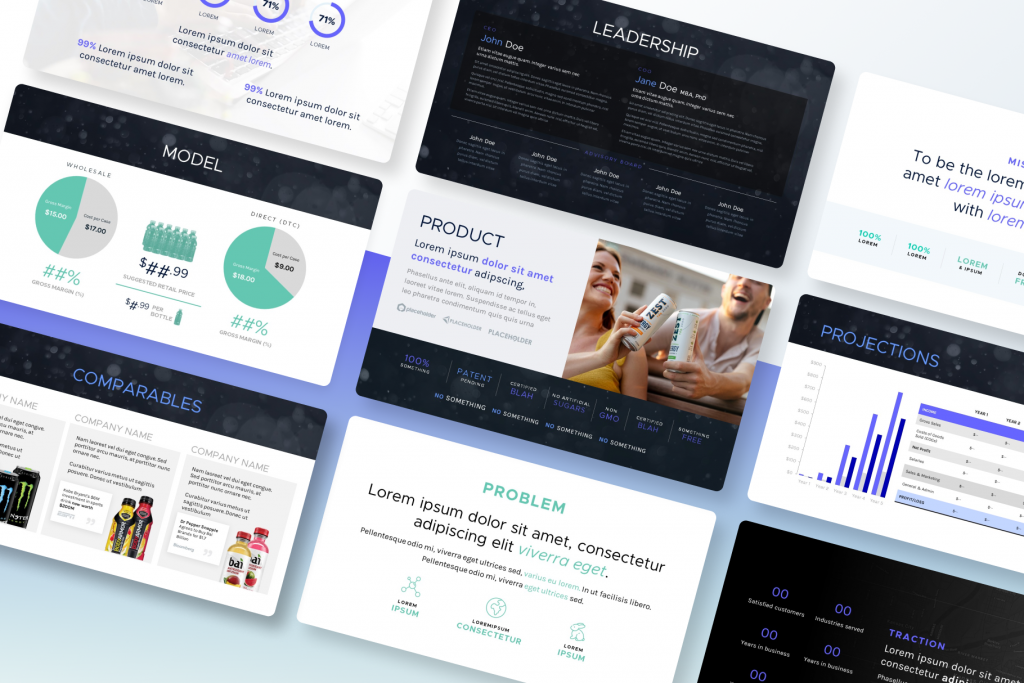 This pitch deck template for PowerPoint and Keynote has been handcrafted by industry experts to help food & beverage companies increase their chances of securing funding, partnerships, deals, and acquisition. Present with confidence to investors, retailers, distributors, partners, and more!
This PowerPoint pitch deck template is practical and polished. With a focus on marketing and finance, it's a great tool for any pitch: both investment & sales purposes.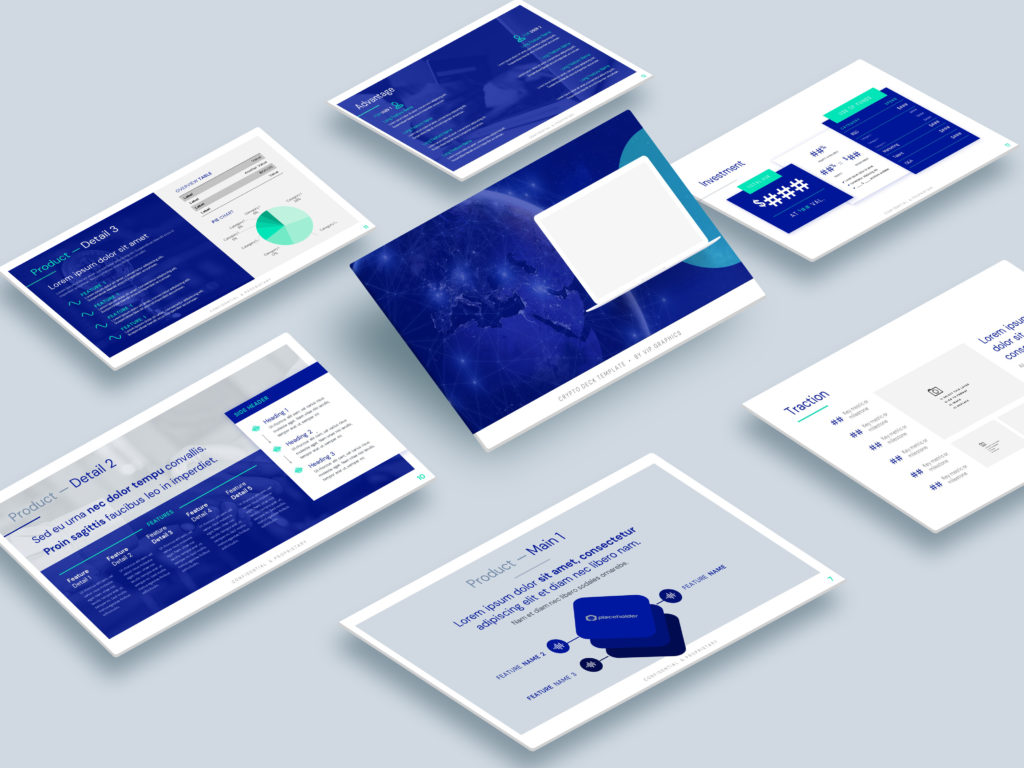 This is a 100% customizable and editable PowerPoint and Keynote presentation template designed to help you pitch an idea for a crypto business/startup, a blockchain or DLT product, service or platforms (i.e. exchanges, wallets)! Save valuable time and money by choosing the Cryptocurrency & Blockchain Keynote Presentation Template: designed to present a new cryptocurrency, blockchain platform, ICO or any other crypto application for deals & investment.
This template features over 50+ unique slides found in successful pitch decks. Conveniently ready to use, this professional pitch deck template is a great choice for any serious businessperson who wants a well-crafted pitch deck to easily customize. This presentation will let you create a well-rounded pitch that will impress investors and prospects.

Our professional presentation deck templates come with a variety of layouts & color/font schemes, including persuasive slide designs, graphs, charts, and diagrams. These premium slide designs are just what you need to promote your new product or business move with confidence.
This customizable and clean presentation template is perfect for any kind of real estate business: from local / independent real estate agents and instant home-buying startups to multi-million dollar real estate investment fund — or even businesses in other industries!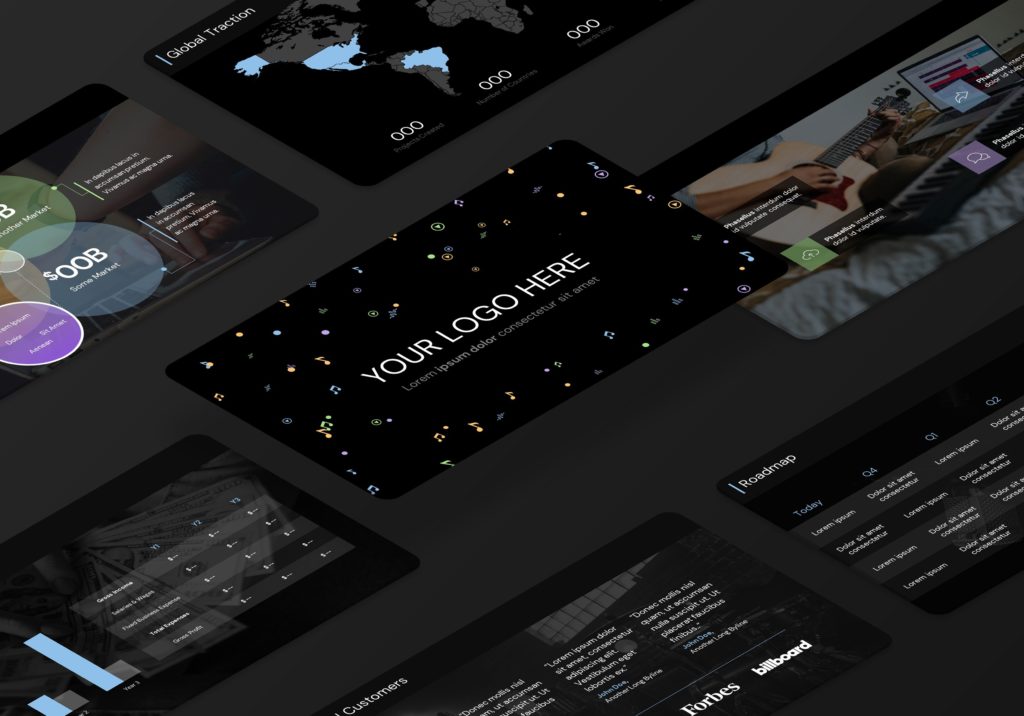 The Music Pitch Deck template by VIP.graphics makes creating a killer pitch deck quick and easy. With over 50+ visually clean slides featuring 500+ unique graphic elements, you'll feel like a pro the moment you open it. What really makes this template stand out is the purpose-driven quality and easy-of-editing of the diagrams, tables, charts,  & graphics.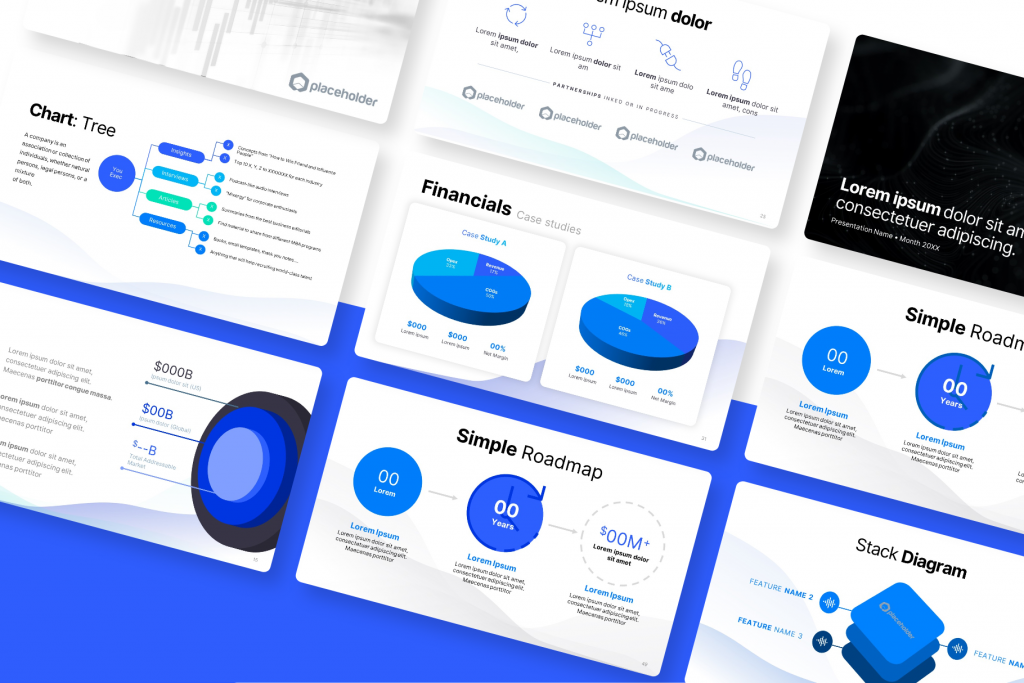 Startup Pitch Deck is the premier VIP.graphics template: created by a professional designer who has assisted countless startups (including YCombinator & Forbes 30u30 alums) meet their goals, the Startup Pitch Deck template by VIP.graphics offers you the highest quality design. Implement clean, consistent branding so your startup makes a serious, reliable and professional first impression.
For an in-depth, numbers-focused presentation, look no further than this pitch deck template. It features dozens of charts, graphs, and diagrams to provide a comprehensive overview of your performance and goals. These slides are both highly visual and highly structured, providing context about your organization in a way that's easy to read.