The food and beverage industry is a rapidly changing environment. Traditional large players are being challenged by entrepreneurs who can disrupt the industry with a hard-to-imitate "original" product.
In the world of startups pitching to the investor is a key skill. A pitch deck is an essential part of a pitch, and it is what makes or break the deal. The following tips are based on our team's experiences through the course of designing decks that closed over eight figures in investment for several innovative companies throughout the food & beverage market: from liquor & spirits to protein bars & hydration drinks. Decks created by our team have also closed multi-million-dollar distribution deals with the likes of titans (ie. Starbucks, Southern Glazers) of the F&B industry.
We all know that closing a large-scale deal in the food and beverage industry is no easy task. However, if you know how and what to say, you're far more likely to close the next big deal or investment for your food or beverage startup.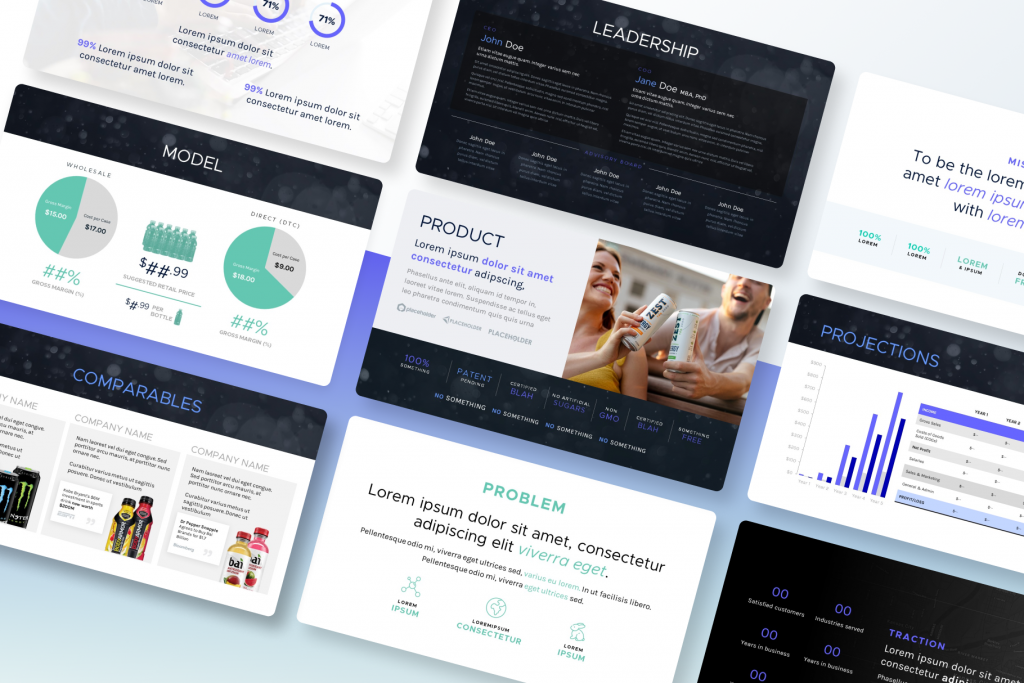 What slides should you include your food & beverage pitch deck?
Cover Slide

Make a bold first impression! Of course, be sure to prominently feature your company's name, logo, and a memorable tagline on the cover slide. Especially in the food industry, startups often present their product(s) with eye-catching imagery and mockups from the very first page.

Problem Slide

Every business is built upon solving a critical problem for a growing & motivated audience. That said, many food startups don't necessarily solve a particular problem, and may instead bring a new innovation or address a new market. In either case, speak to the specific opportunity or market need that your product addresses.

Solution Slide

What are your product(s) and/or offering(s)? Whether your business directly sells consumer goods (CPG) or falls within the service component of food & manufacturing, you will want to explain what you do in simple, clear terms: it's almost always best to lead with a memorable one-sentence pitch. Avoid getting lost in technicalities and features and focus on value proposition — that's what matters most!

Advantage Slide

At the end of the day, whether you're pitching an investor, retailer or distributor, everyone's asking the same question: "Why choose you?" Providing a clear & defensible picture of your advantage (over your competition, and in the eyes of your consumer) is the key difference that can swing the decision for many prospects. Some teams may find this a good place to name competitors and list key pros & cons (i.e. in a landscape diagram or features table). On the other hand, earlier-stage startups may benefit from using comparable companies instead, to illustrate analogous success stories.

Opportunity Slide

If there's one thing that matters more to investors than your business' key differentiators and value proposition, it's the size of the market opportunity your product(s) serve. If you're building the next unicorn, one would expect you're targeting a multi-billion-dollar opportunity. Be sure to not only illustrate the size & growth of your market (i.e. industry size & CAGR), but also callout specific trends that lend to your success.

Go-to-Market Slide

Providing a detailed overview of your channel strategy doesn't have to be complicated: highlight all the different methods your business uses to reach customers. This is a great place to provide customer acquisition metrics (ie. CAC, LTV) or charts where appropriate. This slide is essential to portraying a robust marketing strategy to drive the growth of your business.

Team Slide

Not every slide has to be complicated; most team slides are composed of the same key elements: names, titles, bios — and perhaps partner or advisor logos or headshot images. Don't overthink it & showcase your dream team's strengths!

Experience Slide

This is your chance to showcase all you've accomplished. This is the perfect slide to emphasize visuals: from key performance metrics & growth charts to logos of notable customers, partners, &/or press. Even early-stage companies can draw from the past / related experiences of the founding team: the goal of the slide is to demonstrate why you are the right people to execute on this opportunity.

Call-to-Action Slide

Never conclude a presentation or pitch without a clear ask for your audience! Whether you're pitch for investment, sales, or partnership, your final slide should provide contact details and next steps where appropriate. If you're comfortable, you may want to share the specifics of your deal/ask and any terms (ie. pricing, discount, interest) that you'd like to disclose. Make it easy for interested prospects to seal the deal!
What key topics should a food & beverage pitch deck address?
Entrepreneurs in the food & beverage space are most curious as to which "must-have" questions should be answered in their pitch deck. We came up with the shortlist below based on an analysis of 20+ food / beverage decks we created — several of which closed multi-million-dollar distribution deals & investments with the likes of titans (ie. Starbucks, Southern Glazers) of the F&B and CPG industry.
Below are the questions every food or drink pitch deck should answer:
Who is interested in your food or drink product?
What makes your food product unique?
What is your pricing and profit model?
What traction have you achieved?
How do you acquire customers for your business?
What investment (or deal) are you looking for? Why?
What are your goals & key milestones? What are you going to achieve?
Designing a food & beverage pitch deck? Check this out:
You might be interested in the popular Food & Beverage Pitch Deck Template designed by our team at VIP.graphics: cutting-edge slides based on decks that closed millions in deals & investments with the likes of food & beverage titans such as Starbucks & Southern Glazers. Super simple to customize in PowerPoint or Keynote, this template offers you ready-made elements & all the essential slides to help your business stand out: it's a matter of minutes to create and share this convincing & professional deck with your stakeholders & investors — learn more here.