Starting a business in the Cannabis industry is financially tricky because the banks that usually provide loans to new small business owners are subject to federal laws. Most entrepreneurs in the cannabis, hemp, &/or CBD space must turn to private investors for funding.
Cannabis is also an expensive sector to venture into: if you want to start a cannabis dispensary, as an estimate, you'd need around $150k to $2 million. However, the cannabis industry is growing rapidly and the ROI is high. According to a study, the U.S. marijuana market overall is expected to post a CAGR of ~18%-23% during the 6 years from 2018-2025, growing from $12 billion to ~$35-$41 billion.
If you need to secure funding for your next cannabis startup, you need to craft a pitch deck that will convince investors to invest in your idea. In this piece, we will guide you step by step on how to create a Cannabis Pitch Deck that would turn potential investors into business partners.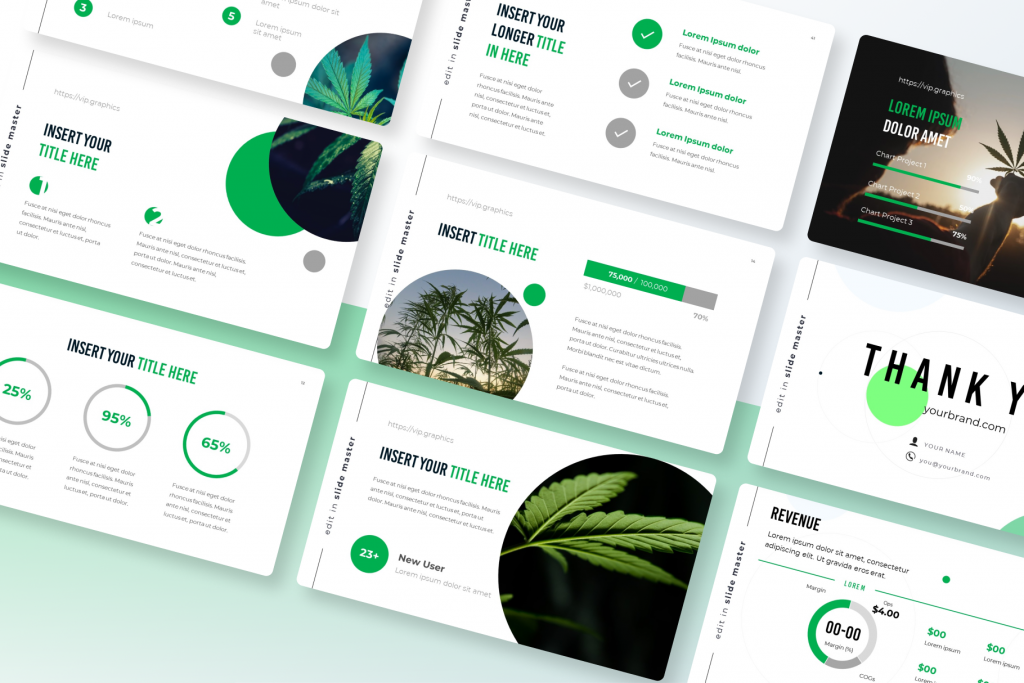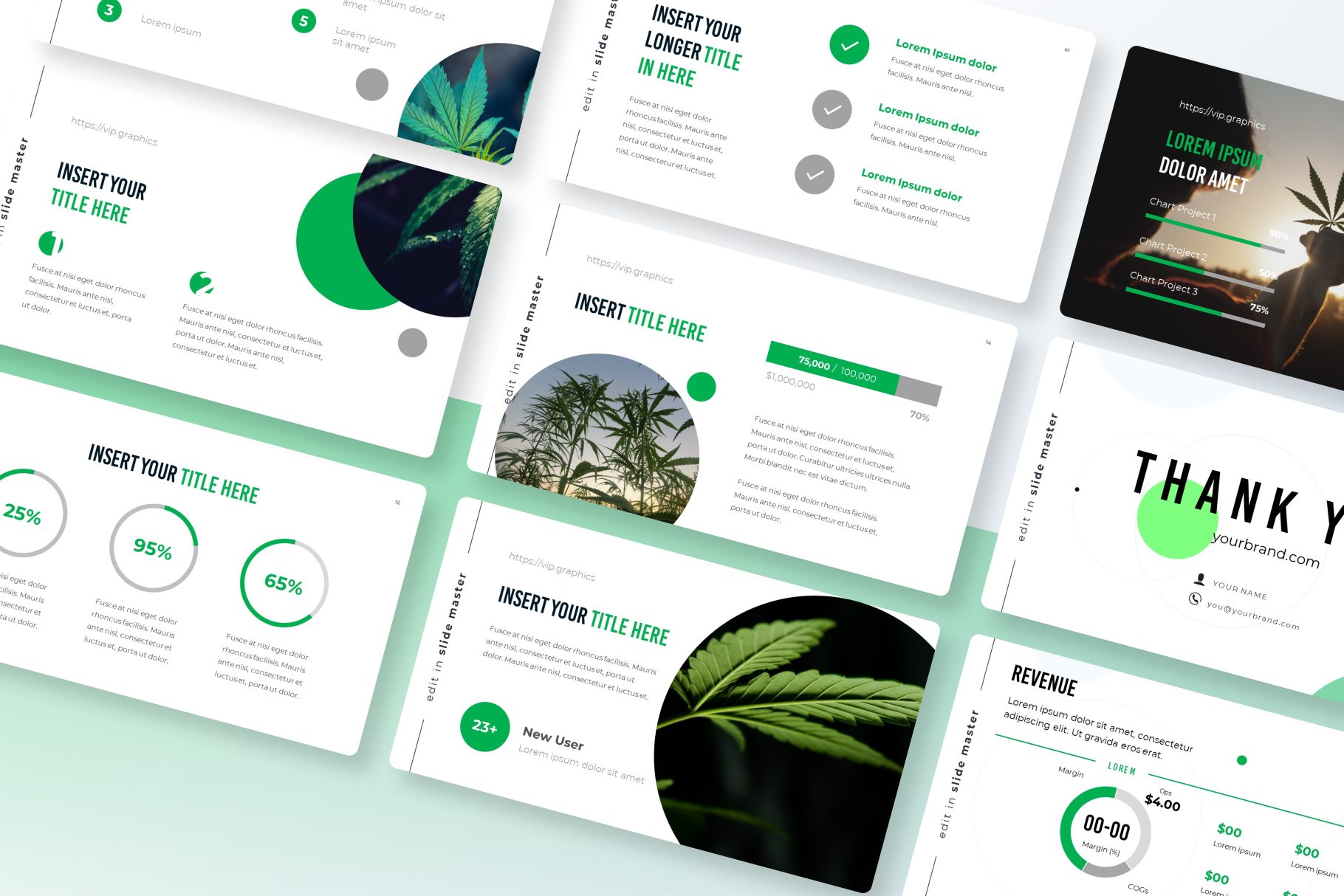 What slides should you include in your Cannabis pitch deck?
Most pitch decks (Cannabis or otherwise) require a minimum of 10 – 15 slides. Always ensure to make the slides very simple and straight to the point because bulky and unnecessary information can bore your investors.
Introduction Slide

Introduce your company using a logo, clever tagline, and concise goal summary. You must catch the attention of your investors right away but there is no need to overcomplicate this slide.

Project Slide

This slide can have multiple sub-slides; the goal is to clearly and concisely explain your idea: what kind of problem your product/service is solving and how it is different/new from the rest of the market. If you project the problem in a way that the audience can relate to, you'll have a higher chance of closing the deal. One thing to note regarding the solution is to not overpromise or overhype what you're building: you want to present the facts as they are.

Business Slide

Business Slide will show the investors how you want to run your business. Every startup or business needs a viable business model and the right business model depending on the product and market is one of the most important factors.

Regulation Slide

The cannabis industry is one of the most regulated industries. Operators face heavy penalties, steep fines, and being shut down if they don't enact the proper standard operating procedures. In this slide, you want to explain what kind of regulations your product/service face and if you have or have applied for the required licenses.

If you don't have the necessary licenses or permissions, you can explain the steps, cost, and timeline in order to demonstrate the proactiveness on your part.

Market & Competition Slide

The market slide will include all things market: current market size, expected market growth, market opportunity, demographics, competition, and so on. Some decks include information about the market that is very vague and confuse the investors; avoid that and use information that is related to your actual market. There are market intelligence companies that can provide you with reliable data.

The other aspect of the market is competition. Investors are interested in that because it can have a great impact on the chances of a startup's success. If there are already billion-dollar players in your sector, you want to have something they don't have. Show your audience how your idea is better and can capture the market from the competition.

Products &/or Services

You want the deck to flow logically and after you have explained the business side of things, you want to create authority by showing your product in use. If you have accumulated some growth (revenue or otherwise) and if you have partnered with some other exciting ventures, you can show that here too. This is also a good time to show off your social media traction. Focus on using data (testimonials and surveys, for example) to demonstrate how your product creates value and solves the problem for your customers.

Financial Projections / Performance

After showing the present of your product, you want to show where your company is heading. Ideally, you want to come up with projections for the next 3 to 5 years. It's hard to predict the future, however, do your best to accurately measure the standing of your company in the future.

You also want to have your current finances in detail with you. Interested investors can ask for them to see the current state of your startup.

Management Team

Often overlooked, but one of the most important slides is the team slide. Investors are interested in people leading the venture. Make sure you establish trust and authority by outlining the achievements of your leading team. You can also include social media following as well as any experience with new startups.

Funds Request and Use of Proceeds

Now it's time to start closing the deck. You want to have a clear call-to-action and ask for funds. While asking for funds give the investors some space with the numbers and present a round figure.

You can also explain how the funds will be utilized. Having a clear roadmap of spending will install trust and confidence.

Next Steps Slide

You want to close the deck with clear comments on what to do next. In this slide, you can add your contact details as well as any other steps depending on your situation.
What key topics should a Cannabis Pitch Deck address?
Below are the questions every cannabis deck should answer:
Who is interested in your cannabis product or service?
What makes your cannabis product or service unique?
What is your pricing and profit model?
What traction or experience have you achieved?
How do you acquire customers for your business?
What investment (or deal) are you looking for? Why?
What are your goals & key milestones? What are you going to achieve?
Designing a pitch deck? Check this out:
You might be interested in the popular CANNA – Pitch Deck Template designed by our team at VIP.graphics: cutting-edge slides based on decks that closed millions in deals & investments for orgs of all sizes — from high-growth startups to Fortune 100 corporations. Super simple to customize in PowerPoint or Keynote, this template offers you ready-made elements & all the essential slides to help your business stand out: it's a matter of minutes to create and share this convincing & professional deck with your stakeholders & investors — learn more here.