Powered by millennials' love for all things digital, Ecommerce is the present and future of buying and selling. 52% of overall global retail sales belong to online marketplaces and in 2020, retail e-commerce sales worldwide amounted to 4.28 trillion US dollars and e-retail revenues are projected to grow to 5.4 trillion US dollars in 2022.
Online marketplaces are evolving at a breathtaking pace; categories that were believed to be immune to disruption are in fact being disrupted such as the services sector. This speed of innovation means there are huge opportunities for new startups to invest, disrupt, and succeed.
Are you ready to take a bite from this enormous pie? One ingredient in the recipe of a successful startup is capital. If you are looking to raise the capital you'd need a very nice and functioning pitch deck that will explain your idea and make investors open their pockets for you. We can help you with that because — well, that's what we do. In fact, we have helped raise hundreds of millions of $$ in funding in the last few years.
In this piece, you will learn everything you need to know about creating a Marketplace Startup Pitch Deck.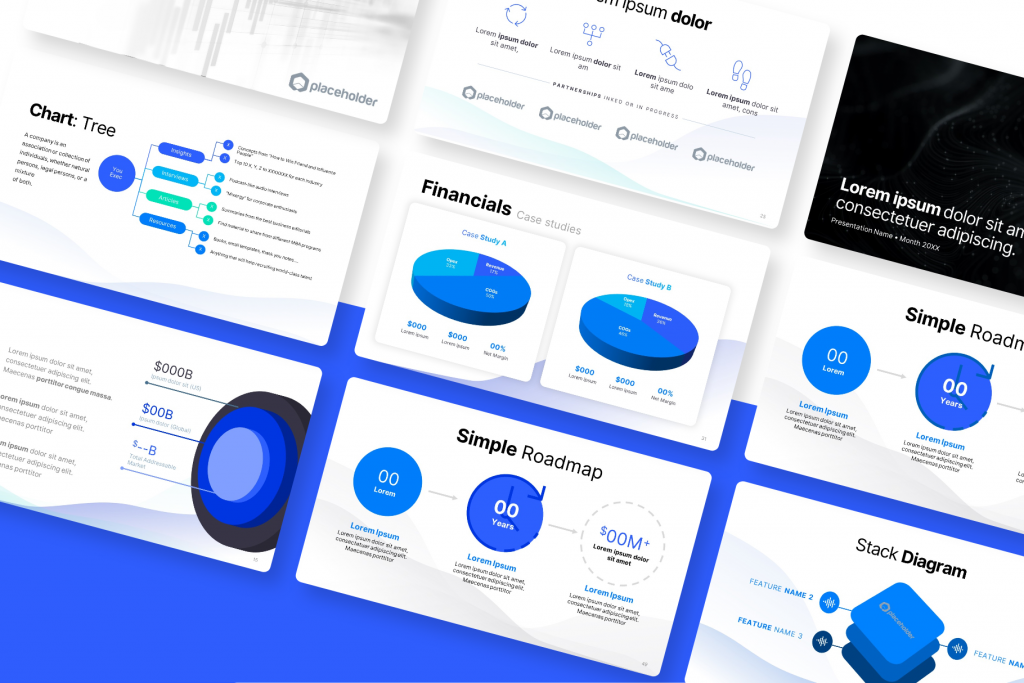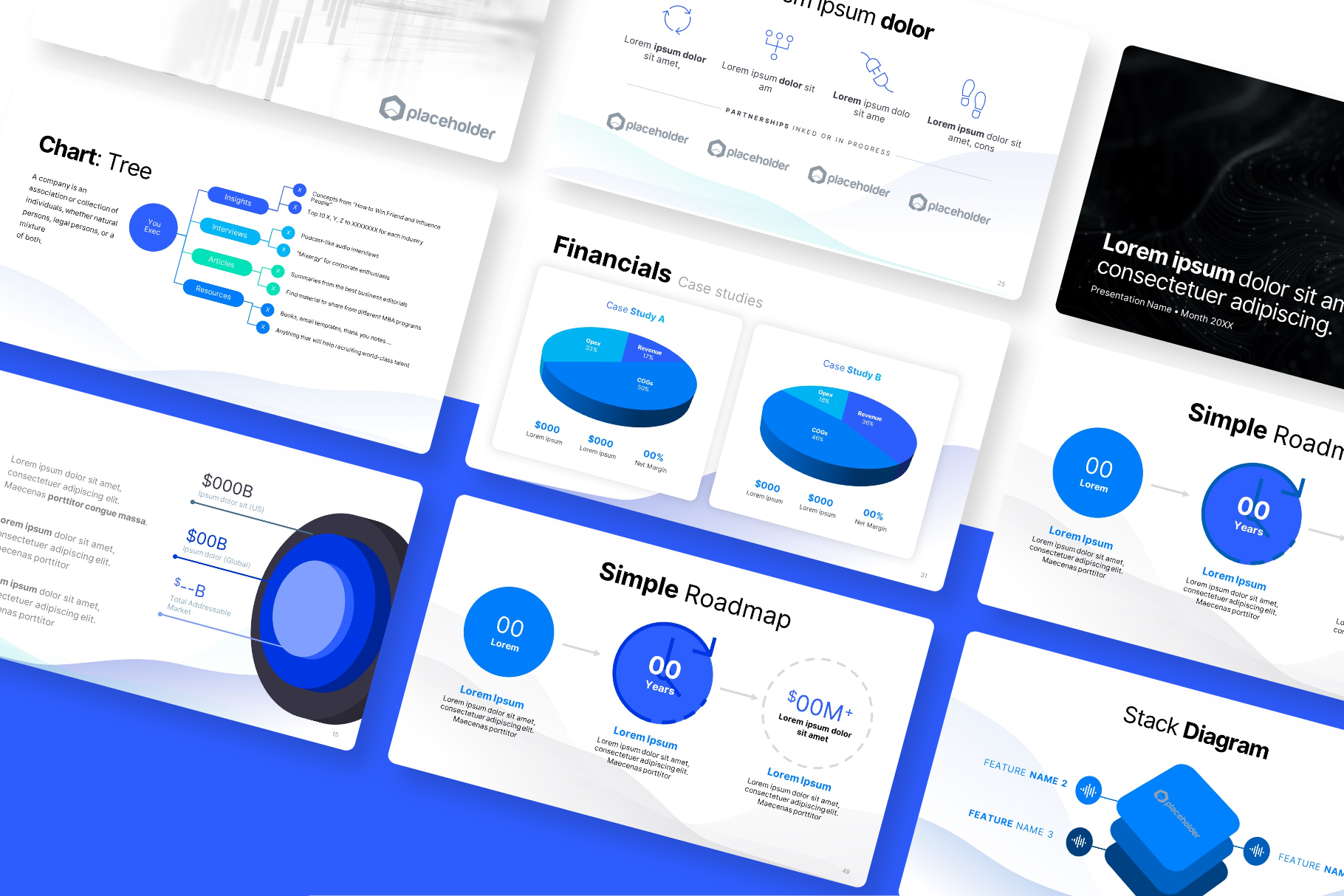 What slides should you include in your Marketplace Startup Pitch Deck?
Think of your pitch deck as telling a story. While telling a story you want to keep your audience interested and engaged. Similarly, in the pitch deck, you want to keep the potential investors interested by providing them laser-focused pieces of information. According to a study, investors spend only 3 minutes 44 seconds on a pitch deck. This should give you some idea of why a concise, simple, and straightforward pitch deck is paramount to close a deal.
1. Introduction Slide
Start your pitch deck story by introducing the characters: your company with a logo, tagline, and short goal. There is no need to put too much effort into it as this is not very important for potential investors.
2. Problem Slide
In this slide, you will introduce the "villain" of your story — the key problem your startup is going to solve. Sometimes elaborating on too many pain points can confuse your audience; keep your language simple, concise, and straightforward. If people can relate to the problem you will catch their interest. Try to paint the picture from the audience's perspective, including how this particular problem is affecting them and why it should be different
3. Solution Slide
It's time you, the hero, swoop in the story, kill the bad guys, and claim the day. In this slide, you will discuss how your product/service can add value, solve the above-discussed problem and make life easier. This will be one of the slides the investors will be most interested in as this is the essence of your idea, but you should be careful not to overpromise or overhype what you're building.
4. Business Model Slide
The problem and solution are one thing but creating financial profit is where most savvy financial investors will seek value. Your business model is very important for prospective investors because it will show how you intend to run your company and how you will generate profit.
Whatever business model you choose, you need to have a solid base for your decision and explain it to the investors.
5. Market Opportunity
No company can survive if there is no market to sell products to. Market size, growth, and demographics are very important for the investors and you will present the relevant information here.
You want to make sure that you are presenting the market data related to your product or service. Your goal is to convince the investors that the current market is the best time to invest in your company.
The market slide can also cover your competition. According to a study, competitors are a top priority for investors. They are interested in knowing how you are different (and preferably better) than your competition, and how you are going to beat the competition to capture the market.
6. Product Slide
If your product or service is already in use, this is an ideal spot to show it off to establish authority and trust. This will show the investors that your product is viable and people are interested in it.
If you have any social media following, partnerships, reviews, testimonials, or anything else that can help your case, show that here.
7. Growth Slide
This is an optional slide and should only be included if your startup or company has accumulated some growth; for example, month-on-month revenue or subscription growth. However, only show this slide if you have something solid to show for because it can easily backfire and reduce investors' confidence in your product. To give you an idea, accelerator programs like Y Combinator expect at least 15% month-over-month growth.
8. Team Slide
Team Slide is often overlooked but it is one of the most important slides. Investors want to know the people at the helm and if they are capable of actually making this work.
In this slide, you can include details about the leadership and list some of their achievements. Keep it simple and believable. The last thing you want to do is come off as unreliable. If the leadership has prior experience with a successful startup, that will be a big plus.
9. Regulation Slide
This is an optional slide as not all online marketplaces fall within regulated sectors, however, if your website will sell commodities that require some kind of approval or there will be cross-border financial transactions, you may need to follow some laws. You can explain those scenarios here (ie. restricted goods & currencies, financial products, etc.)
10. Finance Slide
After the competition and the team, finance is the most important thing for the investors. You want to paint a picture of finances for the next 3 to 5 years. Although no one can predict the future, this estimate can give the investor an idea of where the company is heading.
You want to be conservative with your estimates and not overpromise. Finance is a really sensitive issue and you should be completely transparent and straightforward with it. You may also want to have details of your financials with you, or (at the least), prepared for the next stage of diligence — most interested investors will want to take a deeper look than the pitch deck.
11. Call to action
A clear call to action is very important from your perspective because the whole point of the deck is to make them invest in your idea.
Don't ask for a fixed number but give a round figure, for example, instead of $5 million, you can ask for $3 to $6 million. If the investment firm has a smaller allocation available, they will still be able to contribute.
12. Closing Slide
In the closing slide, you will cover your contact details and the "next steps" section. If you or the leadership team happens to have a huge social media following, this is a great place to show it off and let investors know you are the real deal.
What key topics should a Marketplace Startup Pitch Deck address?
Below are the questions every marketplace deck should answer:
Who is interested in your marketplace product or service?
What makes your marketplace product or service unique?
What is your pricing and profit model?
What traction or experience have you achieved?
How do you acquire customers for your business?
What investment (or deal) are you looking for? Why?
What are your goals & key milestones? What are you going to achieve?
Designing a Marketplace Startup Pitch Deck? Check this out:
You might be interested in the popular Startup Pitch Deck Template designed by our team at VIP.graphics: cutting-edge slides based on decks that closed millions in deals & investments for orgs of all sizes: from high-growth startups to Fortune 100 corporations. Super simple to customize in PowerPoint or Keynote, this template offers you ready-made elements & all the essential slides to help your business stand out: it's a matter of minutes to create and share this convincing & professional deck with your stakeholders & investors — learn more here.