Think of any service or product you recently purchased and there is a high chance you will be able to purchase or sell it over the internet. According to estimates, eCommerce will account for 95% of all purchases by the year 2040. Such is the power of the internet and eCommerce.
Today the eCommerce world is dominated by companies like Amazon, JD.com, Alibaba. However, a lot of startups are still finding success by targeting specific interests and segments. Chewse, for example, provides a virtual meal management service to the 700,000 businesses that feed their employees in the United States today. Ordering food for offices operates like a broken machine, and catering is a $55B industry that is growing rapidly. You can find such examples left and right and get motivated.
There are an estimated 12 million to 24 million eCommerce sites around the world, and more are being created every single day. Do not be concerned if these figures make you think it's a competitive market. Less than 1M of these sites generate more than $1,000 a year, so there's tremendous growth potential.
If you are going to venture into the competitive world of eCommerce, you will need a great product and sufficient capital to bring your product to market. Alternatively, you may already have an established product or services business and want to leverage additional financing to expand your business. In either case, any eCommerce founder seeking capital is going to need a pitch deck to raise funding. An investor pitch deck outlines your business plan, services, products, growth traction, and growth prospects.
Getting investors to fund your project can be a difficult and time-consuming process. Thus, it is imperative that a startup's investor pitch deck is flawless and articulates a compelling and interesting story. This article will explain what should be included in your deck, as well as what should be avoided.
Tip: Provide stakeholders with a PDF of your pitch deck ahead of the meeting. Sharing it via Google Docs, Dropbox, or another online service is one additional step for them to take, and you want things to be as simple as possible.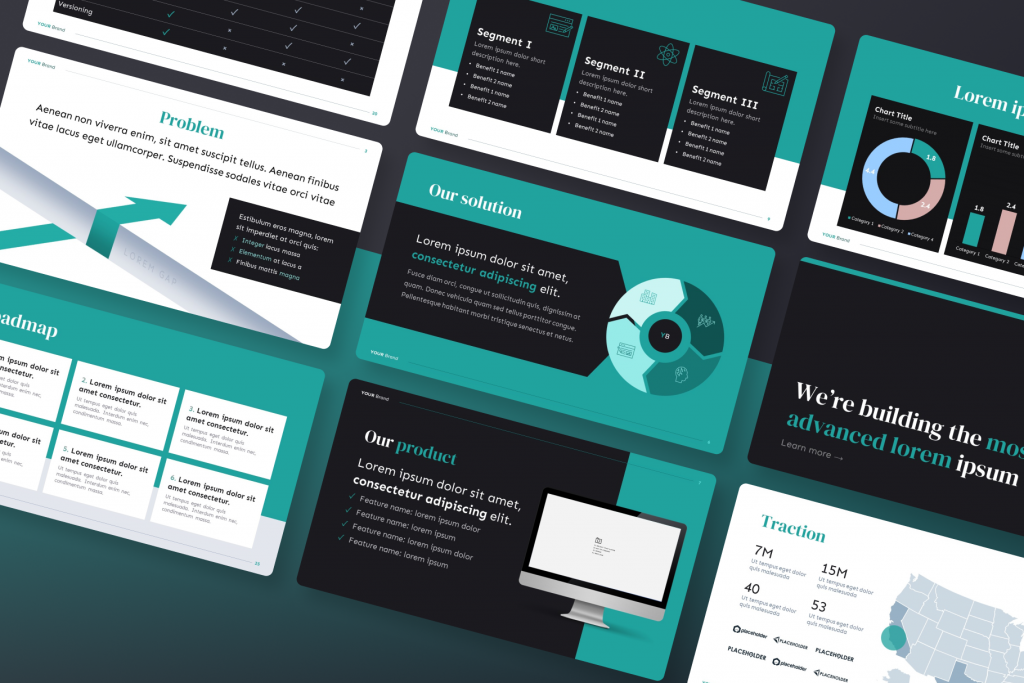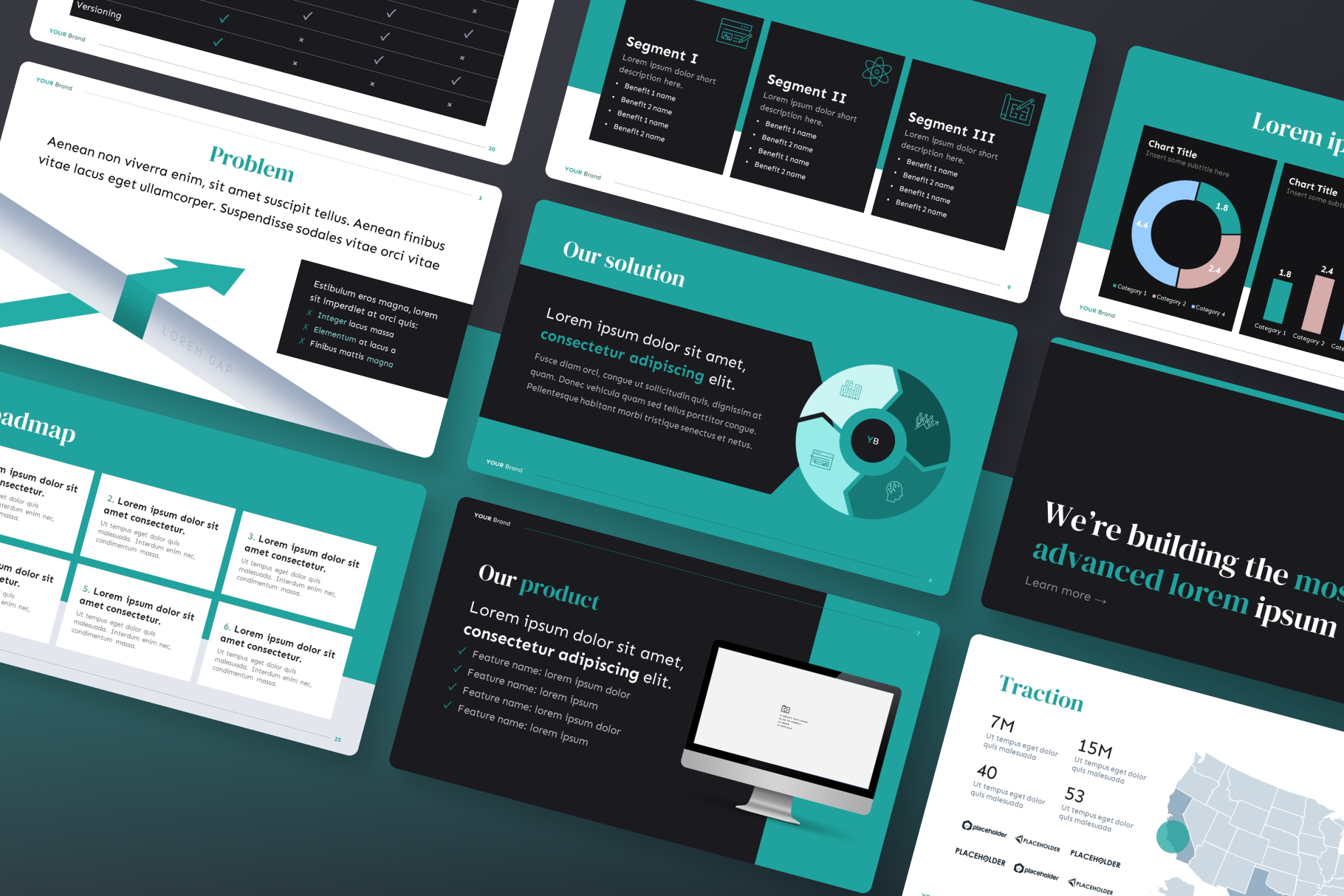 What slides should you include in your eCommerce Pitch Deck?
As a founder, you deem every part of your business critical. A good pitch deck, however, is short, simple, and includes information that is necessary for the investors to know. An investor can sit through multiple pitches every day, so your pitch is going to have a very short time to make an impression: according to a study, investors spend between 4 minutes on each deck. Each slide in your pitch deck has an important function and below are the slides you should include in your pitch deck.
1. Introduction Slide
An introductory slide is a good way to start your pitch deck.
AirBnB's early pitch deck is a great example of an introduction slide. It's simple and has a great tagline. The design of the introduction slide doesn't have to be complicated but should use consistent font size, color, and header title style throughout the slides.

2. Problem Slide
How is your eCommerce platform different from millions of other businesses out there? Is it meant for a particular audience? What kind of problem does it solve? How big is the problem? Why is it important? These are some of the questions you want to answer when creating the problem slide. You want to make sure you are covering the investor's perspective: something they can relate to and that will help them in understanding the problem.
3. Solution Slide
In this slide, you will explain how your platform solves the above-mentioned problem. To better demonstrate what you do, this slide is a great place to include images/screenshots and diagrams.
4. Business Model Slide
It is crucial for your business to make money so that your investors and you can prosper together. Investors are always looking for potential gains, no matter how amazing the product or technology is. Some of the most common types of eCommerce platforms are Business to Business (B2B), Business to Consumers (B2C), and Consumers to Consumers (C2C). This slide should answer for key questions like how your system work will work and how it will generate revenue.

5. Market Slide
E-Commerce has a bright future ahead and the number of users is only going to increase as mentioned earlier.
You must identify the market segment you are targeting for your business to be successful. It is important to understand the size, growth rate, and difficulty of the market before attempting to capture it. This slide describes the current state of the market; you want to emphasize that the current market situation is the best time to invest in your venture.
This slide will also explain who the product is aimed at. Are there particular demographics or geographic areas being targeted? Are there particular interests that it appeals to? Your goal is to present market statistics specific to your target market rather than general market statistics.
Another area you want to focus on which is very important for investors is the competitor landscape. You need to be aware of your competitors' strengths and weaknesses and to be prepared to answer questions about them. If you do not understand your competitors, investors may conclude you do not understand the market.
Startups that are scalable, have a great team and have a great product are attractive to investors. They will be particularly interested in learning how your company is structured to grow and how it compares to its competitors.
6. Engagement Slide
The engagement slide is important for showing that you have more than just an idea and that you have gotten early traction on developing the product, getting customers, or signing up partners.
Your startup's achievements and future plans are displayed on this slide. Here's your chance to show off all you've accomplished. From key performance metrics & growth charts to logos of notable customers, partners, and/or press, this is the perfect slide to emphasize visuals.
If you do not have any users to display, this slide may work against you and cause investors to lose confidence in you. It would be appropriate to skip this slide in such a case.
7. Team Slide
Without a Team Slide, any investor pitch deck would be ineffective. According to a recent study, the team slide is one of the most important slides in any pitch deck and many investors believe that a company's team is the most important determinant of whether or not to invest. This slide does not need a complicated design; it typically consists of names, titles, bios, and perhaps a logo or headshot for the team members. Focus on highlighting the strengths of your dream team rather than overanalyzing them.
8. Finance Slide
The financial forecasts for an eCommerce store are generally based upon pricing, margins, and the analysis of the supply chain. In the budgeting process, keep in mind that details may not be necessary, but expenses should be gathered from the source in order to avoid making 'rough estimates', otherwise budgeting will be problematic. Investors assess the scale of the business largely by looking at the past performance of the company including customer acquisition costs, repeat purchase rate, average order, and other key metrics.

In your estimates, you should be conservative and not overpromise. It is really important to be completely honest and open about your finances. You may also want to have details of your financials and the underlying assumptions with you, or (at the least), prepared for the next stage of diligence — most interested investors will want to take a deeper look than the pitch deck.
9. Call to action
Ending your presentation with an effective call-to-action is the key get investors to act. The last slide should include contact information and the next steps if applicable. You should explain how funds are going to be utilized and if you're comfortable, you may want to share the specifics of your deal/ask and any terms (ie. pricing, discount, interest) that you'd like to disclose. You can help interested prospects close the deal by making it easy for them!
What key topics should an eCommerce Pitch Deck address?
Below are the questions every eCommerce deck should answer:
Who is interested in your eCommerce product or service?
What makes your product or service unique?
What is your pricing and profit model?
What traction or experience have you achieved?
How do you acquire customers for your business?
What investment (or deal) are you looking for? Why?
What are your goals & key milestones? What are you going to achieve?
Designing an eCommerce Pitch Deck? Check this out:
You might be interested in the popular Marketplace Pitch Deck Template designed by our team at VIP.graphics: cutting-edge slides based on decks that closed millions in deals & investments for CPG and eCommerce products. Super simple to customize in PowerPoint or Keynote, this template offers you ready-made elements & all the essential slides to help your business stand out: it's a matter of minutes to create and share this convincing & professional deck with your stakeholders & investors — learn more here.