Pitch decks are considered the most important aspect of raising money for your startup. A pitch deck is used to get the attention of investors who would be ideal partners for your new business idea.
In this article, we'll discuss the formula for what you should include to create a winning pitch deck for your business.
The article leverages the knowledge gained from creating hundred of pitch presentations: our team has created pitch decks that have raised over $100M+ in total funding for all different kinds of companies: from high-growth tech startups to private CPG or real estate companies, our simple formula that just works. Our team has first-hand experience as founders raising VC funding our own businesses, as well as a unique understanding of what motivates investors from our experience creating the decks that major VC & PE firms and investment banks use to raise 9+ figures from their LPs: over the years, we have learned a lot about what works and what doesn't.
The following information will help you understand what you need to include in your pitch deck.
What is a pitch deck?
Pitch decks are also called slide decks or investor presentation. The deck provides a brief and basic understanding of the type of business an individual or company is looking to invest in.
The pitch deck should focus on the business plan, the services or products the company offers, high-level financial projections, and funding needs. Usually, pitch decks are used as presentations to present the story of the business. They are, however, capable of acting independently as documents. A good pitch deck should work well both as a standalone document (aka. a "reader" deck), as well as to complete a live speaker (a "presenter deck) — though some businesses opt to create two different versions of their deck for this reason.
Pro Tip: The hardest part of being a founder is resisting the urge to expound on the features & details of your product during your pitch — focus on the market opportunity and potential ROI, as that is what your prospective investors are most interested in.
What is the point of creating pitch deck?
The average investor sees over 5,000 businesses every year — how will you stand out?
Having a strong pitch deck is a key pre-requisite to finding investors and securing your next meeting. Your pitch deck is the first thing the potential investor will see and defines the first impression your business makes. Since investments are usually not made immediately after the first meeting, you should consider your pitch deck as the bridge to a second meeting and due diligence  which precedes closing the final investment. You should be prepared because investors might ask for additional information such as financial models — if that happens, you're one step closer to getting funded.
Generally speaking, a good pitch deck is the first of a few steps of due diligence before the papers are signed and the money is in your bank! Investors are inundated with business plans, so you need to make your presentation stand out by clearly & succinctly summarizing what you're going to do.
What should a pitch deck include?
The pitch deck format is somewhat similar in almost every business, making it easier for founders to plan their pitch deck as well as for investors to easily understand the pitch deck. Feel free to be creative, but don't stray too far from the norm to allow your investors to easily grasp your ideas.
A great pitch deck will usually include at least 10 – 15 slides detailing the topics outline above in order to convince potential investors. Any more, and your likely to bore your audience, and less slides may portray too little planning. To get started, check out our selection of pitch deck templates (or download the 10-slide template based on the legendary Airbnb deck here), and read-on below for insight into which slides to include.
The purpose of your pitch deck is to convince investors that the company is viable, which usually leads to subsequent meeting(s) to close the deal. There are usually ten to fifteen slides in each pitch. Studies indicate that investors only spend four minutes going through each pitch deck. Thus, each of the following slides should play a crucial role in your pitch:
Overview Slide
The overview or the introduction slide introduces your company to the investors. For instance, you can establish authority straight away by presenting media quotes with positive things about your company. It is also common for businesses to include a unique value proposition on their first slide, which compares their products and services to another established company.
Vision and Value Proposition
Your value proposition is a summary of what your business offers to customers and where the company is headed. It should be short and to the point, and aligned with your company's vision. A helpful exercise for this is to simply imagine that you are writing a tweet with only 140 characters, and even a grade-schooler should be able to understand it.
Taking a look at examples of well-known companies can also help businesses make value propositions. However, you must ensure to choose the right comparables (and not just every potential competitor), in order to best depict an enticing market opportunity for potential investors.
Problem
Sustainable businesses solve critical &/or expensive problems, and investors are attracted to such businesses. Some businesses are not solving a specific problem and may instead offer a specialized solution to fill a gap in the market or innovate new possibilities.
The pitch deck can be used to discuss the problem or pain points that will be solved by this new business venture. Regardless if you have competitors, you can discuss how other companies are currently solving that problem and how you wish to do something different — if you're building a strong businesses, your prospects probably already use some alternatives.
You may even try to define the problem by relating it to some story and try to make the problem look as real as possible so that more investors are able to easily relate.
Solution
This slide is where to describe the service or product you are offering to the customers at this time. Focus on how your product or service would benefit the customer and solve their pain points, and avoid getting lost in the features or minutiae. You may be tempted to move this slide closer to the beginning of your pitch deck, but resist the urge. Your product and service should be centered on your customers' problems, not your own innovations.
Describe how you plan to solve the problem and what makes your solution unique. Your solution slide should be crystal clear and concise. It is crucial to have a scalable solution since investors are looking for a 10x return over a span of 5 years. If possible, use photos and stories to describe your solution. It's always best to show, rather than tell!

Business Model
How will your business get paid? Breakdown your business plan into simple revenue streams so investors can easily understand how your company will earn money. This is the place to elaborate on key terms like Cost of Goods Sold (COGs), Pricing Model (ie. subscription, affiliates, flate-fee), and Gross Margin. Even if your business model is completely revolutionary, you should still explain like you would to a five-year-old or your grandmother: by using simple words and familiar examples. This is a great place to mention or quote companies that currently use your product or service.

Market Slide
The market slide should explain the opportunity size and related trends. Analyze the current state of the market and the target audience for your product. You can support your projections by referring to industry standards, benchmarks, and similar products that have shown success. Present information specific to your sector, rather than the market as a whole.

Team
What makes your team the best for leading and growing this business? The team slides will highlight the abilities and experience of the company management, esp. any prior industry expertise or startup success. Include your team's names, titles, bios, achievements, and strengths.
Traction
The traction slide is used to showcase the success of your business and demonstrate experience. Display metrics, growth charts, and/or logos to show what you have achieved. If the business is at a pre-launch or stealth stage, you may skip this slide, or describe your prior expertise instead.
Competition
What is your secret to success? Describe what makes your solution different & superior from the alternatives available today. TechCrunch analyzed investor behavior and found that the three slides they spend the most time viewing are your financials, your team, and your competition. This slide will demonstrate how you stand out among your competitors and what sets you apart. What do you have that others don't? List your competitive advantages.
Financials
Financial projections include your budget and revenue projections and help quantitively frame near-term & future growth. This slide can be as simple as an annual cash flow summary, usually over a three to five year span. You may want to break out earnings across your different revenue streams. This slide will usually be generated from a financial projections Excel sheet, which is often useful for follow-up and due diligence meetings with investors.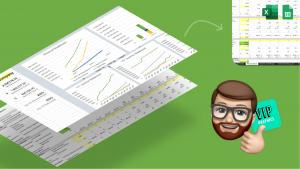 Ask
Every good pitch deck should conclude with a clear ask and call-to-action. Once you've finished describing your product, the last topic to mention is your funding requirements. Explain the terms of your deal and next steps, or simply share your contact details. It should be extremely easy for anyone to find more info or contact your team with any questions.
How can I create a pitch deck?
To help you get started in building your own pitch deck, think about what makes you different: your product design, technology innovation, marketing strategy, distribution plan. Figure out what needs to be communicated and what you have that others can't copy. List all of these things as key points that need to be communicated before jumping into too much detail. Brainstorm headings and subheadings that will allow you communicate effectively with as little as one sentence per slide.
Tips for a successful pitch:
To make your pitch deck successful, be sure to include the following key points. If you address all these important areas in your pitch deck, your sure to present a compelling case for investing in your business:
Who is interested in your product or service?
What is unique about your service?
What is your profit or price model?
What experience so far have you achieved with this?
How are you thinking to acquire a customer for your business?
What kind of investments are you looking for?
Why should people invest in your service?
What are the goals and milestones that you wish to achieve?
Other documents for after your investor pitch
Making your pitch deck as concise as possible is vital. It is not necessary to provide investors with absolutely all the information they need to make an investment decision quite yet. The purpose of a pitch deck is telling a story and creating excitement to turn the prospect into a follow-up meeting request and further diligence.
That said, it is equally important to have detailed, additional information ready to provide if requested, such as financial projections & models or a one-page executive summary. You should usually prepare these additional documents in advance along with your pitch deck, which can help to avoid overloading your presentation with too much information.
Executive Summary
The executive summary is also called the investment one-pager or summary memo, which is usually a single page overview of your startup: from market & business model to competitive advantage and team. Unlike a pitch deck, an executive summary is often not a confidential document, so investors are welcome to share this document with their partners or other firms to consult about the investment. The executive summary can be thought of as a simple summary of the high-level details of your pitch deck, condensed to one page. Although the executive summary is typically more text-heavy than a pitch deck, you can still make it visual & engaging, like our one-page executive summary templates. Some industries (ie. film/TV or real estate) have standard one-page pitches with unique layouts that differ from executive summaries, such as the TV show pitch.
Financial Models
When an investor is ready, they will be interested in viewing your financial model in detail. To help them understand what exactly you are expecting, the financial model should have a financial forecast for at least the next three years. Typically an investor or VC firm will analyze a variety of aspects of your financial model: from testing the assumptions and resilience to market volatility, to estimating your valuation by running a discounted cash flow analysis. There's still no better tool than Excel (or Google Sheets) for creating a financial model — the versatility of spreadsheets always trumps any fancy software.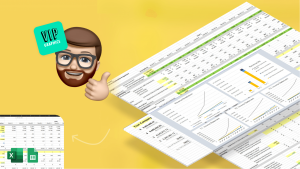 Creating a financial model doesn't have to be complicated: our team of experts have created a wide variety of financial model templates that can help in modelling many different types of business. With automated annual statements and charts & summaries, you can easily predict & understand your startup's financial performance. Simply customize the Assumptions sheet to fit your business, and the rest will take care of itself: our team has even already pre-filled with benchmarks for marketing & growth, and video tutorials for your convenience.
Investors will also want to know how you plan to hire the candidates for this job, and how the costs of research and development, manufacturing, and marketing vary with your growth plans. Preparing an investor-ready budget for your expenses and use of funds is a matter of minutes when using a pre-filled financial model template from VIP Graphics.
How-to create a pitch deck
Every pitch requires a unique approach tailored to its audience. Our team of experts have created pitch decks for different sectors, as well as funding stages: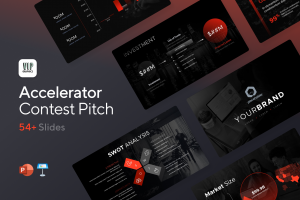 Accelerator Pitch Deck Template — The Accelerator Pitch Deck template was crafted for early-stage founders seeking to win funding &/or investment from pitch contests, accelerators, incubators, and angels or VC firms. Winning a pitch contest or being accepted to a prominent accelerator program requires a unique strategic approach to an investor pitch presentation.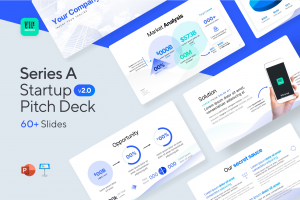 Series A Pitch Deck Template — A pitch deck template for startups and founders raising funding: Smart, actionable slides that work. This is a pitch deck template built specifically for startups, entrepreneurs and founders raising their first seed or Series A round of institutional capital.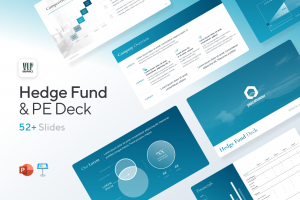 Mergers & Acquisitions Pitch Deck Template — Perfect Pitch Deck™ is a template crafted for later-stage businesses entering more sophisticated discussions such as mergers & acquisitions (M&A), late-stage investment (Series C+), or other partnerships & financing opportunities. Our team of experts created this presentation to empower founders to present with confidence to investment banks, private equity (PE) groups, and/or hedge funds (and vice versa).
Alternatively, feel free to browse our growing selection of pitch decks tailored for specific industries and businesses.