Cryptocurrency is regarded as the new Gold since it's an open market that allows professional traders and investors to make an enormous profit margin that is beyond restriction and confiscation. It is a digital currency that operates on blockchain technology, which makes it more reliable and trusted. That said, creating a quality pitch deck for a cryptocurrency/blockchain startup often requires extensive knowledge of bitcoin, and several other altcoins such as Ethereum, Litecoin, Cardano, Dogecoin, Stellar and many others in the market.
As you know, these digital currencies are very volatile and are unpredictable; you should be able to convince your Investors how you intend to take advantage of the market to increase their Return on Investment (ROI). In this write-up, we'll outline the best steps to follow and important information to include in your presentation. Highlighted below are steps on how you can create a perfect cryptocurrency/blockchain startup pitch deck.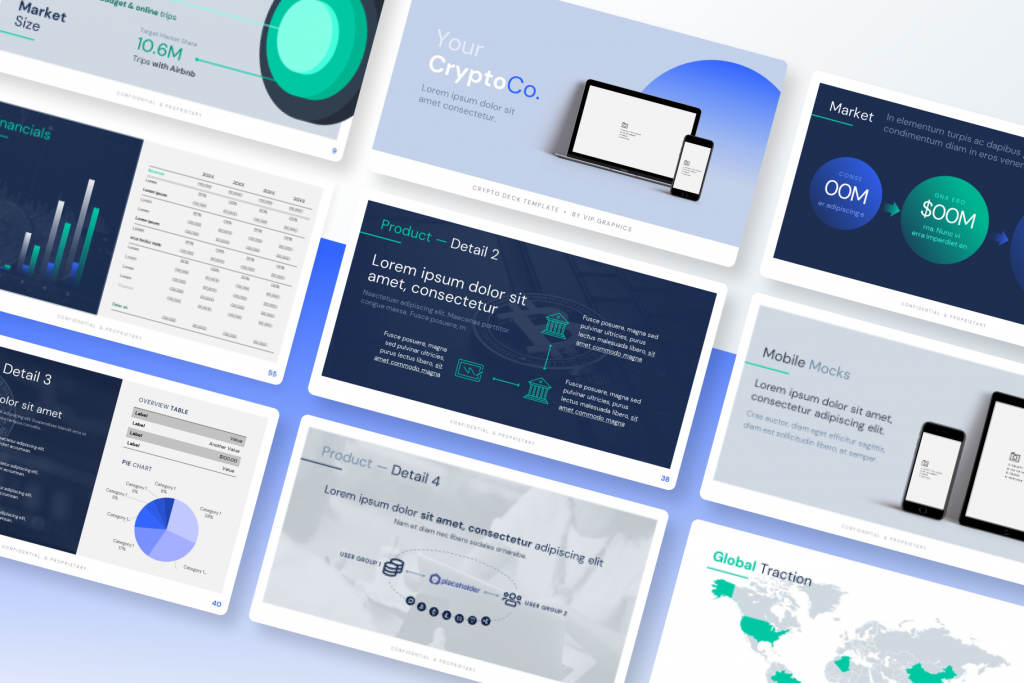 What slide should I include in a Cryptocurrency/Blockchain startup pitch deck?
You're required to prepare a minimum of 10 slides for the cryptocurrency/blockchain startup pitch deck. Always ensure your slides are not crowded with unnecessary information and graphs. Ensure the contents are simple and straight to the point. Use words that your investors can easily relate to.
Title Slide
This is a very important part of your slides since it contains the summary of what your intent to present. Your title slide should be catchy and be able to draw the attention of your investors to the main purpose of the presentation. It must be properly arranged with an outstanding and meaningful logo of your start-up firm. Ensure the logo used in this title page is replicated on all other pages of your slides.
Problem Slide
Every business makes a profit by proffering solutions to problems. Therefore, ensure you research and highlight the major problems faced in the cryptocurrency/blockchain industries. You can also list some altcoins and specific problems associated with them. Focus on a perfect way to present these problems to bring out the emotions in the investors. You should add a creative story to make your claims real.
Solution/Product Slide
Ensure the problems highlighted above are directly linked to the solution/product slide. This is where you are expected to emphasize the realities in the crypto world and how your products can be of great help.
This slide should contain solutions to the corresponding problems listed on the previous slide. Remember that investors are more interested in leveraging your cryptocurrency product to make a reasonable profit.
Business Model Slide / Pricing Slide
This is the slide where you're required to state how your cryptocurrency/blockchain business model will benefit your investors. You have to present convincing and real-time data to your investors at this point. Ensure your business model on this slide is coherent and depict that many potential customers are interested in the product. You should also include your previous customer's contacts here.
Market Slide / Competition
One of the key indicators of every business growth is competition. A successful business must be able to survive and dominate even amid healthy competition. The cryptocurrency business is highly competitive since almost everyone wants to venture into it. As such, your pitch deck should be able to address the methods and strategies you'll adopt to beat the competition. How will you stand out?
Traction / Metric Slide
This is the slide where you'll convince the investors that your business will survive for a very long time. Make sure you include your customer's growth rate, number of active social media followers on Facebook, Twitter, and Instagram on this slide. You should also add other cryptocurrency growth metrics available to you.
CAC Slide
The Customer Acquisition Cost (CAC) is the cost incurred in the process of acquiring a new customer. Therefore, you should explain to your investors how you intend to bring in a new customer to patronize your cryptocurrency product and the associated cost.
Team Slide
Use this slide to display the team working on this project because your investors will be very much interested in knowing the team members. You should also highlight the roles of each member to the success of the project as a whole. In a situation where you have a very large team, you can just name the important members of the team to avoid overcrowding the team slide.
Ask
Do not hesitate to ask your investor if they have any question about the project. Make sure to request the actual cost of the project from your investors. Give a detailed analysis of how the funds are going to be spent.
Contact
Inspire your investor for a call to action with this last slide of the presentation. Your cryptocurrency/blockchain startup pitch deck must include contact options and guides for investors.
What key topics should a Cryptocurrency/Blockchain pitch deck address?
Entrepreneurs in the cryptocurrency/blockchain space are most curious as to which "must-have" questions should be answered in their pitch deck. We came up with the shortlist below based on an analysis of 20+ real estate decks we created — several of which closed multi-million-dollar distribution deals & investments.
Below are the questions every cryptocurrency/blockchain deck should answer:
Who is interested in your cryptocurrency/blockchain product or service?
What makes your cryptocurrency/blockchain product or service unique?
What is your pricing and profit model?
What traction or experience have you achieved?
How do you acquire customers for your business?
What investment (or deal) are you looking for? Why?
What are your goals & key milestones? What are you going to achieve?
Designing a Cryptocurrency/Blockchain pitch deck? Check this out:
You might be interested in the popular Cryptocurrency/Blockchain Pitch Deck Template designed by our team at VIP.graphics: cutting-edge slides based on decks that closed millions in deals & investments for orgs of all sizes: from high-growth startups to Fortune 100 corporations. Super simple to customize in PowerPoint or Keynote, this template offers you ready-made elements & all the essential slides to help your business stand out: it's a matter of minutes to create and share this convincing & professional deck with your stakeholders & investors — learn more here.