Real estate is consistently one of the fastest-growing industries, particularly the instant home buying and property tech (proptech) sectors. In 2007, around two-thirds of investors were primarily focused on the stock market. That number has fallen to 50%, with many Millennials choosing to invest in real estate instead. As such, creating a real estate pitch deck for potential investors requires adequate research, confidence, competency, and great focus. No investor wants to run at loss; your task is to convince them beyond reasonable doubts with pure facts and data.
Since investors are solely concerned about making a high return on their investment, your real estate pitch deck should be tailored towards your business model, execution plan, and financial expectations. In this write-up, we'll walk you through the best steps to follow and give you unique insight, as we have helped a lot of real estate and proptech startups, on what to include in your deck and what mistakes you should avoid. Follow the key instructions highlighted below, and your chances of success will be far greater!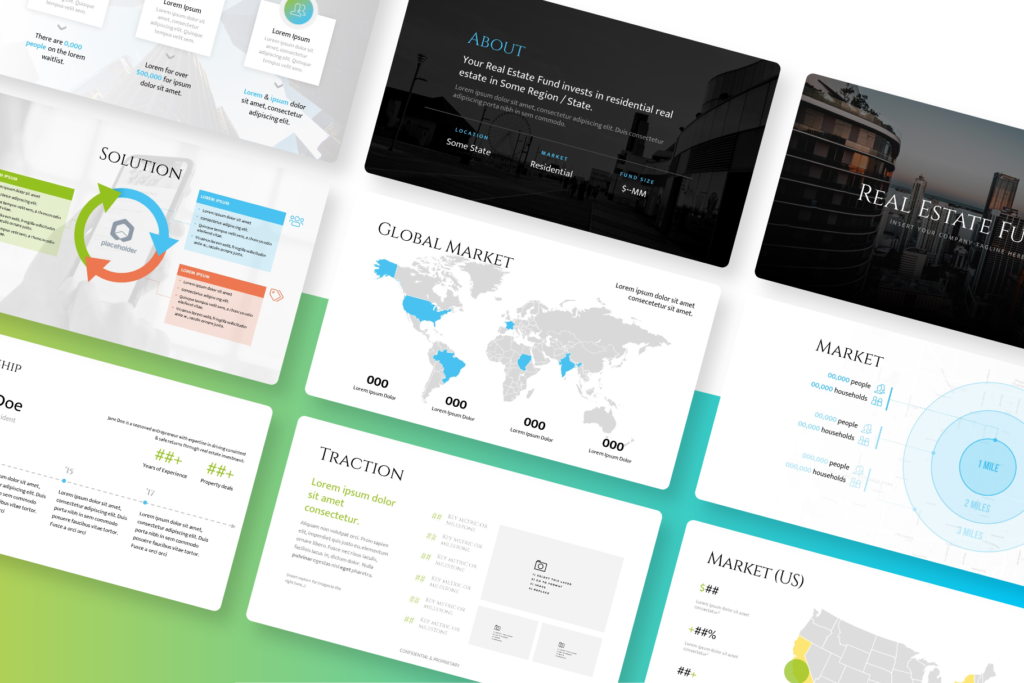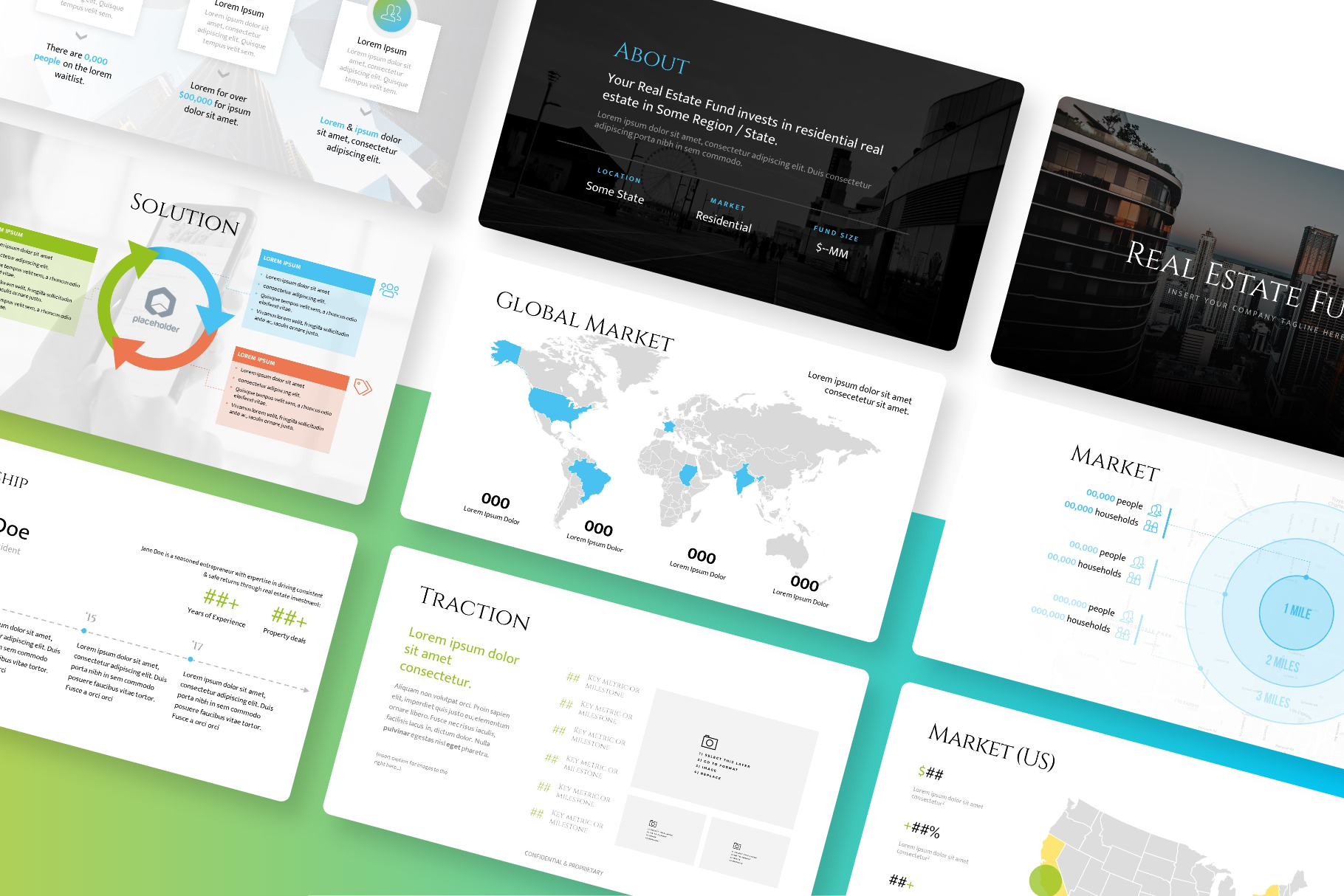 What slides should you include in your Real Estate pitch deck?
Most pitch decks (real estate or otherwise) require a minimum of 10 – 15 slides. Always ensure to make the slides very simple and straight to the point because bulky and unnecessary information can bore your investors.
Cover Slide

Your cover slide should be catchy and be able to draw the attention of your investors to the main purpose of the presentation. It must be properly arranged with an outstanding and meaningful logo and tagline for your startup. Be sure that all the slides in your real estate pitch deck follow the same theme, branding, & styles as the remaining slides.

Problem Slide

There can't be a solution without an impending problem. Therefore, your next real estate pitch deck must explain which major problems in the real estate industry you aim to address. This slide will convey the essence of your idea and is a good place to include the statistics and numbers about the problem your company is going to solve. Focus on a perfect way to present these problems to bring out the emotions in the investors. You should add a creative story to back up your claims.

Solution Slide

Now that they're aware of the problems, it's time you present the solutions. This slide should contain solutions to the corresponding problems listed on the previous slide. Emphasize how your proptech idea is the ultimate solution. Remember that investors are more interested in leveraging your proptech product/startup to make a reasonable amount of profit.

Model & Pricing Slide

So you encountered a problem and you have come up with a solution. In the investment world, no one is interested in that unless you show the audience how you can make money for them. This slide will contain the various ways your startup will generate revenue from the proptech product. You have to present convincing and real-time data to your investors at this point. Ensure your business model on this slide is coherent and also depicts that a large number of potential customers are interested in the product.

Market & Competition Slide

A successful business must be able to survive and dominate amid competition. Real Estate, for example, has emerged as one of the most competitive sectors and many startups are trooping in. As such, your real estate pitch deck should be able to address the methods and strategies you'll adopt to beat the competition, as well as where you stand relative to the rest of the market. This slide will also present information such as market size, potential growth, and more.

Traction & Metrics Slide

This is the slide where you'll convince the investors that your business will survive for a very long time. Make sure to include all different kinds of traction KPIs, such as Instagram followers, likes, and interaction rates. You should also add other proptech-specific growth metrics available to you. If you already have customers, you can include the numbers here.

Go-to-Market Slide

Customer Acquisition Cost (CAC) is the cost incurred in the process of acquiring each new customer. Apart from simply stating your current or expected CAC, your pitch should also explain to your investors how you intend to bring in a new customer to patronize your proptech product.

Team Slide

Now it's time to start closing the deck. Use this slide to display the team working on this project because your investors will be very much interested in knowing the team members. You should also highlight the roles of each member to the success of the project as a whole. In a situation where you have a very large team, you can just name the important members of the team to avoid overcrowding the team slide. Most team slides are composed of the same key elements: names, titles, bios — and perhaps partner or advisor logos or headshot images.

Ask Slide

Make sure to request the actual cost of the project from your investors. Give a detailed analysis of how the funds are going to be spent. Do not hesitate to ask your investor if they have any questions about the project. 

Call-to-Action Slide

A clear call to action is vital and it will urge the investors to take action. In this final slide, you should provide contact details and next steps where appropriate. Catch your investor's attention with a clear call-to-action (CTA) with this last slide of the presentation. Every pitch should include contact options and guides for investors — this slide is the perfect place to do so.
What key topics should a Real Estate pitch deck address?
Entrepreneurs in the real estate space are most curious as to which "must-have" questions should be answered in their pitch deck. We came up with the shortlist below based on an analysis of 20+ real estate decks we created — several of which closed multi-million-dollar distribution deals & investments.
Below are the questions every real estate deck should answer:
Who is interested in your real estate product or service?
What makes your real estate product or service unique?
What is your pricing and profit model?
What traction or experience have you achieved?
How do you acquire customers for your business?
What investment (or deal) are you looking for? Why?
What are your goals & key milestones? What are you going to achieve?
Designing a real estate pitch deck? Check this out:
You might be interested in the popular Real Estate Pitch Deck Template designed by our team at VIP.graphics: cutting-edge slides based on decks that closed millions in deals & investments for orgs of all sizes: from high-growth startups to Fortune 100 corporations. Super simple to customize in PowerPoint or Keynote, this template offers you ready-made elements & all the essential slides to help your business stand out: it's a matter of minutes to create and share this convincing & professional deck with your stakeholders & investors — learn more here.