The growth of the Software-as-a-Service (SaaS) industry has only continued exponentially upwards since the advent of the Internet, currently carried by strong tailwinds from cloud-native and digital transformation. Many companies: from small businesses to startups, are able to efficiently mange their operations online thanks to relying upon various critical SaaS platforms.
Nevertheless, every pitch for a new Software/SaaS solution will face many specific questions from investors regarding market, execution and opportunity. As such, we've carefully prepared detailed instructions on how you can go about it.
Telling a story with your Software/SaaS pitch deck might seem difficult because it's not a tangible asset, but we've carefully carried out a quality analysis on more than 50 reputable firms such as Buffer, Front, Shopify and more, all of whom raised millions in funding for their notable SaaS businesses. Follow the instructions highlighted below to write the perfect presentation slides for your Software/SaaS pitch deck.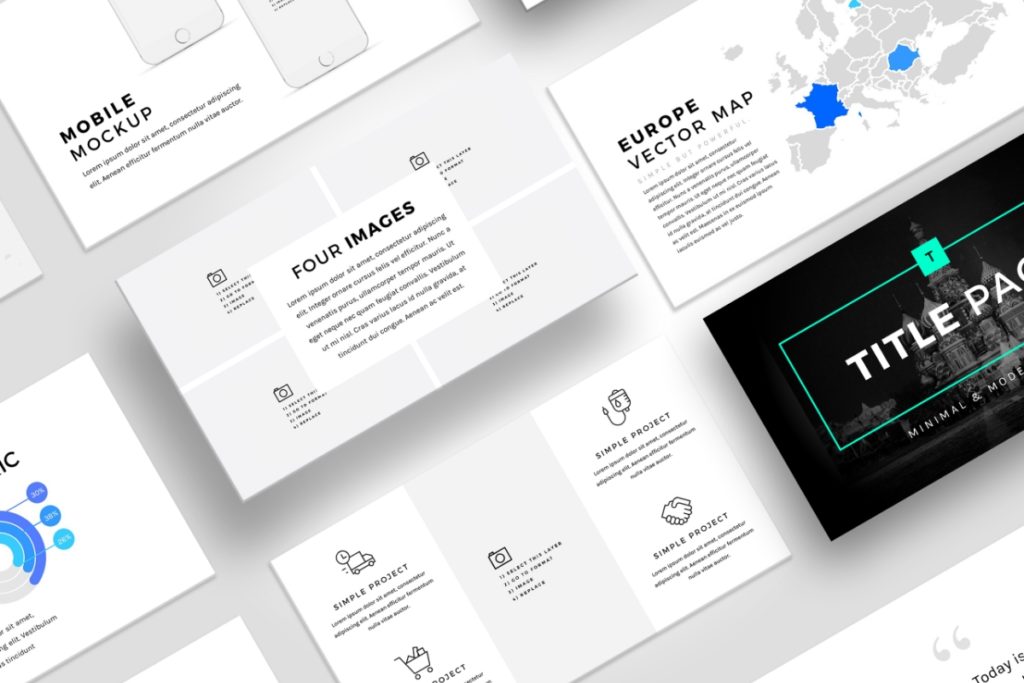 What are the Slides to Include in Software/SaaS pitch deck?
Most sufficiently complete Software/SaaS pitch decks will require you to prepare at least 10 slides. Your main aim in the whole presentation is to provide answers to your investor's questions before they come up. The slides should be as simple as possible; choose a legible style and look so investors of all backgrounds can comprehend what you are creating.
1. Title Slide
There's the common saying that "First impressions last longer". As this is the first slide of your Software/SaaS pitch deck, you need to make a very good and clear impression of the SaaS solution you're planning to offer. This is the perfect place to add a screenshot or mockup of your software or SaaS solution. You can also stress out what your investors stand to benefit from if they venture into the business in your tagline.
2. Problem Slide
There can't be a solution without an impending problem. State the problem that your Software/SaaS business aims to solve in a way your investors can clearly understand. Back up your claims with relevant metrics and data (ie. recent trends and market statistics).
3. Product/Solution Slide
Now that your audience is aware of the problems, it's time you present the SaaS solution. This is the slide where you're required to convince your investors beyond reasonable doubt how your Software/SaaS solution solves the problems listed on the previous slide. You can add the icing on the cake by including mockups, live demos, and screenshots to your Software/SaaS pitch deck product slide.
4. Business Model Slide
This slide will entail how the SaaS solutions highlighted above translate to financial gains for your business. Since your investors will be most interested in this slide and the potential return, take time to explain all the details on this slide in simple terms. Be sure to highlight your plans to retain and gain customers through value-added services. Explain this with real-time figures where possible.
5. Market/Competition Slide
The software startup business is highly competitive, with tens of billion-dollar unicorns minted nearly every year. As such, this slide is critical to demonstrate that you know your competitors. Stress the tactics you'll implement to survive and make gains amidst competition.
6. Traction Slide
This is the slide where you'll convince the investors that your business will survive/thrive for a long time. Make sure you include your customer's growth rate, number of active social media followers on Facebook, Twitter, and Instagram on this slide. You should also add other SaaS growth metrics available to you.
7. CAC Slide
The Customer Acquisition Cost (CAC) is the cost incurred in the process of acquiring a new customer. There are thousands of companies in the SaaS space. You can use the CAC slide to explain how you are acquiring customers.
8. Team Slide
The team is the most relevant factor for every investor. Use this slide to display the team working on this SaaS project. State the relevant years of experience of each member of the team if time permits. In a situation where you have a very large team, you can just name the key members of the team to avoid overcrowding the team slide.
9. Ask
Some more matured companies are able to specify the exact investment ask and valuation for prospective investors, whereas others may benefit from providing a broader range. Regardless, be sure to provide a detailed analysis of how the funds are going to be spent.
10. Contact
Stimulate next steps with a strong call to action in this last slide of the presentation. Include contact options and guides in your Software/SaaS pitch deck so that investors can swing into action immediately.
What key topics should a Software pitch deck address?
Entrepreneurs in the software/SaaS space are most curious as to which "must-have" questions should be answered in their pitch deck. We came up with the shortlist below based on an analysis of 20+ software & SaaS decks we created — several of which closed multi-million-dollar distribution deals & investments.
Below are the questions every Software/SaaS deck should answer:
Who is interested in your software/SaaS product or service?
What makes your software/SaaS product or service unique?
What is your pricing and profit model?
What traction or experience have you achieved?
How do you acquire customers for your business?
What investment (or deal) are you looking for? Why?
What are your goals & key milestones? What are you going to achieve?
Designing a Software/SaaS pitch deck? Check this out:
You might be interested in the popular Silicon Pitch Deck Template designed by our team at VIP.graphics just for cutting-edge software & SaaS companies: cutting-edge slides based on decks that closed millions in deals & investments for orgs of all sizes: from high-growth startups to Fortune 100 corporations. Super simple to customize in PowerPoint or Keynote, this template offers you ready-made elements & all the essential slides to help your business stand out: it's a matter of minutes to create and share this convincing & professional deck with your stakeholders & investors — learn more here.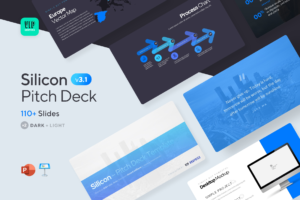 Are you also working on your financial projections? Check out our Software & SaaS Financial Model template — or save big with the 3-in-1 Startup Bundle!
Software Financial Projections