Want to know more about starting a fund? These tips and best practices are taken from successful VC fund decks that raised over $500M from LPs.
GPs (General Partners) of venture funds need capital to invest, and LPs (Limited Partners) provide that capital. Whereas founders are the customers of VC funds, their LPs are shareholders. Fund managers (like founders) must sell LPs on the opportunity, and their pitch deck (or investment memo / tear sheet, in some cases) is the primary tool to do so. It serves as both the hook for catching LPs' attention and support material for pitch meetings.
Below is a proven formula derived from 15+ VC pitch decks that have raised more than $500M in aggregate LP funding. The guide includes a proven template for VC fund decks, as well as best practices and tips for pitching.
What slides should you include in your Fund Pitch Deck?
Below is a template for what VC fund decks should include, with examples from the decks linked here. While each fund has a unique angle & thesis, most LPs are looking for the questions below to be answered within any fund's pitch deck.
1. Introduction Slide
Every pitch deck should start with an introductory slide to set the tone for your presentation. This can be as simple as a cover slide to introducing your company logo and tagline, or an overview / table of contents slide to set the agenda for the presentation.
Most fund decks will also include a legal disclaimer slide immediately after the first cover slide, stating how the presentation is solely for informational purposes and qualified investors, etc.
2. Thesis / Theme Slide
Your fund should have a core thesis or theme around which your investment strategy and focus areas are aligned. This is usually a key trend, unique insight or market outlook that informs your investing paradigm. In most cases, the thesis is conveyed as a simple one-sentence statement. For example, the Concept Ventures pitch deck (below) presents their fund as the "largest UK pre-seed fund" investing in how we "work, play, and learn" — succinctly describing which industries & stages they focus upon.

3. Focus Areas Slide
From angel syndicates to 10-figure AUM, decades-old PE firms, virtually every fund focuses on a specific vertical, or set of verticals. Some funds will have a singular focus, and others will invest across a set of industries &/or asset classes.
For example, Ryan Hoover's Weekend Fund focuses on consumer products whereas Brianne Kimmel's WorkLife Capital focuses on B2C SaaS companies. The focus areas slide of your fund deck should explain what you are investing in and why, as well as why you are uniquely qualified to do so.
4. Traction / Track Record Slide
Your prior investment experience is arguably the most important indicator for LPs. As such, fund decks should spend at least one slide describing the team's past track record and your most impressive investments. Even those raising their first fund should elaborate upon their prior investment experience and success in the space.
This slide can be as simple as a grid of numbers and logos, or a more-sophisticated layout such as that of World Fund's deck (pictured below). Some presentations will go so far as to include several examples slides with case studies of deals completed & portfolio companies' success.

5. Access Slide
How does your fund get access to high-quality investment opportunities? This slide should describe not only your access to potential investments, but also access to key resources to help grow your portfolio.
‍LPs will want to understand how you currently meet founders, and how you help your growing portfolio (even with limited resources). Funds will often cite their global presence and network of resources for founders in this slide. Brianne Kimmel's pitch for WorkLife Capital (pictured below) showcased her "multi-prong strategy" for SaaS investing, which draws upon an established presence in the space (through SaaS school and social media), as well as marquee co-investors and founder referrals.
6. Advantage / Ability to win Slide
Identifying lucrative opportunities is a critical part of building a successful fund, but winning competitive deals is what sets blue-chip firms apart. The advantage slide of fund decks should describe how you will win deals: why would founders choose your firm over others?
For instance, Ark Kapital contends that their data-driven "precision financing" methodology offers an edge on traditional Excel models. Your fund's ability to win deals may lie in your unique investing approach, or your value-add to founders. Whatever that maybe, your pitch deck should make a compelling case for your fund's ability to win deals.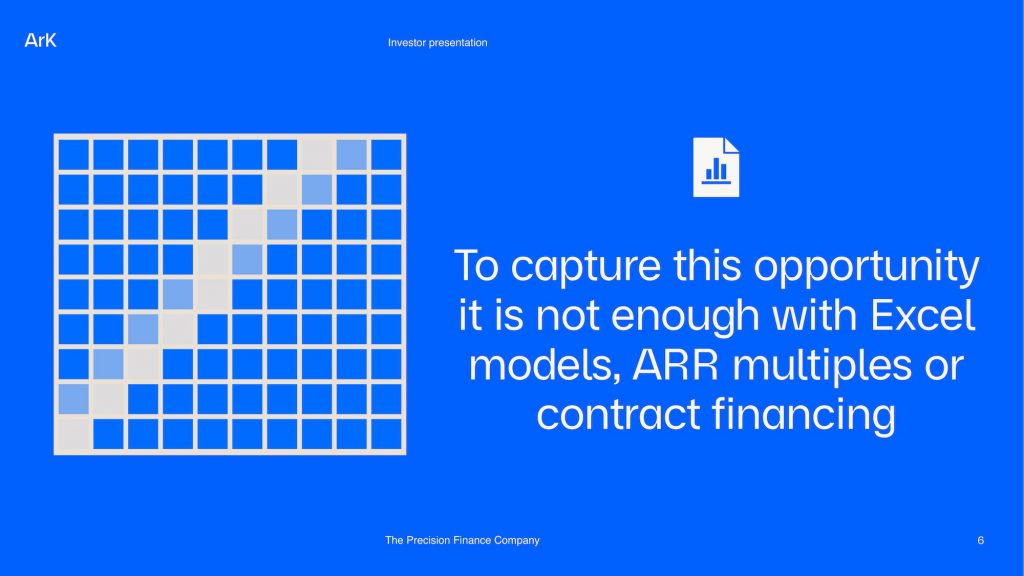 7. Team Slide
No pitch deck is complete without a slide about the team, and VC fund presentations are no exception. The team slide of your fund deck should showcase the experience of your general partners, as well as the rest of your team. Including short bios, logos of former companies, or key experience metrics are all excellent ways to demonstrate your team's expertise.
Many funds (ie. Ark) will spend multiple slides on their team, in order to offer a comprehensive overview of everyone's background and special qualifications.

8. Dealflow / Network Slide
Investors in your fund will want to understand your network and what your dealflow looks like. Your pitch should spend at least one slide describing who is in your orbit, including the founders, investors, and others (ie. potential partners & customers for portfolio companies) that you regularly collaborate with. Often this slide includes a funnel visualization of the fund's deal pipeline, demonstrating both the breadth of the total number of deals you evaluate, as well as the selectiveness of your investment criteria (% deal closing rate).
9. Fund Structure Slide
At the conclusion of a fund deck, prospective LPs will want to understand the terms of what they would be investing in. Industry best practices suggest dedicating one slide to describing how the fund is structured. The typical fund structure slide will describe the size of the fund, stage you're investing in, number of expected investments, and other details such as minimum investment and lockup period. There's no reason to overcomplicate this slide: the layout is often a simple grid, table or list of numbers.
10. Call to action
Ending your presentation with an effective call-to-action is an often-overlooked key get interested LPs to take action. The last slide should include contact information, and any next steps (if applicable.) Help interested LPs close the deal by making it easy for them! Fund decks are typically used to secure LP meetings, so your concluding slide should make it easy for them to get in touch with you to schedule a follow-up.
What key topics should a VC fund Pitch Deck address?
WorkLife VC founder, Brianne Kimmel, has a slightly different recipe for VC fund decks (based on WorkLife's Fund 1 pitch, which was backed by Marc Andreessen, and Zoom CEO Eric Yuan). According to Kimmel, VC fund decks should address the following topics:
Overview: Bullet points to describe the fund strategy and high signal LPs involved.
About: value proposition to founders, achievements and fund differentiators
Market opportunity: Define the market opportunity and provide examples of companies that align to your thesis.
Theme: A key trend, unique insight or thought that demonstrates access, expertise and ability to win deals aligned to the theme.
Fund strategy: ‍A clear definition for how you plan to source, pick, win and support companies.
Track record: ‍List angel investments and advisor roles to demonstrate both access and deal judgement.
Personal brand: What are you known for in the ecosystem? Why would they pick you over other angels and micro-funds?
Access & scale: ‍How do you currently meet founders? How will you help your growing portfolio with limited resources?
Fund structure: Target fund size, average check size, carry & management fees.
Strike zone: What companies and align with your thesis and fit within your strike zone of sourcing, picking, winning and supporting.
Some general takeaways for designing a successful fund presentation:
An effective pitch deck should tell a succinct and compelling story. Showing is always better than telling: use charts, case studies, and other relevant data & diagrams to demonstrate your assertions, rather than simply stating them.
Your pitch deck's primary goal should be to convince LPs that you are uniquely positioned to identify & make exceptional investments. This boils down to access to dealflow, decision-making criteria, and an ability to win deals — so be sure to spend the most time on those slides.
Social proof is invaluable: testimonials from portfolio company founders and existing LPs are commonly seen throughout most fund decks.
Designing a VC fund pitch deck? Check this out:
You might be interested in the popular VC Fund Pitch Deck Template designed by our team at VIP.graphics: cutting-edge slides based on decks that closed billions in LP funding for VC and PE funds. This template is easy-to-customize and offers ready-made elements with all the essential slides to help your fund stand out. Create a compelling & professional fund pitch deck in a matter of minutes!