One-click checkout Bolt used this 12-page deck to describe raise $393M in Series D funding for expanding its network of 5.6 million consumers.
Bolt is an innovative payment processing company that offers an integrated checkout experience that enables retailers to convert and retain more consumers. This round of $333 million in Series D funding and $60 million in follow-on capital will "fuel commerce's first federated checkout network", and brings Bolt's total funding to over $600 million.
Most impressively, the round comes at a $6B valuation: ~18× what Bolt was priced at just eighteen months prior. It all started with the simple 12-slide deck below:
In the funding announcement, the company projected it will serve ⅓ of all US Shoppers by the end of 2022, with an expected 11% of U.S. shoppers to be a part of the Bolt network by the end of 2021 based on committed deals.
Here is the pitch deck Bolt used to securing funding from leading VCs such as Untitled Investments, Willoughby Capital, and Soma Capital, General Atlantic, Tribe Capital, Activant Capital, and Moore Strategic Venture
Below are the exact slides from the pitch deck Bolt used to close their $393 million Series D round from Untitled Investments, Willoughby Capital, and Soma Capital, joining existing investors including General Atlantic, Tribe Capital, Activant Capital, and Moore Strategic Venture.
Cover Slide
Roadmap Slide
Target Market Slide
Problem Slide
Blue Ocean Slide
Press Slide
Below are some of the highlights from the full Bolt pitch deck (embedded above):
5. Competition Slide
There's no reason to overthink the competition slide — the feature comparison table is a trusty schematic regardless of industry.
Instead, Bolt used a simple three-column chart with a blue-colored outline to guide the reader's eye to Bolt's advantage, as compared to the redacted comparables. This slide succinctly covers what sets Bolt apart from the competition, and is a testament to not breaking what works when it comes to slide decks!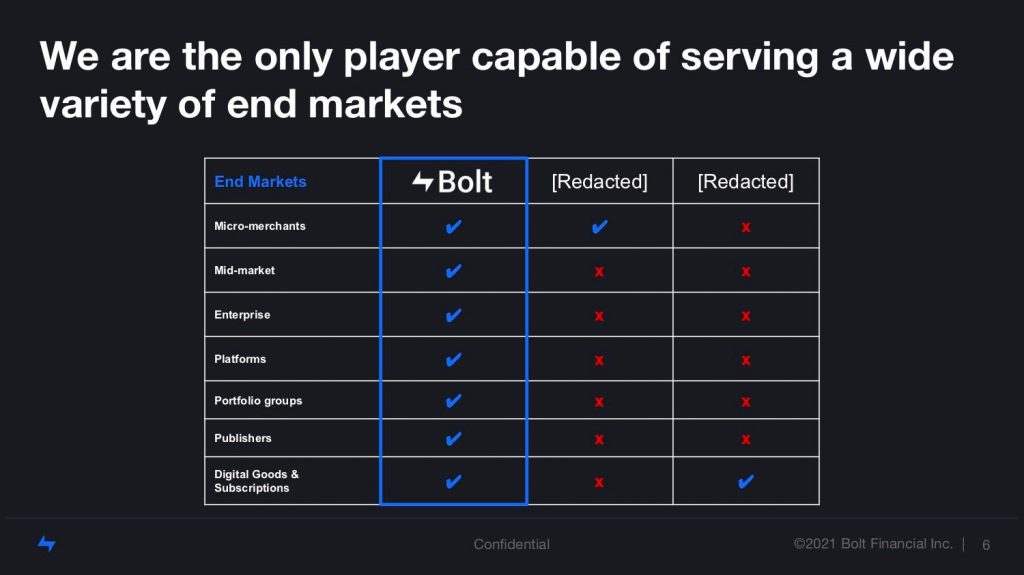 6. Why Us? Slide
In any business, numbers talk the loudest, and the payments space is no exception. Bolt draws a simple horizontal flow: highlighting the rapid growth (180+% year-over-year) of their 5.6M network of shoppers, and the improvements in key conversion metrics this helps drive for merchants that use Bolt's checkout platform. Presenting a quantifiable advantage and value proposition doesn't have to be complicated:

7. Traction Slide
A powerful traction slide will not only highlight the success to-date, but also the velocity and growth therein. Bolt spends two slides on this to drive the point home, starting with a pair of compelling graphs. These charts make an immediate statement and an easy-to-grasp impression of Bolt's growth trajectory.
To further cement their credibility, the following slide includes logos of marquee brands and organizations that use Bolt, accompanied by a multi-billion-dollar GMV figure. A strong traction slide helps demonstrates your startup's ability to navigate go-to-market challenges.


How-to create your own pitch deck like Bolt
We hope you learned something from Bolt's pitch deck, and you are able to use these insights for your own business.  If you'd like to, you can bookmark it at bestpitchdeck.com/bolt-series-d
Although it probably goes without saying that having a successful business (outside just their pitch deck) was integral to their success, it is critical for any startup to ensure your vision is portrayed properly. That's where crafting the perfect pitch deck comes essential: 
You might find our other resources on how-to create a pitch deck helpful, or benefit from using one of our expert-designed templates:
Our team has helped create decks that have closed over $100M+ in deals & funding for leading startups and even VC firms. You can leverage this experience and get a jumpstart on your pitch with one of our easy-to-use presentation templates, one-pagers, or financial models.
Every pitch requires a unique approach tailored to its audience. Our team of experts have created pitch decks for different sectors, as well as funding stages: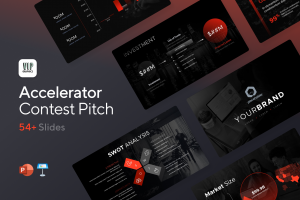 Accelerator Pitch Deck Template — The Accelerator Pitch Deck template was crafted for early-stage founders seeking to win funding &/or investment from pitch contests, accelerators, incubators, and angels or VC firms. Winning a pitch contest or being accepted to a prominent accelerator program requires a unique strategic approach to an investor pitch presentation.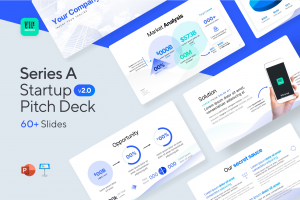 Series A Pitch Deck Template — A pitch deck template for startups and founders raising funding: Smart, actionable slides that work. This is a pitch deck template built specifically for startups, entrepreneurs and founders raising their first seed or Series A round of institutional capital.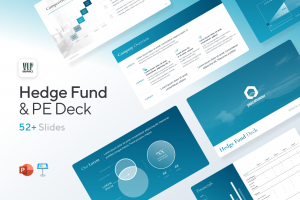 Mergers & Acquisitions Pitch Deck Template — Perfect Pitch Deck™ is a template crafted for later-stage businesses entering more sophisticated discussions such as mergers & acquisitions (M&A), late-stage investment (Series C+), or other partnerships & financing opportunities. Our team of experts created this presentation to empower founders to present with confidence to investment banks, private equity (PE) groups, and/or hedge funds (and vice versa).
Alternatively, feel free to browse our growing selection of pitch decks tailored for specific industries and businesses.