Over the last year, Copy.AI has established itself as one of the fastest-growing startups in recent history: rocketing past $1m ARR in less than 12 months. The AI-powered platform (based on GPT-3) offers powerful copywriting tools for businesses.
On the one-year anniversary of their launch on Twitter, the startup announced their second round of funding: $11M from leading VC firms such as Sequoia, Craft, and Tiger (following on the heels of a $2.9M seed round in March). According to founder & CEO Paul Yacoubian, the company has grown from zero to $2.4 million in annual recurring revenue.
One can safely assume that this incredible growth story likely played a major role in Copy.ai's fundraising success, but there are equally valuable insights to glean from the pitch deck that secured this investment. Below are the exact slides that Copy.AI used to close over $11M in late 2021 from top venture capital firms:
What were the slides in the Copy.AI pitch deck?
Below are the exact slides from the pitch deck Copy.AI used to close their $11 million Series A round, led by Wing Venture Capital, with participation from existing investors Craft Ventures and Sequoia, and new investors including Tiger Global and Elad Gil:
1. Cover Slide
The entire Copy.ai pitch deck is a testament to the power of simplicity, starting from the very first cover slide. Don't over-complicate this slide: all you need are the basics — your company logo &/or tagline, plus perhaps the presenter or date. The key is to choose the right brand name or tagline: for instance, the name "Copy.ai" says everything you need to know about what they do!
2. Problem Slide
Any successful startup should solve a critical problem: the first slide in most pitch decks should explain the pain points in relatable terms. It's important to keep this slide simple & light on text: the Copy.AI slide deck uses some photos to add visual context to their issue.  Copy.ai does a great job of simplifying their problem statement to four simple line: a good problem slide should always be clear and concise.

3. Solution Slide
Brevity is powerful, and the average investor only spends three minutes per presentation in total — and successful decks like that of Copy.AI make every second count:
Like any legendary Steve Jobs keynote presentation, the best slides usually have less than one sentence: and Copy.AI is no exception. They dedicate the entire slide to a focused view of all the different tools. This is a familiar site if you've used Copy.AI before (I'm using it to write this) and a powerful overview for any investor: demonstrating the breadth of the software's functionality, ranging from composing blogs to writing emails and social media posts.
It's always best to show, rather than tell: use visuals and images to demonstrate, rather than attempting to explicate in bunches of 12pt-size text block.
4. Traction Slide
Numbers & charts are the focus for the traction slide, which is used to showcase the success and experience of your startup. Copy.ai uses a simple growth chart with one focal growth metric: reaching $1.2M ARR (in just 7 months!) — this 'dashboard-style' KPI metric is the largest text on the slide for a good reason.
On the other hand, if the business is at a pre-launch or stealth stage, you may instead describe comparables (ie. Airbnb's oft-referenced deck used Craigslist and Couchsurfing numbers), your prior expertise, or altogether omit this slide.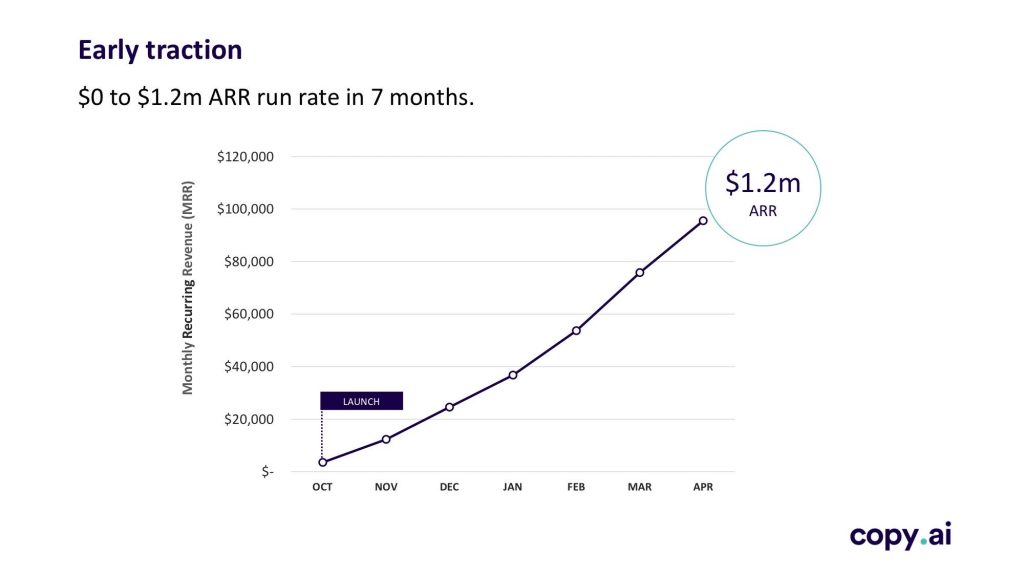 5. Target User Slide
Investors are always most interested in the opportunity size, and targeting the correct segment of the market will be crucial to your success. It's of utmost importance to validate the market opportunity you are targeting and understand the size, growth, trends, and hurdles therein. The purpose of this slide is to explain the market situation to the audience.
Ideally, you want to persuade investors that the current market is the right time to invest in your business. Rather than diving into unfathomable market data figures, Copy.AI chose to focus on their use cases & customer segments, alluding to the breadth of their total addressable market (TAM).
This slide could be made more compelling by adding a visualization like an iceberg diagrams or accompanying statistics, but a savvy investor can imagine the market sizes and TAM for themselves.
6. Competition Slide
No need to bother with hackneyed 4-quadrant diagram & features tables: simply grouping your competition &/or comparables is often a better way to visualize your competitive advantage. 
This allows you to depict your product as the newest innovation in the inevitable & intuitive process of evolution — which is usually a far more convincing story than being an outlier striving to disrupt an age-old industry.
As a supplement, Copy.ai includes social proof at the bottom of this slide, which is always a compelling addition to solidify your positioning.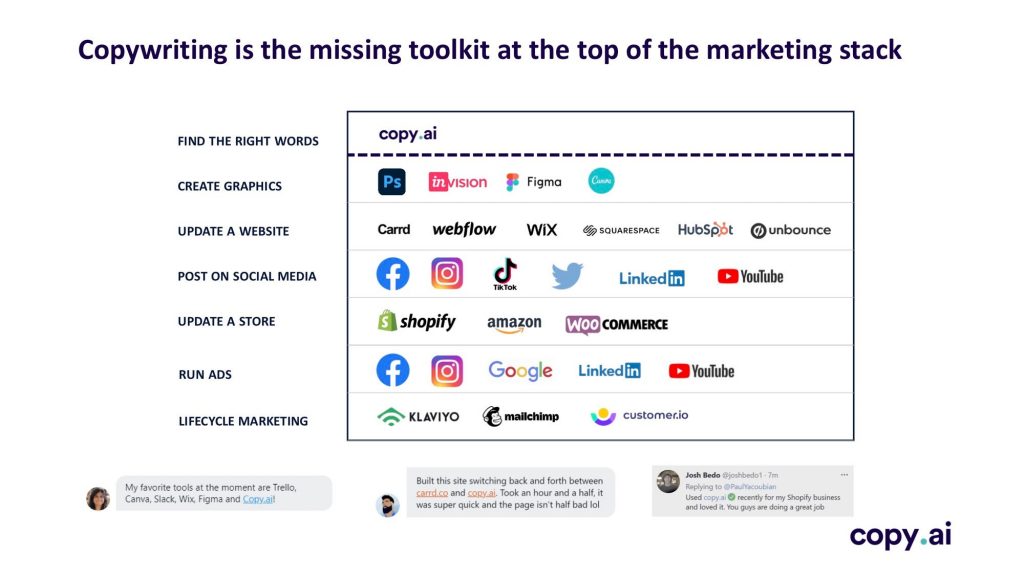 7. Product Slide
The product slide should sum up your product functionality as briefly as possible. From Airbnb to Copy.AI, most winning decks keep it to no more than a three-step flow with accompanying screenshot(s).
This slide should demonstrate how your product/service solve the problems mentioned before and why your company is best-positioned to deliver on those promises. Copy.AI emphasizes the ease-of-use of their platform, and allows the reader's eyes to peruse the platform for itself — screenshots & product images are always the most useful for this slide!
8. User Reviews Slide
Nothing beats social proof when it comes to establishing your credibility and success. In the classic "Twitter Wall of Love" style, Copy.ai is able to make a strong case for their software's superiority by simply using the words of their customers.
While any savvy investor will arrive at their decision based upon various sophisticated criteria, it's always important to hear what the user thinks. This is doubly useful: both demonstrating you have a strong word-of-mouth growth strategy, as well as boasting the superiority of your product! Social proof is always king — regardless of the purpose or audience of your pitch.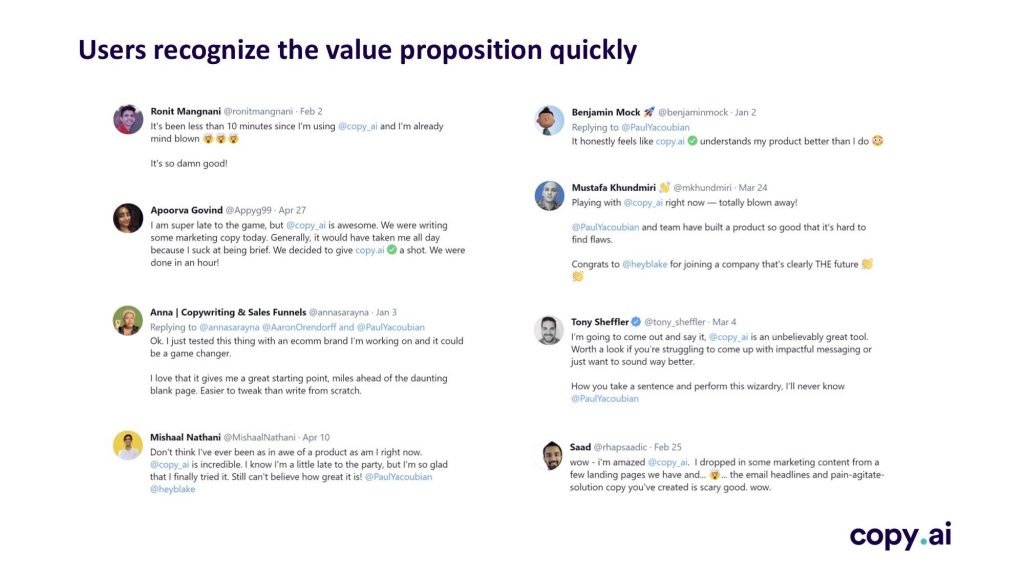 How-to create your own pitch deck like Copy.ai
We hope you learned something from Copy.ai's pitch deck, and you are able to use these insights for your own business. 
Although it probably goes without saying that having an amazing business (outside just their pitch deck) was integral to their success, it is critical in the early stages of any startup to ensure your vision is portrayed properly. That's where crafting the perfect pitch deck comes essential: 
You might find our other resources on how-to create a pitch deck helpful, or benefit from using one of our expert-designed templates:
Our team has helped create decks that have closed over $100M+ in deals & funding for leading startups and even VC firms. You can leverage this experience and get a jumpstart on your pitch with one of our easy-to-use presentation templates, one-pagers, or financial models.
Every pitch requires a unique approach tailored to its audience. Our team of experts have created pitch decks for different sectors, as well as funding stages: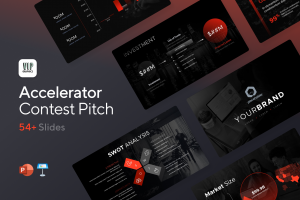 Accelerator Pitch Deck Template — The Accelerator Pitch Deck template was crafted for early-stage founders seeking to win funding &/or investment from pitch contests, accelerators, incubators, and angels or VC firms. Winning a pitch contest or being accepted to a prominent accelerator program requires a unique strategic approach to an investor pitch presentation.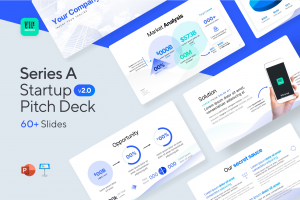 Series A Pitch Deck Template — A pitch deck template for startups and founders raising funding: Smart, actionable slides that work. This is a pitch deck template built specifically for startups, entrepreneurs and founders raising their first seed or Series A round of institutional capital.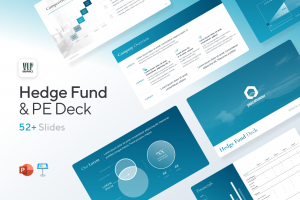 Mergers & Acquisitions Pitch Deck Template — Perfect Pitch Deck™ is a template crafted for later-stage businesses entering more sophisticated discussions such as mergers & acquisitions (M&A), late-stage investment (Series C+), or other partnerships & financing opportunities. Our team of experts created this presentation to empower founders to present with confidence to investment banks, private equity (PE) groups, and/or hedge funds (and vice versa).
Alternatively, feel free to browse our growing selection of pitch decks tailored for specific industries and businesses.