Muck Rack, based in Miami, is a public relations software platform that helps journalists and public relations professionals connect. The company, which was founded in 2009, began as a database of journalists but has since evolved to provide a suite of tools including media monitoring, news coverage tracking, campaign performance, reporting, analytics, email integration, and more.
"PR has never really had a system of record, the way a sales team would use CRM or a marketing team would use marketing automation," said Muck Rack CEO Greg Galant. "There's a greater need than ever in the world we're in now. With everyone working remotely, you really need to have all the data in one place to know, for example, the relationship history with a journalist, or which metrics are going to be tracked."
In addition to providing tools for communication chiefs, Muck Rack is a valuable platform for journalists and allows them to be discovered without being spammed. More than 10,000 journalists asked to be added to the database when it first launched. Furthermore, many journalism trade groups such as the Society of Professional Journalists have signed deals to partner with Muck Rack.
"SPJ is a champion for journalists and we want to help our members increase their contacts, their exposure, and their ability to deliver exceptional journalism," said SPJ Executive Director John Shertzer. "Muck Rack provides a great tool for journalists to be discovered, and we are excited to partner with them to showcase this and to collaborate on other projects that strengthen journalism."
For more than a decade, Muck Rack has been profitable. It employs 200 people and has tens of thousands of active users among journalists. According to the company, revenues increased by 75% in 2021, and sales increased by 300% between 2018 and 2021. Google, the International Rescue Committee, Pfizer, Golin, Zapier, Duolingo, and many other companies use Muck Rack's database.
After 13 years of bootstrapping, Muck Rack has announced the completion of a $180 million Series A round led by private equity and venture capital firm Susquehanna Growth Equity.
"We're thrilled to partner with SGE to support our rapid growth and continue to define the role of PRM in the SaaS ecosystem," said Galant in a statement. "This investment is an indicator of the strength of our business and Muck Rack's bright future as we drive toward our mission to enable organizations to build trust, tell their stories and demonstrate the unique value of earned media."
This funding will allow the company to expand its product offering, with a continued emphasis on tools that integrate with the datasets of its corporate clients. It is also planning to release its own API to make these integrations easier.
"Every PR professional should be using Muck Rack," said Josh Elser, managing director at SGE, in a statement. "The Company has established itself as one of the most innovative software platforms to meet the shifting demands of the communications industry. We believe there is tremendous opportunity for Muck Rack to be the dominant global PR platform, and we look forward to working closely with Greg, Lee and their team to support this next phase of company expansion." Elser and Scott Feldman of SGE will be joining the board.
Here's a look at the pitch deck that was used to raise $180M in a Series A round led by Susquehanna Growth Equity.
Browse the exact example slides from the pitch deck that Muck Rack used to raise $180M.
1. Problem Slide
A startup stands on the foundation of the problem it solves and explaining this problem to the audience is one of the most important components of any pitch deck. Generally speaking, when it comes to explaining the problem, stories sell better than facts and figures. A narrative approach will help investors understand the pain and problems that users are experiencing and will pique their interest in being a part of the solution.
Muck Rack's pitch deck's problem slide builds the narrative to justify the needs of a platform like Muck Rack by underlining PR as a "Critical Yet Underserved Part of Marcom (Market Communication)". The slide then explains the pain users face and ends the story with why solving these issues is important. Despite having a lot to cover, the slide manages to keep a fairly simple structure and easy-to-follow flow.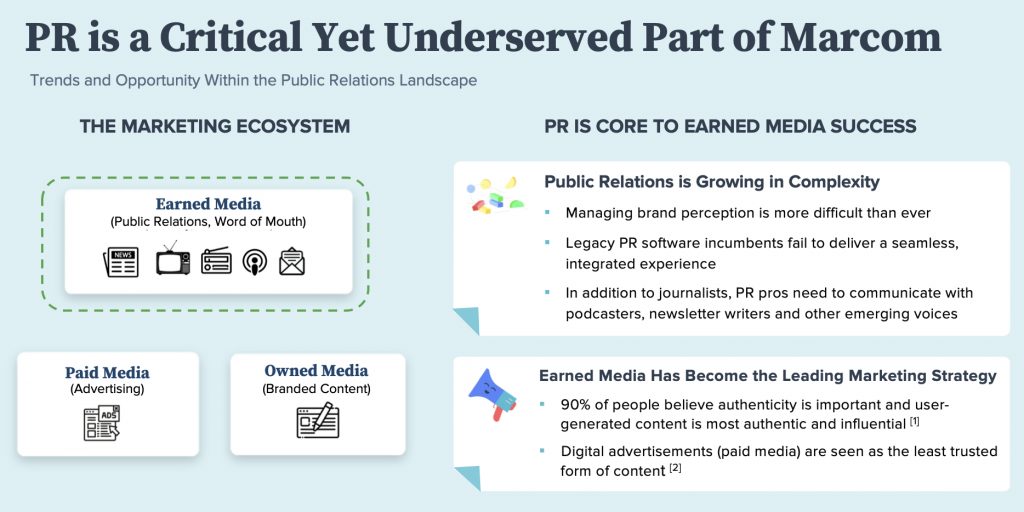 2. Solution Slide
A well-built problem slide will leave the audience craving to know what the solution is. The solution slide should then present the way in which the business solves the problems that the target market is facing. Most recommend that you reinforce the solution slide with visuals of the products or services, including photographs, screenshots, or even videos of a physical demo.
According to Muck Rack's pitch deck's solution slide, the answer to cracking the problem with PR management issues lies in a "Fully integrated PRM solution". The slide supplements the claim with a flowchart illustrating Muck Rack platform's workflow. A large heading, use of the company's branding (including the company mascot), and modern icons make for a well-built slide that effectively communicates the value proposition of Muck Rack's PR solutions.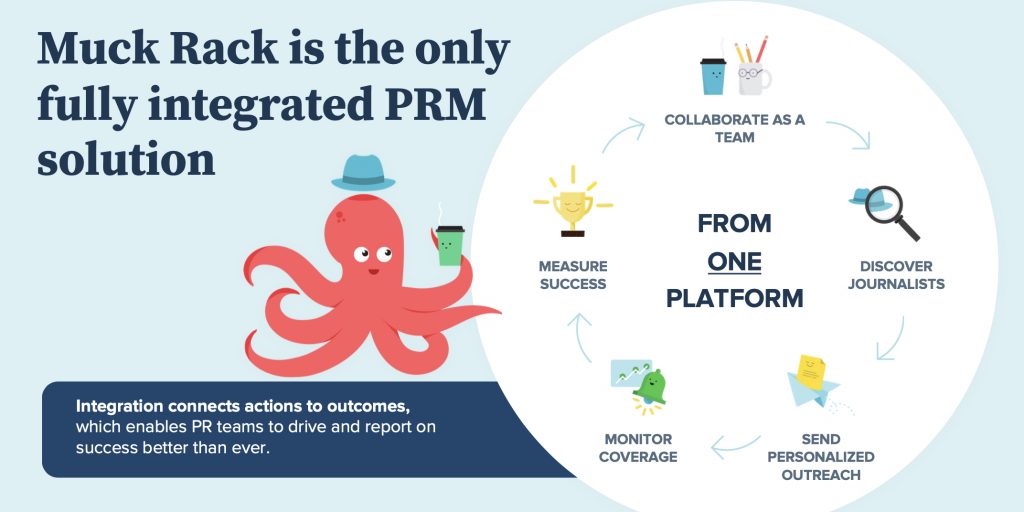 3. Traction Slide
Traction answers the critical question investors have regarding whether you have found the ever-elusive product-market fit (PMF). According to the legendary Silicon Valley founder & investor Marc Andreessen, product-market fit "means being in a good market with a product that can satisfy that market." In simpler words, is your solution the right one for the problem in question? As a founder, naturally, you'd think so, but investors won't take your word for this — you have to prove it with substantial evidence.
Muck Rack doesn't need to prove anything as some of the biggest companies in the world use its platform including Google, Pfizer, Uber, and more. The company has a powerful, decades-long track record of proftiable success. The Muck Rack pitch deck's traction slide is a simple yet powerful presentation with a grid of logos and a simple title. The slide emphasizes Muck Rack's position as the world's leading PR communication management platform.
How-to create your own pitch deck like Muck Rack
We hope you learned something from the Muck Rack pitch deck, and that you are able to use these insights for your own business.  If you'd like to, you can bookmark it at bestpitchdeck.com/Muck-Rack
Although it probably goes without saying that having a successful business (outside just their pitch deck) was integral to their success, it is critical for any startup to ensure your vision is portrayed properly. That's where crafting the perfect pitch deck comes essential: 
You might find our other resources on how-to create a pitch deck helpful, or benefit from using one of our expert-designed templates:
Our team has helped create decks that have closed over $100M+ in deals & funding for leading startups and even VC firms. You can leverage this experience and get a jumpstart on your pitch with one of our easy-to-use presentation templates, one-pagers, or financial models.
Every pitch requires a unique approach tailored to its audience. Our team of experts has created pitch decks for different industries, as well as funding stages:
Software Pitch Deck Template — You might be interested in the popular Software & SaaS Pitch Deck designed by our team of experts at VIP.graphics: cutting-edge slides based on decks that closed millions in deals & funding. This template is perfect for any business in the tech space: from software to services.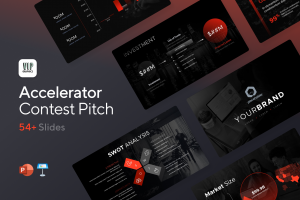 Accelerator Pitch Deck Template — The Accelerator Pitch Deck template was crafted for early-stage founders seeking to win funding &/or investment from pitch contests, accelerators, incubators, and angels or VC firms. Winning a pitch contest or being accepted to a prominent accelerator program requires a unique strategic approach to an investor pitch presentation.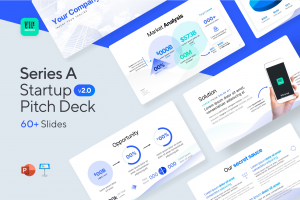 Series A Pitch Deck Template — A pitch deck template for startups and founders raising funding: Smart, actionable slides that work. This is a pitch deck template built specifically for startups, entrepreneurs and founders raising their first seed or Series A round of institutional capital.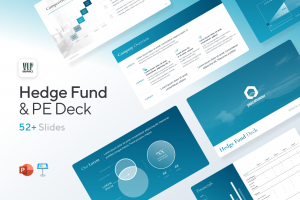 Mergers & Acquisitions Pitch Deck Template — Perfect Pitch Deck™ is a template crafted for later-stage businesses entering more sophisticated discussions such as mergers & acquisitions (M&A), late-stage investment (Series C+), or other partnerships & financing opportunities. Our team of experts created this presentation to empower founders to present with confidence to investment banks, private equity (PE) groups, and/or hedge funds (and vice versa).