What is a slide deck?
A slide deck is a collection of slides that you can use to present your ideas. Some decks are a brief set of simple slides (ie. for keynotes & demo day presentations), whereas others are much longer and include far more detail (ie. M&A and fund pitch decks).
What is the purpose of a slide deck?
The purpose of the slide deck is to communicate your thoughts and ideas to your audience. An effective slide deck should be visually appealing so that your audience will be engaged and interested in what you have to say. Don't just fill up your slides with bullets: include visual aids, such as images, quotes, graphs and charts, to support your points.
What format should I use to create a slide deck?
You have a wide variety of options when it comes to choosing the software you want to use in order to create your slide deck:
Microsoft PowerPoint – Arguably the best software to create your slide deck.
Keynote – An Apple software for creating presentations on a Mac computer.
Prezi – An online presentation tool that breaks the traditional "slide"-based presentation model.
Google Slides – Another online service that allows you to create presentations and share with your colleagues, friends or family members.
OpenOffice Impress – A free alternative to Powerpoint that allows you to make and edit presentations and slideshows.
LibreOffice Impress – Another alternative that is similar to OpenOffice Impress and offers many of the same features.
Canva – Online design tool that offers a variety of templates, graphics and fonts to help you create a great-looking slide deck.
Figma – An online design tool that typically used for creating prototypes and mockups, which is also great for designing presentations.
How to create an effective slide deck
When creating a slide deck in PowerPoint you should use the following guidelines to ensure that it looks professional and polished:
1. Consistency
Use the same font & colors throughout your presentation (matching your branding) so your deck has a consistent look and feel. This will make your deck look more professional and ensure that the audience can follow your presentation more easily.
2. Visuals-First
Too many slide decks succumb to the pitfall of including too much text: use pictures & graphics to tell your story visually. That said, your visual content should support your talking points, not detract from them. Text-heavy slides are certain to make your audiences eyes glaze over.
3. Tell a story (avoid jumping between topics)
As you are presenting, be sure to emphasize the main points of your presentation by telling a story: start with a hook and weave together all your points and transitions through your story. This helps keep your presentation focused so that your audience stays focused & follows along more easily.
4. 1-sentence messages > bullets & headings
Bullet lists are good for summarizing key points in a long and complicated message, but are not the most effective way to communicate your main ideas. Each slide in your presentation should focus upon a single topic, which you should be able to summarize in one sentence. Using large, headings is the key to delivering a clear message and making your presentation easily-digestible for your audience.
5. Focus on the opportunity, not features
Rather than spending too much time talking about every little detail of your product and service, focus on why it's beneficial for your audience and how it solves their problems. It's easy for founders to get lost in the rabbit holes of minute product features, which is one surefire recipe to lose investor's focus during your pitch. Focus on high-level benefits & user stories to paint a far more compelling picture — investors don't need in-depth feature overviews or operational minutiae.
6. A picture is worth a thousand words.
"A picture is worth a thousand words" is a well-known saying for a reason: visual cues are far more effective than text alone when it comes to communicating complex concepts to an audience. The same philosophy holds true for investor pitch decks (and any presentation you'll create for your business): slides that leverage visuals are far more memorable than those with nothing but a bunch of text. Use charts, graphs, and other eye-catching visuals to supplement your points, and avoid walls of bulleted text in your deck.
7. Avoid live demos
Pitch deck best practices recommend using pictures and flowcharts instead of live demos: too much can go wrong and switching lanes mid-presentation disrupts the flow of your presentation. The same can be said for long (>2-min) videos, although embedding short videos & GIFs can be an excellent strategy to add life to your presentation.
Best slide deck templates
Every pitch requires a unique approach tailored to its audience. Our team of experts has created tailor-made pitch decks for different industries, as well as funding stages: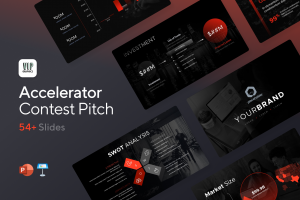 Accelerator Pitch Deck Template — The Accelerator Pitch Deck template was crafted for early-stage founders seeking to win funding &/or investment from pitch contests, accelerators, incubators, and angels or VC firms. Winning a pitch contest or being accepted to a prominent accelerator program requires a unique strategic approach to an investor pitch presentation.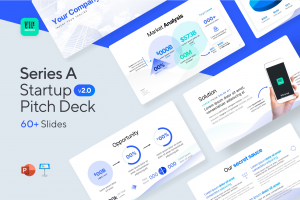 Series A Pitch Deck Template — A pitch deck template for startups and founders raising funding: Smart, actionable slides that work. This is a pitch deck template built specifically for startups, entrepreneurs and founders raising their first seed or Series A round of institutional capital.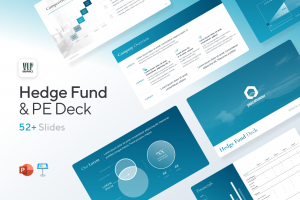 Mergers & Acquisitions Pitch Deck Template — Perfect Pitch Deck™ is a template crafted for later-stage businesses entering more sophisticated discussions such as mergers & acquisitions (M&A), late-stage investment (Series C+), or other partnerships & financing opportunities. Our team of experts created this presentation to empower founders to present with confidence to investment banks, private equity (PE) groups, and/or hedge funds (and vice versa).