ngrok provides a straightforward method for quickly exposing a local server to the Internet. Assume you're developing a web application that will be hosted on your local Mac and you want to test it in Internet Explorer. Simply start your application and publicize it by generating a random subdomain on ngrok (e.g. 3gf892ks.ngrok.com). That link is accessible to anyone with a Windows PC, and you can test your website there.
Despite its apparent simplicity, dealing with this type of access frequently necessitates developers cobbling together a tangled mess of solutions. It is possible with ngrok with a single line of code designed to fit into existing developer workflows.
"When developers build applications and APIs, they need to deliver them to customers on the internet. Ingress is the service that provides application delivery and makes your service available securely to its customers. Ngrok's ingress is [an] application's front door. The way developers build applications has fundamentally changed. Microservice architectures, serverless platforms, and other shifts in the industry have led to a proliferation of new APIs and apps which need their own ingress in different environments." Alan Shreve founder and a veteran of building distributed systems at scale explained.
As a Twilio engineer, Shreve was working on webhooks without a properly tailored development environment, which hindered the deployment process. ngrok was his solution to the infrastructure issue he ran into. Initially, an open source community-funded hosted service, ngrok has evolved into a platform that supports millions of tunnels on a daily basis. In fact, ngrok now has five million developers, 30,000 of whom are paying customers. Although revenue figures are not available, Shreve claims that revenue doubled year over year, thanks in part to high-paying clients such as Databricks, Zendesk, Copado, Klaviyo, and SonarSource.
"It's incredibly gratifying and really exciting to know that developers out in the world use and love every day. It's what gets me out of bed in the morning," Shreve said.
ngrok is the easiest and most well-known local-host tunneling service and the project has been bootstrapped since its inception. Initially, Alan wasn't interested in outside funding. Guru Chahal, a partner at Lightspeed Venture Partners, had trouble getting just a meeting with him.
"I had to ping him like two or three times," Chahal told Insider, "like, 'Hey, man, I understand what you're doing. I'm a user. I love this product. Can I at least buy you a coffee?'" Once Ngrok was ready to seek outside funding, Chahal's persistence paid off. On Tuesday, the company announced its first funding round: the closing of a $50 million Series A round led by Lightspeed, with participation from Coatue Management and others.
"As an industry, we talk about the developer journey and the need to deliver apps faster, but what is often overlooked is the complexity involved in delivering applications to users," said Guru Chahal, partner at Lightspeed Venture Partners, who will join ngrok's board of directors as part of the round. "ngrok enables developers to instantly deliver their applications to any user, anywhere, while ensuring the applications are secure, observable, and performant. This leads to better developer productivity, lower infrastructure complexity, and superior end-user experiences. We are excited to partner with this exceptional team as they build and scale their application ingress platform."
Here's a look at the pitch deck that ngrok used to raise $50 million Series A round from venture-capital heavyweight Lightspeed Venture, Coatue Management, and others.
Browse the exact example slides from the pitch deck that first-time founder Alan Shreve used to raise $50M in Series A funding for ngrok from blue-chip VC firms such as Lightspeed and Coatue.
1. Traction Slides
Investors constantly seek out companies that have gained traction, as this signifies that the company has a viable business model and is likely to be successful in the long run. Companies with high traction are also more likely to attract higher valuations from investors. With the importance of traction in mind, it's safe to say that having traction can increase a startup's chances of funding many folds.
If there's one thing ngrok has in abundance, it's traction. After all, their lead investor (Guru Chahal of Lightspeed Venture Partners) became interested after being a user of the platform himself. The ngrok pitch deck's traction slides showcase the platform's adoption with hard facts, stunning design, and simplicity. The slides are very clever with their titles as they stimulate potential investors to feel excited about investing in ngrok. Overall, the well-thought-out design makes ngrok's traction slides excellent models to emulate.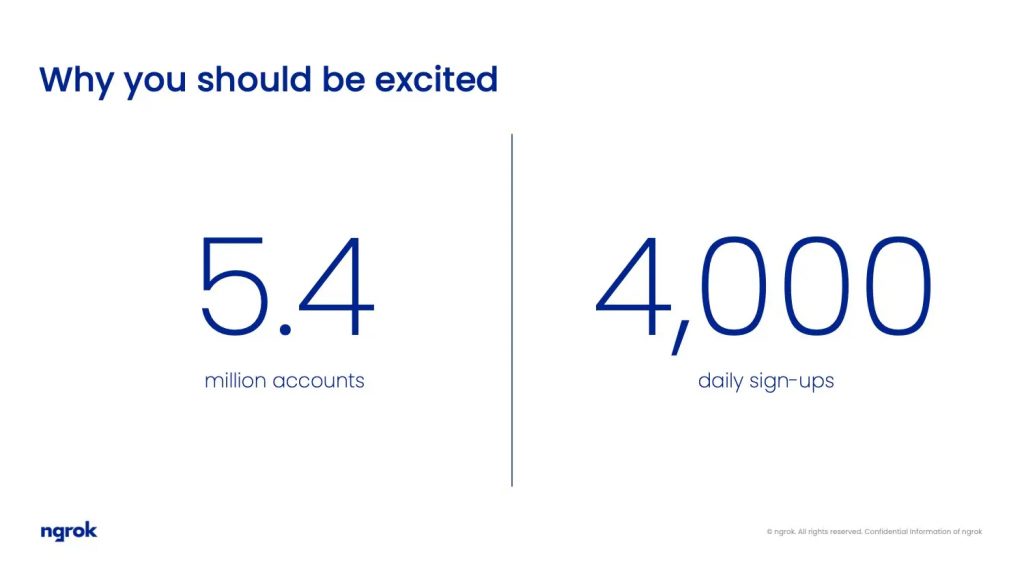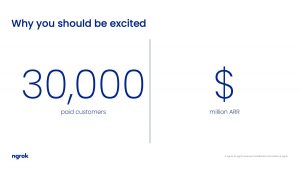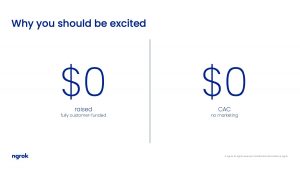 2. Team Slide
There are few things more important to investors than the team behind the startups they are investing in. VCs and angels understand that a strong founding team can bring valuable industry expertise, business acumen, and leadership skills to the table, which can be significant considerations in the success of the company. Additionally, investors are more confident in the company's ability to execute its plans and achieve its goals (and a healthy return on their investment) if the team has a history of successfully building and growing businesses.
The team slide's goal is to dispel any doubts that investors may have and to convey that the team is capable, experienced, and committed to driving the company's success. This can be accomplished by including background, education, and relevant experience information for each team member, as well as any notable accomplishments or awards they have received.
When it comes to designing the team slide, the essential elements are headshots, names, titles, and relevant experience. The ngrok pitch deck's team slide is well-designed and includes all these elements alongside a description of the team's role at their past companies (for comparison, Pearpop's otherwise-awesome team slide lacked this). The slide could be improved by replacing the text with logos from previous companies (ie. Twilio, Okta, MongoDB, Yahoo, Cisco).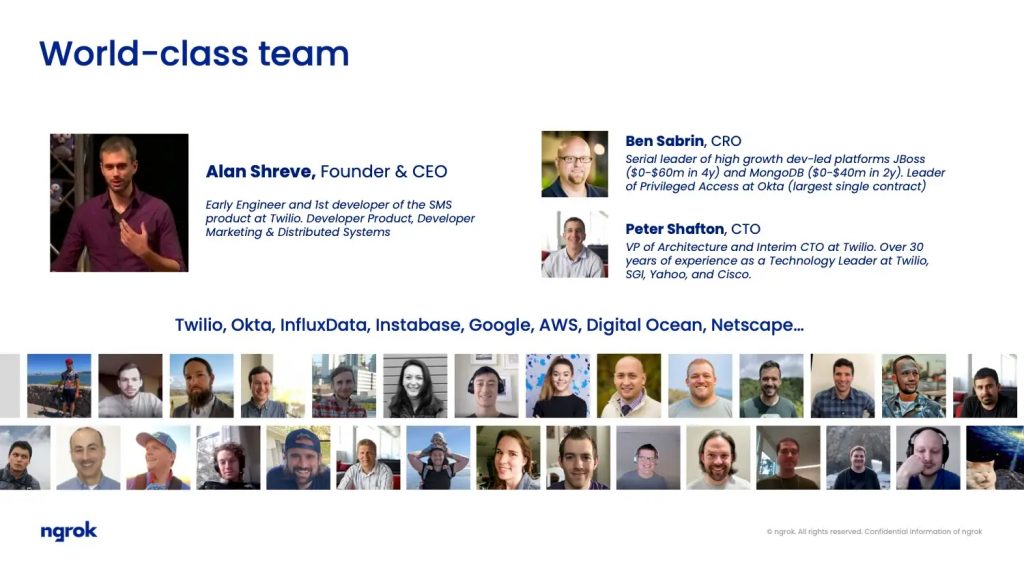 3. Moat Slide
The term "moat" refers to a business's ability to maintain competitive advantages over its competitors in order to protect its long-term profits and market share. Building a strong moat for your business is the key to sustainable profits over the long run and a more defensible market share, as your competitive advantage cannot be easily mimicked by others. 
Examples of a moat can include economies of scale, brand, high switching costs, intangible assets, and network effects. Needless to say, Investors love companies with moats. And if you can have some kind of competitive advantage that's hard to replicate, you should certainly add it to your pitch deck.
The ngrok pitch deck's moat slide is an excellent example of how to flaunt your moat. Instead of giving a list of superficial logic that might seem true at first, the slide is based on facts and figures that are easy to understand and digest. On the design side, the minimalist & modern slide includes trendy icons, headings, and succinct descriptions. Oftentimes, less is more, and this is very much true for ngrok's moat slide.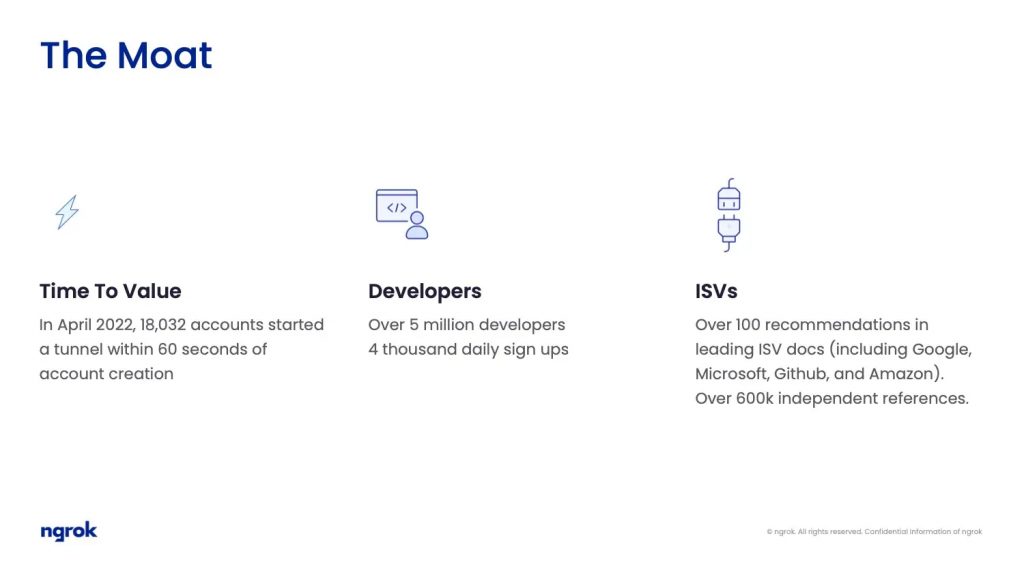 How-to create your own pitch deck like ngrok
We hope you learned something from the ngrok pitch deck, and that you are able to use these insights for your own business.  If you'd like to, you can bookmark it at bestpitchdeck.com/ngrok
Although it probably goes without saying that having a successful business (outside just their pitch deck) was integral to their success, it is critical for any startup to ensure your vision is portrayed properly. That's where crafting the perfect pitch deck comes essential: 
You might find our other resources on how-to create a pitch deck helpful, or benefit from using one of our expert-designed templates:
Our team has helped create decks that have closed over $100M+ in deals & funding for leading startups and even VC firms. You can leverage this experience and get a jumpstart on your pitch with one of our easy-to-use presentation templates, one-pagers, or financial models.
Every pitch requires a unique approach tailored to its audience. Our team of experts has created pitch decks for different industries, as well as funding stages: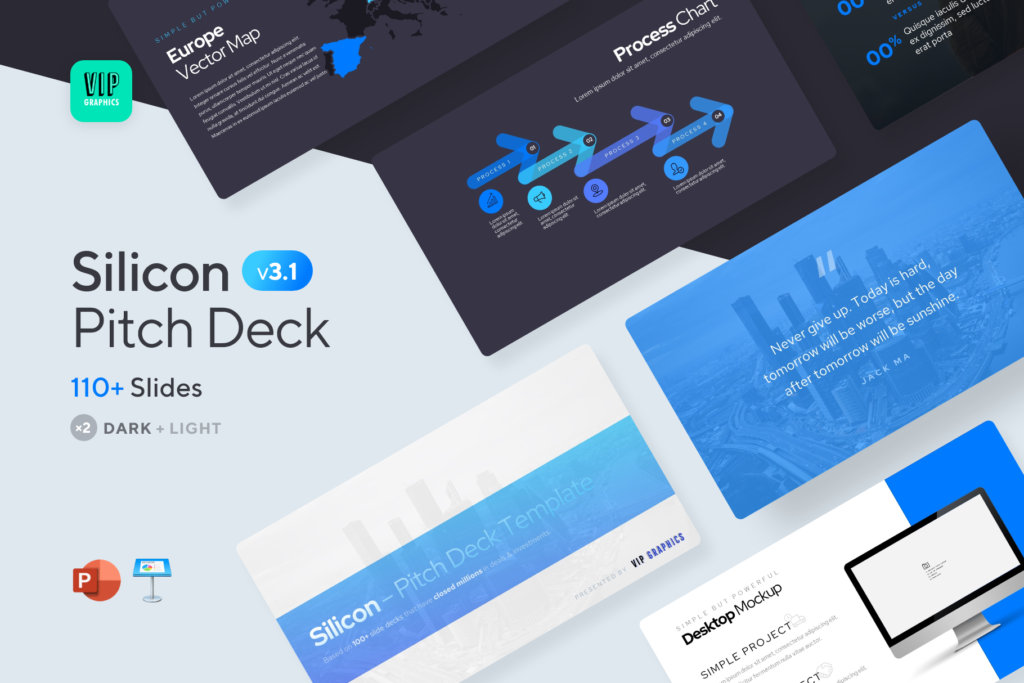 Silicon Pitch Deck — You might be interested in the popular Silicon Pitch Deck Template designed by our team of experts at VIP.graphics: cutting-edge slides based on 100+ decks that closed over $84M+ in funding & sales. This investor presentation template is an excellent starting point for first-time founders in the software & technology space.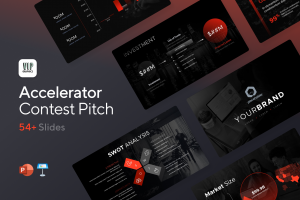 Accelerator Pitch Deck Template — The Accelerator Pitch Deck template was crafted for early-stage founders seeking to win funding &/or investment from pitch contests, accelerators, incubators, and angels or VC firms. Winning a pitch contest or being accepted to a prominent accelerator program requires a unique strategic approach to an investor pitch presentation.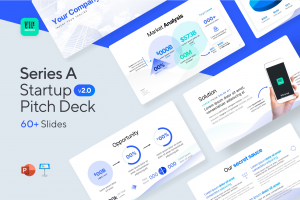 Series A Pitch Deck Template — A pitch deck template for startups and founders raising funding: Smart, actionable slides that work. This is a pitch deck template built specifically for startups, entrepreneurs and founders raising their first seed or Series A round of institutional capital.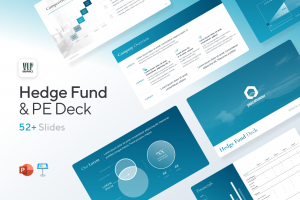 Mergers & Acquisitions Pitch Deck Template — Perfect Pitch Deck™ is a template crafted for later-stage businesses entering more sophisticated discussions such as mergers & acquisitions (M&A), late-stage investment (Series C+), or other partnerships & financing opportunities. Our team of experts created this presentation to empower founders to present with confidence to investment banks, private equity (PE) groups, and/or hedge funds (and vice versa).