The 98point6 digital health platform provides a turnkey, cloud-based solution for scaling up a virtual care operation complete with software, professional services, and support from a team who built and operated a successful, nationwide virtual clinic for the past several years.
The company previously connected users in real-time to its own doctors alongside an AI-powered chatbot, texts, and digital images. 
However, after selling its virtual care delivery business to Transcarent in March in a $100 million deal, the company relaunched as 98point6 Technologies, a software-only company focused on licensing its tech to third-party healthcare providers. 
"We can think of no better company to continue nurturing our customers and Members than Transcarent as we enter our next phase of growth, which will focus on software licensing under the 98point6 Technologies brand," Jay Burrell, president, and CEO of 98point6 Technologies said in a statement. "Virtual care is the bedrock of healthcare. We remain committed to innovating new technology solutions and business models that work upstream to give health care providers the infrastructure they need to succeed with consumers."
98point6 Technologies will license its software, which includes the AI chatbot and other patient engagement and administrative tools, without an associated clinic of virtual providers. This means its new hospital clients can use their own doctors and nurses to take over the virtual appointments on the back end. 
In addition to the company's technology, Transcarent will also be able to work with 98point6's affiliated medical group of providers and its client base. The latter includes employers like Boeing, Costco, and Chipotle, and health plans like Aetna and First Choice Health. Following the acquisition, 98point6's clients will be able to access Transcarent's services as well, including its pharmacy care and home-based care.
"By combining the 98point6 AI-powered virtual care technology and an affiliated group of world-class physicians with Transcarent's comprehensive care platform, we will deliver consumers and employers what they really want and need. Leveraging AI to drive personalization and access to care will revolutionize the virtual care experience, for the first time combining best-in-class technology with human touch. That's a winning combination," Transcarent CEO Glen Tullman said in a statement. 
After the acquisition, 98point6 changed its name to 98point6 Technologies and promptly raised $30.7 million in funding, comprised of a mix of debt and options. The fresh capital brings 98point6's total funding to $297 million, excluding the $100 million Transcarent deal, per the company.
Private equity firm L Catterton and investment firm Activant Capital led the round. Both participated in the September funding round, and the two firms also led 98point6's $118 million Series E in October 2020.
98point6 announced two rounds at the height of the COVID-19 pandemic in 2020, including a $43 million Series D and a $118 million Series E. Last year, the company brought in $20 million to scale its licensing vertical alongside a strategic partnership with Washington-based MultiCare Health System, the first to license the virtual care technology for its hybrid urgent and primary care service.
Here's the 18-slide pitch deck 98point6 used to raise a $30.7 million funding round comprised of a mix of debt and options.
Browse the exact example slides from the pitch deck that 98point6 used to raise $30.7M in a round led by L Catterton and Activant Capital.
1. Cover Slide
The first few minutes of any presentation are crucial because they prepare the stage for the rest of the presentation and establish the audience's expectations. A strong introduction can pique the audience's interest, establish credibility, and establish the speaker's authority. A poor opening, on the other hand, can lead to disinterest or even boredom, making it difficult to engage the audience later in the talk.
Similarly, the cover slide of a pitch deck is the introduction of the company to potential investors and should aid in creating a positive first impression. It serves as an initial indicator of a business's sector, value proposition, and level of dedication toward the design. 
The 98point6 pitch deck's cover slide is a stellar example of an effective pitch deck opening. It contains all the critical elements such as the company's name, logo, and tagline. The slide effectively communicates that the company operates in the digital healthcare industry and offers a unique value proposition. The slide's minimalist and modern design perfectly aligns with the company's branding and industry.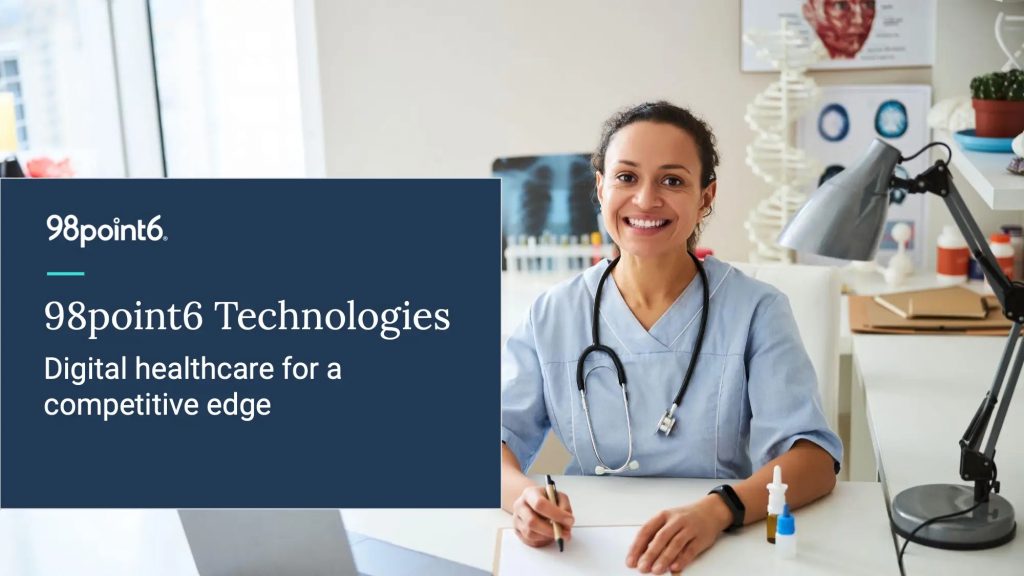 2. Traction Slide
When it comes to securing investor backing, traction reigns supreme. It's the single most crucial factor that separates a mere idea from an investable opportunity. Practically, traction is the ultimate validation of a startup's product-market fit, and it's up to founders to provide investors with tangible evidence of this success.
98point6 has achieved remarkable traction, boasting major clients such as Boeing, Chipotle, Circle K, and KinderCare. The traction slide also includes other impressive facts and figures that speak to the company's success. While it's difficult to argue with the traction, there are some valid criticisms of the slide's design and content. For instance, it may be more effective to exclude information about how the product works, or move it to a separate slide. Additionally, the design could be improved to make the slide more visually appealing and easier to read (ie. numbers could be in larger text). Ultimately, while the traction slide highlights the company's impressive achievements, there is room for improvement in terms of how the information is presented to investors.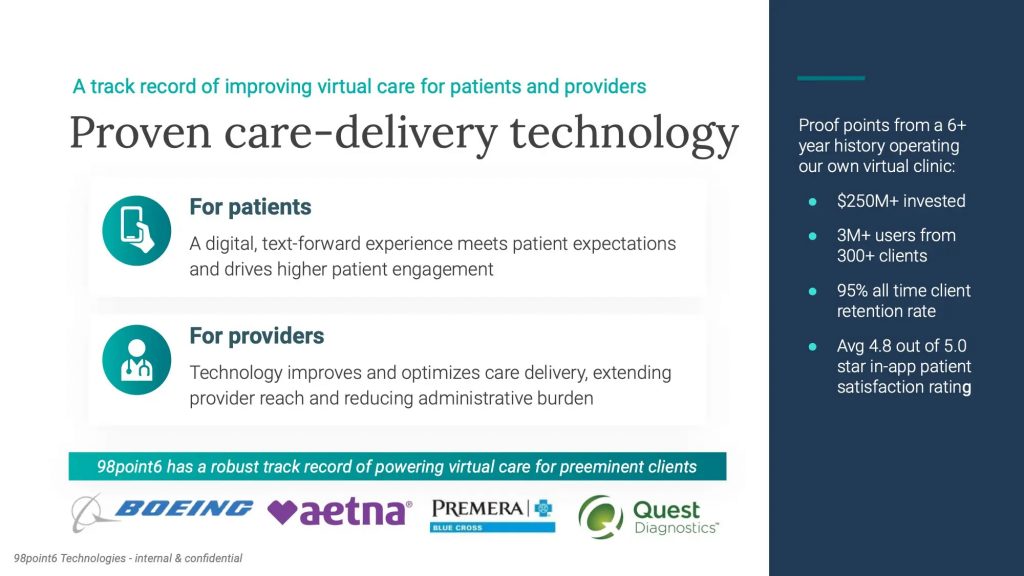 3. Why Now Slide
When VCs consider investing in a company, they take into account the current economic, technological, and cultural landscape. As a founder, your job is to persuade them why your company is a smart investment choice right now, and the "Why Now" slide is the vehicle for doing that. To create an effective "Why Now" slide, it's essential to focus on the present and make a compelling case for why your solution is needed.
The 98point6 pitch deck's "Why Now" slide presents a persuasive argument for the opportunity created by technology disruption in the healthcare industry. However, the slide could use some improvement in terms of design and content. The text-heavy slide may overwhelm investors, and the lack of statistics or data to support the claims is a drawback. While the slide highlights the right content, there is room for improvement in terms of streamlining the information and designing a more impactful slide.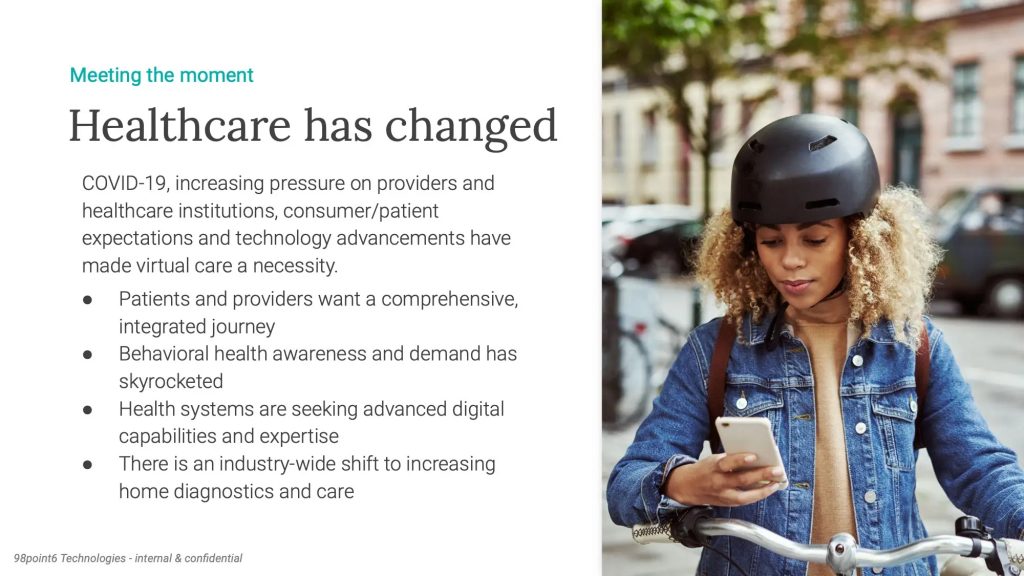 How-to create your own pitch deck like 98point6
We hope you learned something from the 98point6 pitch deck, and that you are able to use these insights for your own business.  If you'd like to, you can bookmark it at bestpitchdeck.com/98point6
Although it probably goes without saying that having a successful business (outside just their pitch deck) was integral to their success, it is critical for any startup to ensure your vision is portrayed properly. That's where crafting the perfect pitch deck comes essential: 
You might find our other resources on how-to create a pitch deck helpful, or benefit from using one of our expert-designed templates:
Our team has helped create decks that have closed over $100M+ in deals & funding for leading startups and even VC firms. You can leverage this experience and get a jumpstart on your pitch with one of our easy-to-use presentation templates, one-pagers, or financial models.
Every pitch requires a unique approach tailored to its audience. Our team of experts has created pitch decks for different industries, as well as funding stages: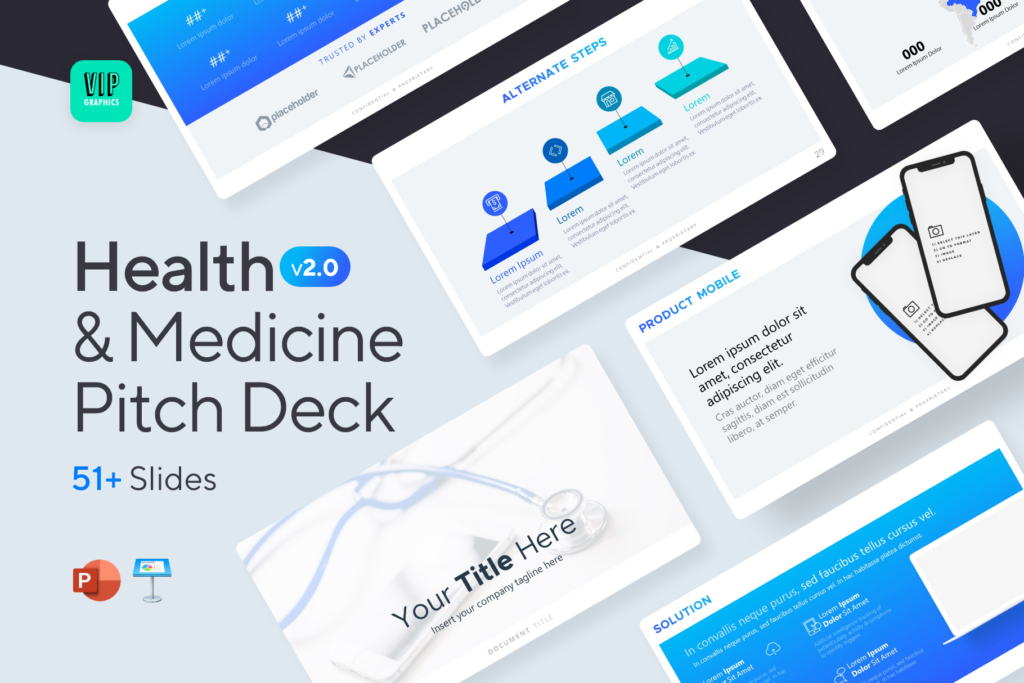 Healthcare Pitch Deck Template — You might be interested in the popular Healthcare Pitch Deck designed by our team of experts at VIP.graphics. This investor presentation template is built specifically for startups specializing in healthcare and telehealth.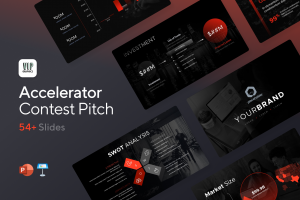 Accelerator Pitch Deck Template — The Accelerator Pitch Deck template was crafted for early-stage founders seeking to win funding &/or investment from pitch contests, accelerators, incubators, and angels or VC firms. Winning a pitch contest or being accepted to a prominent accelerator program requires a unique strategic approach to an investor pitch presentation.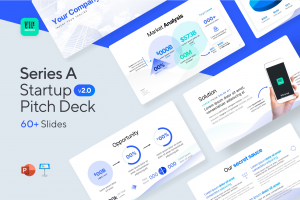 Series A Pitch Deck Template — A pitch deck template for startups and founders raising funding: Smart, actionable slides that work. This is a pitch deck template built specifically for startups, entrepreneurs and founders raising their first seed or Series A round of institutional capital.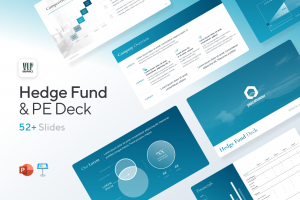 Mergers & Acquisitions Pitch Deck Template — Perfect Pitch Deck™ is a template crafted for later-stage businesses entering more sophisticated discussions such as mergers & acquisitions (M&A), late-stage investment (Series C+), or other partnerships & financing opportunities. Our team of experts created this presentation to empower founders to present with confidence to investment banks, private equity (PE) groups, and/or hedge funds (and vice versa).