Friday Beers began as an Instagram account in late 2019 by brothers Jack, Max, and Sam Barrett, and grew in prominence as a relatable voice in the weekend culture, sports, music, and character-driven humor.
Dr. Locks, Country Club Adjacent, DJ Press Play, Commence Suckdown, and Entrapranure are among the sister accounts that have a growing network of over 3.5 million followers and produce hundreds of millions of monthly impressions. 
The Venice Beach-based company, which employs 15 full-timers, has been profitable every quarter since its beginning, thanks exclusively to organic growth. Today, Almost Friday has many business lines, each of which generates over $1 million in yearly revenue. For instance, their most successful campaigns have been sponsored custom content for Bud Light, Sam Adams, and Bleacher Report.
Friday Beers is rebranding as Almost Friday Media after raising $6 million in seed funding from a group of investors led by former AOL CEO Tim Armstrong and finance executive Robert Greenhill, Jr. Other investors included Lloyd Danzig's Sharp Alpha Advisors, Northern Right Capital's Matt Drapkin, Dreamscape Hospitality's Scott Broder, Tom Ellis, Eric Birnbaum, and Jimmy Miller, founder of Mosaic Media Group.
"Almost Friday's mission is to create coming-of-age, laugh-out-loud comedy that takes you back to National Lampoon, but done in a way that works in 2022," said Jack Barrett, CEO. "We like to make self-deprecating jokes and not take ourselves too seriously. Stuff that represents the feelings we dream of all week and the magic of those two words: Almost Friday."
The funding will support original content projects across Instagram, TikTok, Snapchat, YouTube, podcasts, and music programming, with a focus on producers with distinct funny voices and large followings. It will also be utilized to help Almost Friday develop its brand/sponsorships business, live events, garment lines, consumer products, hospitality licensing, and film/television projects.
Some of the key slides from the pitch deck that helped Friday Beers raise funding:
Browse the key example slides from the pitch deck that Almost Friday used to secure $6 million from a group of investors led by former AOL CEO Tim Armstrong and finance executive Robert Greenhill, Jr.
1. Overview Slide
Any pitch deck should begin by introducing the company/startup to potential investors. The "What We Do" slide is crucial since it allows you to grab the audience's attention and pique their curiosity. Without this slide, the audience will have to put more effort to understand the pitch deck & may not fully understand the purpose of your startup until late in the presentation. Do the legwork for them by provide an early overview, so your audience can focus on comprehending your key points instead.
Follower count is likely the most crucial metric for a social media-based company like Almost Friday. The company's reach across multiple social media outlets is easy to browse thanks to a "by-the-numbers" layout design. The target market is represented with simple demographic charts, as well as the actual product, which is shown with Instagram screenshots.
Perhaps the only critique would be that the demographic data and product images could have been placed on separate slides to simplify the introduction & better emphasize Almost Friday's massive social reach.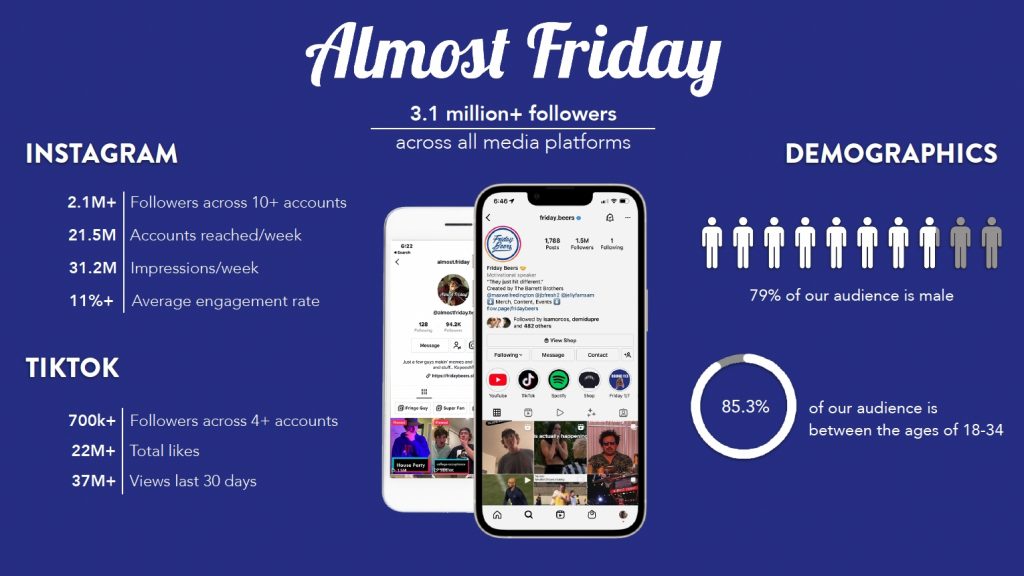 2. Value Proposition Slide
The value proposition of a company is arguably the most significant aspect of its pitch deck. The value proposition statement explains why prospects should do business with you rather than your competitors and makes the merits of your products or services obvious right away.
Almost Friday's "Our Culture" slide explains the value proposition and why the company is what most viral brands will never be. They supplement this with social proof in the form of a photo grid with fans around the world repping their product. Including this slide helps make an unforgettable impression by baking the business case into a passionate story & vision/mission statement.
Despite this, the slide design does not follow some of the best practices for effective presentations: for starters, the presentation is very wordy — when a slide contains this much material, the audience is likely to read ahead of the presenter and lose track whatever they are saying.

How-to create your own pitch deck like Almost Friday Media
The Almost Friday Media pitch deck emphasizes both the positive and negative aspects of any pitch deck. If you'd like to, you can bookmark it at bestpitchdeck.com/almostfriday
Although it probably goes without saying that having a successful business (outside just their pitch deck) was integral to their success, it is critical for any startup to ensure your vision is portrayed properly. That's where crafting the perfect pitch deck comes essential: 
You might find our other resources on how-to create a pitch deck helpful, or benefit from using one of our expert-designed templates:
Our team has helped create decks that have closed over $100M+ in deals & funding for leading startups and even VC firms. You can leverage this experience and get a jumpstart on your pitch with one of our easy-to-use presentation templates, one-pagers, or financial models.
Every pitch requires a unique approach tailored to its audience. Our team of experts have created pitch decks for different industries, as well as funding stages: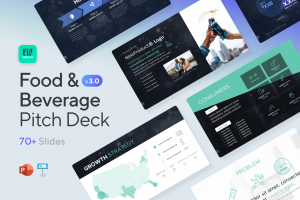 Food & Beverage Pitch Deck Template — You might be interested in the popular Food & Beverage Pitch Deck Template designed by our team at VIP.graphics: cutting-edge slides based on decks that closed millions in deals & investments for orgs of all sizes: from high-growth startups to Fortune 100 corporations. Super simple to customize in PowerPoint or Keynote, this template offers you ready-made elements & all the essential slides to help your business stand out.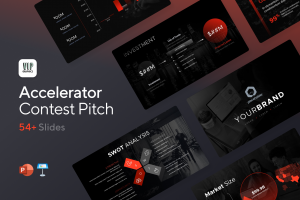 Accelerator Pitch Deck Template — The Accelerator Pitch Deck template was crafted for early-stage founders seeking to win funding &/or investment from pitch contests, accelerators, incubators, and angels or VC firms. Winning a pitch contest or being accepted to a prominent accelerator program requires a unique strategic approach to an investor pitch presentation.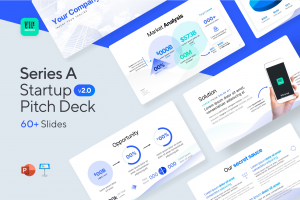 Series A Pitch Deck Template — A pitch deck template for startups and founders raising funding: Smart, actionable slides that work. This is a pitch deck template built specifically for startups, entrepreneurs and founders raising their first seed or Series A round of institutional capital.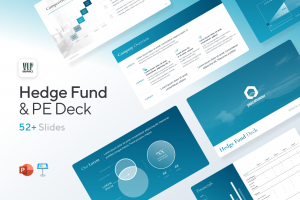 Mergers & Acquisitions Pitch Deck Template — Perfect Pitch Deck™ is a template crafted for later-stage businesses entering more sophisticated discussions such as mergers & acquisitions (M&A), late-stage investment (Series C+), or other partnerships & financing opportunities. Our team of experts created this presentation to empower founders to present with confidence to investment banks, private equity (PE) groups, and/or hedge funds (and vice versa).
Alternatively, feel free to browse our growing selection of pitch decks tailored for specific industries and businesses.