Creator startup Authoritive helps writers and public figures develop online courses. Authoritive raised $5 million in seed funding to build "learning experiences for the creator economy." The company was co-founded by a Condé Nast alumnus with the mission of empowering authors with new ways to engage audiences.
Authoritive allows creators to distribute interactive content through messaging apps that their audiences already use, such as SMS and WhatsApp. Their platform is built for creating online courses with text, audio, and video. Creators in this space traditionally must rely heavily on video content networks and social media platforms which lack control.
Authoritive courses range from $30 to $300 and can be as simple as messaging back and forth via SMS, WhatsApp, or Slack. This pitch deck helped Authoritive raise $5 million in a seed round from Owl Ventures, Guardian Media Ventures, and several angel investors — in just six weeks!
Here is the 11-slide pitch deck Authoritive used to securing $5 million from leading venture capital firms & investors:
Browse the exact example slides from the pitch deck that Authoritive used to secure a $5 million seed round from Owl Ventures, Guardian Media Ventures, and several angel investors.
1. Problem Slide
The problem slide should discuss the pain points faced by your target users and allude to how that will be solved by this new business venture. Businesses that provide sustainable solutions to critical and/or expensive problems are attractive for investors. Sometimes it can be helpful to define the problem by relating it to an anecdote to paint it in more relatable terms.
The Authoritive pitch deck paints their target opportunity in easy-to-understand terms — even for those unfamiliar with the creator economy. It is common knowledge that most creators are beholden to platforms like YouTube and Udemy for their distribution and the majority of their earnings. Authoritive speaks to the opportunity to directly connect trusted Creators and hungry Learners — no fancy graphics necessary: just two simple columns of text: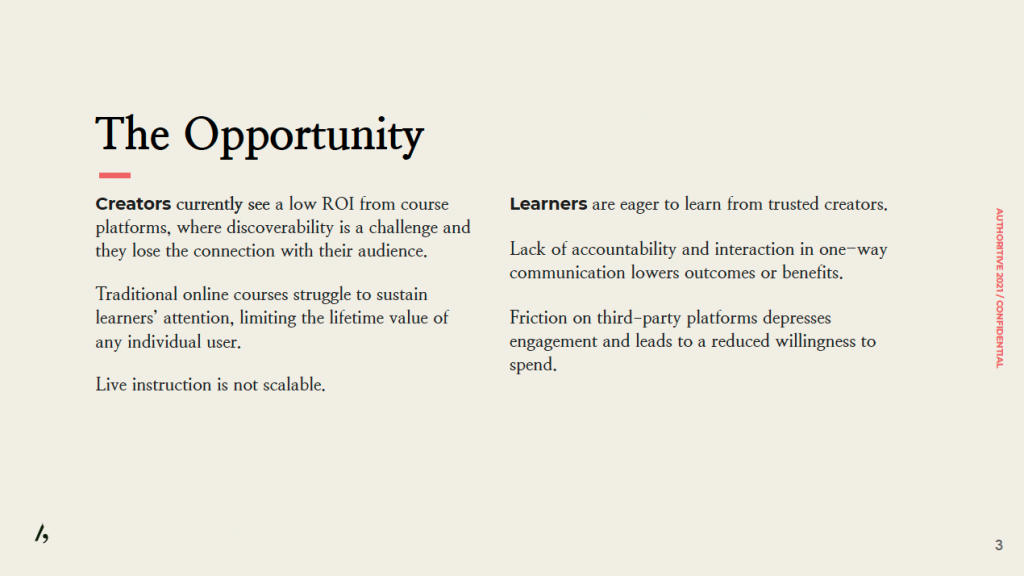 2. Technology Slide
Well-designed product slides should focus on user benefits — not technical features. Whenever possible, use photos and stories to portray your solution rather than text. An effective presenter should always show, rather than tell!
Authoritive's pitch deck adopts this philosophy, spending multiple slides (more than 1/4 of the entire deck) walking through the product experience across mobile & desktop with vivid product images. This deck is an exemplar of how to keep focused on the value proposition — by using images & short text callouts, Authoritive avoided the tedium of a long, boring feature list. Using real product screenshots with simple annotations is an excellent approach to add the equivalent of a "lo-fi" product demo to static slides.
 
3. Competitive Landscape Slide
The competitive landscape slide serves an essential purpose, describing where a startup stands among the competition, and what sets them apart from incumbents (as well as other newcomers).
According to a study by TechCrunch, Investors spend the most time viewing your financials, your team, and your competition slide. Even companies that lack any direct competitors should be able to name the low-tech or fragmented solutions that their prospective customers currently rely on. Skipping over the competitive landscape in a pitch deck can raise red flags surrounding demand & market trends.
The Authoritive pitch deck takes a unique approach to painting where they stand in the overall creator economy market landscape. Using a venn-diagram style visualization, the slide highlights how Authoritive offers a unique value proposition at the intersection of four winning brands (Zoom, Substack, Community, Udemy). This serves two functions: a) distinguishing Authoritive's offering and target market, and b) building off well-known success stories to relate the magnitude of this opportunity in the creator economy.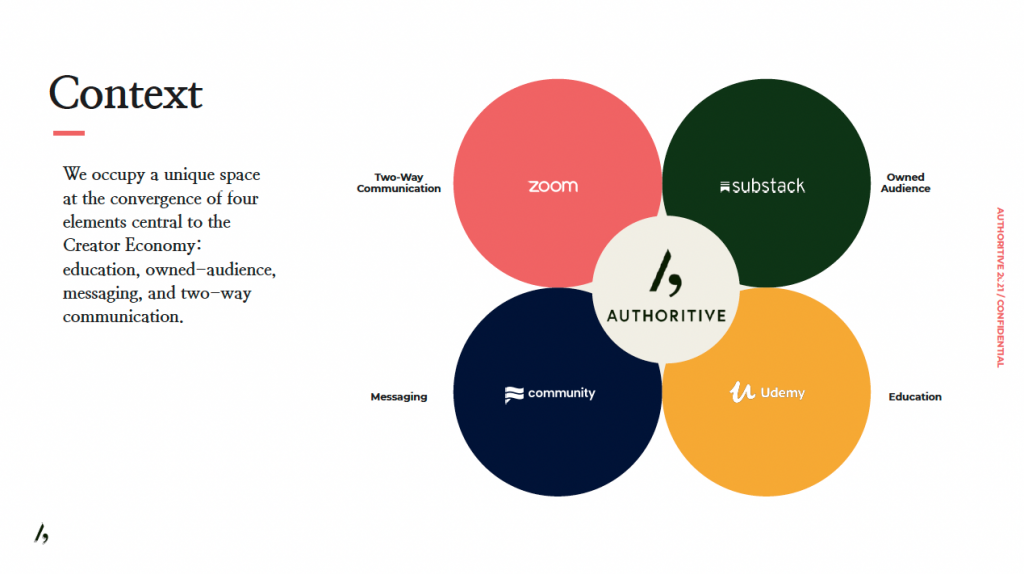 How-to create your own pitch deck like Authoritive
We hope you learned something from the Authoritive pitch deck, and you are able to use these insights for your own business.  If you'd like to, you can bookmark it at bestpitchdeck.com/authoritive
Although it probably goes without saying that having a successful business and compelling product (rather than just a stunning pitch deck) was integral to their success, it is critical for any startup to ensure your vision is portrayed properly. That's where crafting the perfect pitch deck comes essential: 
You might find our other resources on how-to create a pitch deck helpful, or benefit from using one of our expert-designed templates:
Our team has helped create decks that have closed over $100M+ in deals & funding for leading startups and even VC firms. You can leverage this experience and get a jumpstart on your pitch with one of our easy-to-use presentation templates, one-pagers, or financial models.
Every pitch requires a unique approach tailored to its audience. Our team of experts have created pitch decks for different industries, as well as funding stages:
EdTech Pitch Deck Template — You might be interested in the popular EdTech Pitch Deck Template designed by our team at VIP.graphics: cutting-edge slides based on decks that closed millions in deals & investments for orgs of all sizes: from high-growth startups to Fortune 100 corporations. This easy-to-customize template for PowerPoint or Keynote offers you ready-made elements & all the essential slides to help your business stand out.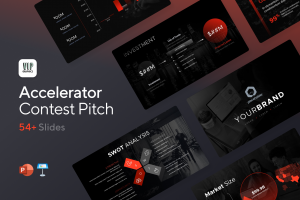 Accelerator Pitch Deck Template — The Accelerator Pitch Deck template was crafted for early-stage founders seeking to win funding &/or investment from pitch contests, accelerators, incubators, and angels or VC firms. Winning a pitch contest or being accepted to a prominent accelerator program requires a unique strategic approach to an investor pitch presentation.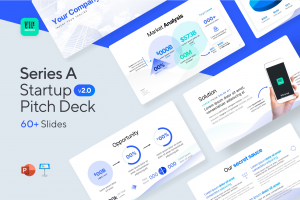 Series A Pitch Deck Template — A pitch deck template for startups and founders raising funding: Smart, actionable slides that work. This is a pitch deck template built specifically for startups, entrepreneurs and founders raising their first seed or Series A round of institutional capital.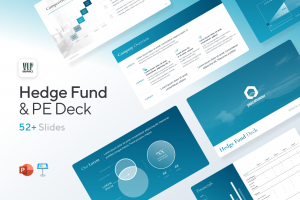 Mergers & Acquisitions Pitch Deck Template — Perfect Pitch Deck™ is a template crafted for later-stage businesses entering more sophisticated discussions such as mergers & acquisitions (M&A), late-stage investment (Series C+), or other partnerships & financing opportunities. Our team of experts created this presentation to empower founders to present with confidence to investment banks, private equity (PE) groups, and/or hedge funds (and vice versa).
Alternatively, feel free to browse our growing selection of pitch decks tailored for specific industries and businesses.