With on-demand audits and brand analytics, BlueOcean makes it simple for executives and marketers to compare & choose branding and marketing decisions. BlueOcean uses AI to reduce the time it takes to obtain brand insight and strategy recommendations at a fraction of the cost: BlueOcean's key offering produces AI-informed brand strategy for $17,000 in seven days, a process that conventional branding agencies generally take months to compile and cost almost $1 million.
"We have built our company to help navigate change and revolutionize the way marketing and strategy is done forever. Speed is the only true competitive advantage for brands and that's where we come in," said Grant McDougall, CEO, and co-founder of BlueOcean.
The beauty of BlueOcean's product is that it presents brands with real-time strategic guidelines and actions on what they can do to improve their brand this quarter, next quarter, and next year. Furthermore, BlueOcean can be used as part of the M&A process to assess a brand's market placement.
"Brands are drowning in data when all they actually want is the answer," Liza Nebel, COO and President of BlueOcean. "With every facet of their business under review, executives need strategic counsel and an unbiased perspective to identify whitespace, weaknesses and act before their competitors can."
As we all know, one of a company's most valuable assets is its brand, which can have a major impact on consumer loyalty, stock price, employee retention, and other crucial success measures. Accordingly, most companies want to better understand the numbers behind their marketing and branding efforts.
"One of the questions I get asked all the time by marketers is, 'We've got a brand tracker, and I don't know why it is moving?' So we've been focused on, 'Let me tell you why'," its co-founder and CEO Grant McDougall told Insider.
BlueOcean has worked with hundreds of brands including Microsoft, Panda Express, Chevron, AT&T, HP, Toyota, Samsung, Disney, American Express, Apple, Microsoft, Pabst, and Blue Ribbon.
"BlueOcean has become a great addition to further enable us to sharpen our ability to monitor, understand and act through the lens of a brand across all of our commercial offerings," said Tim Hoppin, Director of Brand Strategy at Microsoft. "We're excited to work with BlueOcean and use their tools and expertise to strengthen our relationship with the millions of global customers we connect with daily."
Covid-19 has been a huge boost for eCommerce (and more broadly online consumption in general); it has also played a strong role in the growth of BlueOcean. This year, BlueOcean raised a $30 million Series B round, led by Insight Partners with participation from FJ Labs.
"Having invested in hundreds of the world's best-known brands, we know that having accurate and timely data is critical to brand health. We have extreme faith in BlueOcean and we are delighted to include them in our investment portfolio," Fabrice Grinda, founding partner of FJ Labs, said in a statement.
Here's a look at the pitch deck that was used to raise $30M in funding for BlueOcean:
Browse the exact example slides from the pitch deck that BlueOcean used to secure $30 million in a venture funding round led by Insight Partners.
1. Market Slide
Market size helps investors evaluate whether the opportunity is big enough for their minimum investment, target returns, and risk appetite. If the market size is too small, the investment is not worth the risk for the investors (who operate under power laws).
In pitch decks, market size is generally discussed in terms of Total Addressable/Available Market (TAM), Serviceable Available Market (SAM), and Service Obtainable Market (SOM). Ideally, a compelling startup should only need a fraction of the market (under 5-10% market share) in order to reach billions in revenue.
Marketing & branding constitutes a massive $2 trillion industry. The BlueOcean pitch deck's market slide breaks this down into an easy-to-understand nested circle chart for TAM/SAM/SOM. In addition, the slide includes short bullet points of various trends & tailwinds in the context of the BlueOcean's offerings. For investors that are looking for a bit more information, the slide includes current and future events that are going to expand the market.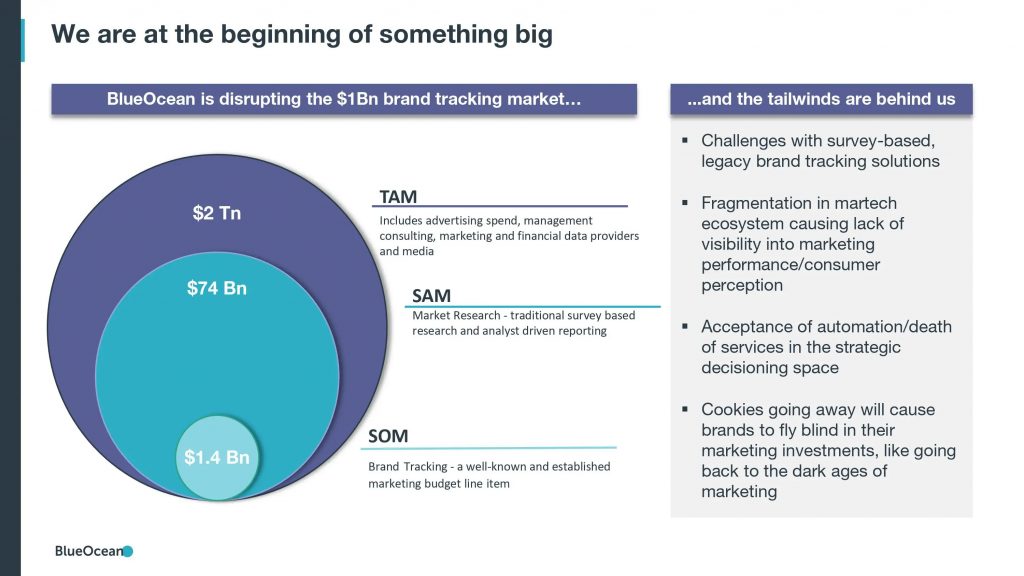 2. Traction Slide
Traction is an essential qualifying factor when vetting startups because it exponentially reduces the risk for investors. This slide is generally not recommended for very early-stage startups (ie. pre-revenue, pre-seed), but at a Series B funding round (such as BlueOcean), investors want to see some traction as proof of the legitimacy of the product and validation of the business model.
The BlueOcean pitch deck's traction slide includes current operating (General & Administrative, Research & Development, Sales & Marketing) expenses and Annual Recurring Revenue, as well as mid-future predictions (which investors always welcome). The graphs are easy to understand and paint a clear picture for the investor to gauge where BlueOcean stands, where the expenses are, where the income is, and where the founders think the company is heading. By using a graph (rather than static numbers), Blue Ocean is able to paint the picture that they are right at the inflection point in their "hockey-stick" growth, so now is the time to invest!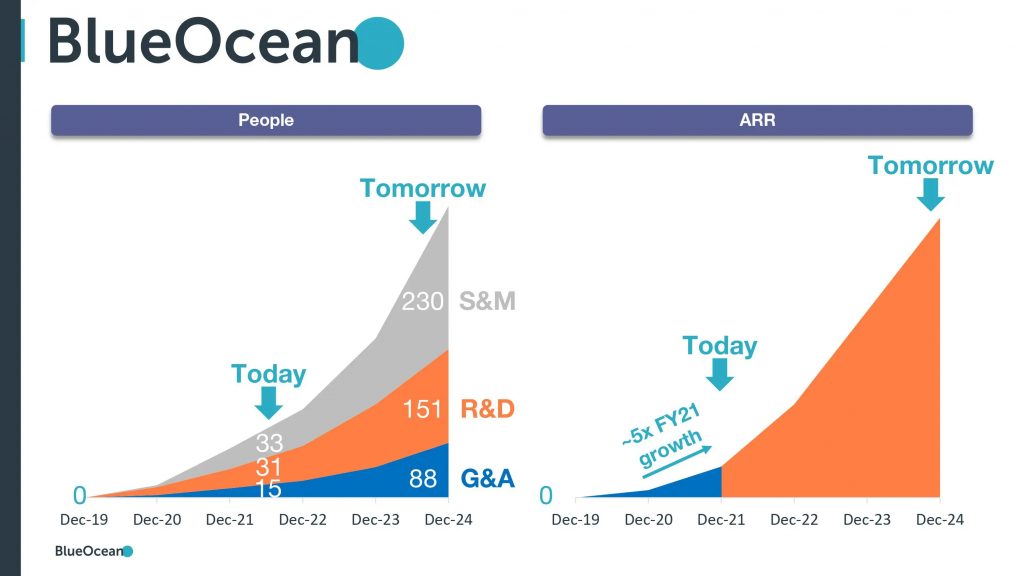 3. Product Slide
The product and solution slides are different in the sense that the solution slide explains the benefits to the customers of your product, and the product slide explains what your product actually is and how it works. When creating a product slide, it is best to present a high-level view focused on value proposition and avoid diving too dep into every single feature (a natural tendency & pitfall for many first-time founders).
BlueOcean's product slide presents "the first holistic brand intelligence platform" and explains the brand building framework with an infographic-style diagram. The slide may feel a bit lacking due to the lack of product screenshots, but the pitch deck actually has a different slide for that. Overall, the schematic diagram does a very good job of providing a high-level view of how the BlueOcean platform works.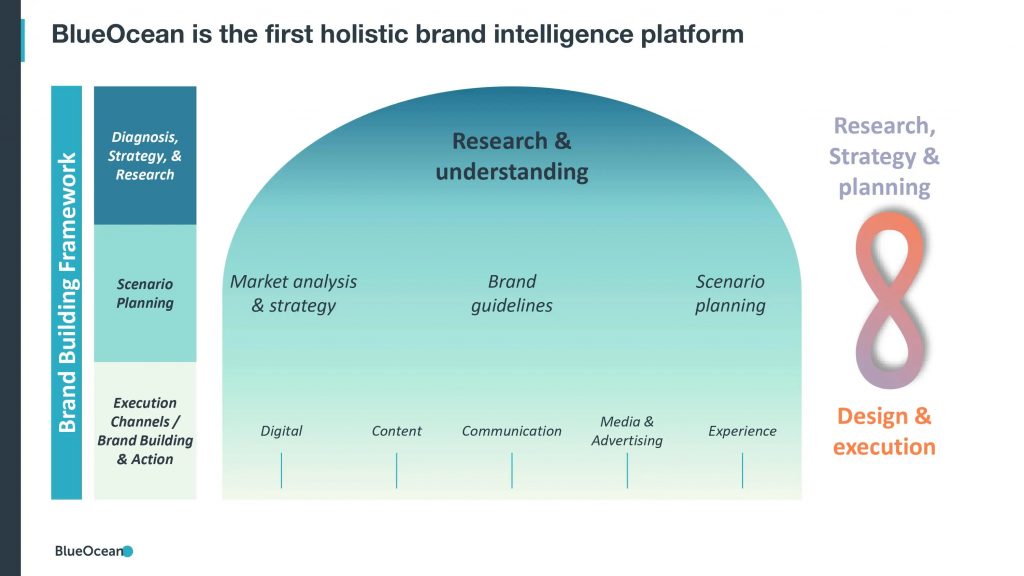 How-to create your own pitch deck like BlueOcean
We hope you learned something from the BlueOcean pitch deck, and that you are able to use these insights for your own business.  If you'd like to, you can bookmark it at bestpitchdeck.com/blueocean
Although it probably goes without saying that having a successful business (outside just their pitch deck) was integral to their success, it is critical for any startup to ensure your vision is portrayed properly. That's where crafting the perfect pitch deck comes essential: 
You might find our other resources on how-to create a pitch deck helpful, or benefit from using one of our expert-designed templates:
Our team has helped create decks that have closed over $100M+ in deals & funding for leading startups and even VC firms. You can leverage this experience and get a jumpstart on your pitch with one of our easy-to-use presentation templates, one-pagers, or financial models.
Every pitch requires a unique approach tailored to its audience. Our team of experts has created pitch decks for different industries, as well as funding stages: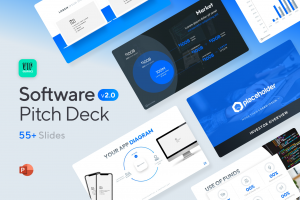 Software & SaaS Pitch Deck — You might be interested in the popular SaaS Pitch Deck designed by our team at VIP.graphics: cutting-edge slides based on decks that closed millions in deals & investments for orgs of all sizes: from high-growth startups to Fortune 100 corporations. This easy-to-customize template for PowerPoint or Keynote offers you ready-made elements & all the essential slides to close deals faster!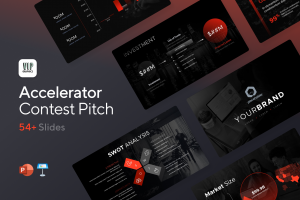 Accelerator Pitch Deck Template — The Accelerator Pitch Deck template was crafted for early-stage founders seeking to win funding &/or investment from pitch contests, accelerators, incubators, and angels or VC firms. Winning a pitch contest or being accepted to a prominent accelerator program requires a unique strategic approach to an investor pitch presentation.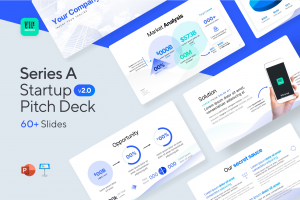 Series A Pitch Deck Template — A pitch deck template for startups and founders raising funding: Smart, actionable slides that work. This is a pitch deck template built specifically for startups, entrepreneurs and founders raising their first seed or Series A round of institutional capital.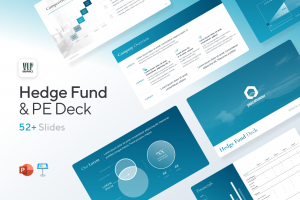 Mergers & Acquisitions Pitch Deck Template — Perfect Pitch Deck™ is a template crafted for later-stage businesses entering more sophisticated discussions such as mergers & acquisitions (M&A), late-stage investment (Series C+), or other partnerships & financing opportunities. Our team of experts created this presentation to empower founders to present with confidence to investment banks, private equity (PE) groups, and/or hedge funds (and vice versa).
Alternatively, feel free to browse our growing selection of pitch decks tailored for specific industries and businesses.