Carrum Health is focused on helping companies provide better healthcare for their workers at a lower cost. The San Francisco-based startup does this by curating a network of surgeons that companies can send their workers to for common procedures like hip and knee replacements.
"Carrum Health is driving the transition away from fee-for-service to value-based care where providers are accountable for both cost and quality. We deliver a benefit that self-insured employers can offer their employees in addition to their health plan coverage." CEO Sach Jain said in an interview.
Utilizing a Centers of Excellence network, with an all-inclusive pricing model and a 30-day warranty on care, Carrum members receive treatment guidance and coordination through the entire care journey with upfront pricing, ensuring the highest quality, most appropriate care. A recent peer-reviewed study published in Health Affairs by the RAND Corporation examined the impact of bundled payments among commercially insured populations and highlighted more than 45% per procedure savings when procedures were performed through Carrum Health.
In 2021, Carrum Health closed a $40 million Series A funding round.  The same year, Hinge Health and Carrum announced a partnership unveiling an end-to-end musculoskeletal solution that joined Hinge's digital musculoskeletal clinic with Carrum's Center of Excellence platform. Following the investment in 2021, the company launched its oncology offering in partnership with top cancer institutes, including Memorial Sloan Kettering Cancer Center and the University of Chicago Medicine.
"We started exploring new areas where we can expand the value proposition of the solution," Jain said. "Oncology has now become the top spend area for employers, and given that we saw a huge surge in the demand for the solution, we decided to put more fuel on the fire behind oncology, and that precipitated in us raising another round of financing so that we can aggressively invest behind our oncology solution."
To keep growing the business and fuel the push into oncology, Carrum raised $45 million in a Series B round led by OMERS Growth Equity. The investment brings Carrum's total funding to $96 million.
"We started exploring new areas where we can expand the value proposition of the solution," Jain said. "Oncology has now become the top spend area for employers, and given that we saw a huge surge in the demand for the solution, we decided to put more fuel on the fire behind oncology, and that precipitated in us raising another round of financing so that we can aggressively invest behind our oncology solution."
Here's the 17-slide pitch deck Carrum Health used to raise the Series B round.
Browse the exact example slides from the pitch deck that Carrum Health used to raise the $45 million series B round led by OMERS Growth Equity.
1. Problem Slides
Carrum Health pitch deck includes two problem slides that effectively address key challenges and pain points. These slides work in conjunction to underscore various issues that Carrum Health aims to solve, emphasizing their significance.
The initial slide draws attention to the importance of resolving the healthcare cost predicament by illustrating a straightforward example that is easy-to-grasp for both medical professionals and laypeople. The page incorporates a compelling quote and presents a few statistics while employing aesthetically pleasing graphics and sophisticated design. The result is an expertly crafted slide that effectively conveys the gravity of the issue at hand.
The subsequent slide assumes even greater importance, serving not only as a problem slide but also as a means to showcase Carrum Health's competitive advantage. Investors appreciate businesses that possess a meaningful and defensible differentiation, which may manifest in various forms such as distinctive business models, capital structures, or distribution methods. In Carrum Health's case, its differentiation lies in its first-mover advantage.
Overall, the problem slides within the pitch deck are meticulously constructed and successfully emphasize the relevant aspects of the challenges faced.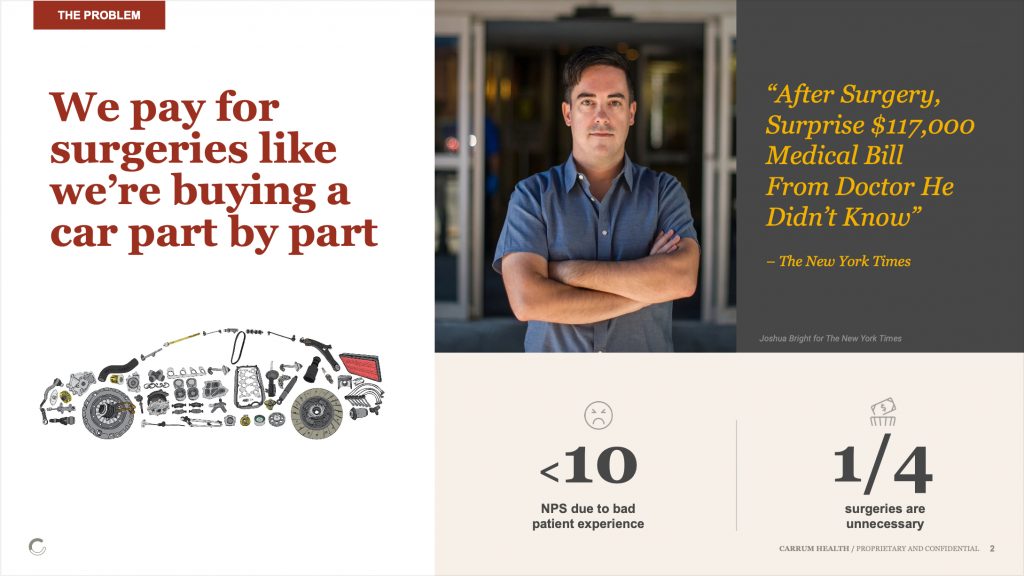 2. Value Proposition Slide
A value proposition is a concise statement that elucidates how a product addresses customer problems, highlighting specific benefits and distinguishing reasons why the ideal customer should choose the offering over competitors.
The importance of a value proposition extends not only to investors but also to the business itself. It enables enterprises to comprehend what their customers consider valuable and aids in resource allocation to effectively deliver it.
Carrum Health pitch deck's value proposition slide skillfully conveys the distinctive advantages and benefits their offering brings to the table. Rather than making claims about what their solution can accomplish, the slide presentation focuses on showcasing tangible results. By incorporating relevant statistics and referencing studies, the slide effectively demonstrates the measurable value. The design is clean and intuitive, facilitating easy comprehension. Overall, the value proposition slide adeptly highlights the value that Carrum can deliver to self-insured employers and their workforce.
3. Traction Slide
Demonstrating traction is arguably the most effective means of addressing key questions pertaining to the viability and potential success of its business. Investors will want to validate the existence of a real-world problem that people are willing to pay to solve, the team's competence in product development and sales, their ability to identify and persuade the target audience, and their experimentation with a sustainable business model. By showcasing traction, a pitch deck helps answer these critical questions.
Carrum Health's pitch deck incorporates a traction slide that prominently displays logos of renowned companies with which they have established partnerships. This serves as compelling evidence of Carrum Health's substantial traction and successful GTM strategy. Furthermore, the slide provides additional context by explaining how Carrum Health creates value, offering insights into why these prominent companies have chosen to collaborate with them.
Through its comprehensive information and elegant design, Carrum Health's traction slide presents a complete package, serving as an exemplary model to emulate when showcasing traction in a pitch deck.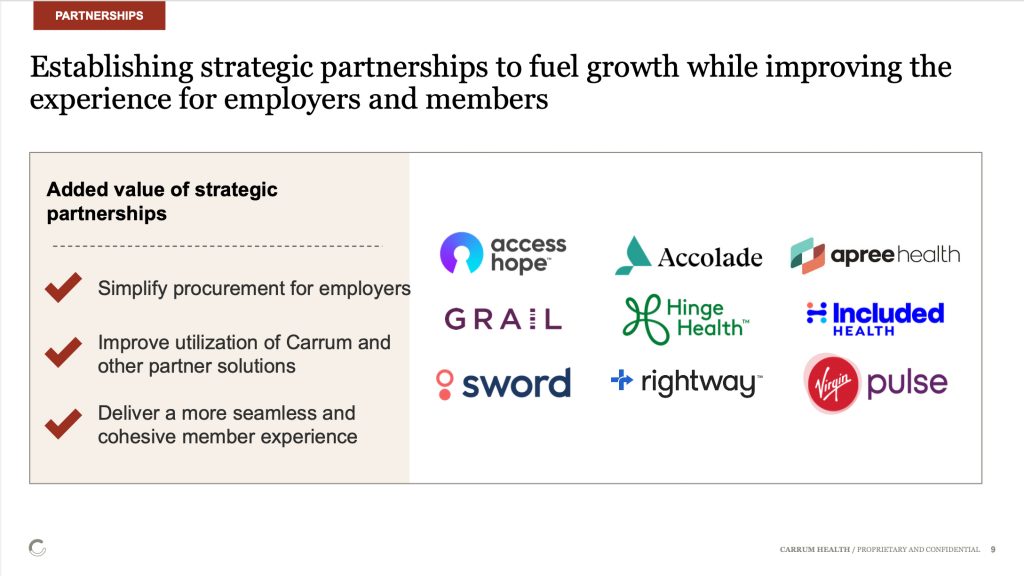 How-to create your own pitch deck like Carrum Health
We hope you learned something from the Carrum Health pitch deck, and that you are able to use these insights for your own business.  If you'd like to, you can bookmark it at bestpitchdeck.com/carrum-health
Although it probably goes without saying that having a successful business (outside just their pitch deck) was integral to their success, it is critical for any startup to ensure your vision is portrayed properly. That's where crafting the perfect pitch deck comes essential: 
You might find our other resources on how-to create a pitch deck helpful, or benefit from using one of our expert-designed templates:
Our team has helped create decks that have closed over $100M+ in deals & funding for leading startups and even VC firms. You can leverage this experience and get a jumpstart on your pitch with one of our easy-to-use presentation templates, one-pagers, or financial models.
Every pitch requires a unique approach tailored to its audience. Our team of experts has created pitch decks for different industries, as well as funding stages: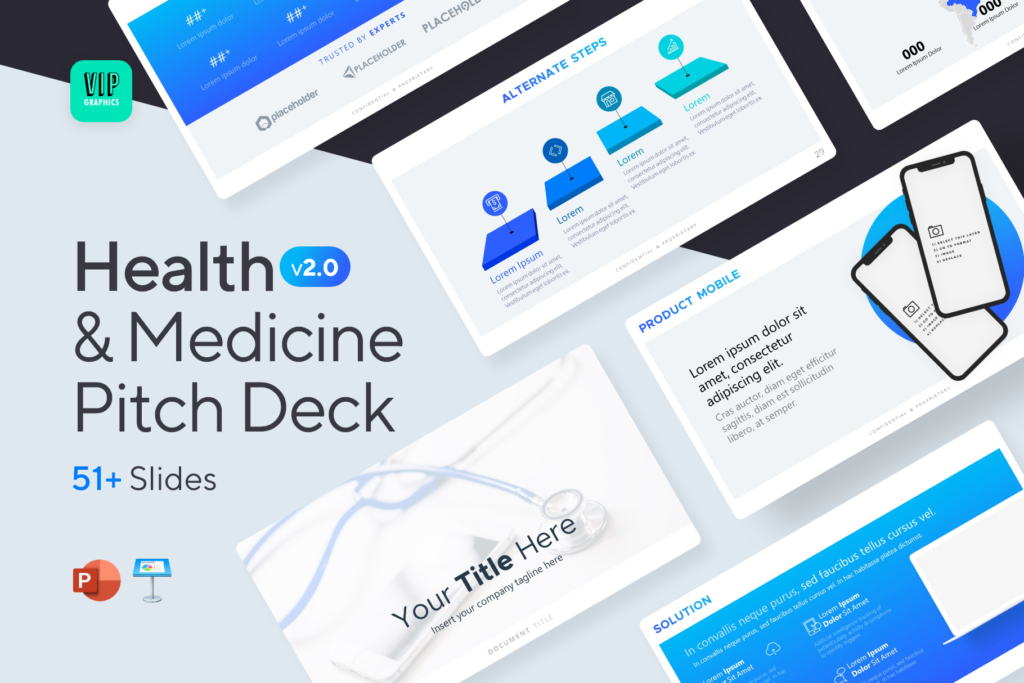 Health & Medicine Pitch Deck — You might be interested in the popular Health Pitch Deck designed by our team of experts at VIP.graphics. This investor presentation template is built specifically for startups specializing in Health sector.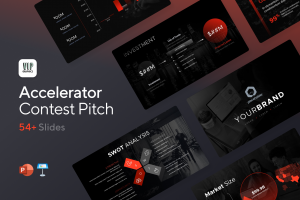 Accelerator Pitch Deck Template — The Accelerator Pitch Deck template was crafted for early-stage founders seeking to win funding &/or investment from pitch contests, accelerators, incubators, and angels or VC firms. Winning a pitch contest or being accepted to a prominent accelerator program requires a unique strategic approach to an investor pitch presentation.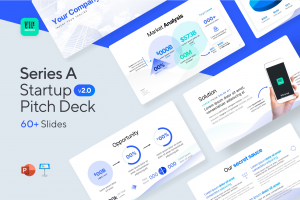 Series A Pitch Deck Template — A pitch deck template for startups and founders raising funding: Smart, actionable slides that work. This is a pitch deck template built specifically for startups, entrepreneurs and founders raising their first seed or Series A round of institutional capital.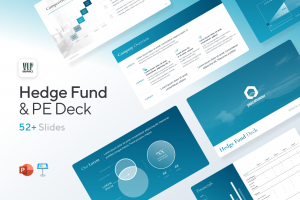 Mergers & Acquisitions Pitch Deck Template — Perfect Pitch Deck™ is a template crafted for later-stage businesses entering more sophisticated discussions such as mergers & acquisitions (M&A), late-stage investment (Series C+), or other partnerships & financing opportunities. Our team of experts created this presentation to empower founders to present with confidence to investment banks, private equity (PE) groups, and/or hedge funds (and vice versa).