Telly, a hardware startup led by Pluto TV co-founder Ilya Pozin, announced this month that it's giving away 500,000 of its new smart TVs for free.
The featured product is a dual-screen smart TV offering several impressive features. It boasts a 55-inch 4K HDR screen and incorporates a built-in five-driver soundbar for enhanced audio quality. Notably, the TV includes a unique nine-inch second screen positioned underneath the primary display. This secondary screen serves as a platform for displaying advertisements alongside various widgets, such as weather updates, music playback controls, sports scores, and other informative content like stock information. The bottom panel remains illuminated at all times, even during the playback of primary content.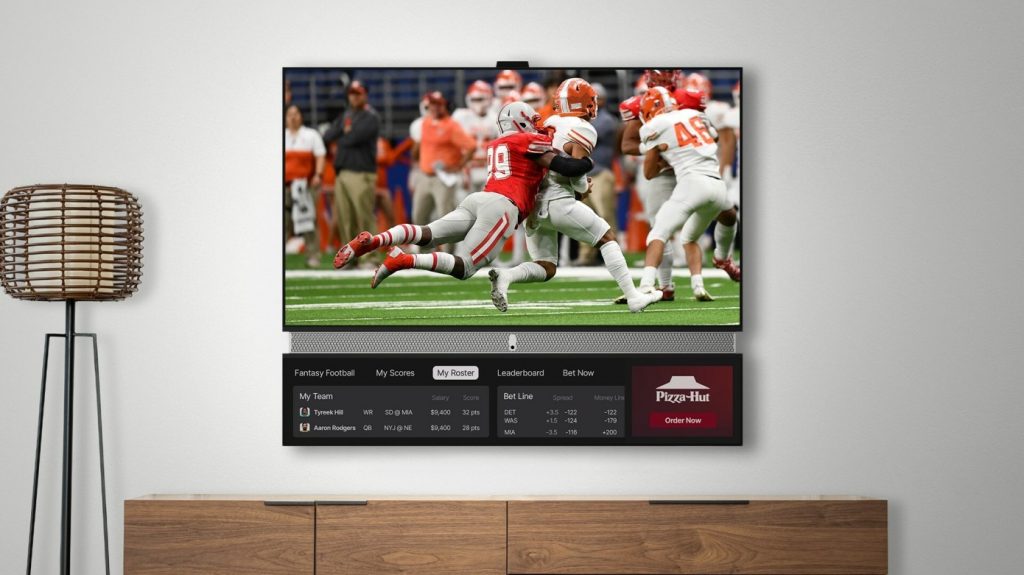 "For too long, consumers have not been an equal part of the advertising value exchange," Pozin says. "Companies are making billions of dollars from ads served on televisions, yet consumers have historically had to pay for both the TV and the content they watch. All of that changes today. […] with Telly, we are providing the actual television for free as well."
Viewers can watch anything on Telly, from their cable or satellite TV provider to their favorite streaming app, by connecting through one of three HDMI ports built into the television or through the built-in TV tuner. Telly ships with a 4K Android TV streaming stick. Users are also able to connect their favorite streaming service or device (Roku, Amazon Fire Stick, Apple TV, and more) to take maximum control over their TV viewing experience.
Telly has secured support from notable figures within the industry, highlighting its strong investor backing and strategic partnerships. One of its key investors is influential analyst Rich Greenfield, who played a leading role in Telly's seed funding round through his fund, LightShed Ventures. Furthermore, Gary Vaynerchuk, CEO of VaynerMedia, has also invested in Telly and serves as both an investor and a launch partner for the company.
In addition to these prominent investors, Telly has formed a significant partnership with MNTN, a performance advertising company. MNTN's Chief Creative Officer Ryan Reynolds brings his creative expertise and influence to the collaboration. This partnership further enhances Telly's market positioning and offers valuable opportunities for mutual growth and success.
"While everyone talks about Smart TVs, the reality is that TVs have not changed dramatically over the past couple of decades and the dream of truly interactive TV has never materialized," said Richard Greenfield, General Partner at LightShed Ventures, who co-led Telly's latest funding round. "Telly is a huge leap forward, leveraging the explosion of the connected TV ad market and the desire from consumers for greater control and interactivity that does not disrupt the TV viewing experience. The groundbreaking dual screen design enables advertisers to completely reimagine the living room experience while providing consumers an incredible TV at the easy-to-say-yes-to price of free."
Telly plans to distribute 500,000 TVs this year and eventually "millions" with help from deals with retailers and distributors. All points to Pozin's massive goals for Telly. Pozin has made a bet on free TV in the past with the launch of Pluto TV, one of the most successful free ad-supported streaming TV services (FAST), and will likely apply this knowledge to free hardware as well.
"Don't be fooled by the free price," Pozin says in a statement. "This is by far the most advanced television ever developed."
Here's the 18-slide pitch deck Telly used to raise the seed round.
Browse the exact example slides from the pitch deck that Telly used to raise the seed round led by LightShed Ventures.
1. Cover Slide
The cover slide of a pitch deck holds significant importance as it serves as the first point of contact for potential investors: It is a crucial opportunity to captivate the attention and generate excitement about the company.
The Telly pitch deck excels in this aspect, showcasing an exemplary cover slide that leaves a lasting impact, followed by a sequence of highly-visual intro slides featuring vivid, high-quality product imagery & photos. The slide's sleek and modern design incorporates all the essential elements necessary for a compelling pitch opening. The bold and attention-grabbing heading, "A Sneak Peek at the Future of Television," evokes a sense of excitement and anticipation in investors. The Telly pitch deck's cover slide successfully strikes a balance between creating a meaningful first impression and aligning with the company's overarching purpose.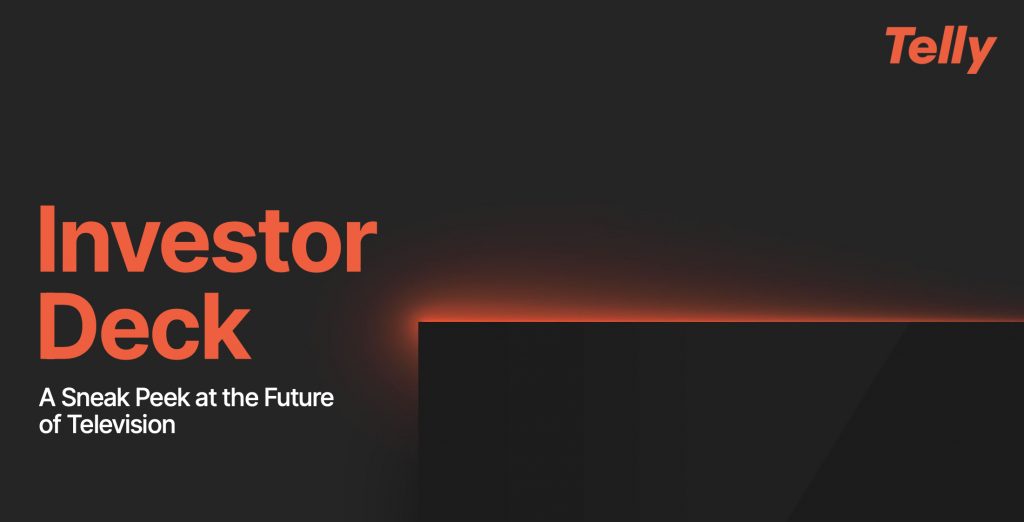 2. Team Slide
During the evaluation process for startups, investors attach significant importance to the team's capacity to successfully launch the idea and propel the business forward. Investors do not rely solely on the presence of a "professional CEO" or a "Sales VP," but rather focus on assessing the team's quality and capabilities across core competencies. Most investors firmly believe that intelligent and talented co-founders have the ability to acquire the necessary knowledge in areas where they may be lacking expertise.
Investors also recognize the indispensable nature of the right team, encompassing natural talent, visionary thinking, market understanding, and unwavering passion for the company. Many early-stage startups will dramatically pivot from the initial idea, which means the investment is mostly going into the people behind the idea. Consequently, the team plays a crucial role in determining whether investors choose to invest or abstain.
The Telly pitch deck's team slide exemplifies perfection. Combining an impressive design with vital content elements such as names, titles, and logos of past companies associated with the team members, the slide presents a comprehensive and compelling package that instills confidence in investors regarding Telly's exceptional team. Moreover, founder Ilya Pozin's previous accomplishments, including the successful sale of Pluto to Paramount and three previous exits, can only bolster investors' trust in his abilities.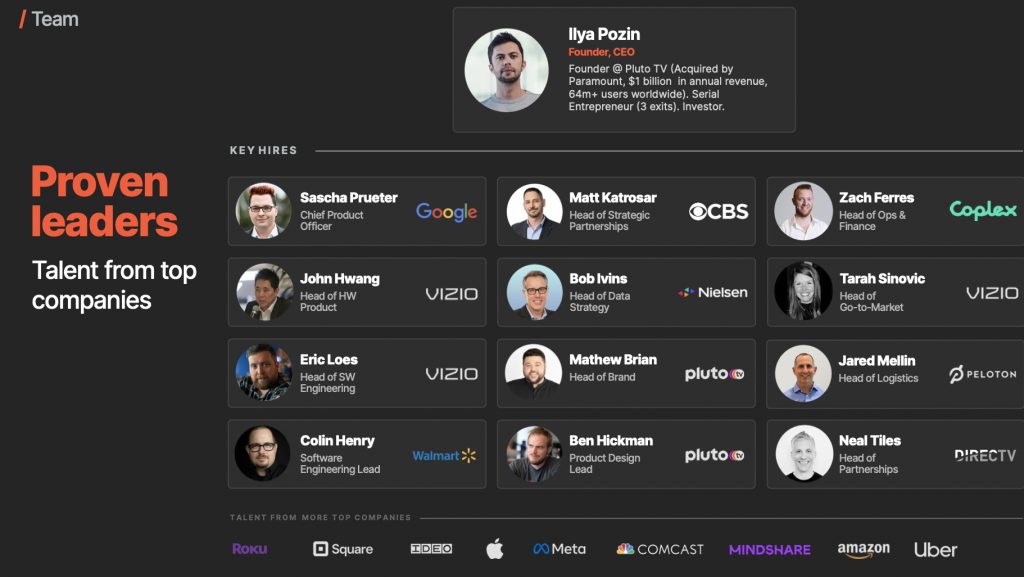 3. Market Size Slide
In addition to the team, the market size also represents an important consideration for investors, given it serves as a critical determinant influencing customer acquisition, profit margins, and ultimately, the achievement of profitability. Investors recognize that large and rapidly expanding markets offer the potential for high growth rates and moderate customer acquisition costs, particularly as switching costs are less relevant for new market entrants. Accordingly, the market analysis slide provides essential insights to investors regarding the growth potential and value proposition of the venture.
In Telly's pitch deck, the market size slide encompasses all pertinent information that investors need to evaluate. This includes the assessment of the Total Addressable Market (TAM), smart TV sales figures, the number of households in the United States that consume television content, and the startup's core target market. The slide's prominent typography and sleek design effectively conveys to investors that the market is sufficiently large and primed for the introduction of Telly's product.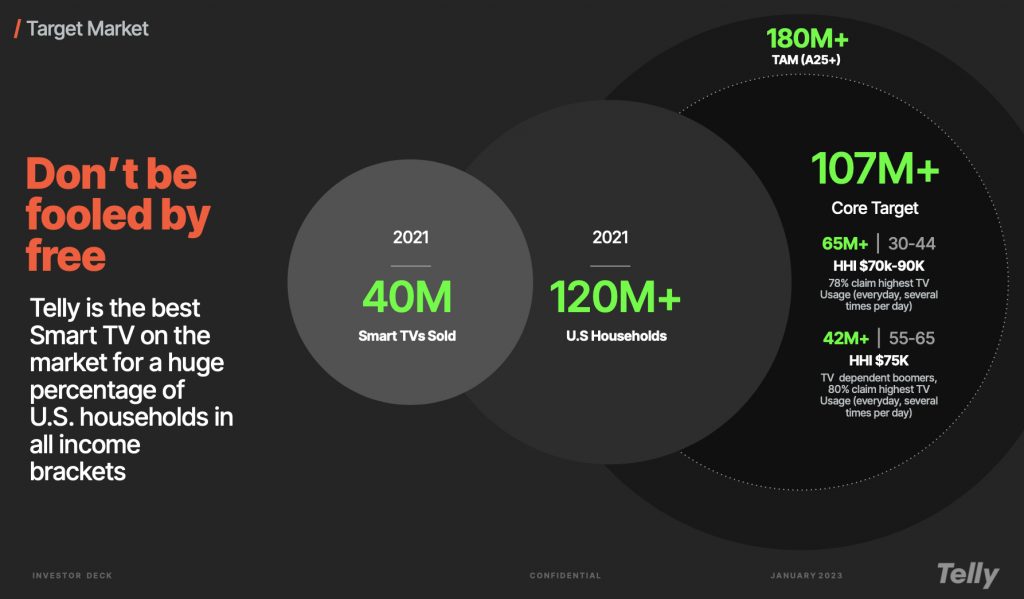 How-to create your own pitch deck like Telly
We hope you learned something from the Telly pitch deck, and that you are able to use these insights for your own business.  If you'd like to, you can bookmark it at bestpitchdeck.com/telly
Although it probably goes without saying that having a successful business (outside just their pitch deck) was integral to their success, it is critical for any startup to ensure your vision is portrayed properly. That's where crafting the perfect pitch deck comes essential: 
You might find our other resources on how-to create a pitch deck helpful, or benefit from using one of our expert-designed templates:
Our team has helped create decks that have closed over $100M+ in deals & funding for leading startups and even VC firms. You can leverage this experience and get a jumpstart on your pitch with one of our easy-to-use presentation templates, one-pagers, or financial models.
Every pitch requires a unique approach tailored to its audience. Our team of experts has created pitch decks for different industries, as well as funding stages:
Film & TV Pitch Deck Template — You might be interested in the popular TV Pitch Deck designed by our team of experts at VIP.graphics. This investor presentation template is built specifically for startups specializing in Film & TV sector.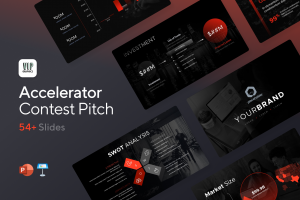 Accelerator Pitch Deck Template — The Accelerator Pitch Deck template was crafted for early-stage founders seeking to win funding &/or investment from pitch contests, accelerators, incubators, and angels or VC firms. Winning a pitch contest or being accepted to a prominent accelerator program requires a unique strategic approach to an investor pitch presentation.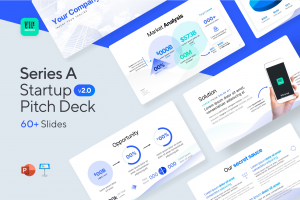 Series A Pitch Deck Template — A pitch deck template for startups and founders raising funding: Smart, actionable slides that work. This is a pitch deck template built specifically for startups, entrepreneurs and founders raising their first seed or Series A round of institutional capital.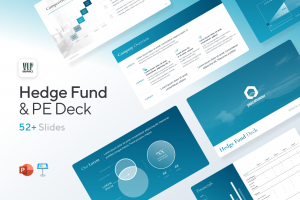 Mergers & Acquisitions Pitch Deck Template — Perfect Pitch Deck™ is a template crafted for later-stage businesses entering more sophisticated discussions such as mergers & acquisitions (M&A), late-stage investment (Series C+), or other partnerships & financing opportunities. Our team of experts created this presentation to empower founders to present with confidence to investment banks, private equity (PE) groups, and/or hedge funds (and vice versa).