With cloud adoption speeding up during the COVID-19 pandemic and increasing by 25% last year alone, it's becoming clear that conventional perimeter-based network security strategies are incapable of protecting data as it moves all across modern enterprise environments.
The Mountain View, California-based cybersecurity startup Fortanix aims to decouple security from network infrastructure to keep data secure even when the infrastructure has been compromised. The company sells software that secures data across public, hybrid, multi-cloud, and private cloud environments, encrypts databases, and manages app secrets (such as usernames and passwords) in the cloud and on-premises.
"Privacy regulations and data breaches are driving the need for more data security in public clouds, but data security solutions designed for on-premises don't translate," said Faiyaz Shahpurwala, chief product, and strategy officer at Fortanix. "Fortanix gives businesses a data security platform that can bridge on-premises and public cloud environments to prevent data breaches and comply with continually evolving privacy regulations."
In addition to cryptographic services, Fortanix also provides confidential computing, a cloud computing technology that isolates sensitive data in an encrypted CPU enclave during processing so that the contents of the enclave are accessible only to authorized programming code.
"Businesses and government agencies are looking for a new approach to keep precious data safe regardless of where it is, especially in the cloud. They require protection of their sensitive and regulated data, throughout its lifecycle — at rest, in motion, and in use," said Ambuj Kumar, CEO, and co-founder of Fortanix.
While the confidential computing space is still in its infancy, there are many world-renowned providers investing in these solutions including Microsoft Azure, IBM, Google Cloud, AWS, Thales, HashiCorp, and more. The key differentiator between Fortanix and legacy competitors is its focus on encryption in use, and its data-centric approach to protecting cloud environments. 
Fortanix announced that it has raised a $90 million Series C round led by Goldman Sachs Asset Management. GiantLeap Capital joined as a new investor alongside prior backers Foundation Capital, Intel Capital, Neotribe Ventures, and In-Q-Tel. The company has raised a total of $122 million since its launch in 2016.
"Amid broader market slowdown, the growth rounds have considerably slowed down. At the same time, investors have lots of dry powder, and companies with strong revenue profile and profitable business model attract lots of attention," Kumar said. "We are lucky to be one such company. History shows that great companies get built amid difficult economic climate as competitors don't get funded, talent becomes more available, and customers consolidate towards stronger products."
Here's a look at the pitch deck that was used to raise $90M in a Series C round led by Goldman Sachs Growth Equity.
Browse the exact example slides from the pitch deck that Fortanix used to raise $90M.
1. Cover Slide
When crafting a winning pitch presentation, the introduction/cover slide should not be treated as an afterthought: it will be the first thing potential investors see about your company and set the tone for the remainder of the pitch deck. A well-designed cover slide is an important tool for capturing and holding listeners' attention, increasing the likelihood that they will pay attention to the rest of your presentation.
Fortanix's pitch deck's cover slide exhibits careful consideration and includes all the bells and whistles required to create a comprehensive introduction. The name and logo introduce the company, the catchy tagline summarises what the company is about in one sentence, and the grid of award logos acts as a "social proof" to capture the audience's interest.
2. Problem Slide
Investors are bombarded with pitches that are jam-packed with innovative ideas that have the potential to disrupt industries and change the world. The difference between a fantasy and an investable business (in the eyes of a VC) lies in the premise of the problem being addressed. What need will your company fill? How will it affect the world? Who is it intended for? What distinguishes it? These are some of the questions your problem slide (and the pitch deck in general) must answer in order for investors to understand and believe in the problem.
Fortanix's pitch deck's problem slide explains the "Challenges of Cloud-Scale Data Security" with hard facts and minimalist graphics. Instead of using technical jargon, the slide breaks down the problems faced by the highly complex world of data security with simple benchmarks that are easier to understand, even for non-technical individuals. The precise heading, clean design, and careful content make it the ideal slide for introducing investors to the data security challenge.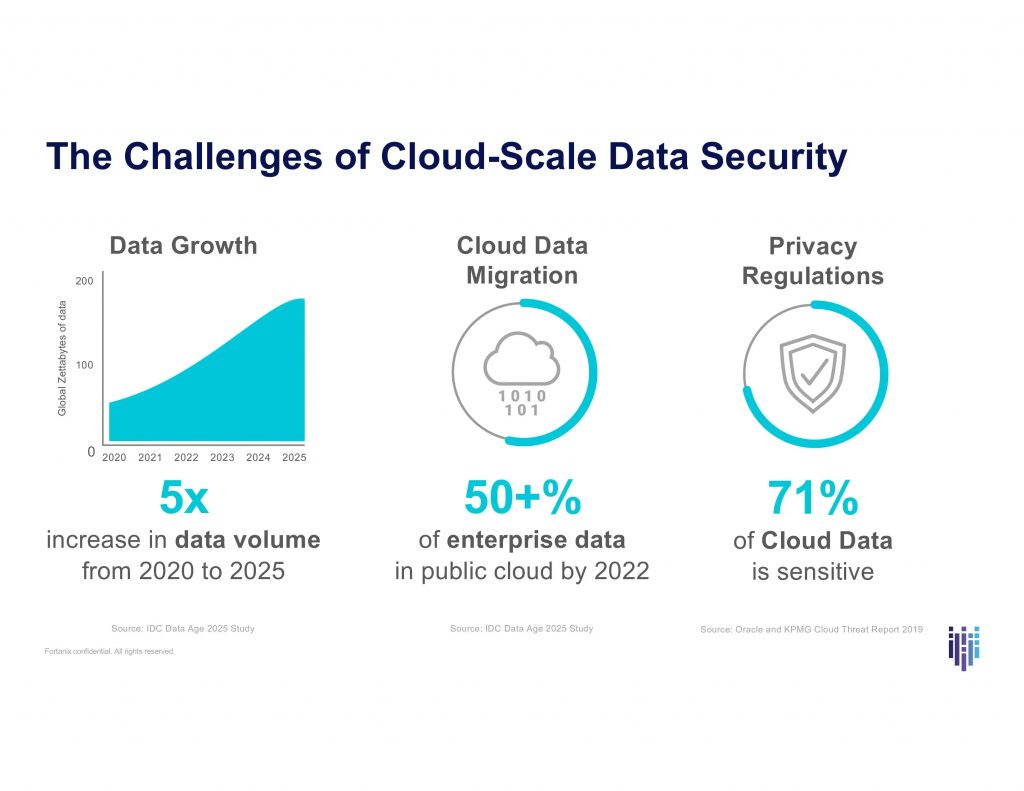 3. Traction Slide
Traction is the single most important indicator that your startup's idea and execution are sound. Once you demonstrate growth, a lot of key questions that investors have (ie. whether you have product-market fit) are answered, which (of course) greatly increases your chance of funding. If you're in the early stages and don't have much traction, this will likely be reflected in your valuation (you may have to give up a big chunk of ownership to get significant investment).
Traction becomes even more important in the later funding rounds (Series C in the case of Fortanix) when companies are looking for funds to expand. The Fortanix pitch deck's traction section has multiple slides that cover notable customers, partnerships, awards, growth, and more.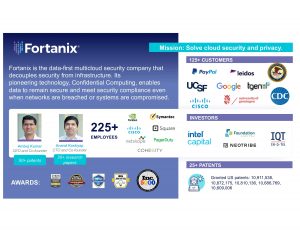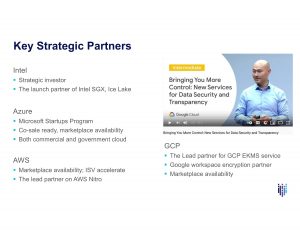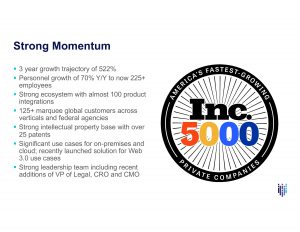 How-to create your own pitch deck like Fortanix
We hope you learned something from the Fortanix pitch deck, and that you are able to use these insights for your own business.  If you'd like to, you can bookmark it at bestpitchdeck.com/fortanix
Although it probably goes without saying that having a successful business (outside just their pitch deck) was integral to their success, it is critical for any startup to ensure your vision is portrayed properly. That's where crafting the perfect pitch deck comes essential: 
You might find our other resources on how-to create a pitch deck helpful, or benefit from using one of our expert-designed templates:
Our team has helped create decks that have closed over $100M+ in deals & funding for leading startups and even VC firms. You can leverage this experience and get a jumpstart on your pitch with one of our easy-to-use presentation templates, one-pagers, or financial models.
Every pitch requires a unique approach tailored to its audience. Our team of experts has created pitch decks for different industries, as well as funding stages:
Software Pitch Deck Template — You might be interested in the popular Software & SaaS Pitch Deck designed by our team of experts at VIP.graphics: cutting-edge slides based on decks that closed millions in deals & funding. This template is perfect for any business in the tech space: from software to services.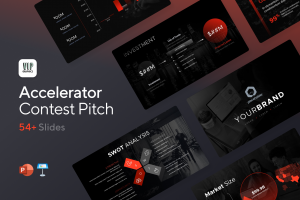 Accelerator Pitch Deck Template — The Accelerator Pitch Deck template was crafted for early-stage founders seeking to win funding &/or investment from pitch contests, accelerators, incubators, and angels or VC firms. Winning a pitch contest or being accepted to a prominent accelerator program requires a unique strategic approach to an investor pitch presentation.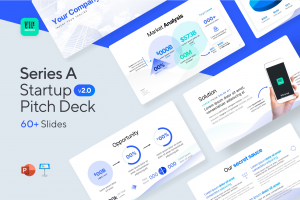 Series A Pitch Deck Template — A pitch deck template for startups and founders raising funding: Smart, actionable slides that work. This is a pitch deck template built specifically for startups, entrepreneurs and founders raising their first seed or Series A round of institutional capital.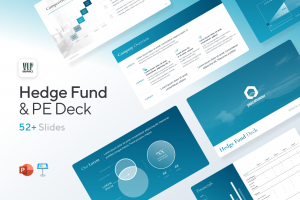 Mergers & Acquisitions Pitch Deck Template — Perfect Pitch Deck™ is a template crafted for later-stage businesses entering more sophisticated discussions such as mergers & acquisitions (M&A), late-stage investment (Series C+), or other partnerships & financing opportunities. Our team of experts created this presentation to empower founders to present with confidence to investment banks, private equity (PE) groups, and/or hedge funds (and vice versa).