Hadean, based in London, was founded in 2015 with the goal of creating infrastructure for the booming metaverse. Scalability, security, and interoperability are enabled by the distributed cloud platform, which powers the metaverse and digital immersive experiences for enterprise, commercial, gaming, and government customers.
"Hadean's mission is to bridge physical and virtual worlds – to help us make better decisions and ultimately improve the quality of our lives in the physical world," said Craig Beddis, Hadean Co-Founder and CEO:
Hadean's distributed computing business enables the programming of multiple machines at the same time while ensuring that only the processing power required to handle high-performance applications is used. For companies attempting to build out metaverse operations, this means having access to computational power that will allow them to begin scaling applications more efficiently than is currently possible.
Minecraft, Pixelynx, Sony, and Gamescoin have all signed multi-year agreements with the company. These businesses are powering their metaverse with Hadean's open platform for distributed cloud computing.
The metaverse is being heralded as the Internet's future, emerging alongside the larger Web3 revolution. Global spending on VR/AR, the foundation technologies of the metaverse, is expected to increase from $12 billion in 2020 to $72.8 billion in 2024. As a result, leaders in industries such as gaming, retail, arts, healthcare, and blockchain are figuring out how to position themselves as key players in this emerging ecosystem.
Epic Games, best known for its Unreal Engine and the popular online game Fortnite, is one of the companies that joined Molten Ventures for the latest Hadean funding round. Molten Ventures led the $30 million Series A round, which included participation from 2050 Capital, Alumni Ventures, Aster Capital, Entrepreneur First, and InQTel.
"We believe the true success and mass adoption of the metaverse will rely on the ease by which creators will be able to build their own experiences at scale, leveraging open and robust metaverse-as-a-service technologies. We're delighted to work with industry leaders like Epic Games, who share our ethos and ambition for this reality." Craig said.
Epic Games was late to the Series A round and thus had to invest through a convertible note, which is essentially a short-term debt that will convert into equity.
"Hadean's computing power will provide the infrastructure that's needed as we work to create a scalable metaverse," said Marc Petit, VP, of Epic's Unreal Engine Ecosystem. "[…] We are pleased to contribute to Hadean's growth and look forward to continuing to work together to lay the foundation for the metaverse."
This new round of funding will accelerate Hadean's ability to provide creators with the tools they need to change the way we work, build, buy, and consume in new and emerging metaverse markets.
David Cummings, Venture Partner at Molten said: "Molten has been a part of Hadean's journey since early 2019. Since then, we have seen the Hadean team deliver ambitious technical milestones, build an impressive customer base across a number of sectors and continue to attract dynamic talent. It is a pleasure to continue providing our support to Hadean as it grows yet further."
Here's a look at the pitch deck that was used to raise $30M in a Series A round led by Molten Ventures.
Browse the exact example slides from the pitch deck that Hadean used to raise $30M.
1. Cover Slide
When we go shopping and walk down the aisles, we mostly buy brands and products we recognize, with the exception of a few that just look appealing. Products compete not only for shelf space, but also for the attention of consumers.
Pitch decks for investors follow similar logic: unless you're a well-established company with a proven track record, the investors are unlikely to be familiar with you or your brand. At this stage, your pitch deck faces the same challenge that physical products face in large retail stores: how to stand out from the rest. This is the purpose of your pitch deck's cover slide.
A pitch deck must be purpose-built from the first slide in order to stand out and capture investor's attention. The Hadean pitch deck's cover slide aims to captivate readers with the bold tagline "Powering the Metaverse" on a branded background used throughout the presentation. With the logo, tagline, and associated visuals, this slide introduces company branding in visually-dazzling & memorable terms.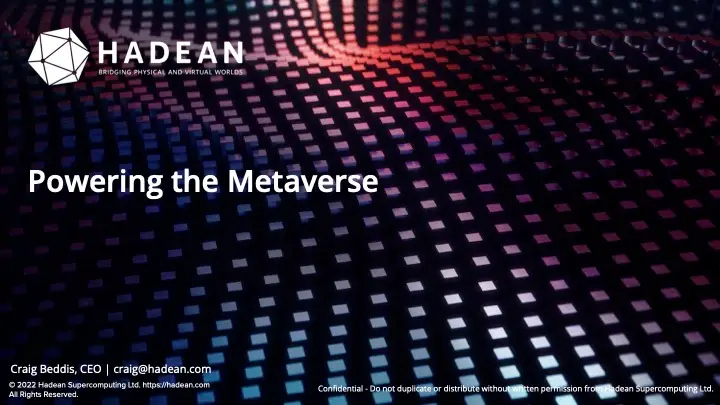 2. Traction Slides
The traction slide's purpose is to simply demonstrate the viability of the product/idea. The content of this slide varies greatly depending on the stage of your business. For seed & pre-seed rounds, traction can include prior experience / existing partnerships, to demonstrate your progress toward validation and to instill confidence in the opportunity's potential for success. It's a place to show real-world results with customers, partnerships, active users, as well as other growth/revenue metrics in later stages.
The Hadean pitch deck includes an entire section dedicated to traction with case studies. These slides cover Hadean's collaborations with notable organizations like the US Department of Defense, Sony, Microsoft, and others. On the design end, these slides follow the company branding and feature large titles, descriptions, and visuals to guide the reader's eye.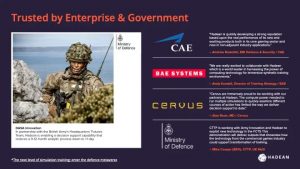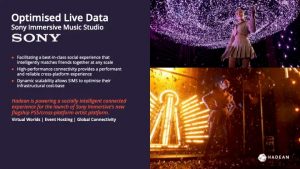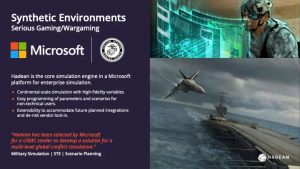 3. Team Slide
Every pitch deck needs a team slide. For investors, the team is one of the most important ingredients of success for any startup. Some investors believe that the team is even more important than the market or the product itself: an excellent team can improve the product or create new markets. 
"I am fond of quoting that about 70% of my investment decision of an early-stage company is the team. My rationale is simple: everything goes wrong and only great teams can respond to competitors, markets, funding environments, staff departures, PR disasters, and the like." — Mark Suster, Upfront Ventures
A compelling team slide should highlight why is your team the best fit for this startup idea. You also need to show that your team has the relevant experience and skills for this business. If you have prior experience working together, it's worth calling that out.
When it comes to actually create the team slide, you need professional-looking photos, names, titles, and past experience. In addition to these details, Hadean's pitch deck's team slide also includes investors and advisors. Most experts don't recommend excluding investors and advisors from the team slide unless it adds real value (ie. strategic exit / growth opportunities).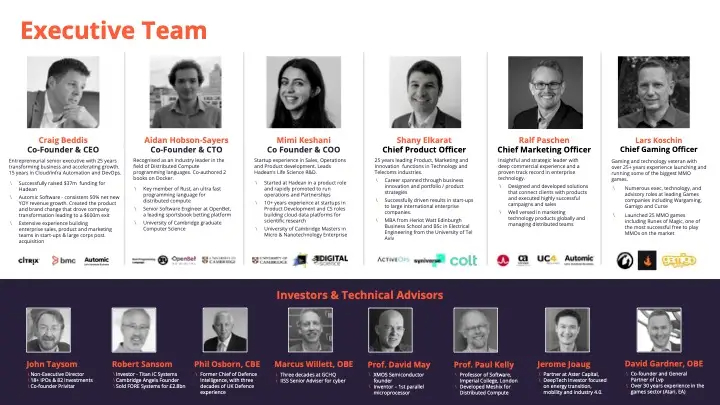 How-to create your own pitch deck like Hadean
We hope you learned something from the Hadean pitch deck, and that you are able to use these insights for your own business.  If you'd like to, you can bookmark it at bestpitchdeck.com/hadean
Although it probably goes without saying that having a successful business (outside just their pitch deck) was integral to their success, it is critical for any startup to ensure your vision is portrayed properly. That's where crafting the perfect pitch deck comes essential: 
You might find our other resources on how-to create a pitch deck helpful, or benefit from using one of our expert-designed templates:
Our team has helped create decks that have closed over $100M+ in deals & funding for leading startups and even VC firms. You can leverage this experience and get a jumpstart on your pitch with one of our easy-to-use presentation templates, one-pagers, or financial models.
Every pitch requires a unique approach tailored to its audience. Our team of experts has created pitch decks for different industries, as well as funding stages: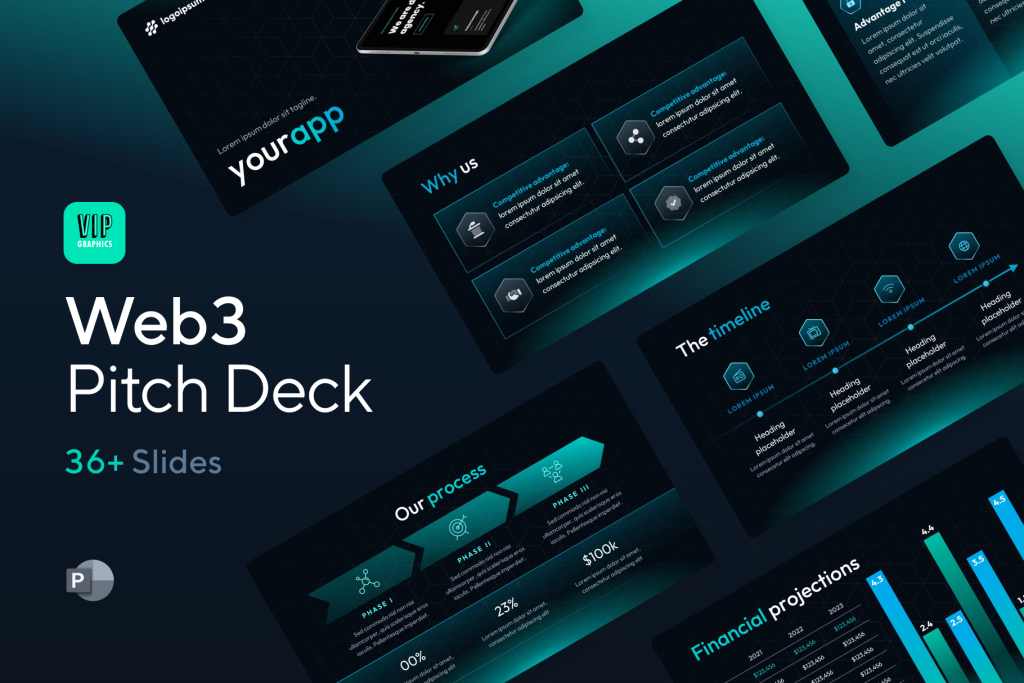 Web3 Pitch Deck Template — You might be interested in the popular Web 3.0 / Metaverse Pitch Deck Template designed by our team of experts at VIP.graphics: cutting-edge slides based on decks that closed millions in deals & funding. This template is perfect for any business in the Web3 space: from metaverse platforms to play-to-earn games.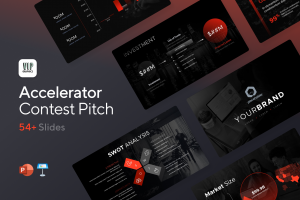 Accelerator Pitch Deck Template — The Accelerator Pitch Deck template was crafted for early-stage founders seeking to win funding &/or investment from pitch contests, accelerators, incubators, and angels or VC firms. Winning a pitch contest or being accepted to a prominent accelerator program requires a unique strategic approach to an investor pitch presentation.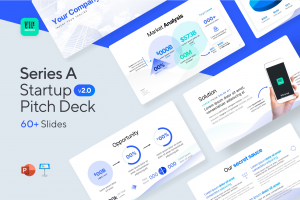 Series A Pitch Deck Template — A pitch deck template for startups and founders raising funding: Smart, actionable slides that work. This is a pitch deck template built specifically for startups, entrepreneurs and founders raising their first seed or Series A round of institutional capital.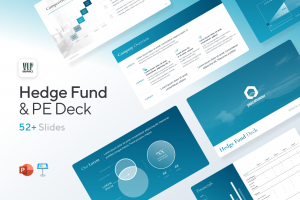 Mergers & Acquisitions Pitch Deck Template — Perfect Pitch Deck™ is a template crafted for later-stage businesses entering more sophisticated discussions such as mergers & acquisitions (M&A), late-stage investment (Series C+), or other partnerships & financing opportunities. Our team of experts created this presentation to empower founders to present with confidence to investment banks, private equity (PE) groups, and/or hedge funds (and vice versa).