InfluxData, a San Francisco-based provider of time series data analytics, has announced an $81 million capital raise. New investors Princeville Capital and Citi Ventures led the $51 million Series E funding round, with participation from existing investors Battery Ventures, Mayfield Fund, Sapphire Ventures, and others. A $30 million debt facility with Silicon Valley Bank is also part of the investment round.
A time series is a collection of data points taken at regular intervals over time. Time series data is used by organizations to understand change and to identify and predict trends over time. Accurately interpreting data in real time is critical for many industries. Economics, finance, mechanical infrastructure, industrial equipment, stock market analytical tools, weather forecasting, and equipment monitoring sensors are just a few examples of tools that benefit from time-series data.
"As the pioneer of the modern time series market, we played a pivotal role in driving the recent acceleration in this sector, pushing time series from the edge to the cloud and now, into analytics," said Evan Kaplan, CEO, InfluxData.
While the market is frequently described as "niche," the number of time-series database providers has grown significantly since InfluxData's inception. Imply, Timescale, Druid, Amazon Timestream, Microsoft Azure Data Explorer, QuestDB, and Prometheus are among the providers. Notably, data cloud leader Snowflake recently announced its intention to acquire Myst, a time-series forecasting company.
"The time series market is increasingly vibrant with a good selection of strong competitors – we are excited and ready to compete on a broader level as this market expands," said Evan.
InfluxData has grown rapidly in recent years, with over 1,900 commercial customers worldwide. Cisco, DiDi, Adobe, Autodesk, Comcast, Dell, IBM, Tesla, and other companies are among its clients. The company has also built a strong open-source community with 750,000 InfluxDB instances running.
Furthermore, millions of Telegraf agents are out in the field collecting data that is central to many projects and applications. A quick look at GitHub reveals that InfluxDB has nearly 25,000 stars, and the vibrant user community includes thousands of users looking for the best way to handle their own time series data needs.
With the Series E financing, InfluxData has raised a total of $171 million in equity funding. This new funding, according to a company press release, will be used to introduce new capabilities in bulk data ingest, bulk data export, and seamless integration with business intelligence tools such as Tableau and PowerBI, among other improvements. In addition, dedicated cloud tiers and a new on-premises product for enterprises based on InfluxDB IOx are in the works.
"InfluxData's significant and continued market traction is a testament to its focus on bridging the scale of time series data with the power of the cloud," said Dharmesh Thakker, General Partner, Battery Ventures. "InfluxData's impressive execution on InfluxDB IOx redefines time series analysis in the cloud, paving the way for a new era of real-time analytics. I applaud InfluxData's strong management team for navigating the early time series market exceedingly well to anticipate the significant growth of this market and commitment to deliver solutions of true impact."
Browse the exact example slides from the pitch deck that InfluxData used to raise $81M in a Series E round led by new investors Princeville Capital and Citi Ventures.
1. Cover Slide
Every pitch deck must include an introduction about the business in the form of a cover slide. It should clearly articulate what the company does, who its target customers are, and what problem it solves for them. The cover slide provides an opportunity to make a strong first impression and provide a clear and concise overview of the company.
A visually appealing and professional cover slide will include the company name, logo, tagline, and supporting image. InfluxData's pitch deck's cover slide includes all these critical components and answers all the above-mentioned questions. The slide keeps things visually simple with minimalist typography, appropriate imagery, and a color palette that adhered to company branding guidelines. This understated yet effective cover slide makes an immediate impression and draws in the audience.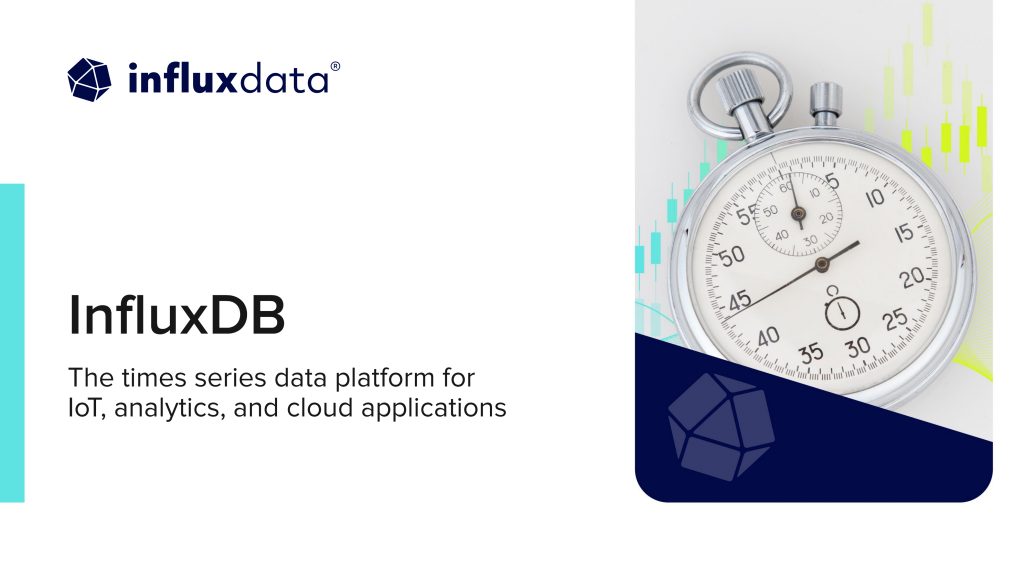 2. Traction Slides
By the Series E stage, investors expect the business to be well established, with a proven track record of success, and to have already achieved substantial growth and market acceptance. Companies that are seeking to raise capital in a Series E round should be prepared to clearly demonstrate their traction and further growth potential to investors. Consequently, the traction part of the pitch becomes the most important element and eclipses other slides, such as the founding team's experience.
Owing to the importance of this data, the InfluxData pitch deck spends multiple slides on traction (interestingly no team slide) including tier-one marque customers, top clients, and mission-critical use cases. By showcasing these various metrics, InfluxData is able to effectively communicate the company's progress and future prospects in their Series E investor presentation. The slide also demonstrates how traction doesn't always have to be quantitative — rather than emphasize their 1,900 customers and 75,000+ instances, InfluxData focuses on presenting the marquee brands that rely on their services.
On the design front, the slides don't add any unnecessary complications and keep things simple with big headings, logos, and company branding. This simple design is an effective choice as it helps to focus the reader's attention on results and ends up creating an uncluttered and straightforward experience for potential investors.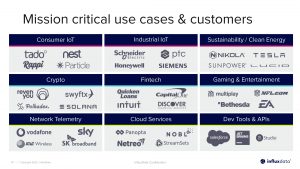 3. Market Slides
In addition to traction, the InfluxData pitch deck put a great focus on market size and its growth potential. At the Series E stage, when the company has gained good traction, investors look towards the future and the market size can provide an estimate of the potential revenue and growth opportunities available in an industry or the market. For later-stage companies, market saturation becomes a serious risk, and investors will want to see there is still substantial growth potential for the business.
A large market size also indicates it will be easier for companies to scale their operations and reach a wider customer base, which can generate increased efficiency and lower costs. It's no surprise we find multiple slides related to the market in the InfluxData Series E investor presentation.
The InfluxData market analysis slides communicate clear trends and takeaways with minimalist bar charts, big headings, and easy-to-read typography. The slides (and the pitch deck in general) follow company branding and cite reliable sources to engender trust and authority.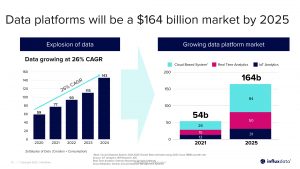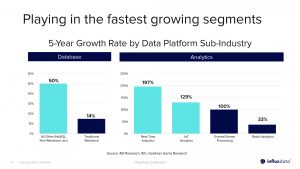 How-to create your own pitch deck like InfluxData
We hope you learned something from the InfluxData pitch deck, and that you are able to use these insights for your own business.  If you'd like to, you can bookmark it at bestpitchdeck.com/influxdata
Although it probably goes without saying that having a successful business (outside just their pitch deck) was integral to their success, it is critical for any startup to ensure your vision is portrayed properly. That's where crafting the perfect pitch deck comes essential: 
You might find our other resources on how-to create a pitch deck helpful, or benefit from using one of our expert-designed templates:
Our team has helped create decks that have closed over $100M+ in deals & funding for leading startups and even VC firms. You can leverage this experience and get a jumpstart on your pitch with one of our easy-to-use presentation templates, one-pagers, or financial models.
Every pitch requires a unique approach tailored to its audience. Our team of experts has created pitch decks for different industries, as well as funding stages:
Software Pitch Deck — You might be interested in the popular SaaS Pitch Deck designed by our team of experts at VIP.graphics: This pitch deck template is built specifically for presenting SaaS startups to all key stakeholders.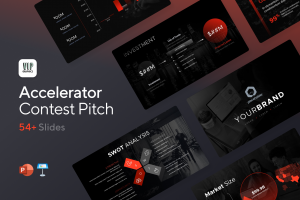 Accelerator Pitch Deck Template — The Accelerator Pitch Deck template was crafted for early-stage founders seeking to win funding &/or investment from pitch contests, accelerators, incubators, and angels or VC firms. Winning a pitch contest or being accepted to a prominent accelerator program requires a unique strategic approach to an investor pitch presentation.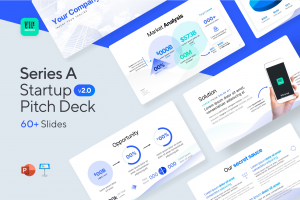 Series A Pitch Deck Template — A pitch deck template for startups and founders raising funding: Smart, actionable slides that work. This is a pitch deck template built specifically for startups, entrepreneurs and founders raising their first seed or Series A round of institutional capital.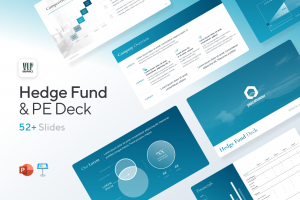 Mergers & Acquisitions Pitch Deck Template — Perfect Pitch Deck™ is a template crafted for later-stage businesses entering more sophisticated discussions such as mergers & acquisitions (M&A), late-stage investment (Series C+), or other partnerships & financing opportunities. Our team of experts created this presentation to empower founders to present with confidence to investment banks, private equity (PE) groups, and/or hedge funds (and vice versa).