Despite a challenging fundraising environment, startups and creators continue to announce new deals, funding, and acquisitions:
Here's an inside look at winning pitch decks published this week:
NOCD pitch deck: $34M funding from Cigna Ventures
NOCD, a mental health startup that provides care for obsessive-compulsive disorder (OCD), raised $34 million in funding led by Cigna Ventures and 7wireVentures. Despite a challenging fundraising climate for digital health startups in early 2023, the startup was able to raise on favorable terms (at a higher valuation than before), thanks to exceeding its revenue & financial goals.
NOCD operates through an app, allows patients to sign up for virtual therapy and group sessions with providers who specialize in treating OCD. In addition, NOCD offers free self-help tools and feeds where people talk about their conditions. The startup got its start in 2018 by renting out a corner of an office shared by 7wireVentures and Livongo, a health startup that sold for $13.9 billion in 2020. With this new funding round, NOCD's total funding has reached $84 million.
Browse the exact example slides from the pitch deck that NOCD used to secure $34 million from Cigna Ventures:
Our Future pitch deck: acquired by Morning Brew
Our Future, a short-form video media brand that covers business news for a Gen-Z audience, was acquired by popular business newsletter Morning Brew in January 2023. Our Future was started by Michael Sikand as a podcast in 2020 and then pivoted to focus on short-form video in 2021. It uses YouTube Shorts and TikTok as its primary platforms and now has over 450,000 subscribers on YouTube and about 470,000 on TikTok across two accounts.
Sikand and his cofounder Simran Sandhu also built a consulting agency that advised companies like HubSpot and StartEngine on social media strategy. The cofounders decided against raising funds for the company in early 2022 because they had "found a way to monetize effectively through the agency division." The amount paid by Morning Brew to acquire Our Future was not disclosed.
Browse the exact example slides from the pitch deck that Our Future used to successfully pitch acquirers like Morning Brew:
BarnettX pitch deck: UGC & creator consultant for brands
JT Barnett, a former professional hockey player turned creator, has become a social media strategist and content agency for brands. He has found success in pitching himself to brands as a user-generated content (UGC) creator. UGC is a type of advertising where creators make content that brands can use on their own pages. Barnett uses UGC to get his foot in the door and create relationships with brands.
Barnett's company, BarnettX, has become a full-fledged consultancy firm that helps creators launch their own brands, and he also runs CreatorX, which helps place creator talent as in-house creatives for brands. Barnett uses a deck to pitch potential clients and highlight case studies. While many creators are looking to build their own business empires, Barnett has found success in acting as an agency for companies and offering services to them.
Here's a look inside the 27-page pitch deck JT Barnett uses to pitch creator consulting services to brands:
Macro pitch deck: $9.3M seed from Andreessen Horowitz
Macro, a start-up offering a desktop app that uses AI to edit documents and introduce interactive and hyperlinked text, raised $9.3m in a seed funding round led by Andreessen Horowitz in early 2023. Macro's technology is aimed at younger workers and ambitiously seeks to challenge Microsoft 365 as the go-to office suite.
The company's founder, Jacob Beckerman, spun up the company (then called CoParse) while a graduate student at the UPenn, focusing his thesis on natural language processing (NLP) applications in legal contracts. Macro's "secret sauce" makes text interactive: when a user clicks on a key term defined somewhere in the document, a window pops up with the keyword's definition. The sidebar lets users search for terms and jump to sections, and tabs can be used for viewing different parts of the same document. Macro released its flagship desktop app in 2020 and signed up testers from investment banks, law firms, hedge funds, private equity funds, and endowments.
Browse the exact example slides from the pitch deck that AI startup Macro used to secure $9.3M in seed funding led by A16Z:
How-to create your own pitch deck
We hope you learned something from these pitch deck examples, and that you are able to use these insights for your own business.  If you'd like to, you can browse more examples of successful investor presentations at bestpitchdeck.com — the world's largest library of pitch decks. 
Although it probably goes without saying that having a successful business (outside just their pitch deck) was integral to the success of these companies, it is critical for any startup to ensure your vision is portrayed properly. That's where crafting the perfect pitch deck comes essential: 
You might find our other resources on how-to create a pitch deck helpful, or benefit from using one of our expert-designed templates:
Our team has helped create decks that have closed over $100M+ in deals & funding for leading startups and even VC firms. You can leverage this experience and get a jumpstart on your pitch with one of our easy-to-use presentation templates, one-pagers, or financial models.
Every pitch requires a unique approach tailored to its audience. Our team of experts has created pitch decks for different industries, as well as funding stages: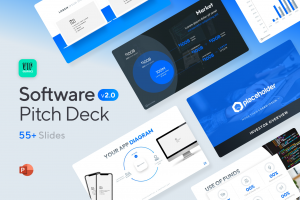 Software & SaaS Pitch Deck — You might be interested in the popular SaaS Pitch Deck designed by our team at VIP.graphics: cutting-edge slides based on decks that closed millions in deals & investments for orgs of all sizes: from high-growth startups to Fortune 100 corporations. This easy-to-customize template for PowerPoint or Keynote offers you ready-made elements & all the essential slides to close deals faster!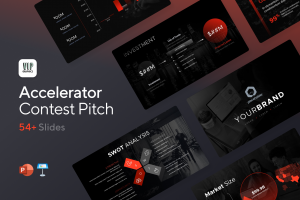 Accelerator Pitch Deck Template — The Accelerator Pitch Deck template was crafted for early-stage founders seeking to win funding &/or investment from pitch contests, accelerators, incubators, and angels or VC firms. Winning a pitch contest or being accepted to a prominent accelerator program requires a unique strategic approach to an investor pitch presentation.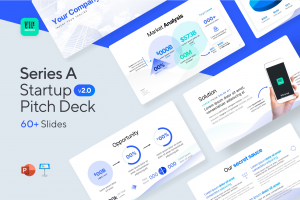 Series A Pitch Deck Template — A pitch deck template for startups and founders raising funding: Smart, actionable slides that work. This is a pitch deck template built specifically for startups, entrepreneurs and founders raising their first seed or Series A round of institutional capital.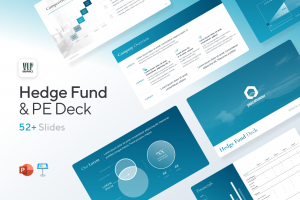 Mergers & Acquisitions Pitch Deck Template — Perfect Pitch Deck™ is a template crafted for later-stage businesses entering more sophisticated discussions such as mergers & acquisitions (M&A), late-stage investment (Series C+), or other partnerships & financing opportunities. Our team of experts created this presentation to empower founders to present with confidence to investment banks, private equity (PE) groups, and/or hedge funds (and vice versa).
Alternatively, feel free to browse our growing selection of pitch decks tailored for specific industries and businesses.