Juno is a global employee benefits platform that allows employees to use their employer-provided Juno Points to purchase a variety of services and products for their well-being, ranging from organic vegetable boxes to therapy sessions and language classes.
After burning out and quitting his job due to the poor selection of employee benefits when he needed support for his mental health, British-Iraqi entrepreneur Fekaiki founded the company in 2019.
"My story – and Juno's raison d'etre – will sound all-too-familiar to many. When I started my career as a Growth Manager for startups, long hours and 'hustle culture' left me feeling burnt out. The loss of a family member finally broke me and the thing I needed the most at that time was genuine well-being support in place of the alcohol-fuelled socials and awkward team yoga I was offered by HR. But I should have known not to expect too much from superficial 'perks' systems that fail to consider peoples' actual needs." Ally Fekaiki, Founder and CEO of Juno, explained the origin of his startup.
While traditional benefits are typically focused on healthcare and pension plans, Juno's has broadened its services to include learning and development outside of the office, ranging from language training to ceramics and cooking workshops. 
Over 160 companies in 40 countries are already using the platform, including Bolt, Oyster, Born Social, and Paddle. The company has experienced continuous growth since January 2021, but its user base increased tenfold last year as demand for effective ways to enable hybrid teams, retain employees, and promote work-life balance increased during the pandemic. Juno is now the world's largest employee wellness program of its kind.
"The reason why benefits or perks have been under-utilized is because there's no one size fits all," the CEO told in an interview. "The idea was to give employees the power and flexibility to make their own choices."
Juno recently announced that it has raised $4 million in a round led by Hoxton Ventures and joined by angels including Juno early adopters Tony Jamous, CEO of OysterHR, and Christian Owens, CEO of Paddle. Other angel investors include the CEOs of Learnerbly, Captify, Jungle Creations, SuperAwesome, and Heights.
This latest round of funding will allow Juno to fine-tune their offerings and add new features such as physical debit cards for purchasing benefits and a seamless integration marketplace. The funds will be utilized to promote further expansion in global markets such as the United States and Europe, allowing more individuals to choose benefits.
According to Fekaiki, "This new injection of funding will enable us to bring better benefits and support to more workers around the world. As hybrid workforces grapple with a teetering work-life balance and the rising cost of living, empowering employees to take charge of their benefits can make all the difference. For some, that might mean knowing their childcare is covered. For others, it might mean having a meal box ready and waiting for them at the end of the day. Benefits that genuinely benefit people are not one-size-fits-all – and everything we do is designed with this in mind."
Charles Seely, a partner at Hoxton Ventures, says, "We're excited to back Ally and the Juno team. We believe that the future of work is a giant category within which transformative businesses will be built."
Here's a look at the pitch deck that was used in to raise $4M in funding for Juno:
Browse the exact example slides from the pitch deck that Juno used to secure $4 million in a venture funding round by Hoxton Ventures.
1. Cover Slides
The primary purpose of any pitch deck is telling your company's story, and you cannot start a story without introducing its characters. Investors see thousands of presentations every year, and a well-built cover slide will help you stand out and leave a lasting impression.
Creating a compelling cover slide requires the following ingredients: a powerful image, a catchy tagline, company branding, and contact info. This is exactly what we find in the Juno pitch deck. The golden rule of effective titles is that your audience should have a 70%+ understanding of your business from the headline alone: in that spirit, the Juno cover slide's heading, "Reinventing the way employees experience work" perfectly encapsulates the essence of their business.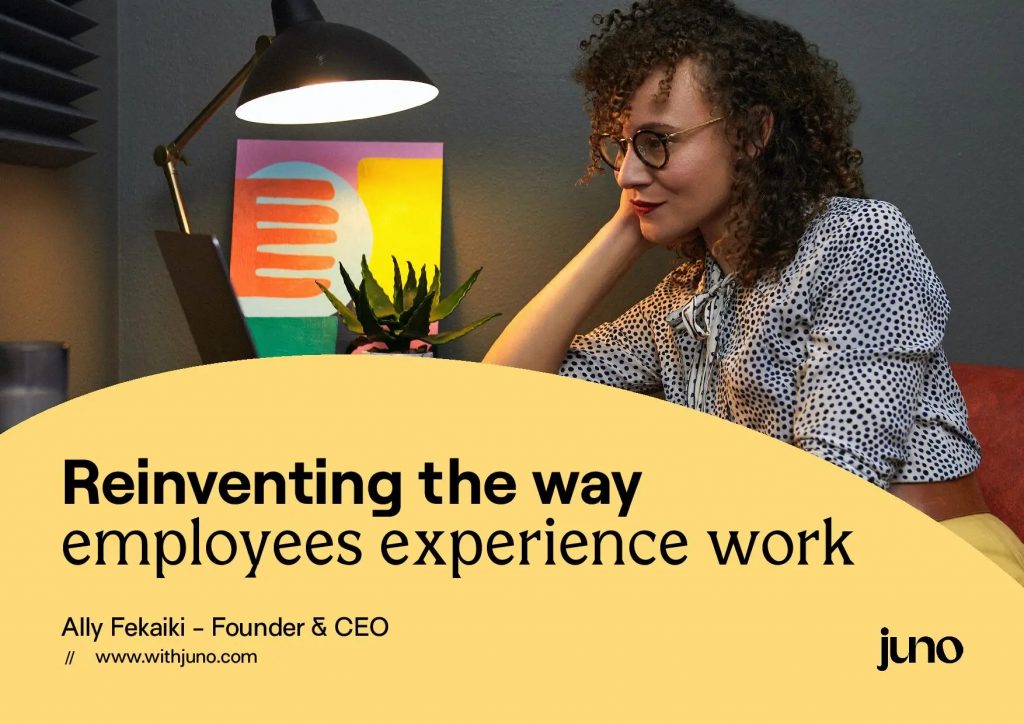 2. Product Slides
The traditional, one-size-fits-all approach to employee experience will no longer suffice in the modern work environment, prompting the emergence of startups such as Juno. However, because this is a new niche, it makes sense for the presentation to focus on how and what Juno does in-detail.
As a result, we find various slides that explain Juno's working, features, and benefits. Things these slides have in common include bold titles, company branding, and product images. Put together, they create a comprehensive overview for the investors to understand what Juno is about, and why they should care.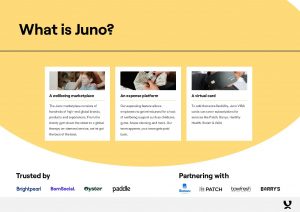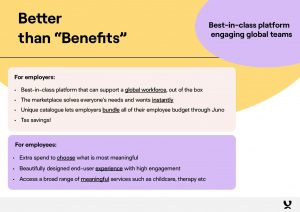 3. Market Slide
Market size is one of the metrics that gets discussed most often in the world of investment. It essentially boils down to the total sales, spending, or revenue figures in a certain market segment. From an investor's perspective, it's important to understand the market because it allows them to make better investments with opportunity for outsize ROI, by focusing on startups that have plenty of room to grow.
Juno's market slide is a good template for anyone wanting to create a simple yet powerful presentation. The big headlines declare Juno's position as a "primary player" with a "gigantic opportunity" (music to the ears of every investor). The Juno pitch deck doesn't overcomplicate the market slide, citing just a handful of relevant statistics (including the sources).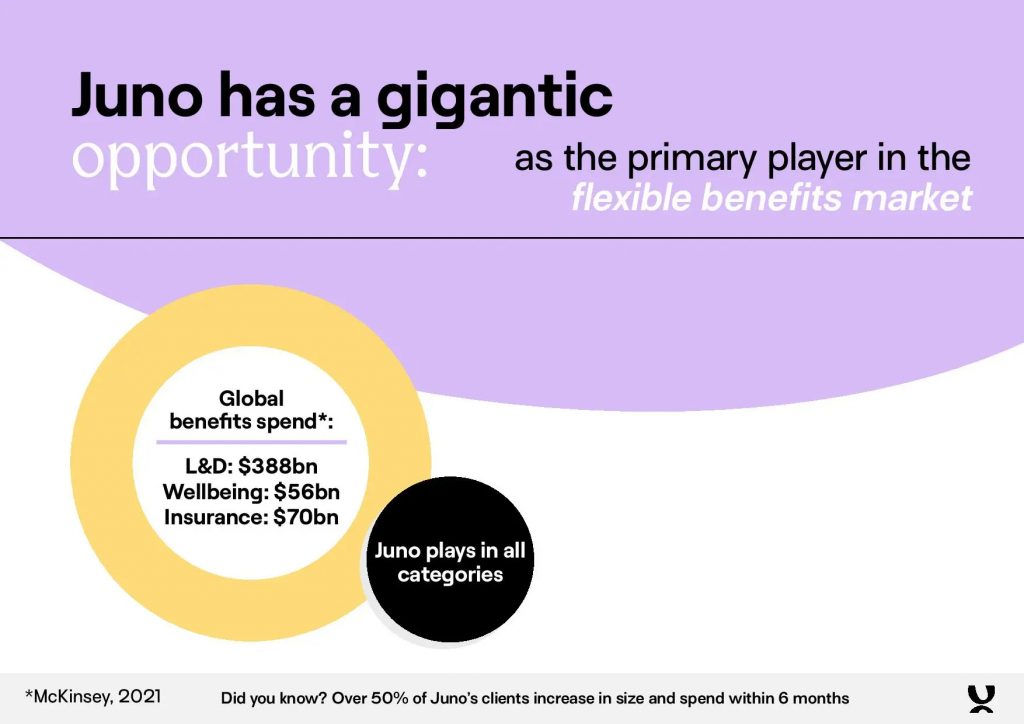 How-to create your own pitch deck like Juno
We hope you learned something from the Juno pitch deck, and you are able to use these insights for your own business.  If you'd like to, you can bookmark it at bestpitchdeck.com/juno
Although it probably goes without saying that having a successful business (outside just their pitch deck) was integral to their success, it is critical for any startup to ensure your vision is portrayed properly. That's where crafting the perfect pitch deck comes essential: 
You might find our other resources on how-to create a pitch deck helpful, or benefit from using one of our expert-designed templates:
Our team has helped create decks that have closed over $100M+ in deals & funding for leading startups and even VC firms. You can leverage this experience and get a jumpstart on your pitch with one of our easy-to-use presentation templates, one-pagers, or financial models.
Every pitch requires a unique approach tailored to its audience. Our team of experts has created pitch decks for different industries, as well as funding stages: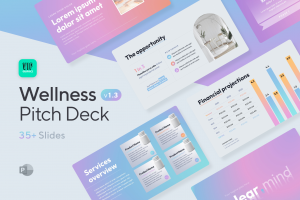 Wellness Pitch Deck Template — You might be interested in the popular Wellness Pitch Deck designed by our team at VIP.graphics: cutting-edge slides based on decks that closed millions in deals & investments for orgs of all sizes: from high-growth startups to Fortune 100 corporations. This easy-to-customize template for PowerPoint or Keynote offers you ready-made elements & all the essential slides to help your software startup succeed.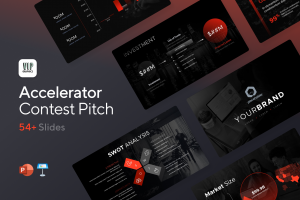 Accelerator Pitch Deck Template — The Accelerator Pitch Deck template was crafted for early-stage founders seeking to win funding &/or investment from pitch contests, accelerators, incubators, and angels or VC firms. Winning a pitch contest or being accepted to a prominent accelerator program requires a unique strategic approach to an investor pitch presentation.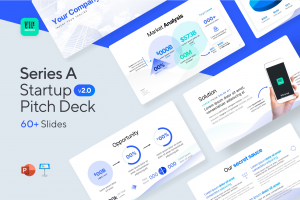 Series A Pitch Deck Template — A pitch deck template for startups and founders raising funding: Smart, actionable slides that work. This is a pitch deck template built specifically for startups, entrepreneurs and founders raising their first seed or Series A round of institutional capital.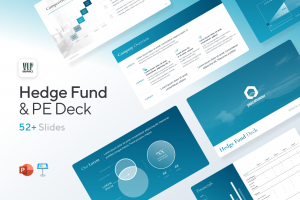 Mergers & Acquisitions Pitch Deck Template — Perfect Pitch Deck™ is a template crafted for later-stage businesses entering more sophisticated discussions such as mergers & acquisitions (M&A), late-stage investment (Series C+), or other partnerships & financing opportunities. Our team of experts created this presentation to empower founders to present with confidence to investment banks, private equity (PE) groups, and/or hedge funds (and vice versa).
Alternatively, feel free to browse our growing selection of pitch decks tailored for specific industries and businesses.