No-code or low-code development platforms provide drag-and-drop tools that enable businesses to develop software quickly without coding. These platforms make it possible to create complex apps without spending huge money, waiting for days or months, or employing multiple developers. Aside from application development, no-code platforms allow easy workflow automation, help improve business processes, and provide other features to contribute to their operations and help them expand.
Thunkable is one such platform, allowing users to create native mobile apps for Android, iOS, and the web without writing a single line of code. The drag-and-drop interface allows creators to easily bring their ideas to life — regardless of their technical skills or knowledge.
"The great resignation has happened. Whether it's TikTok influencers or people with ideas, they're saying, 'Hey, why do I need to be a software engineer? If I have an idea, there should be tools that empower me." Arun Saigal, the CEO, said in an interview. "We believe we've built the simplest tool for anyone to build mobile apps," He added.
Saigal and WeiHua Li came up with the idea at MIT, where they released early versions of Thunkable, which aimed to enable users to build apps without writing code. When they noticed that users were not just creating apps but also publishing them, they understood the project had grown so big that it needed to be taken to the real world.
"App Inventor grew to over 4 million users around the world. One day we were looking at the data and we saw that a significant portion of users were not using App Inventor as a learn-to-code tool, they were actually just trying to build their own apps. I knew that if we really wanted to help these people build commercial-level technology, this couldn't just be a school project."
Saigal explained the origin of the startup, "We wanted to bring the community of passive consumers of apps into the world of active creators."
Gartner estimates that app development demand will surpass IT's ability to deliver by five times by 2022. Most of an organization's IT budget goes to maintaining legacy systems, leaving little room for innovation and the development of new applications or processes. The cost of development can be reduced by up to 80% with no-code, helping to solve all of these problems.
A number of no-code startups have announced funding rounds in the last few months due to their popularity and benefits, such as Webflow ($120M), Bubble ($100M), Crowdbotics ($22M) and more. Thunkable joined their ranks, announcing they have raised a $30 million Series B round, led by Owl Ventures, Lightspeed Venture Partners, and PJC.
"We are very excited to partner with the Thunkable team because they have created a truly comprehensive and robust no-code platform that can empower a wide variety of institutions and individuals to turn their ideas into custom native mobile apps," said Amit Patel, MD at Owl Ventures, in a statement. "From students learning computer science concepts to enterprises empowering employees to accelerate innovation, Thunkable is making app creation more accessible in a world where the majority of web traffic is coming from mobile devices and mobile apps are expected to play an even more critical role in global online activity."
Here's a look at the pitch deck that was used in to raise $30M in funding for Thunkable:
Browse the exact example slides from the pitch deck that Thunkable used to secure $30 million in a Series B funding round by Owl Ventures, Lightspeed Venture Partners, and PJC.
1. Problem Slides
All successful startups are built around solving a problem; all successful pitch decks are built around a problem slide. Every other slide in your pitch deck relates back to the problem slide: the solution slide explains how you address the problem, the market slide quantifies how big the problem is, and so on. The problem slide is the heart of any pitch deck, and getting it right is critical if you want to win over investors.
With modern graphics, a provocative title, and key bullet points, Thunkable's problem slide is beautifully simple and easy to comprehend. It provides a very clear explanation of the problem Thunkable is trying to solve: "building native mobile apps today is really hard." Key figures are highlighted with bold, colored type, so investors don't overlook these numbers when glancing over the slide, with sources included to establish trust.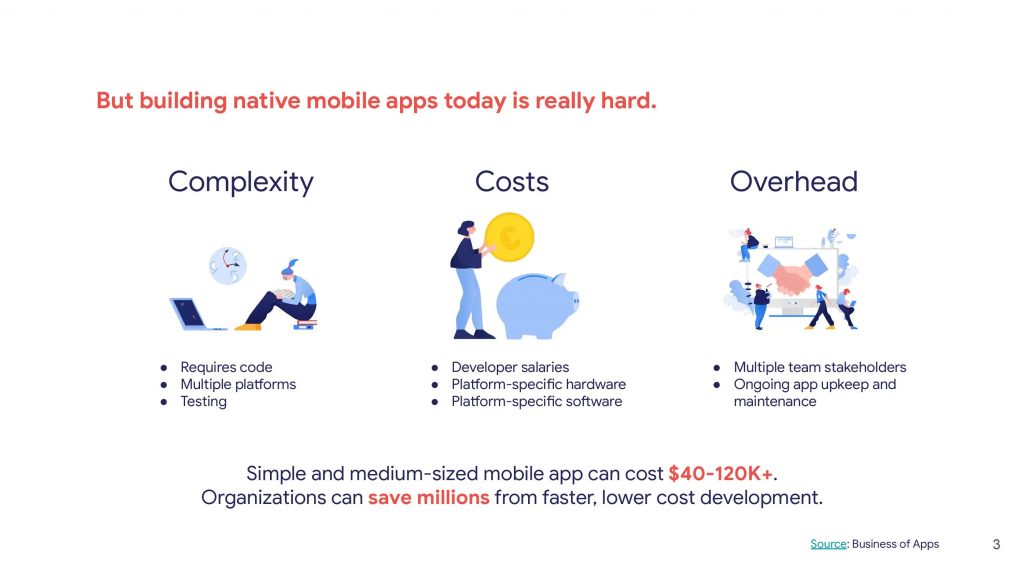 2. Traction Slide
The traction slide answers some very important questions for the investors: Do you actually solve your customer's pain points? Is there a real need and demand for your product? How well is the company currently performing? Accumulating traction can be one of the most challenging things for the founders and early startups. Pre-revenue or pre-product startups may opt to not include this slide, but for any business that has already embarked on the path to go-to-market, traction metrics can be a powerful catalyst in securing investment.
With typical grid of stats (and accompanying icons), Thunkable's traction slide answers all the above-mentioned questions. Rather than cherry-pick random vanity metrics, Thunkable focuses on demonstrating a robust acquisition funnel — drawing traffic from primarily organic & direct search, with a high conversion rate. For savvy investors, this gives the perfect amount of information to assess the business model (without crowding the slide).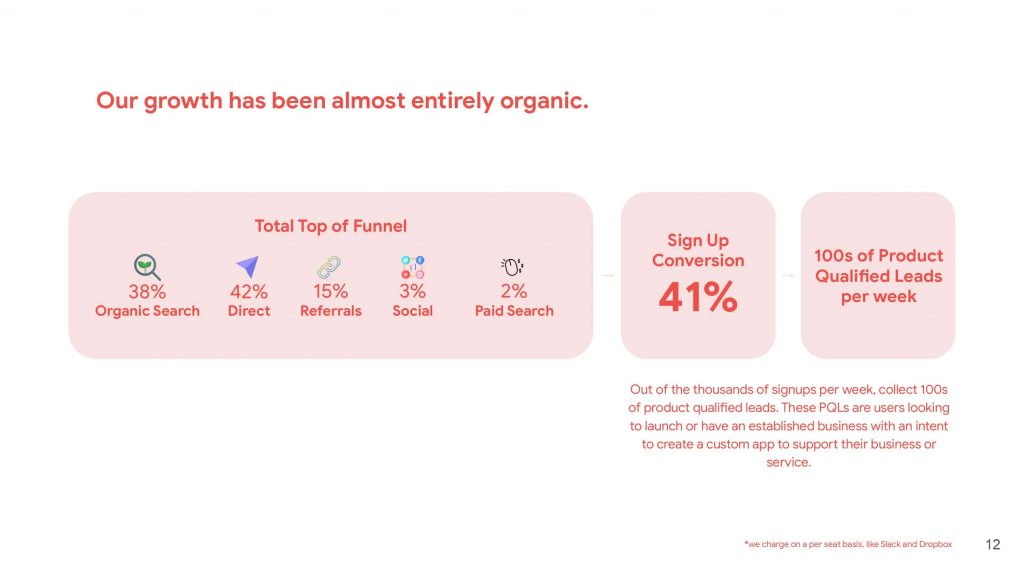 3. Team Slide
For a startup to become successful, it must be led by a team that's capable, experienced, and knowledgeable. Investors understand that when it comes to the future of any startup, the product, business model, and other key aspects take the back seat: the people behind the scenes are the difference-makers who will navigate the business through unseen challenges and opportunities.
Thunkable's team slide introduces the core leadership with names, titles, headshots, and logos of past organizations to establish ethos.  These are precisely the ingredients you need to create a powerful team slide without overcomplicating and overselling.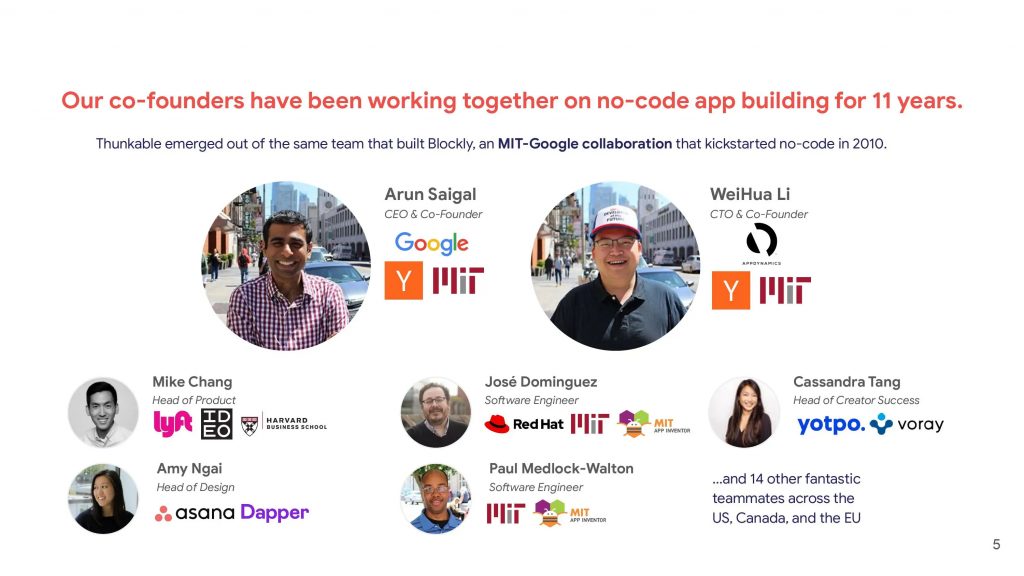 How-to create your own pitch deck like Thunkable
We hope you learned something from the Thunkable pitch deck, and you are able to use these insights for your own business.  If you'd like to, you can bookmark it at bestpitchdeck.com/thunkable
Although it probably goes without saying that having a successful business (outside just their pitch deck) was integral to their success, it is critical for any startup to ensure your vision is portrayed properly. That's where crafting the perfect pitch deck comes essential: 
You might find our other resources on how-to create a pitch deck helpful, or benefit from using one of our expert-designed templates:
Our team has helped create decks that have closed over $100M+ in deals & funding for leading startups and even VC firms. You can leverage this experience and get a jumpstart on your pitch with one of our easy-to-use presentation templates, one-pagers, or financial models.
Every pitch requires a unique approach tailored to its audience. Our team of experts has created pitch decks for different industries, as well as funding stages: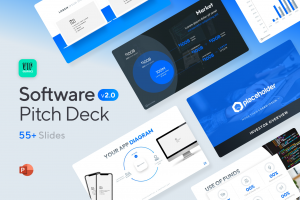 Software Pitch Deck Template — You might be interested in the popular SaaS & Software Pitch Deck designed by our team at VIP.graphics: cutting-edge slides based on decks that closed millions in deals & investments for orgs of all sizes: from high-growth startups to Fortune 100 corporations. This easy-to-customize template for PowerPoint or Keynote offers you ready-made elements & all the essential slides to help your software startup succeed.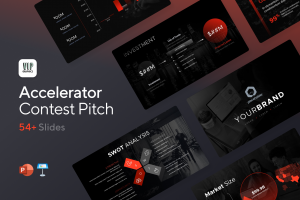 Accelerator Pitch Deck Template — The Accelerator Pitch Deck template was crafted for early-stage founders seeking to win funding &/or investment from pitch contests, accelerators, incubators, and angels or VC firms. Winning a pitch contest or being accepted to a prominent accelerator program requires a unique strategic approach to an investor pitch presentation.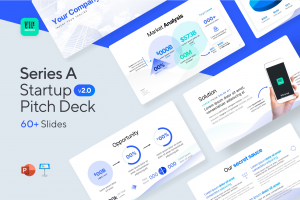 Series A Pitch Deck Template — A pitch deck template for startups and founders raising funding: Smart, actionable slides that work. This is a pitch deck template built specifically for startups, entrepreneurs and founders raising their first seed or Series A round of institutional capital.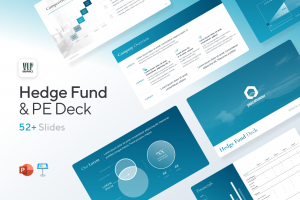 Mergers & Acquisitions Pitch Deck Template — Perfect Pitch Deck™ is a template crafted for later-stage businesses entering more sophisticated discussions such as mergers & acquisitions (M&A), late-stage investment (Series C+), or other partnerships & financing opportunities. Our team of experts created this presentation to empower founders to present with confidence to investment banks, private equity (PE) groups, and/or hedge funds (and vice versa).
Alternatively, feel free to browse our growing selection of pitch decks tailored for specific industries and businesses.