Kangarootime is the first comprehensive childcare management software suite that uses technology to digitize the early education classrooms. The company, based in Buffalo, New York, offers childcare practitioners technology that automates payments, children 'check-in' and 'check-out,' milestone monitoring, punctuality, timetables, and communication.
The startup's journey started when at the age of 28, founder Scott Wayman was entrusted with caring for his 10-year-old brother following a family tragedy (the death of both parents).
"I became passionate about early childhood education at the age of twenty-eight when I unexpectedly adopted my youngest brother […] I became responsible for ensuring that his education continued and by default, I became very aware of the amazing work taking the place at his center day in and day out." Scott said in an interview. "That being said, I wasn't the perfect Dad. I was often running late and always forgetting to pay my bills on time. During this period I realized that there had to be an easier way for parents and center managers to manage these basic tasks." 
Scott offered to design a system for his brother's care center — which would later become the foundation for Kangarootime.
"The owners were just great, wonderful folks that were obsessed with building bodies, souls, and minds, but they struggled as business people," he said. "Being a business person myself, I offered to help them build out a point-of-sale system, something to help them collect payments, and compile all their invoices."
In addition to collecting invoices, the platform has capabilities such as automated classrooms, automated billing, geolocating the user to check the child in and out without manually signing in, the capability of sharing elements of one's profile so that friends and family can drop the child off at daycare using the same mechanism, and the ability to share photos and other data. A communication center (where the daycare facility and parents can communicate) and a calendar are also included.
The company has 39 employees, about 25 of whom are based in Buffalo. According to Scott, the company is aiming to grow to 100 employees by the end of this year.
Kangarootime won its first funding in the form of a $500,000 runner-up prize in the 2017 43North business plan competition. It has since attracted the attention of investors like Education Growth Partners, who signed on to lead the startup's latest $26 million Series B round. Kangarootime has raised $35.9 million in total funding to date, according to a spokesperson.
"To know that specialist education investors like Education Growth Partners are now in our corner is a major boost for our organization and we look forward to working with their passionate team and leveraging their extensive industry and strategic expertise on our growth journey," said Scott.
Here's a look at the pitch deck that was used to raise $26M in a Series B round led by Education Growth Partners.
Browse the exact example slides from the pitch deck that Kangarootime used to raise $26M.
1. Cover Slide
Founders often tend to think of the cover slide as a filler; however, this humble and oft- neglected slide serves three very important purposes in any pitch deck:
a) catching the attention of the investors,
b) introducing your company, and
c) explaining your mission &/or value proposition.
To achieve these objectives, the cover slide should include the following elements:
The logo of your business

An image of your product or user application (ie. photo of someone using your product)

The tagline: a catchphrase that communicates your brand in a few words. 
Kangarootime's cover slide is designed with all of the aforementioned goals in mind and includes all of the elements required to fulfill those objectives. Heralding Kangarootime as the "most sophisticated childcare management" platform lends a "wow factor" before you even start the presentation. A well-structured cover slide with consistent branding (like Kangarootime's) can capture investors' interest and establish the tone for the rest of the pitch deck.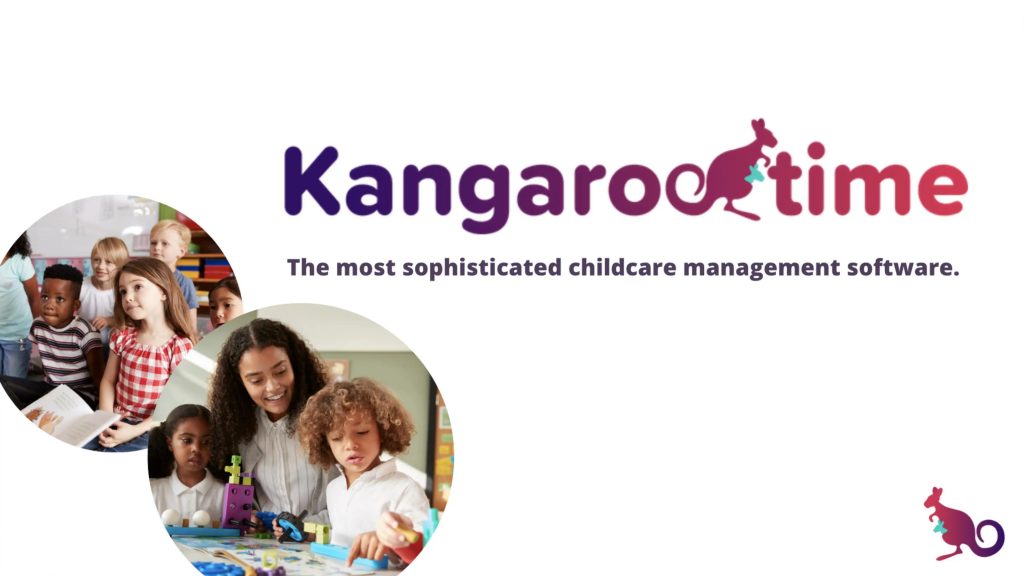 2. Market Slide
If there is one thing that venture capitalists will not compromise on, it is market size. Investors recognize that a superior team or product can be built from ground-up, but if the market is not large enough to generate substantial returns, the investment is not worth the risk.
The goal of the market slide is to demonstrate the addressable market and portray why your company has the ability to generate millions in revenue and an outsize return for the investors.
Kangarootime's market slide presents the Australian and US childcare market numbers and further breaks them down by organization size. That said, the slide could be criticized for having too much text and not enough visuals. When you rely on text to convey your message, you run the risk of the audience reading ahead of you and losing interest in what you have to say. Using pie charts and bubble diagrams could help to present this same data in a visually-engaging manner.
The competitive landscape is another area where the market slide (and the pitch deck) falls short. Investors want to know who your competitors are, what they lack, and if there is a vacuum in the market that your firm can fill. Acting as though you don't have any competition will make you appear naive. Directly addressing your competition and disclosing your competitive advantages is a good method to reassure investors that you genuinely understand the market.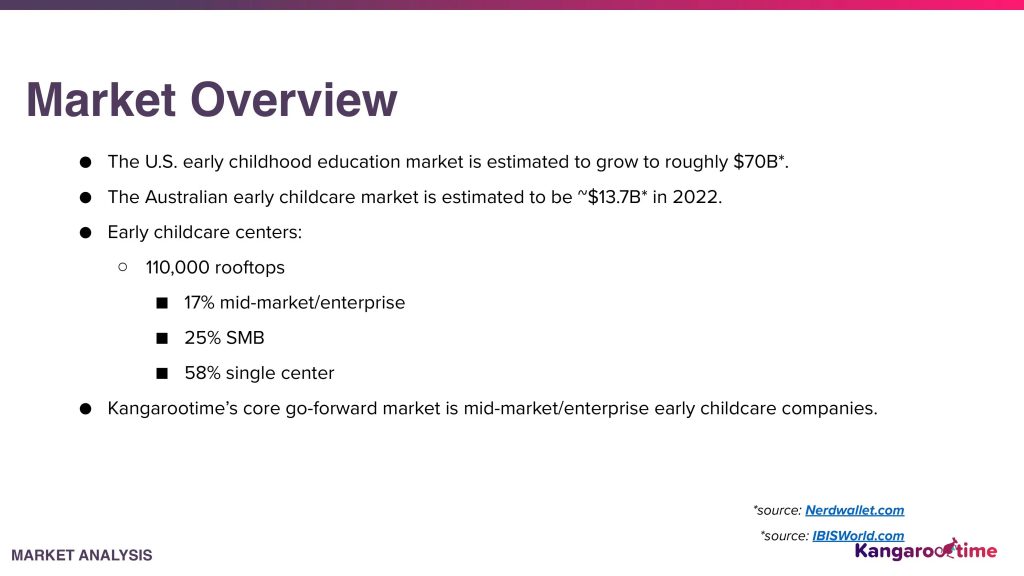 3. Use of Funds Slide
A good pitch deck will address all areas of concern that investors might have, and one of those is the use of funds: investors want to know how the funds will be used to reach specific goals and acquire customers. In the Kangarootime pitch deck's use of funds slide, the company highlights various departments where the funds will be invested. The slide goes so far as to describe the roles that the company wants to fill with new hires. The slide demonstrates that the Kangarootime founders are clear about what they need to raise the funds for.
Including a robust use of funds helps assure investors that you're not throwing out some random "pie in the sky" number for your ask, and have thought through why and what you need this funding for. A good use of funds slide (like Kangarootime's) will generally include both the categories/departments where you plan to allocate the investment capital, as well as the associated milestones you hope to achieve.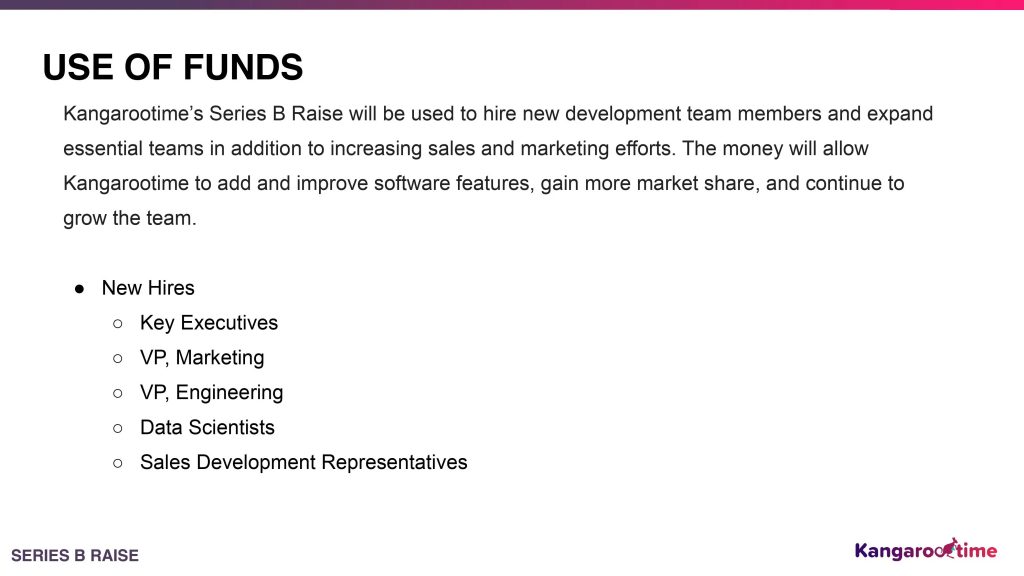 How-to create your own pitch deck like Kangarootime
We hope you learned something from the Kangarootime pitch deck, and that you are able to use these insights for your own business.  If you'd like to, you can bookmark it at bestpitchdeck.com/kangarootime
Although it probably goes without saying that having a successful business (outside just their pitch deck) was integral to their success, it is critical for any startup to ensure your vision is portrayed properly. That's where crafting the perfect pitch deck comes essential: 
You might find our other resources on how-to create a pitch deck helpful, or benefit from using one of our expert-designed templates:
Our team has helped create decks that have closed over $100M+ in deals & funding for leading startups and even VC firms. You can leverage this experience and get a jumpstart on your pitch with one of our easy-to-use presentation templates, one-pagers, or financial models.
Every pitch requires a unique approach tailored to its audience. Our team of experts has created pitch decks for different industries, as well as funding stages: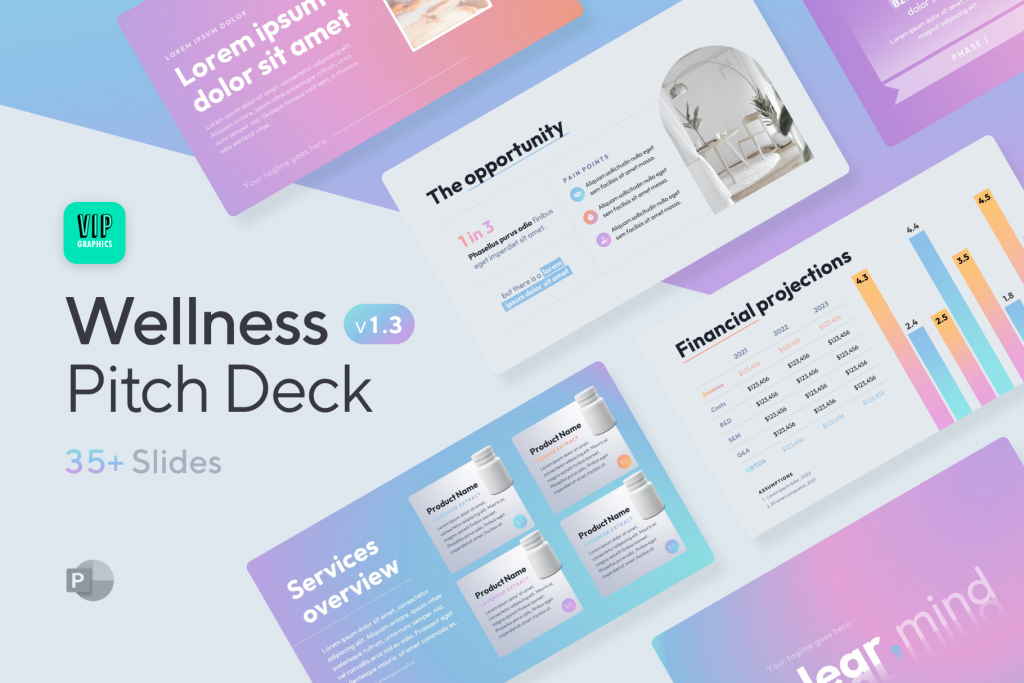 Wellness Pitch Deck — You might be interested in the popular Wellness Pitch Deck designed by our team of experts at VIP.graphics: cutting-edge slides based on decks that closed millions in deals & funding. This template is perfect for startups in the health & wellbeing space: from mental health & familytech apps, to alternative medicine, supplements, marketplaces & more!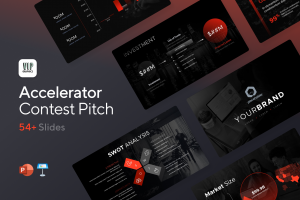 Accelerator Pitch Deck Template — The Accelerator Pitch Deck template was crafted for early-stage founders seeking to win funding &/or investment from pitch contests, accelerators, incubators, and angels or VC firms. Winning a pitch contest or being accepted to a prominent accelerator program requires a unique strategic approach to an investor pitch presentation.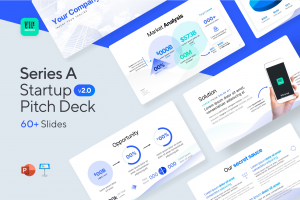 Series A Pitch Deck Template — A pitch deck template for startups and founders raising funding: Smart, actionable slides that work. This is a pitch deck template built specifically for startups, entrepreneurs and founders raising their first seed or Series A round of institutional capital.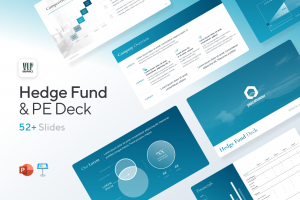 Mergers & Acquisitions Pitch Deck Template — Perfect Pitch Deck™ is a template crafted for later-stage businesses entering more sophisticated discussions such as mergers & acquisitions (M&A), late-stage investment (Series C+), or other partnerships & financing opportunities. Our team of experts created this presentation to empower founders to present with confidence to investment banks, private equity (PE) groups, and/or hedge funds (and vice versa).