Founded in 2020, Tomorrow Health is a home-based healthcare startup that aims to simplify the process of getting home healthcare supplies. The company has created a data-driven marketplace that connects patients and their families with high-quality home-based care, streamlines ordering and insurance processes, and provides personalized support at every stage.
"We believe the home should be a patient's primary point of care, and we are focused on providing patients with the right products, guidance, and support to make that a reality," co-founder and CEO Vijay Kedar said in a statement. "One size does not fit all in healthcare or medical equipment. From walkers and rollators after a fall to oxygen concentrators and respiratory supplies for COPD and ongoing recovery from COVID-19, it is essential that patients receive equipment tailored to their conditions with speed and reliability."
Whilst working at Oscar Health, Kedar became aware of the difficulties of transferring patients from the hospital to their homes. He also witnessed it firsthand when his mother, a stage 3 cancer patient, was hospitalized for four months with acute respiratory distress syndrome. She needed a year of rigorous at-home care after she was discharged, but it was so difficult to obtain the equipment she required that she was readmitted to the hospital twice in the first month.
"We had to coordinate a dozen equipment and supply vendors, all these siloed retailers that had one or two things she needed. There was very little guidance or support on what she needed or how to manage it or navigating her insurance benefits," Kedar said.
Tomorrow Health simplifies this time-consuming and cumbersome procedure by working with a network of suppliers to guarantee that equipment is delivered to people's homes as quickly as possible, while also assisting patients in navigating insurance and benefits.
According to the company, it has collaborations with more than 125 health plans and hospital systems in 29 states, including a new arrangement with Geisinger Health Plan in Pennsylvania to organize the delivery of home medical equipment and supplies to the plan's more than 500,000 customers.
"This past year has seen a tremendous increase in the need for home-based healthcare," Kedar said. "The challenge that has persisted is the fragmentation… Our overarching vision is that a patient like my mother could be discharged from the hospital, and turn to one trusted partner like Tomorrow Health for the full breadth of home-based care needs."
At the end of June, Tomorrow Health said it had raised a $60 million Series B funding round led by Bond, with participation from Andreessen Horowitz, Obvious Ventures, BoxGroup, and Sound Ventures.
According to Kedar, Tomorrow Health expects to use this new financing to grow its team and invest in areas such as technology and business development.
"Tomorrow Health is setting a new, patient-first standard for how we improve the process," Yoo said in a statement. "The platform's critical technology infrastructure offers increased visibility and value in payors, provides tools for operational efficiency for durable medical equipment suppliers, and saves providers and their staff time spent on coordination so they can focus on patient care." – Andreessen Horowitz partner Julie Yoo
Here's a look at the pitch deck that was used to raise $60M in a Series B round led by Bond:
Browse the exact example slides from the pitch deck that Tomorrow Health used to raise $60M.
1. Team Slide
In one of their recent research studies, Maddyness asked founders why they thought investors funded their businesses. The third most prevalent answer, after financial rewards and conviction in the product, was that investors believed in the team.
Michael Dell, Chairman, and CEO of Dell famously said, "Ideas are commodity. Execution of them is not." Similarly, a lot of prominent and legendary venture capitalists such as Y Combinator founder Paul Graham and Silicon Valley's "super angel" Ron Conway believe the team is the most important part of a start, even more than the market.
With a startup's team being so vital to its success, it's no wonder that investors prefer a team with considerable expertise in relevant fields. Tomorrow Health's pitch deck highlights how its team ticks all the boxes with a powerful blend of "healthcare innovators" and "operations leaders". The slide includes headshots, titles, experience, and logos of past companies – all the essentials you need to create a comprehensive team slide.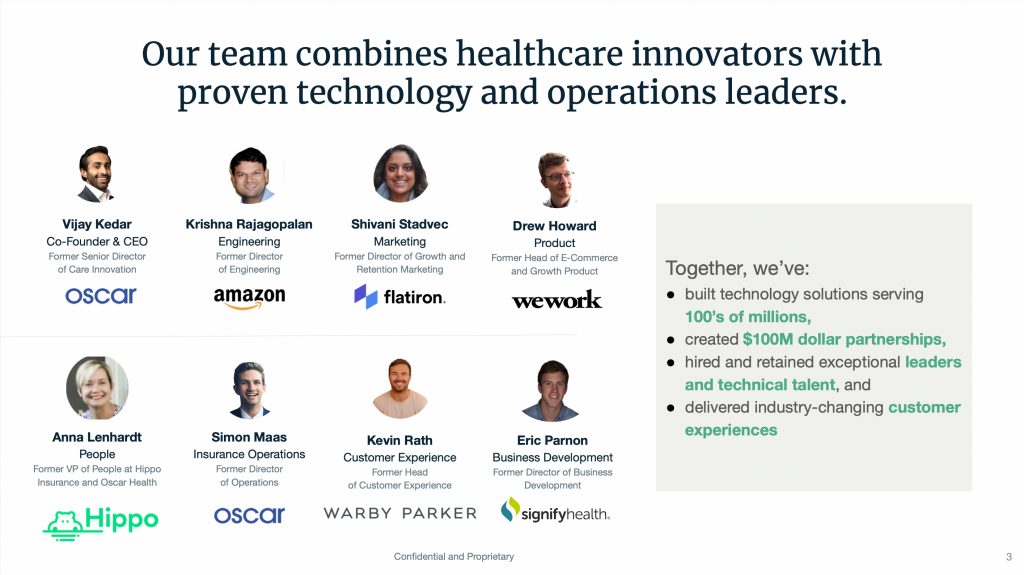 2. Problem Slide
When designing a pitch deck, getting the problem slide right is critical since it explains why the startup exists. A well-crafted problem slide will typically have two key attributes: a) it will convey the problem in an understandable manner for the investors, and b) it will let the investors realize how enormous the issue is for anyone who may buy/use the product.
Tomorrow Health's problem slide addresses both subjects by declaring that the home care "process is fragmented." To highlight the severity of the issue, the slide goes on to explain that there are 32,000+ individual providers with no quality standards.
The Tomorrow Health pitch deck also does a great job of explaining the issue from the perspective of insurers, medical professionals, DME suppliers, and patients. The slide is well structured, with thoughtful graphics that make it considerably easier for investors to grasp the whole picture.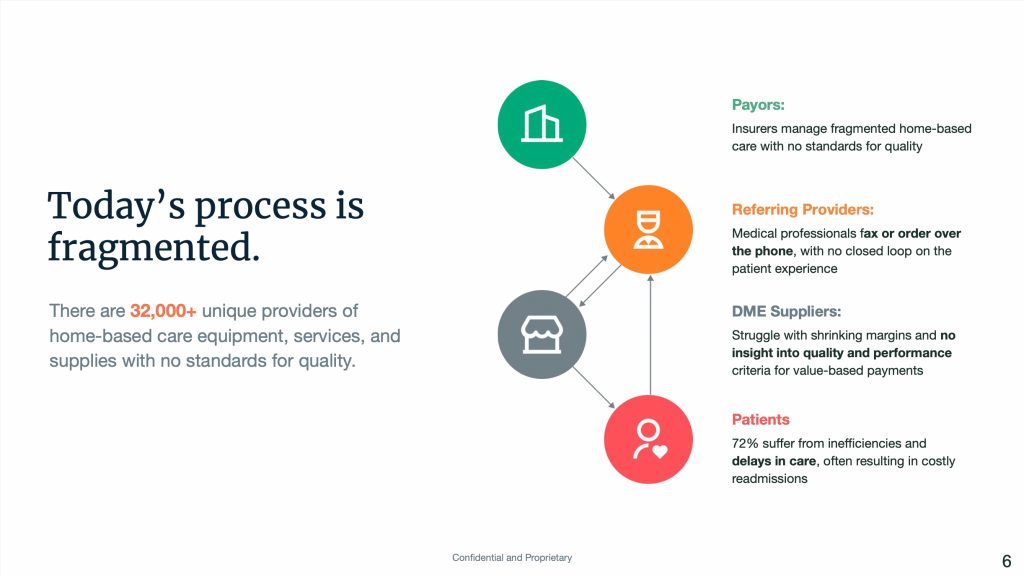 3. Opportunity Slide
Investors take big risks when they invest in unproven startups; they want to be sure that the startups have some kind of advantage to enter the market with a defensible position. This advantage can be technological, or a shift in consumer behavior. You can have a big problem that is real for many people, and you can have an amazing team to solve it (it will help you make a strong argument) but you must also explain what has shifted to create the opportunity ("Why Now"). 
According to the Tomorrow Health pitch deck's opportunity slide, the healthcare shift is happening because the "care is shifting home at a dramatic rate". The slide makes a compelling case for this by citing the simple yet profound fact that "91% of health plans are seeking to move care to home," along with some market size numbers pertaining to home health care.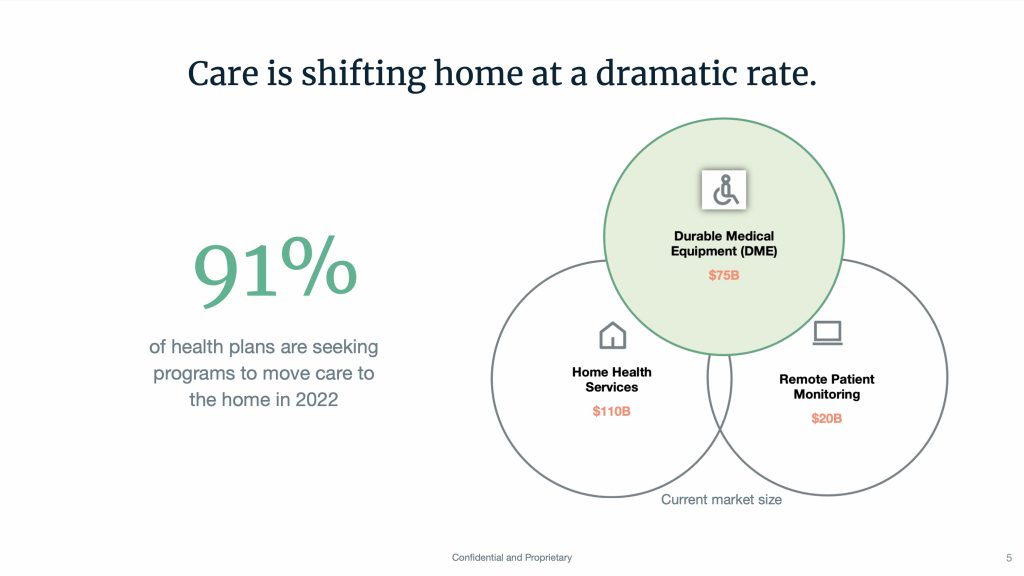 How-to create your own pitch deck like Tomorrow Health
We hope you learned something from the Tomorrow Health pitch deck, and that you are able to use these insights for your own business.  If you'd like to, you can bookmark it at bestpitchdeck.com/tomorrow-health
Although it probably goes without saying that having a successful business (outside just their pitch deck) was integral to their success, it is critical for any startup to ensure your vision is portrayed properly. That's where crafting the perfect pitch deck comes essential: 
You might find our other resources on how-to create a pitch deck helpful, or benefit from using one of our expert-designed templates:
Our team has helped create decks that have closed over $100M+ in deals & funding for leading startups and even VC firms. You can leverage this experience and get a jumpstart on your pitch with one of our easy-to-use presentation templates, one-pagers, or financial models.
Every pitch requires a unique approach tailored to its audience. Our team of experts has created pitch decks for different industries, as well as funding stages: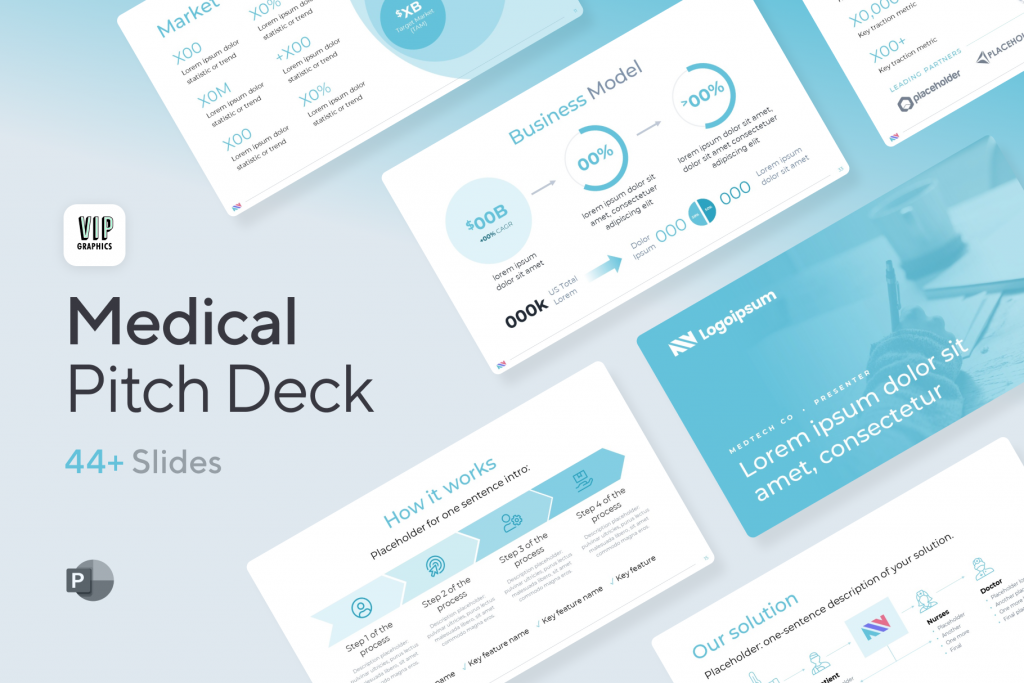 Medical Pitch Deck — You might be interested in the popular Medicine & Health Pitch Deck designed by our team of experts at VIP.graphics: cutting-edge slides based on decks that closed millions in deals & funding. This template is perfect for biotech & healthtech startups (ie. telemedicine, care management, pharmaceuticals, practice management software, EMRs, etc.)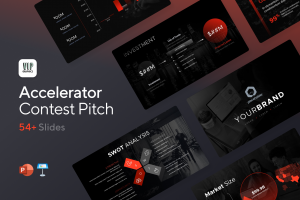 Accelerator Pitch Deck Template — The Accelerator Pitch Deck template was crafted for early-stage founders seeking to win funding &/or investment from pitch contests, accelerators, incubators, and angels or VC firms. Winning a pitch contest or being accepted to a prominent accelerator program requires a unique strategic approach to an investor pitch presentation.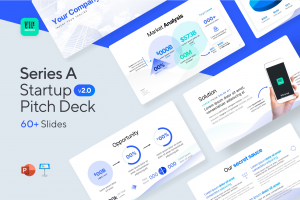 Series A Pitch Deck Template — A pitch deck template for startups and founders raising funding: Smart, actionable slides that work. This is a pitch deck template built specifically for startups, entrepreneurs and founders raising their first seed or Series A round of institutional capital.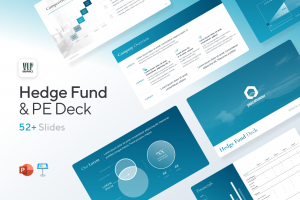 Mergers & Acquisitions Pitch Deck Template — Perfect Pitch Deck™ is a template crafted for later-stage businesses entering more sophisticated discussions such as mergers & acquisitions (M&A), late-stage investment (Series C+), or other partnerships & financing opportunities. Our team of experts created this presentation to empower founders to present with confidence to investment banks, private equity (PE) groups, and/or hedge funds (and vice versa).