Legion M is the world's first fan-owned entertainment company, crowdsourcing funding from ordinary people in exchange for equity and the ability to vote on which projects the company acquires and develops. The company was founded in 2016 by Paul Scanlan and Jeff Annison and has grown to become one of the most successful equity crowdfunding companies in history, with nearly 30,000 investors and a global community of over 125,000 fans.
According to the company offering document, "Legion M is, to our knowledge, the first company built from the ground up to be owned by fans. We're building it that way because we believe a media company owned by a large audience of fans has fundamental competitive advantages over those owned by Wall Street investors."
Prior to Legion M, Paul Scanlan and Jeff Annison attempted to crowdfund MobiTV, a service that would stream live TV to phones, but were obliged to return the funds. Their investors were not "accredited," and thus could not invest legally in securities that had not been registered with the authorities.
The Jumpstart Our Business Startups (JOBS) Act was passed in 2012, and starting in 2016 it removed a number of barriers to these kinds of investments (now called equity crowdfunding). The crowdfunding provisions of the legislation established portals through which a company could solicit financing from small investors. These funding channels are strictly regulated, and the new system limits the amount of money that can be invested.
The company's offering documents explain,
"Our stock is not currently listed on any secondary exchange, which means it must be viewed as a long-term investment that could take years or even decades (if ever) to provide a return. As a pre-IPO startup, we are not focused on near-term revenue or profit, but instead on building what we believe will be long-term competitive advantages for the Company."
Legion M's diversified slate has been expanding dramatically this past year with several new projects in development, including the audacious heist film Defiant, the animated noir series Ghost of Manhattan, Brian Stavely's epic fantasy series The Emperor's Blades, supernatural crime thriller the Gray Area, stylized Western Girl With No Name, and many others.
President and Co-Founder Jeff Annison says, "Legion M is at a real inflection point"…."What we're doing has never been done before, but now we've demonstrated an ability to develop, package, finance, and produce projects, I don't think there's any limit to what a fan-owned company can do."
The company is currently in its ninth fundraising round, in which the minimum investment has been reduced from $100 to $40. The ultimate goal is to reach a million investors. Since its inception, the firm has not accepted venture capital or institutional investor funding, though it has stated that it would not be opposed to such funding as long as it did not conflict with Legion M's mission or values.
Here's a look at the pitch deck that Legion M is using to raise these rounds.
Browse the exact example slides from the pitch deck that Legion M is using to raise funds from equity crowdfunding rounds.
1. Cover Slide
At the start and end of any pitch deck, investors will ask themselves, "Why should I invest in this company?" While the rest of the deck delves into the financials, team, and details of the business model, the cover slide should provide a brief and straightforward response to this question. One simple way to accomplish this is to highlight the company's unique value proposition. In the case of Legion M, it's "The World's First Fan-owned Entertainment Company".
If you believe you need more than one sentence to summarize the value proposition, you may not have fully distilled your thoughts and should return to the drawing board.The company name, logo, and supporting visuals are also crucial features of a catchy and engaging cover slide. All of these can be found in the Legion M pitch deck's well-crafted cover slide.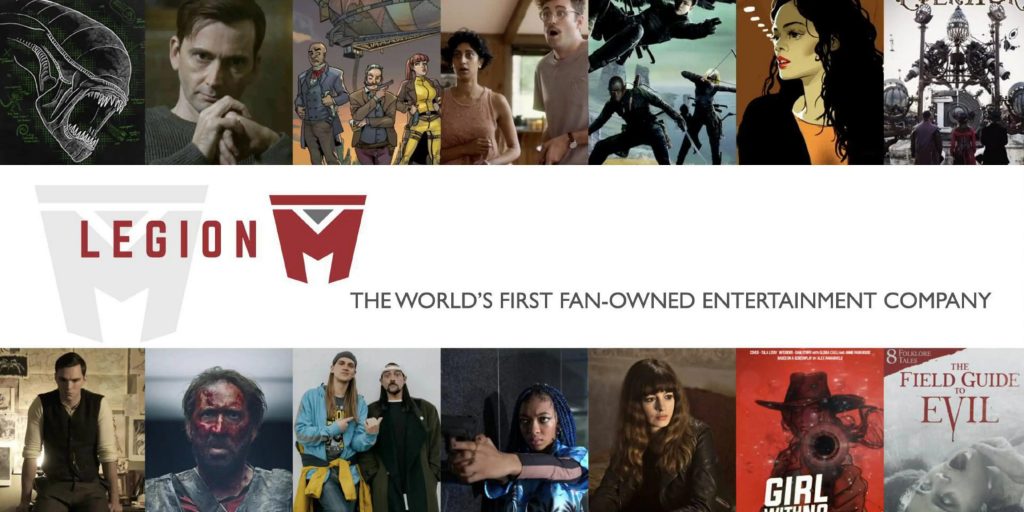 2. Traction Slide
It's one thing to say you have a great idea that might one day appeal to consumers. It's another thing entirely when you're gaining customers and your business is already thriving. Simply put, traction is what distinguishes an idea from an investable opportunity.
Because early-stage startups usually have very little traction, it is understandable for them to divert potential investors' attention to their team's prior experience or the massive market size; however, this leaves a large gap of questions investors have in mind: How far along is this business? Is this a problem that people face in real life? Is this a significant issue that people are willing to pay to solve? Is the team skilled enough to build and sell the product?
Legion M's pitch deck's traction slide visualizes revenue growth over time and the facets that contribute to this revenue to answer these questions. The slide does not boast hundreds of millions of dollars in revenue or tens of thousands of titles; instead the goal is to show that the company is on the right track with product-market fit and a proven approach. The slide's design is straightforward: the line chart and stacked bar chart work well together to emphasize their growth story.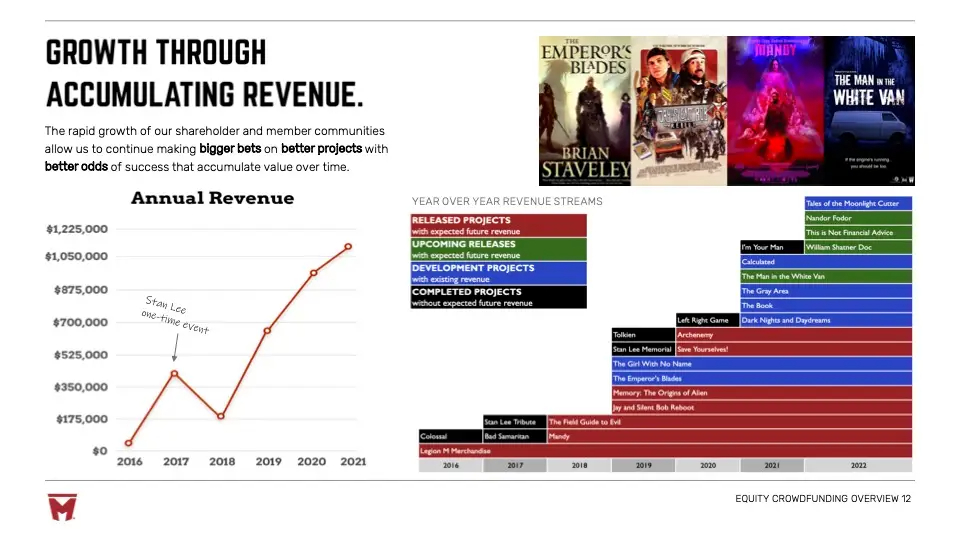 3. Team Slide
The founding / management team is one of the most valuable assets for any company at any stage. Hiring in Silicon Valley has long been seen as more than just filling positions. The fierce talent wars in the industry demonstrate that market leading startups like Meta and Stripe only hire the best and brightest. Until your business has a proven financial track record, investors are essentially betting on you (the founding team) to succeed.  
Legion M's pitch deck's team slide introduces their founders and executives with the usual information (headshots, names, and titles). The slide, however, fails to include past experience. For a company like Legion M that is raising money from the general public, this is probably something that ought to have been included — to show the people at the top know what they are doing.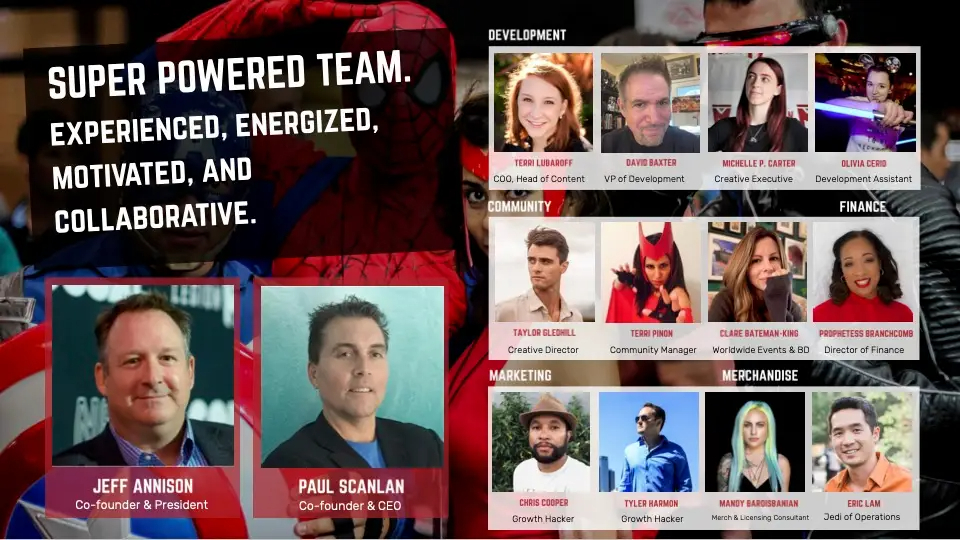 How-to create your own pitch deck like Legion M
We hope you learned something from the Legion M pitch deck, and that you are able to use these insights for your own business.  If you'd like to, you can bookmark it at bestpitchdeck.com/legion-m
Although it probably goes without saying that having a successful business (outside just their pitch deck) was integral to their success, it is critical for any startup to ensure your vision is portrayed properly. That's where crafting the perfect pitch deck comes essential: 
You might find our other resources on how-to create a pitch deck helpful, or benefit from using one of our expert-designed templates:
Our team has helped create decks that have closed over $100M+ in deals & funding for leading startups and even VC firms. You can leverage this experience and get a jumpstart on your pitch with one of our easy-to-use presentation templates, one-pagers, or financial models.
Every pitch requires a unique approach tailored to its audience. Our team of experts has created pitch decks for different industries, as well as funding stages:
Film & TV Pitch Deck — You might be interested in the popular Film Pitch Deck Template designed by our team of experts at VIP.graphics: cutting-edge slides based on decks that closed millions in deals & funding. This template is perfect for any business in the film and TV space.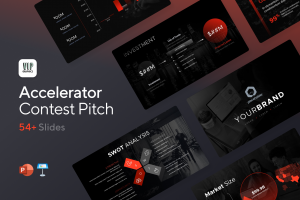 Accelerator Pitch Deck Template — The Accelerator Pitch Deck template was crafted for early-stage founders seeking to win funding &/or investment from pitch contests, accelerators, incubators, and angels or VC firms. Winning a pitch contest or being accepted to a prominent accelerator program requires a unique strategic approach to an investor pitch presentation.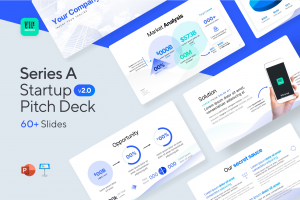 Series A Pitch Deck Template — A pitch deck template for startups and founders raising funding: Smart, actionable slides that work. This is a pitch deck template built specifically for startups, entrepreneurs and founders raising their first seed or Series A round of institutional capital.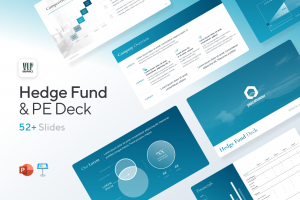 Mergers & Acquisitions Pitch Deck Template — Perfect Pitch Deck™ is a template crafted for later-stage businesses entering more sophisticated discussions such as mergers & acquisitions (M&A), late-stage investment (Series C+), or other partnerships & financing opportunities. Our team of experts created this presentation to empower founders to present with confidence to investment banks, private equity (PE) groups, and/or hedge funds (and vice versa).