TVision Insights gathers second-by-second data from a nationally representative panel of households who have signed on to help advertisers understand how, what, and when they watch TV.
The digital advertising firm draws this information from a panel of roughly 5,000 homes (14,000 people) who have opted in to have their TV watching tracked in their house. Advertisers leverage this data to measure viewer engagement when their ads are playing.
The company's CEO & co-founder Yan Liu said their products have expanded to a new metric that they refer to as "calibration," which tracks how many people are in the room when a linear or streaming TV ad airs. Liu founded TVision in 2014 with the goal of transforming the way in which brands, their agencies, and TV media sellers determine the true value of TV content.
TVision announced a $16 million funding round that brings the total funding raised to date to $58 million. Existing investors SIG Capital, Accomplice, and Golden Ventures joined lead investor iSpot in the funding round, which will add iSpot CEO and founder Sean Muller to TVision's board.
Here's a look at the pitch deck that was used in this latest funding round:
Browse the exact example slides from the pitch deck that TVision used to secure $16 million in a funding round from iSpot, SIG Capital, Accomplice, and Golden Ventures:
1. Market Slide
The purpose of the market slide of a pitch deck is to give investors a sense of the size and scope of the opportunity. The hallmark of a successful startup is that it can achieve outsize success even with <1% market share. The market slide should also demonstrate the opportunity is growing and speak to the trends driving this growth.
TVision's market slide checks all of these boxes, with a simple graph showing how connected TV ad spend is growing rapidly into a $30 billion market.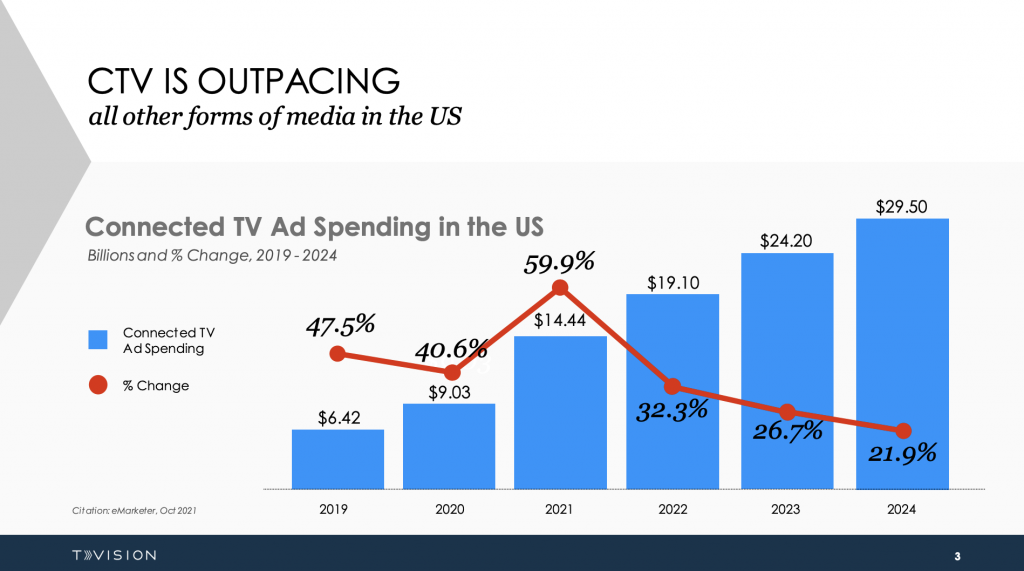 2. Solution & Vision Slides
An effective solution slide doesn't necessarily have to feature your product, insofar as it communicates what you solve for your end-users. Founders often struggle to fight the temptation of diving into the features & minutiae of their product during a pitch. TVision's pitch deck does an excellent job of communicating the high-level value proposition, without needing to delve into the technical details.
TVision uses a simple infographic to visually demonstrate the current state of their platform, as well as their future vision. Remarkably, the entire slide includes just one sentence and uses very little text, which makes it approachable and easy-to-understand. The visual shows how big data and the new "calibration" metric dramatically expand potential applications for TVision.

How-to create your own pitch deck like TVision
We hope you learned something from the TVision pitch deck, and you are able to use these insights for your own business.  If you'd like to, you can bookmark it at bestpitchdeck.com/tvision
Although it probably goes without saying that having a successful business (outside just their pitch deck) was integral to their success, it is critical for any startup to ensure your vision is portrayed properly. That's where crafting the perfect pitch deck comes essential: 
You might find our other resources on how-to create a pitch deck helpful, or benefit from using one of our expert-designed templates:
Our team has helped create decks that have closed over $100M+ in deals & funding for leading startups and even VC firms. You can leverage this experience and get a jumpstart on your pitch with one of our easy-to-use presentation templates, one-pagers, or financial models.
Every pitch requires a unique approach tailored to its audience. Our team of experts have created pitch decks for different industries, as well as funding stages:
Film & TV Pitch Deck Template — You might be interested in the popular Film & TV Pitch Deck Template designed by our team at VIP.graphics: cutting-edge slides based on decks that closed millions in deals & investments for orgs of all sizes: from high-growth startups to Fortune 100 corporations. This easy-to-customize template for PowerPoint or Keynote offers you ready-made elements & all the essential slides to help your video-on-demand (VoD) business stand out in the competitive television & streaming industry.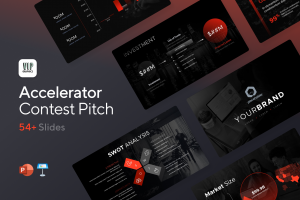 Accelerator Pitch Deck Template — The Accelerator Pitch Deck template was crafted for early-stage founders seeking to win funding &/or investment from pitch contests, accelerators, incubators, and angels or VC firms. Winning a pitch contest or being accepted to a prominent accelerator program requires a unique strategic approach to an investor pitch presentation.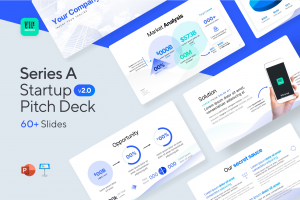 Series A Pitch Deck Template — A pitch deck template for startups and founders raising funding: Smart, actionable slides that work. This is a pitch deck template built specifically for startups, entrepreneurs and founders raising their first seed or Series A round of institutional capital.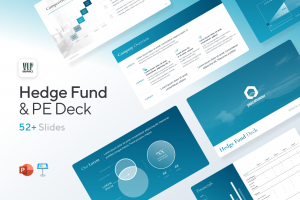 Mergers & Acquisitions Pitch Deck Template — Perfect Pitch Deck™ is a template crafted for later-stage businesses entering more sophisticated discussions such as mergers & acquisitions (M&A), late-stage investment (Series C+), or other partnerships & financing opportunities. Our team of experts created this presentation to empower founders to present with confidence to investment banks, private equity (PE) groups, and/or hedge funds (and vice versa).
Alternatively, feel free to browse our growing selection of pitch decks tailored for specific industries and businesses.