According to the National Institute on Alcohol Abuse and Alcoholism, about 88,000 people die of alcohol-related causes every year in the United States. Only 10% of persons who want to drink less seek treatment, owing to stigma and barriers to access. San Francisco-based Ria Health, a telemedicine company specializing in treating alcohol use disorders, is attempting to change this. Ria's mobile application, with its platform of support and contacts, can help members cut their drinking consumption by 70% in six months.
"Solutions have been tried before but they are often standalone medical, social, or technology-driven approaches. Traditional treatment is typically rehab or Alcoholics Anonymous. These are two great options, but they don't always fit what the individual needs. The one-size-fits-all approach to multi-addiction treatment has yielded poor results," said Tom Nix, CEO of Ria Health.
Ria Health's approach combines one-on-one coaching, medical support, digitally connected breathalyzers, and physician-prescribed medicines to reduce the detrimental consequences of AUD and treat co-occurring mental illness.
 "Leading researchers have developed safe and effective treatments for alcohol abuse, but these treatments have not been adopted. As an internationally recognized addiction specialist and researcher my team and I created Ria Health to bring these treatments to everyone." — Chief Medical Officer of Ria Health, Dr. John Mendelson
Ria Health has observed that within a year of beginning therapy, 80 percent of its patients have a lower risk drinking level (as specified by the World Health Organization). The company operates through individual memberships as well as commercial partnerships including Anthem Blue Cross Blue Shield, UnitedHealth Group Optum,  Beacon Health Options, Highmark Health, and Magellan Health, among others. Ria has also joined the TMCx accelerator in order to create additional partnerships with health systems and health plans. 
"Telemedicine has been unquestionably beneficial to patient care since its inception, but to a large degree those benefits have remained unrealized for those requiring specialized treatment for substance issues," said Demetrios Marousis, director of behavioral health at Highmark, in a news release. "Ria Health is not only offering an alternative but, in doing so, creating treatment accessibility."
More than 6% of adults in the United States have an alcohol consumption disorder. An additional 623,000 people aged 12 to 17 have alcohol use problems. Since the beginning of the COVID-19 epidemic, alcohol usage has increased dramatically, with recent research indicating that excessive drinking among U.S. adults has climbed by more than 35%. As such, the demand for services like Ria Health is only continuing to expand, and the company has announced a Series A fundraising round despite the fact that the venture market is cooling down. 
This Series A round was led by SV Health Investors, with participation from BPEA Private Equity, and current investor SOSV. In conjunction with the funding, Michael Balmuth, Managing Partner at SV, joined the Ria Health board.
According to the company, these funds will be used to expand care delivery to meet the demand for AUD treatment from health plans, multi-state employers, Taft-Hartley plans, and healthcare providers.
Here's a look at the pitch deck that was used to raise $18M in a Series A round led by SV Health Investors:
Browse the exact example slides from the pitch deck that Ria Health used to raise $18M.
1. Team Slide
According to the team slide of their pitch deck, the Ria Health staff consists of a "seasoned group of healthcare operators" — as evidenced by their combined experience of more than a century in the space. 
The slide is the second page in the pitch deck, which is unique. There's a difference of opinion on this: some investors prefer to understand the opportunity reasonably well and then see the team slide, whereas others want to see the team slide right away to get a better sense of 'who is sitting across the table'. The latter is generally more typical among pitch decks for more-mature startups raising their second or third round (Series A+).
In general, it makes sense to place the team slide towards the beginning of the pitch deck for startups that are relatively new but have a fantastic team with notable accomplishments (such as Ria Health). This is especially true when the a key selling point for investors is past performance, or if the executive team is part of the competitive advantage.
In terms of design and the content, the slide is spot on. It has everything a team slide should include — names, titles, headshots, and relevant experience. One improvement to this slide can be made by adding logos; they are recognizable and much easier for a reader to process than text.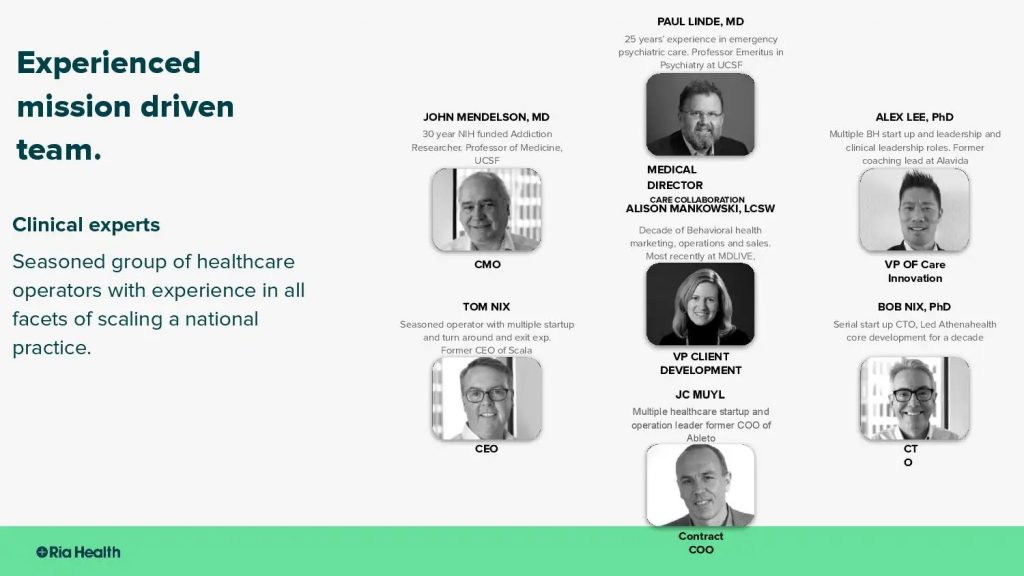 2. Value Proposition Slide
A startup's value proposition is the heart of its competitive advantage. This slide will address the benefit you're promising or the pain your organization can alleviate, and explain why venture capitalists or angel investors should take the risk of backing your company to deliver upon this mission. In other words, why does it matter (to your product/service's end-user)?
Marketers frequently suggest that your startup's value proposition should be able to be articulated and understood within a singular sentence.  Ria health's single sentence value proposition highlights its core mission: "Ria helps individuals reduce drinking". 
To keep things brief and explain the value proposition without being boring or over-promotional, the Ria pitch deck sticks to facts, numbers, and a chart to drive home their point. Ultimately, the crisp and straightforward slide design does a great job of explaining the value proposition to the investors.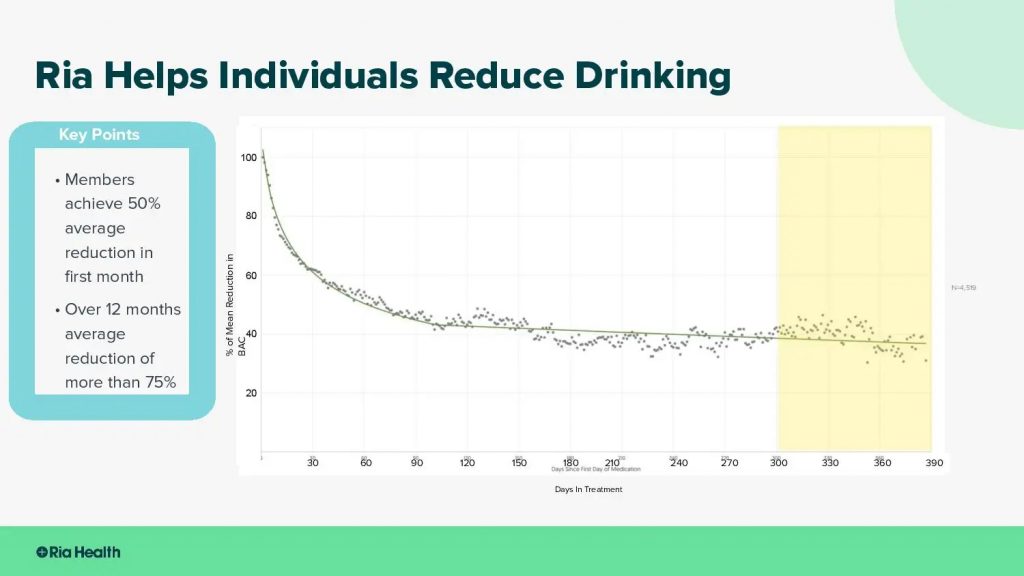 3. Market Slide
Market analysis one of the most essential indicators for investors to use when gauging a startup's long-term potential and, more crucially, their potential return on investment. Andy Rachleff, one of the founders of the venture capital firm Benchmark has said "When a great team meets a lousy market, markets win." The fact that many investors regard the market as more significant than a fantastic team and a great business idea demonstrates why it is so important that your startup addresses a large (billion-dollar) total addressable market (TAM).
Keeping in mind the importance of the market for investors, the Ria pitch deck's market slide covers a wide range of information. The slide utilizes two simple overlaid charts to present a wealth of information including the alcohol treatment market, the number of people interested in the treatment of AUD, people who are actively seeking treatment, and more.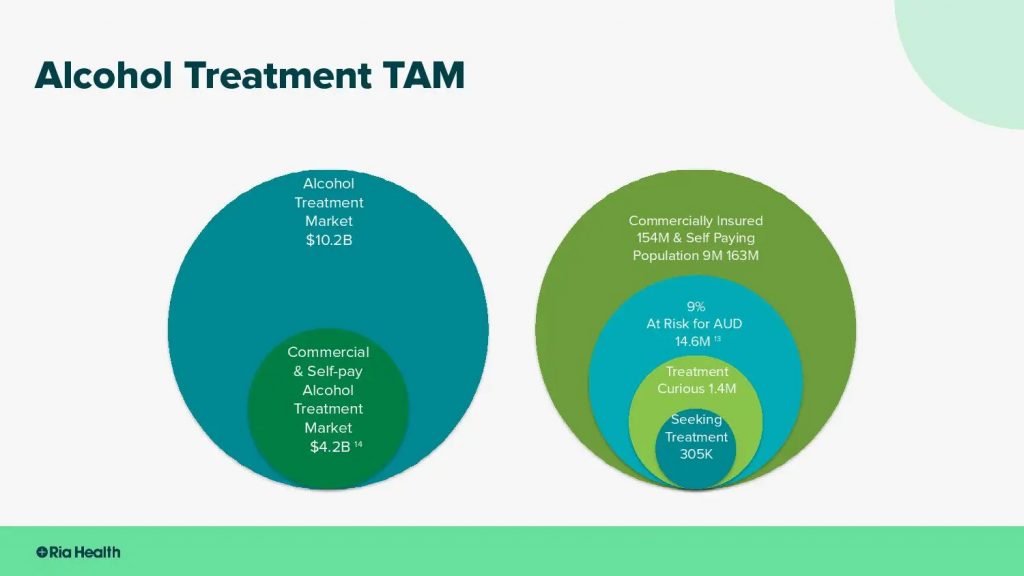 How-to create your own pitch deck like Ria Health
We hope you learned something from the Ria Health pitch deck, and that you are able to use these insights for your own business.  If you'd like to, you can bookmark it at bestpitchdeck.com/ria-health
Although it probably goes without saying that having a successful business (outside just their pitch deck) was integral to their success, it is critical for any startup to ensure your vision is portrayed properly. That's where crafting the perfect pitch deck comes essential: 
You might find our other resources on how-to create a pitch deck helpful, or benefit from using one of our expert-designed templates:
Our team has helped create decks that have closed over $100M+ in deals & funding for leading startups and even VC firms. You can leverage this experience and get a jumpstart on your pitch with one of our easy-to-use presentation templates, one-pagers, or financial models.
Every pitch requires a unique approach tailored to its audience. Our team of experts has created pitch decks for different industries, as well as funding stages: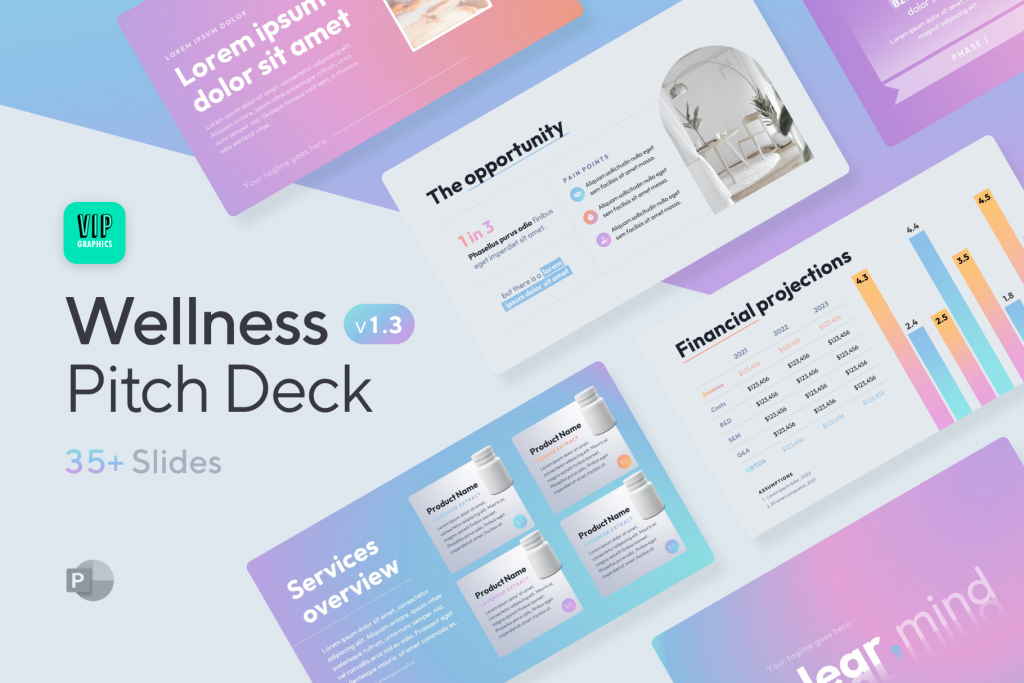 Wellness Pitch Deck — You might be interested in the popular Wellness Pitch Deck designed by our team of experts at VIP.graphics: cutting-edge slides based on decks that closed millions in deals & funding. This template is perfect for or any business in the wellness space (ie. supplements, alternative/natural medicine, mindfulness apps, mental health services & more).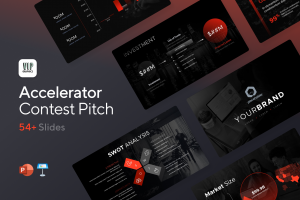 Accelerator Pitch Deck Template — The Accelerator Pitch Deck template was crafted for early-stage founders seeking to win funding &/or investment from pitch contests, accelerators, incubators, and angels or VC firms. Winning a pitch contest or being accepted to a prominent accelerator program requires a unique strategic approach to an investor pitch presentation.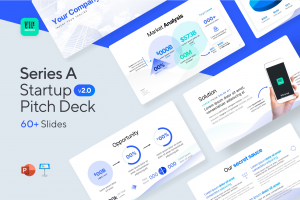 Series A Pitch Deck Template — A pitch deck template for startups and founders raising funding: Smart, actionable slides that work. This is a pitch deck template built specifically for startups, entrepreneurs and founders raising their first seed or Series A round of institutional capital.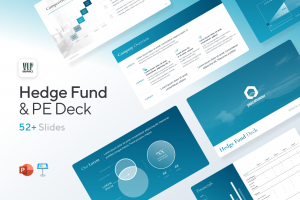 Mergers & Acquisitions Pitch Deck Template — Perfect Pitch Deck™ is a template crafted for later-stage businesses entering more sophisticated discussions such as mergers & acquisitions (M&A), late-stage investment (Series C+), or other partnerships & financing opportunities. Our team of experts created this presentation to empower founders to present with confidence to investment banks, private equity (PE) groups, and/or hedge funds (and vice versa).