Front, an email and customer communication startup, began as a shared email inbox product that allows a company to interact with incoming emails as a team; over time, the startup has integrated more communication channels such as SMS conversations, live chats with customers on the website, Facebook messages, and more.
Laurent Perrin and Mathilde Collin co-founded Front in 2013. Since then, the company has grown steadily, and its customers now include Shopify, Dropbox, Flexport, Checkout.com, Lydia, Airbnb, and others.
Front raised a $65 million Series D round, which values the company at $1.7 billion. This latest funding round was led by Salesforce's venture capital arm, alongside Battery Ventures. New investor PagerDuty CEO Jennifer Tejada also participated in the round, alongside existing investors Sequoia Capital, Threshold Ventures, and Uncork Capital.
Here's a look at the pitch deck that was used to raise $65M in Series D funding for Front's customer communication platform:
Browse the exact example slides from the pitch deck that raised $65M at a $1.7B valuation for Front.
Where to see Front's pitch decks
The team behind Front has been generous enough to publicly share every one of their pitch decks since their $10M Series A round in 2016. Browse all of Front's original investor presentations below on bestpitchdeck.com:
How-to create your own pitch deck like Front
We hope you learned something from the World Fund pitch deck, and that you are able to use these insights for your own business.  If you'd like to, you can bookmark it at bestpitchdeck.com/front-series-d
Although it probably goes without saying that having a successful business (outside just their pitch deck) was integral to their success, it is critical for any startup to ensure your vision is portrayed properly. That's where crafting the perfect pitch deck comes essential: 
You might find our other resources on how-to create a pitch deck helpful, or benefit from using one of our expert-designed templates:
Our team has helped create decks that have closed over $100M+ in deals & funding for leading startups and even VC firms. You can leverage this experience and get a jumpstart on your pitch with one of our easy-to-use presentation templates, one-pagers, or financial models.
Every pitch requires a unique approach tailored to its audience. Our team of experts has created pitch decks for different industries, as well as funding stages:
Software Pitch Deck Template — You might be interested in the popular Software & SaaS Pitch Deck designed by our team of experts at VIP.graphics: cutting-edge slides based on decks that closed millions in deals & funding. This template is perfect for any business in the tech space: from software to services.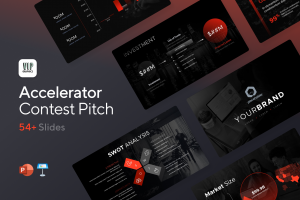 Accelerator Pitch Deck Template — The Accelerator Pitch Deck template was crafted for early-stage founders seeking to win funding &/or investment from pitch contests, accelerators, incubators, and angels or VC firms. Winning a pitch contest or being accepted to a prominent accelerator program requires a unique strategic approach to an investor pitch presentation.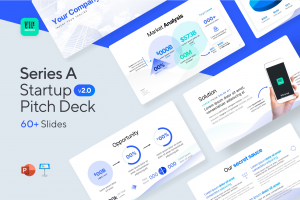 Series A Pitch Deck Template — A pitch deck template for startups and founders raising funding: Smart, actionable slides that work. This is a pitch deck template built specifically for startups, entrepreneurs and founders raising their first seed or Series A round of institutional capital.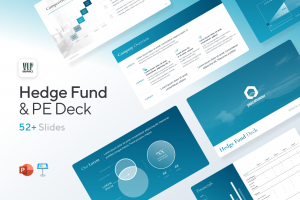 Mergers & Acquisitions Pitch Deck Template — Perfect Pitch Deck™ is a template crafted for later-stage businesses entering more sophisticated discussions such as mergers & acquisitions (M&A), late-stage investment (Series C+), or other partnerships & financing opportunities. Our team of experts created this presentation to empower founders to present with confidence to investment banks, private equity (PE) groups, and/or hedge funds (and vice versa).