Sano Genetics was founded in 2017 by three University of Cambridge genomics postgraduate students: Charlotte Guzzo, Patrick Short, and William Jones. The goal was to help accelerate precision medicine research by identifying people who want to participate in clinical studies and assisting them in doing so on their own terms.
Precision medicine, often known as personalized medicine, is a cutting-edge approach to illness prevention and treatment that considers individual differences in genes, surroundings, and lifestyles. Precision medicine aims to tailor the correct medicines to the right patients at the right time, as opposed to general treatments that are one-size-fits-all.
"If we take Parkinson's as an example," Patrick Short, co-founder, and CEO said. "There are many different genetic drivers of Parkinson's disease and whether you have a particular genetic mutation can influence your risk of developing it in the first place. It also very likely changes the treatment strategy that would be effective for you."
Sano has created a data-sharing platform that allows anyone to contribute their medical and genetic data in order to be matched with clinical research. To speed up genetic illness research, the company also provides free genomic sequencing and analysis to those who participate in its associated research programs.
Sano Genetics has doubled its revenue every six months since its inception in 2017 and forged strong partnerships with the top genetic biobanks in the UK and Australia, as well as patient groups.
This strong growth has led to Sano's recent $11 million Series A funding. The round was led by MMC Ventures, with participation from Episode 1, Seedcamp, and angels including Paul Forster, co-founder and ex-CEO of Indeed, former VP of innovation at PatientsLikeMe Paul Wicks, and former CEO of Ancestry.com Margo Georgiadis. Sano also closed a £2.5 million seed round in January 2021 after picking up £500,000 in seed funding in 2019.
"It still takes 10 to 15 years for new drugs to reach patients, and many will never make it out of R&D because costs are prohibitive. This funding takes us closer to our mission to build the platform that we, and many others – patients and researchers – wished was available a decade ago. One that will make research much faster, more cost-effective, and a vastly better experience for patients." Dr. Short said.
The company plans to use the funding to grow its team in the US and Europe, as well as to develop the platform to meet demand in more than 50+ diseases and 6+ countries by mid-2023.
Charlotte Barttelot, an investor at MMC Ventures, says, "Since meeting Patrick and the Sano team, we have been consistently impressed with their unwavering purpose-led strategy to promote access to, and the success of, personalized medicine. To deliver on the promise of this new approach to treatment, there is an urgent need to solve the largest problems in clinical trials: patient recruitment and engagement."
Here's a look at the pitch deck that was used in to raise $11M in Series A funding for Sano Genetics' personalized medicine platform:
Browse the exact example slides from the pitch deck that Sano used to secure $11 million in a funding round by MMC Ventures, Episode 1, Seedcamp, Paul Forster, Paul Wicks, and Margo Georgiadis.
1. Problem Slides
At their essence, startups are about solving issues. Almost every successful startup tries to address a problem or establish a new and more efficient method of doing things. In your problem slide, you'll describe the problem your startup is attempting to solve and why it's important to the general public.
Sano Genetics' problem slide, like all effective pitch decks, keeps things simple and explains the problem with facts and logic. The text, typeface, and colors all adhere to the company's branding standards. All of the components come together to provide a visually appealing and easy-to-understand experience for the investors.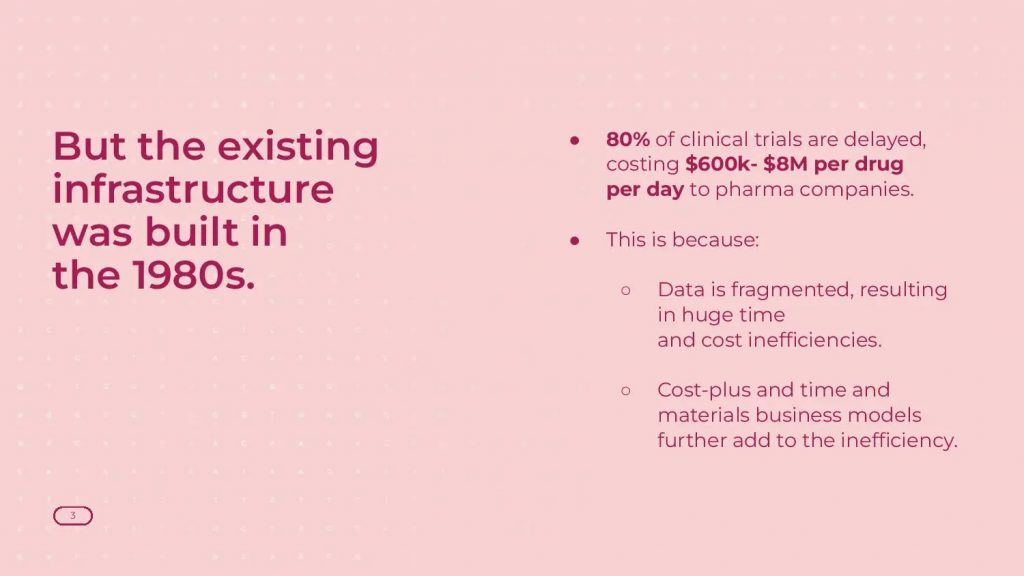 2. Market Slides
Ask any venture capitalist what they look for when making an investment and you're likely to hear that a nine-figure total addressable market is important. Using the TAM as a leading investment criterion makes perfect sense: institutional investors operate under power laws, profiting primarily due to the one in many startups that attain "unicorn" status. If you want to establish a business that grows from nothing to a very large in a short period of time, you need to pursue a very big market.
Precision medicine is portrayed as a $1 trillion potential in Sano Genetics' market slide. The slide does a great job of highlighting driving trends (such as upcoming developments that may affect the total addressable market) while keeping the content succinct. Too often, market slides turn into a rabbit hole when founders try to cram in all the relevant minutiae, rather than focusing on the broader trends & tailwinds that matter most to investors.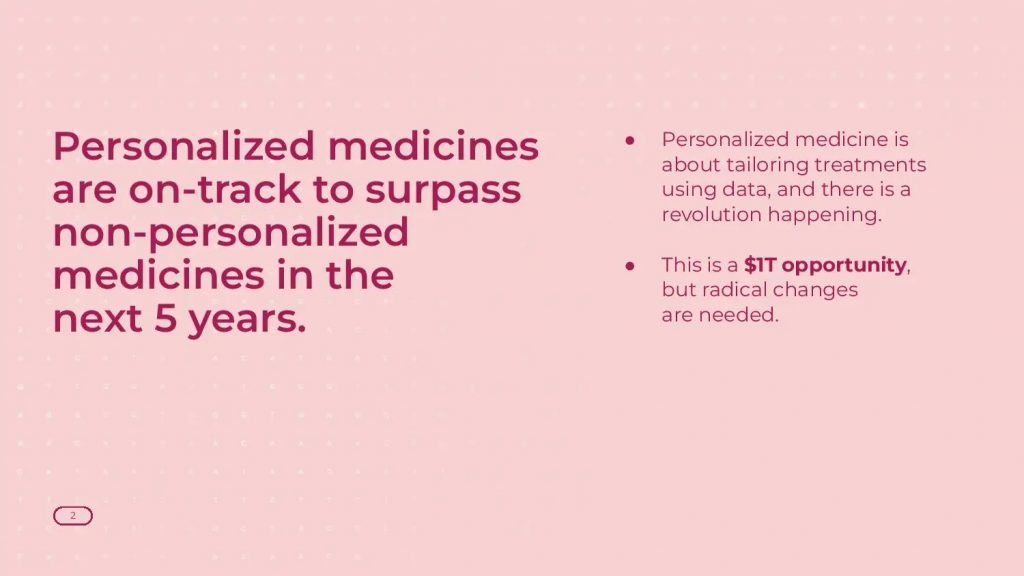 3. Traction Slide
Traction is a reliable measure of any company's future worth. With early-stage investments, investors take a leap of faith, relying on the assumptions in your business plan to assist them to determine whether or not to invest. Traction essentially quantifies momentum and demonstrates that you have achieved some early success, thereby reducing the risk for investors (thus considerably increasing your chances of receiving funding).
As a startup, Sano Genetics has built some compelling momentum, and the traction slide weaves this into a cohesive story. All the key metrics are highlighted in bold, drawing the reader's eye. There's no need to complicate the design of this slide: bullet points and grid layouts make it easy to digest all the statistics.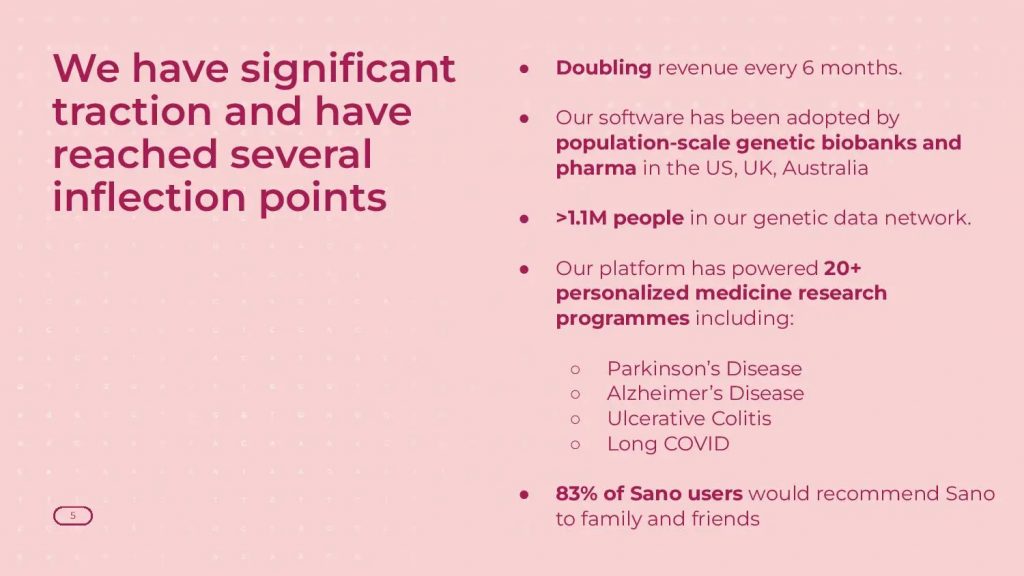 How-to create your own pitch deck like Sano Genetics
We hope you learned something from the Sano Genetics pitch deck, and you are able to use these insights for your own business.  If you'd like to, you can bookmark it at bestpitchdeck.com/sano
Although it probably goes without saying that having a successful business (outside just their pitch deck) was integral to their success, it is critical for any startup to ensure your vision is portrayed properly. That's where crafting the perfect pitch deck comes essential: 
You might find our other resources on how-to create a pitch deck helpful, or benefit from using one of our expert-designed templates:
Our team has helped create decks that have closed over $100M+ in deals & funding for leading startups and even VC firms. You can leverage this experience and get a jumpstart on your pitch with one of our easy-to-use presentation templates, one-pagers, or financial models.
Every pitch requires a unique approach tailored to its audience. Our team of experts have created pitch decks for different industries, as well as funding stages: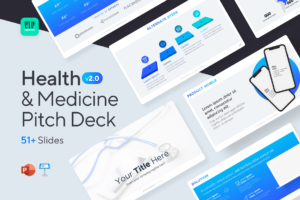 Healthtech Pitch Deck — You might be interested in the popular Health & Medicine Investor Presentation designed by our team at VIP.graphics: cutting-edge slides based on decks that closed millions in deals & investments for orgs of all sizes: from high-growth startups to Fortune 100 corporations. This easy-to-customize template for PowerPoint or Keynote offers you ready-made elements & all the essential slides to help your health & medicine startup succeed.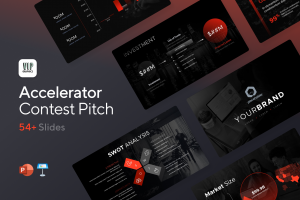 Accelerator Pitch Deck Template — The Accelerator Pitch Deck template was crafted for early-stage founders seeking to win funding &/or investment from pitch contests, accelerators, incubators, and angels or VC firms. Winning a pitch contest or being accepted to a prominent accelerator program requires a unique strategic approach to an investor pitch presentation.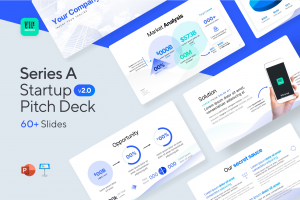 Series A Pitch Deck Template — A pitch deck template for startups and founders raising funding: Smart, actionable slides that work. This is a pitch deck template built specifically for startups, entrepreneurs and founders raising their first seed or Series A round of institutional capital.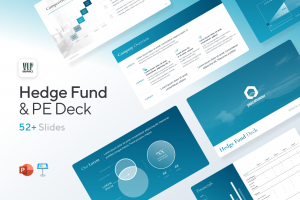 Mergers & Acquisitions Pitch Deck Template — Perfect Pitch Deck™ is a template crafted for later-stage businesses entering more sophisticated discussions such as mergers & acquisitions (M&A), late-stage investment (Series C+), or other partnerships & financing opportunities. Our team of experts created this presentation to empower founders to present with confidence to investment banks, private equity (PE) groups, and/or hedge funds (and vice versa).
Alternatively, feel free to browse our growing selection of pitch decks tailored for specific industries and businesses.