Founded in 2012 by Tom Okman and Eimantas Sabaliauskas, Nord Security was created as an internet security and privacy platform that was easily accessible to everyone. The company provides a host of cybersecurity products including Nord Layer (a network access security solution), Nord Pass (a password manager), Nord Locker (an end-to-end encryption tool for safely storing and sharing files), and Nord WL (a collection of tools, know-how, and infrastructure for building VPN products).
The company, however, is best known for NordVPN, a Virtual Private Network platform built to protect online traffic and privacy with next-generation encryption.
"Ten years ago, we set out to create security and privacy tools which would help create a safer and more peaceful online future; today, millions of people trust our products every day to protect them. […]", Nord Security co-CEO and co-founder Tom Okman said. "We're also humbled to play a part in helping Lithuania, a fiercely entrepreneurial country, enter into a new era of technological innovation."
The cybersecurity industry is rapidly growing and digital security is a growing concern for businesses of all sizes as cyber criminals' increasingly sophisticated tactics continue to disrupt organizations. Gartner's insight projected that businesses would spend $170.4 billion on cyber security infrastructure in 2022.
"Consumers are worried about digital safety, and for businesses, it's their most important expense," Okman said. "Awareness is growing, and people are increasingly worried about security, given that the landscape is constantly evolving."
Because of its position as one of the most prominent cyber security companies, Nord Security has enjoyed robust year-on-year growth. 
"We have been always been bootstrapped, profitable, and growing on our own," Okman said in a recent interview. "We started out looking for partners to help us grow, not money, but we're excited to have found investors who match our ambitions for growth and to create a radically different internet."
The company has raised $100 million in its first round of external funding led by Novator, Burda Principal Investments, General Catalyst, and individuals including Ilkka Paananen of Supercell, Miki Kuusi of Wolt, and Matt Mullenweg of Automattic also participating. This round of financing values the startup at $1.6 billion.
Nord Security plans to use the new funds to hire more staff, invest in research and expand its product suite.
"Tom and his team are well-positioned to deliver and usher in the new era of internet security with a powerful and best-in-class suite of privacy and security tools, designed to protect information, accounts, and network," Birgir Már Ragnarsson, managing partner at Novator Partners said.
Here's a look at the pitch deck that was used in to raise $100M in funding for Nord Security:
Browse the exact example slides from the pitch deck that Nord Security used to secure $100 million in a funding round by Novator, Burda Principal Investments, General Catalyst, Ilkka Paananen, Miki Kuusi, and Matt Mullenweg.
1. Cover Slide
The cover slide of your pitch deck is akin to meeting someone for the first time. The reason why first impressions are so important is that they last well beyond that moment. A well-designed cover slide will set the tone for the rest of the presentation.
Nord Security's cover slide features a powerful scenery, an image that captures the essence of the company: the peace of mind to use the Internet, anywhere. Other key elements of the cover slide include the company name, logo, and a catchy tagline that tells what the business is about ("A radically better internet"). The Nord Security pitch deck ticks all the requirements for designing an effective title slide: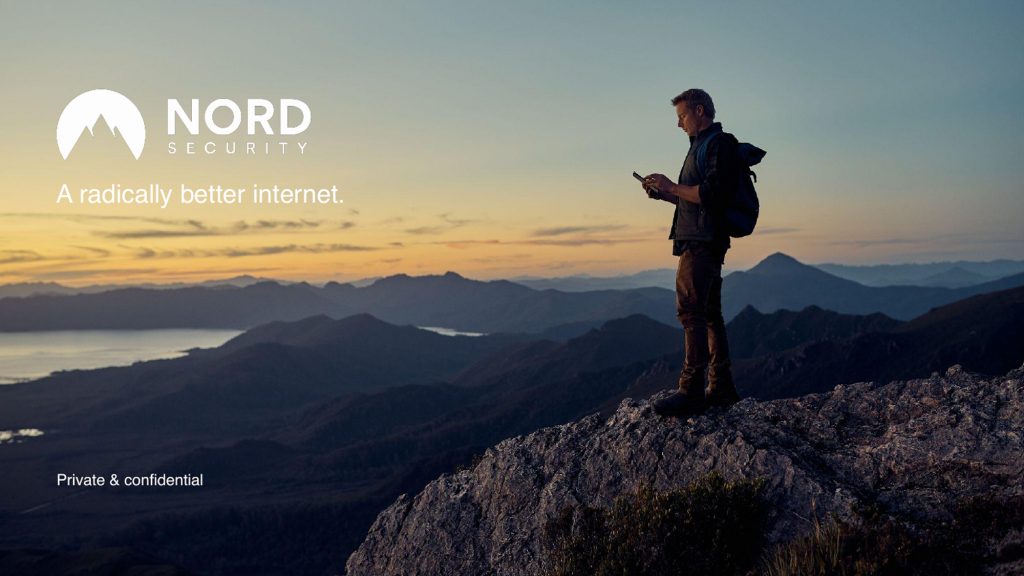 2. Traction Slide
Investors want to see that you have a proven product and business model: traction is an essential qualifying factor when vetting startups because it exponentially reduces the risk for investors. Any proof that validates your company's success in solving the consumer's key problem(s) is extremely powerful.
As the leading cybersecurity solution provider, Nord Security boasts a portfolio of some very well-known organizations — and their pitch deck's traction slide makes use of this. The slide is simple: it only includes a grid of logos, with a straightforward heading and a short description. Rather than complicate the pitch by citing several traction metrics, Nord sticks to one mission-driven measure of their success: "working with over 300+ NGOs."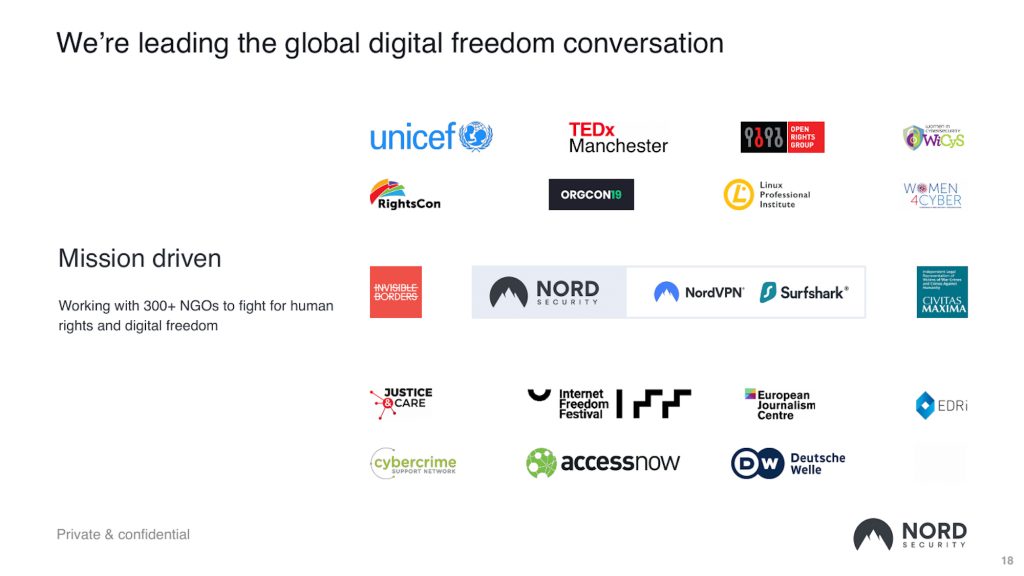 3. Market Slide
Investors take enormous risks to generate healthy returns on their investments. This is the reason the market slide is one of the most important slides for investors: a multi-billion-dollar addressable market (TAM) is a crucial factor in deciding not only the destiny of a startup, but also the investors. The failure rate for startups is much higher than small businesses, which is why venture capital investors must bet on the minority of winning startups to successfully capture a 9+ figure market so the shareholders can breakeven and profit on their portfolio.
Nord Security's market slide is a collection of facts and statistics that paint a cohesive picture of the burgeoning cybersecurity market. By citing an amalgam of key metrics and media quotes, Nord illustrates both the size and velocity of the market they address. For experienced investors, this is plenty sufficient to understand where the market stands and where it is going. The "expanding threats" section also attempts to briefly expound on some of the "target markets" and pain points that Nord's product suite help address.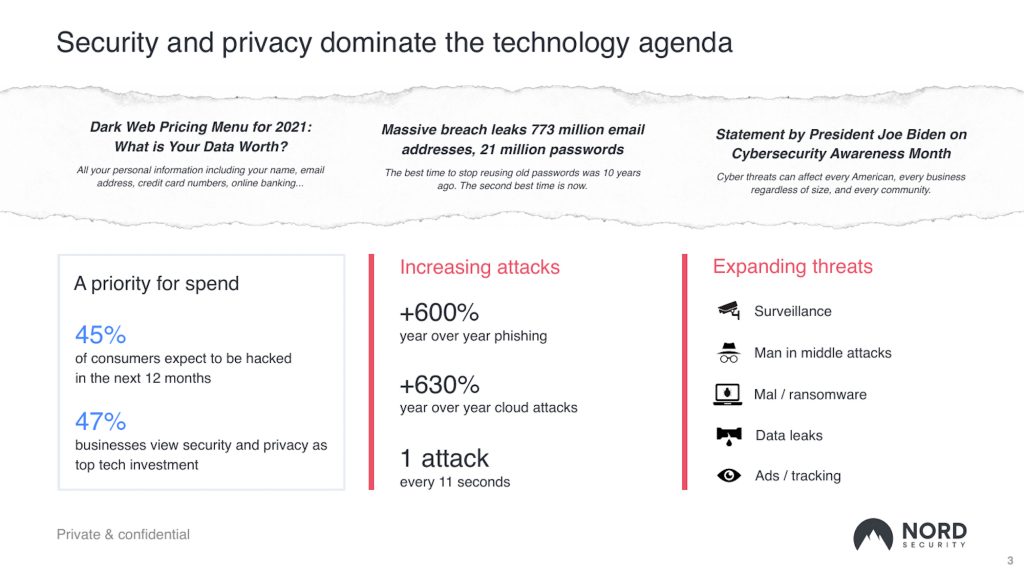 How-to create your own pitch deck like Nord Security
We hope you learned something from the Nord Security pitch deck, and you are able to use these insights for your own business.  If you'd like to, you can bookmark it at bestpitchdeck.com/nord
Although it probably goes without saying that having a successful business (outside just their pitch deck) was integral to their success, it is critical for any startup to ensure your vision is portrayed properly. That's where crafting the perfect pitch deck comes essential: 
You might find our other resources on how-to create a pitch deck helpful, or benefit from using one of our expert-designed templates:
Our team has helped create decks that have closed over $100M+ in deals & funding for leading startups and even VC firms. You can leverage this experience and get a jumpstart on your pitch with one of our easy-to-use presentation templates, one-pagers, or financial models.
Every pitch requires a unique approach tailored to its audience. Our team of experts have created pitch decks for different industries, as well as funding stages: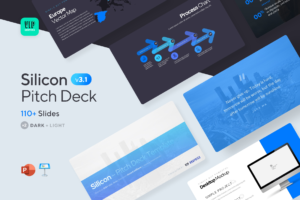 Silicon – Pitch Deck Template — You might be interested in the popular Silicon Pitch Deck designed by our team at VIP.graphics: cutting-edge slides based on decks that closed millions in deals & investments for orgs of all sizes: from high-growth startups to Fortune 100 corporations. This easy-to-customize template for PowerPoint or Keynote offers you ready-made elements & all the essential slides to help your health & medicine startup succeed.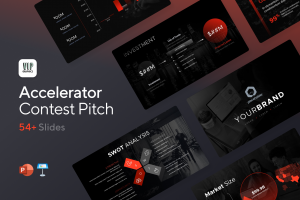 Accelerator Pitch Deck Template — The Accelerator Pitch Deck template was crafted for early-stage founders seeking to win funding &/or investment from pitch contests, accelerators, incubators, and angels or VC firms. Winning a pitch contest or being accepted to a prominent accelerator program requires a unique strategic approach to an investor pitch presentation.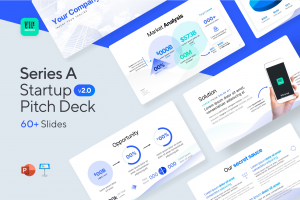 Series A Pitch Deck Template — A pitch deck template for startups and founders raising funding: Smart, actionable slides that work. This is a pitch deck template built specifically for startups, entrepreneurs and founders raising their first seed or Series A round of institutional capital.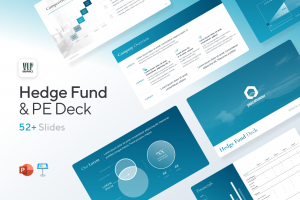 Mergers & Acquisitions Pitch Deck Template — Perfect Pitch Deck™ is a template crafted for later-stage businesses entering more sophisticated discussions such as mergers & acquisitions (M&A), late-stage investment (Series C+), or other partnerships & financing opportunities. Our team of experts created this presentation to empower founders to present with confidence to investment banks, private equity (PE) groups, and/or hedge funds (and vice versa).
Alternatively, feel free to browse our growing selection of pitch decks tailored for specific industries and businesses.