Precision medicine (PM) is the customization of medical treatment to each patient's unique traits. Most medical therapies are currently geared toward the average patient. However, one size does not fit all, and treatments that are highly effective for some people are ineffective for others. PM involves the use of various techniques such as panomic analysis and systems biology to investigate the cause of an individual patient's disease at the molecular level, followed by the use of targeted medications to address that patient's disease process.
Scipher Medicine is a startup working in the Precision Medicine domain. The platform is intended to employ artificial intelligence to decide which drug will be most effective for each patient. The firm is constructing a molecular map of all protein interactions to identify genomic signatures and link those to disease and predictive treatment outcomes. Scipher Medicine can predict whether a patient will respond to a targeted medicine using a simple blood sample and RNA analysis before the therapy is prescribed.
"With more data being generated from tested patients every day, we are continuously serving our provider, payer, and pharma partnerships with unique insights into the most optimal treatment pathway for patients with autoimmune diseases," said Alif Saleh, Chief Executive Officer at Scipher said in an interview.
Scipher Medicine's first commercial product, PrismRA, is a game-changing breakthrough that will bring precision medicine to the treatment of rheumatoid arthritis (RA) — which affects 20 million people worldwide. The PrismRA test evaluates an individual's molecular signature using a regular blood draw, predicting if a patient is well suited for TNF inhibitor therapies such as adalimumab, certolizumab pegol, etanercept, golimumab, and infliximab. As a result, it allows patients who are less likely to respond to TNFi medications like Humira and Enbrel to be placed on alternative approved drugs.
Patients with RA who had their treatment guided by the PrismRA blood test had three times better clinical responses than those who didn't, according to one Accelerate Information of Molecular Signatures (AIMS) study. The company isn't just interested in treating RA. In the sphere of autoimmune diseases, the startup intends to develop at least one test annually over the next five years, according to Sam Asgarian, the company's chief medical officer.
The company has plenty of capital to support these endeavors. Having raised a total of $117 million in three financing rounds since its inception in 2015, Scipher Medicine announced the close of a $110M round led by Cowen Inc., with participation from new investors Neuberger Berman, Hitachi Ventures, Laurion Capital Management LP, and Monashee Investment Management LLC. Existing investors Northpond Ventures, aMoon Fund, Khosla Ventures, Optum Ventures, Echo Health Ventures, and Alumni Ventures also participated.
Below is the pitch deck used in the latest funding round:
Browse the exact example slides from the pitch deck that Scipher Medicine used to secure $110 million.
1. Problem Slide
There's a reason why every pitch deck includes a problem slide. Opening your presentation with a relatable & far-reaching problem is a recipe for engaging storytelling and a captivating presentation flow. An effective problem slide should develop the audience's knowledge of the current situation so they can understand the pain points that your solution addresses.
The problem slide in Scipher Medicine's pitch deck addresses all of the above topics in an easy-to-understand manner. The presentation illustrates the argument with verifiable facts using only two lines focused on two key statistics. From a design perspective, using white lettering on a black background helps with contrast and readability, whereas the accent color alludes to the company's branding while emphasizing key points.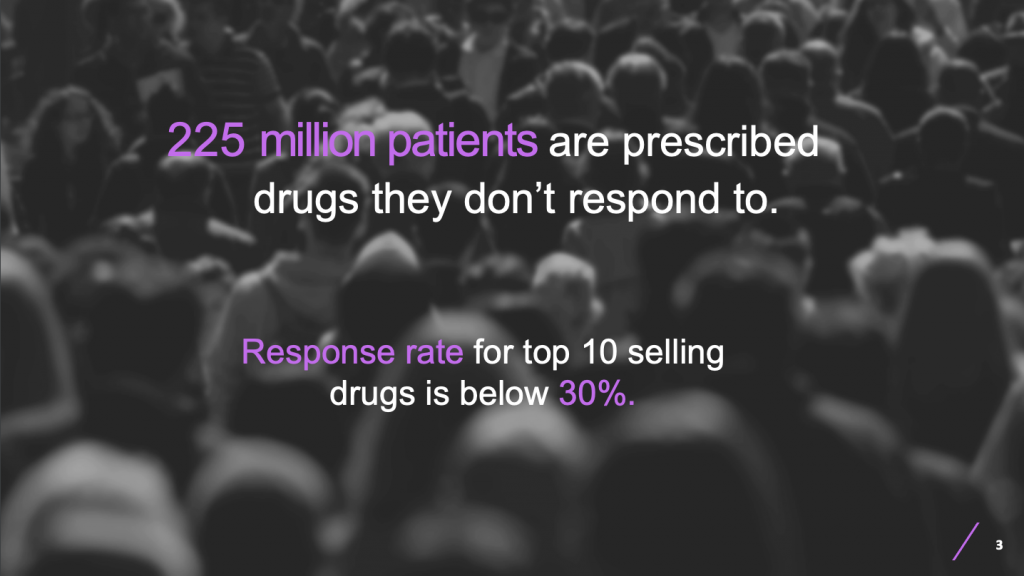 2. Solution Slide
Following the problem slide, a solution slide frames how the startup will solve the problem raised at the start of the presentation. A compelling solution slide should make the information more engaging by emphasizing the benefits of the underlying approach and presenting the solution as a narrative, with eye-catching pictures and typography.
Scipher Medicine uses minimalist graphics to accent key content and introduces the solution as a simple two-phase diagram. The slide also highlights the competitive edge that investors look for in a company by demonstrating how Scipher is pioneering "Precision Medicine 2.0" for complex diseases with RNA analysis.
3. Team Slide
Most entrepreneurs underestimate the fact that VCs value amazing people just as much as great ideas. Introducing your team members is an integral part of your investor presentation, as it sends a strong message of your company's expertise and ability to execute.
Team slides usually include headshots of team members with their title/designation, along with a short description of their role in the business and experience. In Scipher Medicine's pitch deck, we find a fairly straightforward team slide that follows these principles. Scipher keeps it simple with one-line bio's focused on the most-relevant qualifying experience for each team member, as well as logos of past employers to.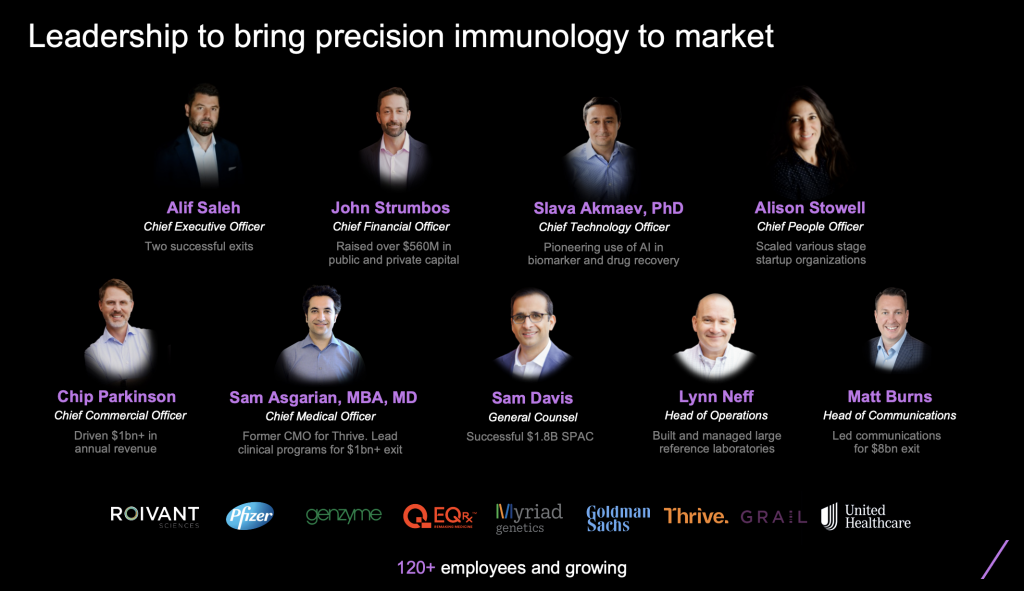 How-to create your own pitch deck like Scipher Medicine
Hopefully, you found this article to be enlightening — perhaps it has inspired you to develop your own pitch deck. If you'd like to, you can bookmark all the slides at bestpitchdeck.com/scipher
Although it was a series D pitch deck from a company with a market-leading product a well-crafted presentation deck was required to guarantee that their vision was effectively represented. That's why preparing the perfect pitch deck is so essential:
You might find our other resources on how-to create a pitch deck helpful, or benefit from using one of our expert-designed templates:
Our team has helped create decks that have closed over $100M+ in deals & funding for leading startups and even VC firms. You can leverage this experience and get a jumpstart on your pitch with one of our easy-to-use presentation templates, one-pagers, or financial models.
Every pitch requires a unique approach tailored to its audience. Our team of experts have created pitch decks for different industries, as well as funding stages: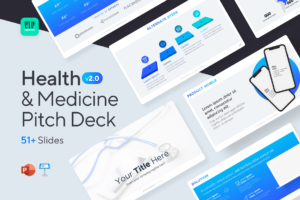 Health & Medicine Pitch Deck — You might be interested in the popular Health & Medical Startup Investor Presentation designed by our team at VIP.graphics: This Deck Template is a set of best-selling PowerPoint & Keynote templates (compatible with both Mac and Windows) built specifically to help wellness startups, telemedicine companies, and pharmaceutical services paint a clear picture outlining their solution. Whether you're presenting at an investor pitch meeting or pitching to a potential partner or client, this deck is designed to help you capture the attention of your audiences.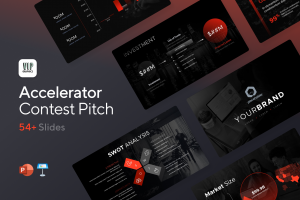 Accelerator Pitch Deck Template — The Accelerator Pitch Deck template was crafted for early-stage founders seeking to win funding &/or investment from pitch contests, accelerators, incubators, and angels or VC firms. Winning a pitch contest or being accepted to a prominent accelerator program requires a unique strategic approach to an investor pitch presentation.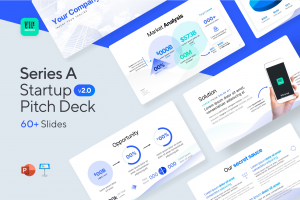 Series A Pitch Deck Template — A pitch deck template for startups and founders raising funding: Smart, actionable slides that work. This is a pitch deck template built specifically for startups, entrepreneurs and founders raising their first seed or Series A round of institutional capital.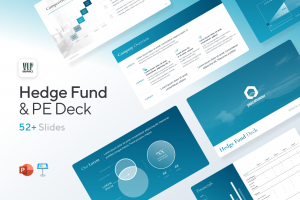 Mergers & Acquisitions Pitch Deck Template — Perfect Pitch Deck™ is a template crafted for later-stage businesses entering more sophisticated discussions such as mergers & acquisitions (M&A), late-stage investment (Series C+), or other partnerships & financing opportunities. Our team of experts created this presentation to empower founders to present with confidence to investment banks, private equity (PE) groups, and/or hedge funds (and vice versa).
Alternatively, feel free to browse our growing selection of pitch decks tailored for specific industries and businesses.