Backbone is the brainchild of a young entrepreneur Maneet Khaira, who was working at Google as an intern when he came up with his startup idea for a device that could turn an iPhone into a portable Xbox. Maneet and his buddies wanted to play Fortnite on their phones, but they weren't satisfied with the experience. Physical controls, cross-game voice chat, as well as a simple way to capture and share gaming footage were clear omissions.
"Our idea was that by addressing the three of those things cohesively and at the same time, you can create, hopefully, an experience that would be greater than the sum of the individual parts," Maneet explained while outlining the startup's beginnings.
Investors saw the potential and in 2018, Backbone raised $1 million in investment that included Ashton Kutcher's Sound Ventures and gaming creators Nadeshot, MrBeast, and Preston. 
The purpose of the funding was to create a working product and creating a working product is what Maneet and his team did: Backbone One is truly the first mobile gaming controller that turns an iPhone into a portable gaming console. It is the top-selling product in its category on Amazon. In a recent article, Verge described the Backbone's hardware as "A stunning controller that turns your iPhone into a more capable gaming device".
Compact, natural, and comfortable, the Backbone One iOS controller wraps your iPhone in a high-quality gamepad shell that's satisfying to play, well-constructed, and accompanied by a genuinely useful app. iPhone's Lightning port automatically pick up connectivity to Backbone One and the companion app has a lot of useful features too. It can capture, edit and upload gaming content as well as supports voice chat with friends that works across any app. It's fairly intuitive and create a unified interface for your gaming apps. "We really are just as interested, if not more interested, in software as the hardware," Maneet said in a recent interview.
Backbone's $40 million Series A investment was led by Index Ventures, with celebrity investors including Kevin Hart, The Weeknd, Post Malone, Amy Schumer, and music producer Christopher Comstock, aka "Marshmello," who previously invested in Backbone's earlier round. 
Below is the pitch deck that was used:
Browse the exact example slides from the pitch deck that Backbone used to secure $40 million.
1. Problem Slide
The Backbone problem slide is so straightforward that it only has 16 words (plus an emoji). Having a dedicated slide for the core problem your startup solves is a major benefit, even if the slide is a continuation of prior slides that describe the subject in more detail.
The presentation also highlights/bolds the keywords that will catch people's attention. Emojis serve as an excellent substitute for icons, adding emotional context while hinting at the youthful personality of the startup, its founder, as well as their target audience.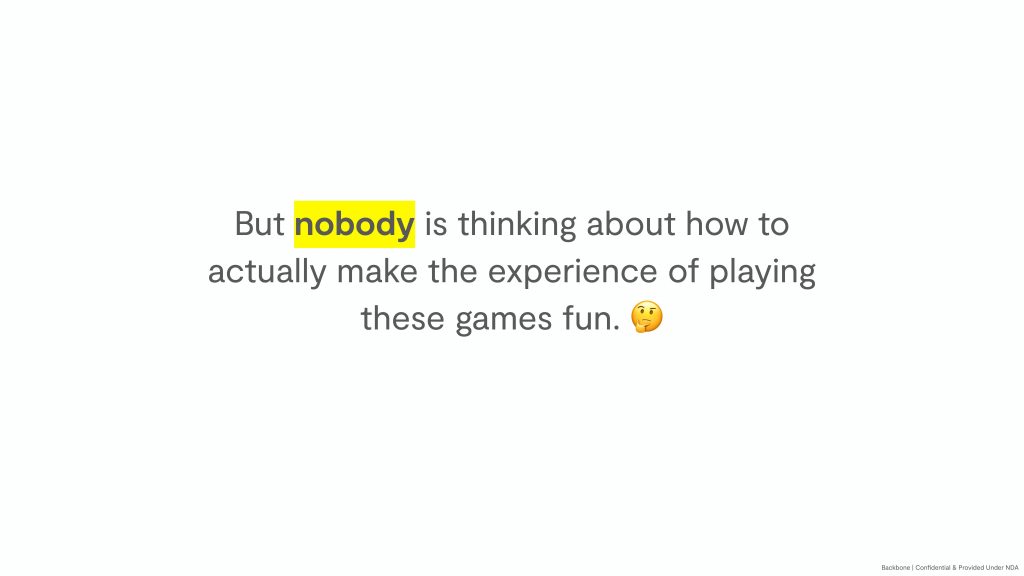 2. Market Slide
Mobile gaming has become the driving force behind the worldwide video gaming market's rapid expansion: smartphone games accounted for nearly half of all video gaming revenue in 2020.
Backbone's market slide continues with the minimalist approach, focusing on this simple statistic and nothing more. This is enough to tell savvy investors that they are dealing with a $100 billion industry that is growing every year. Venture capital firms operate under power laws and are most-interested in 9+ figure opportunities — Backbone makes a clear case for their TAM falling within this range.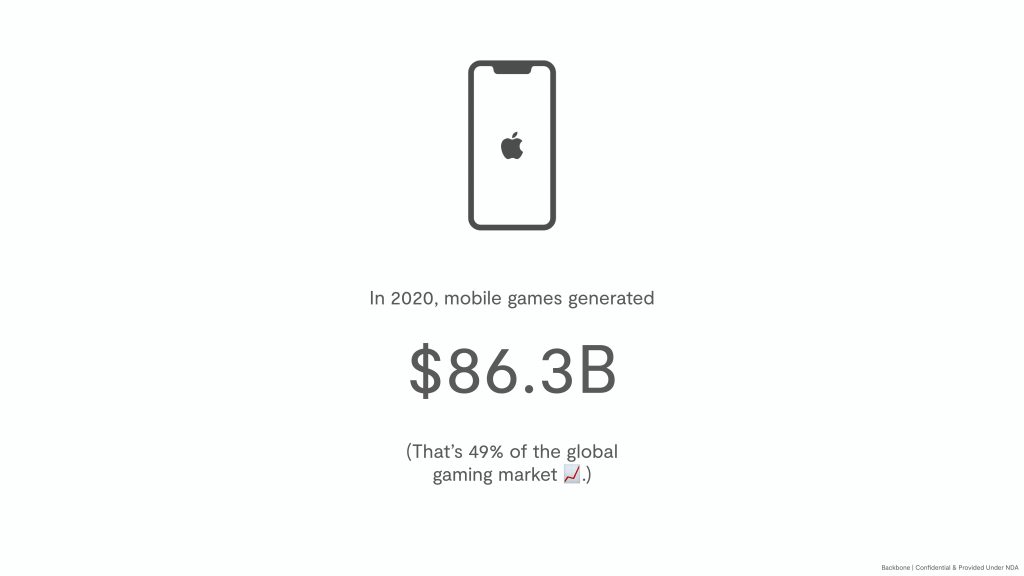 3. Testimonial Slides
Customer testimonials can be an important component of any successful pitch deck. What your customers are saying is one of the most reliable predictors for the success of your product & go-to-market strategy. Real user reviews provide nuanced information about the target user and their needs, which potential investors may not be aware of. Backbone garnered excellent reviews from gaming industry experts, and they didn't shy away from using those testimonials to their advantage.
Quotes from notable press are not necessarily "vanity metrics" — especially when they can be used to gauge the target audience reception (such as this review from TechCrunch).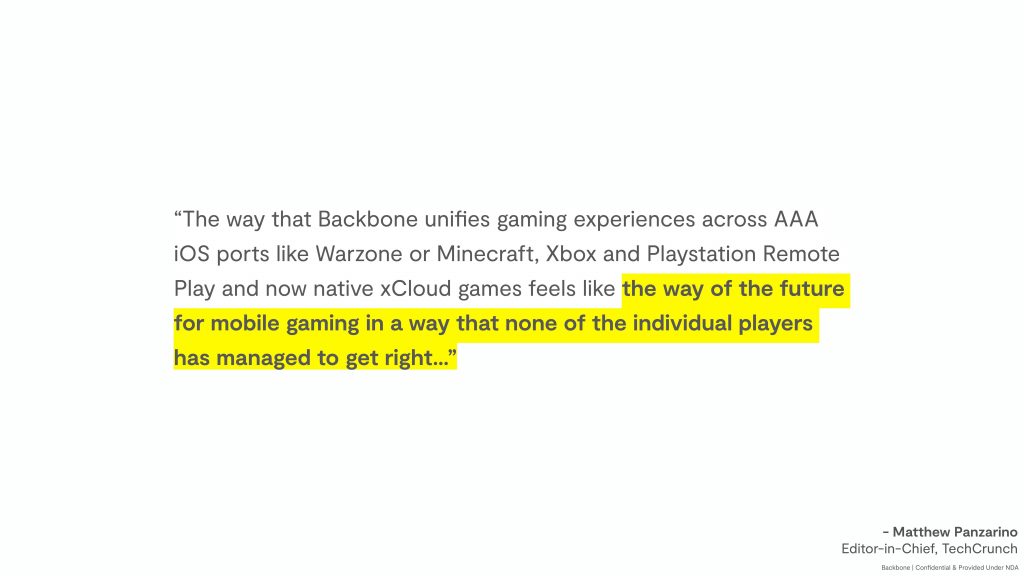 How-to create your own pitch deck like Backbone
We hope you appreciated the Backbone pitch deck as much as we did, and that it has inspired you to create your own. If you'd like to, you can bookmark all the slides at bestpitchdeck.com/backbone
Khaira attributes this high-profile raise to the first pitch deck's viral success "It gave me a formula on how to make a good presentation," he said. That's why preparing the perfect pitch deck is so essential: 
You might find our other resources on how-to create a pitch deck helpful, or benefit from using one of our expert-designed templates:
Our team has helped create decks that have closed over $100M+ in deals & funding for leading startups and even VC firms. You can leverage this experience and get a jumpstart on your pitch with one of our easy-to-use presentation templates, one-pagers, or financial models.
Every pitch requires a unique approach tailored to its audience. Our team of experts have created pitch decks for different industries, as well as funding stages: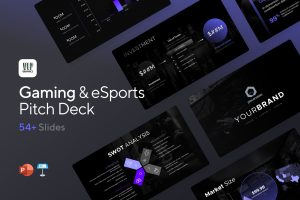 Gaming Pitch Deck Template — You might be interested in the popular Gaming & eSports Pitch Deck Template designed by our team at VIP.graphics: With this creative pitch deck template, you can easily create an awesome, professional-quality pitch deck for any gaming startup or eSports product/platform – or any other industry that needs a customizable PowerPoint and Keynote presentation. Just open it in PowerPoint or Keynote and start editing.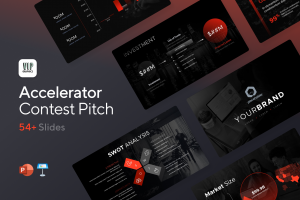 Accelerator Pitch Deck Template — The Accelerator Pitch Deck template was crafted for early-stage founders seeking to win funding &/or investment from pitch contests, accelerators, incubators, and angels or VC firms. Winning a pitch contest or being accepted to a prominent accelerator program requires a unique strategic approach to an investor pitch presentation.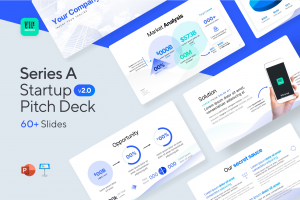 Series A Pitch Deck Template — A pitch deck template for startups and founders raising funding: Smart, actionable slides that work. This is a pitch deck template built specifically for startups, entrepreneurs and founders raising their first seed or Series A round of institutional capital.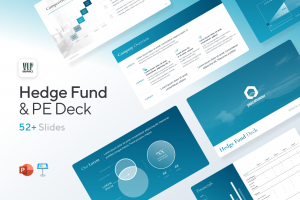 Mergers & Acquisitions Pitch Deck Template — Perfect Pitch Deck™ is a template crafted for later-stage businesses entering more sophisticated discussions such as mergers & acquisitions (M&A), late-stage investment (Series C+), or other partnerships & financing opportunities. Our team of experts created this presentation to empower founders to present with confidence to investment banks, private equity (PE) groups, and/or hedge funds (and vice versa).
Alternatively, feel free to browse our growing selection of pitch decks tailored for specific industries and businesses.