Verishop, founded by former Snapchat chief business officer Imran Khan, is an online department store aimed at millennial and Gen Z shoppers. The platform was created for small brands with five to ten employees that are struggling to gain distribution and scale. Verishop is a platform that provides all of the operational support required to start a successful business.
"What we wanted to do is build a platform of those independent brands and creators. If you think about it, at the end of the day, a brand is a promise, so these guys need to tell their story. We've created a lot of tools like live shopping, content feed, and better recommendation engines for independent and emerging brands to tell their stories and for consumers to discover those brands."
Verishop evaluates brands and products before adding them to the platform in order to "ensure authenticity and customer fit." Once a brand has been reviewed and given permission to post content, they can choose which products to sell alongside other vetted brands in home decor, fashion, beauty, electronics, and other categories. Sellers can then set and change product prices as well as ship orders to their customers directly.
"Social media channels have become crowded and expensive places to acquire customers, while marketplaces can be plagued with counterfeit products or unauthorized sellers of goods, and can relegate brands to compete solely on price," the company said in a statement. 
Verishop has launched several features and initiatives to expand its platform since its inception in 2019, including a partnership with Snap, Inc. to launch Verishop Mini and a partnership with mall operator Unibail-Rodamco-Westfield to bring its digital brands to physical spaces. In addition, the company debuted its shoppable content tools, joining platforms such as Instagram, TikTok, and Google in the shoppable content space. The app now includes social shopping features, such as the ability to post photos and videos, tag items, and follow other users and brands. Verishop launched its Shop Party feature in December, allowing users to shop alongside one another while video chatting.
" […] while the last two decades of shopping innovation was on the back end, in terms of infrastructure, the next two decades of innovation will be on the front end," Khan said, "on discovery."
Verishop now has over 4,000 brands on its platform, up from 150 at launch, making it one of the largest aggregators of independent and emerging retail brands online. This success has led to a $40 million Series B round in July led by Lion Capital. The company plans to invest in data insights that can help retailers understand how their products are performing on the platform so that they can better optimize sales. It also plans to offer better product-return solutions and image retouching tools to save smaller companies money and time.
"The e-commerce ecosystem is ripe for disruption and Imran and his team are well-positioned to lead this important effort," said Matthew Nordby, a partner at Lion Capital. "In a short time frame, Verishop has created invaluable solutions for small and independent brands and creators."
Here's a look at the pitch deck that was used to raise $40M in a Series B round led by Lion Capital.
Browse the exact example slides from the pitch deck that Verishop used to raise $40M.
1. Problem Slide
In his HBR article, "How to Give a Killer Presentation," head of TED Talks Chris Anderson, wrote that "When I think about compelling presentations, I think about taking an audience on a journey. A successful talk is a little miracle — people see the world differently afterward." This is exactly what a well-crafted pitch deck should aim to achieve. It will take the potential investors on a journey by presenting the problem, how it is affecting the users, what the status quo is, how it can be challenged, how this team is the one best placed to lead this shift, and finally how the investors can be part of this journey.
The Verishop pitch deck's comprehensive problem slide covers the problem from the consumer as well as the creator's perspective. The slide is simple with headings, sub-headings, and a small explanation section. Some critics might say the slide design is too simple or bland and lacks visuals; nonetheless, the slide manages to get the point across and explain the problems faced by brands and consumers.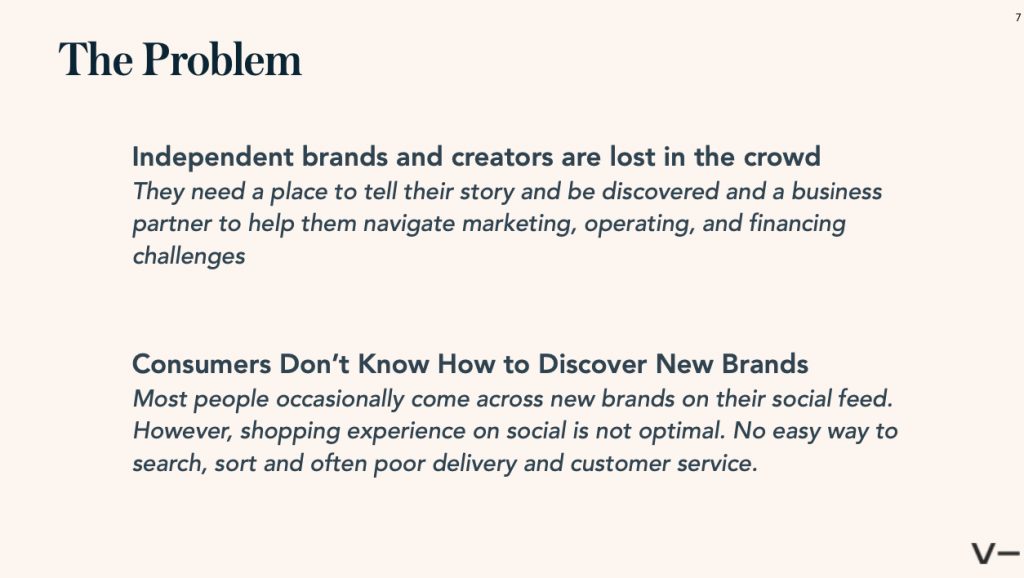 2. Solution Slide
After reading the problem slide, your audience is ready for an answer, which will be presented on the solution slide. It is important to note that delving too deeply into the technical details of the solution/product is a quick and easy way to lose investors' interest and should be avoided in a pitch deck. Instead of focusing on the product features, consider the big picture and explain how the solution/product will benefit the users.
A retail business has many moving parts, and Verishop's solution slide covers them all. The slide emphasizes that the company operates on proprietary technology, which investors value because it provides the company with a competitive advantage (and a valuable asset in case of liquidation). Because the Verishop pitch deck's solution slide covers all of the major aspects of any retail business, savvy investors can see how the startup has addressed not only the fun & interactive features (ie. live shopping and video reviews) but also the tedious details (ie. product tracing and merchant onboarding).
Khan put it this way: "People said, 'what are you doing? It sounds like a boring e-commerce company. But we wanted to make sure that we get the boring parts right. And then focus on the fun part."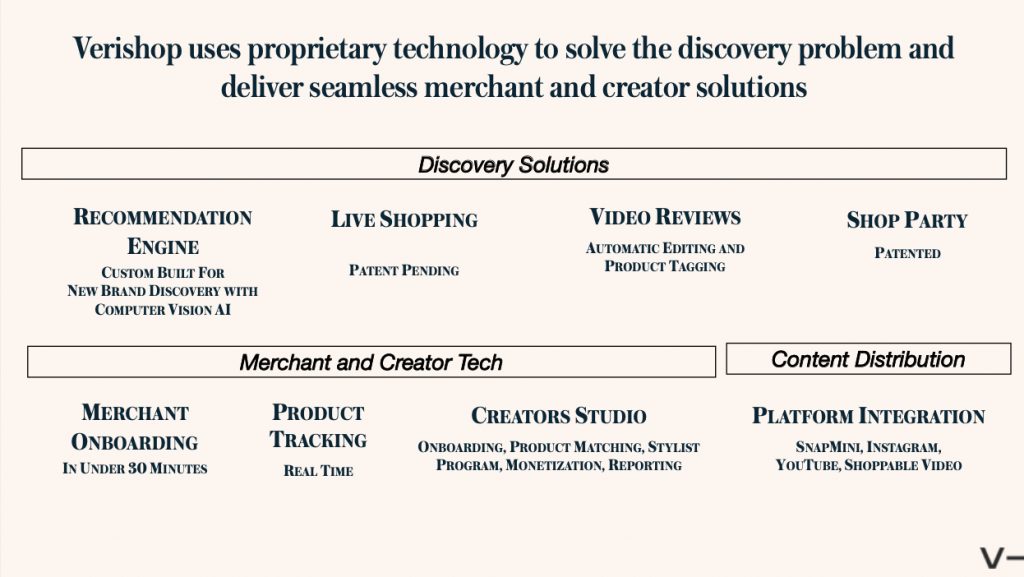 3. Opportunity Slide
The purpose of the opportunity slide is to show investors that there is an opening that creates a possibility to enter an existing market or create a new market. This opportunity could take the form of a behavioral shift, maturing technology, or something completely different. When done correctly, the opportunity slide can be one of the most important aspects of your pitch. Verishop's opportunity slide argues that "consumers want better brand discovery", therefore, creating a marketplace that allows them to discover new brands makes perfect sense. In terms of design, the slide uses a bar graph based on Nielson's Global Consumer Loyalty Survey. In addition to being simple, the slide helps investors quickly understand how consumers' behavior has changed and how a marketplace like Verishop is needed.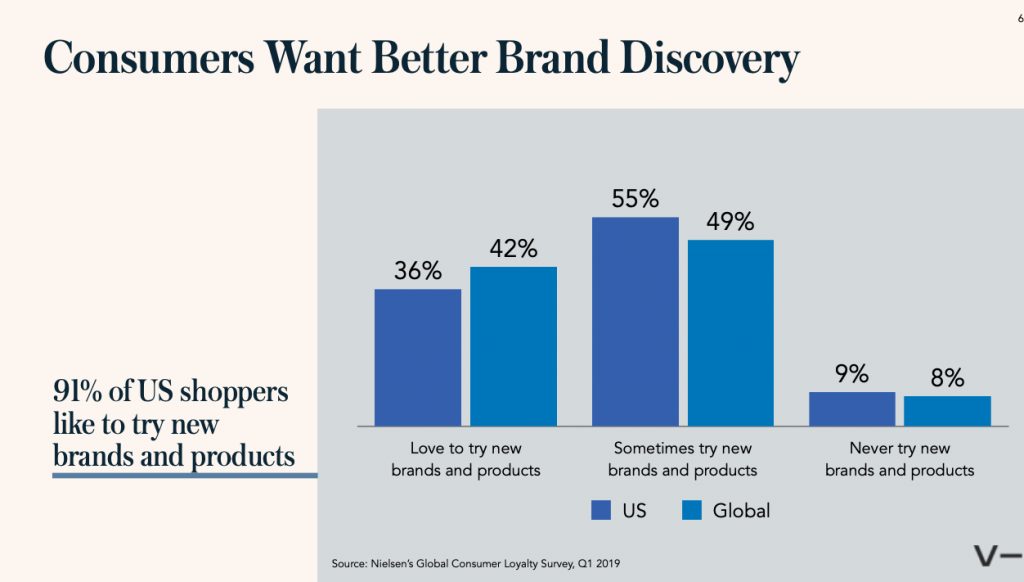 How-to create your own pitch deck like Verishop
We hope you learned something from the Verishop pitch deck, and that you are able to use these insights for your own business.  If you'd like to, you can bookmark it at bestpitchdeck.com/verishop
Although it probably goes without saying that having a successful business (outside just their pitch deck) was integral to their success, it is critical for any startup to ensure your vision is portrayed properly. That's where crafting the perfect pitch deck comes essential: 
You might find our other resources on how-to create a pitch deck helpful, or benefit from using one of our expert-designed templates:
Our team has helped create decks that have closed over $100M+ in deals & funding for leading startups and even VC firms. You can leverage this experience and get a jumpstart on your pitch with one of our easy-to-use presentation templates, one-pagers, or financial models.
Every pitch requires a unique approach tailored to its audience. Our team of experts has created pitch decks for different industries, as well as funding stages: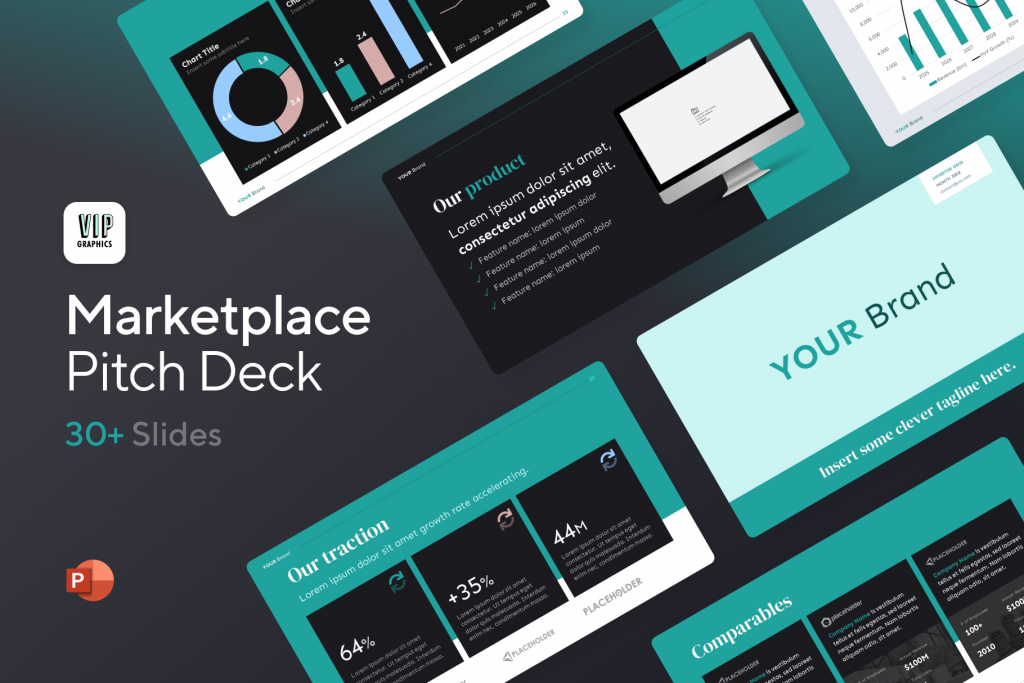 Marketplace Pitch Deck — You might be interested in the popular Marketplace Pitch Deck designed by our team of experts at VIP.graphics: cutting-edge slides based on decks that closed millions in deals & funding. This template is perfect for startups in the software space: from AI/ML startups to SaaS applications!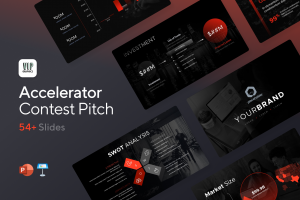 Accelerator Pitch Deck Template — The Accelerator Pitch Deck template was crafted for early-stage founders seeking to win funding &/or investment from pitch contests, accelerators, incubators, and angels or VC firms. Winning a pitch contest or being accepted to a prominent accelerator program requires a unique strategic approach to an investor pitch presentation.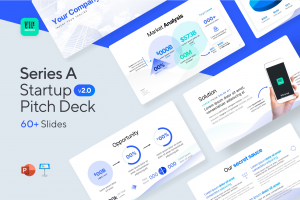 Series A Pitch Deck Template — A pitch deck template for startups and founders raising funding: Smart, actionable slides that work. This is a pitch deck template built specifically for startups, entrepreneurs and founders raising their first seed or Series A round of institutional capital.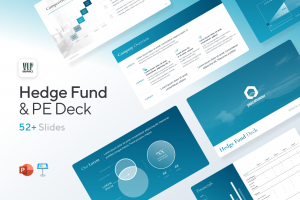 Mergers & Acquisitions Pitch Deck Template — Perfect Pitch Deck™ is a template crafted for later-stage businesses entering more sophisticated discussions such as mergers & acquisitions (M&A), late-stage investment (Series C+), or other partnerships & financing opportunities. Our team of experts created this presentation to empower founders to present with confidence to investment banks, private equity (PE) groups, and/or hedge funds (and vice versa).