The Right Stuff, an invite-only dating app geared toward conservative singles, is set to launch in September. Former Trump administration officials John McEntee, Daniel Huff, and Isaac Stalzer are among those behind the app: it is part of a conservative push to build their own apps, phones, cryptocurrencies, and publishing houses in order to bypass what they view as an increasingly liberal internet and media ecosphere.
The Right Stuff acknowledges this on its website: "Other dating apps have gone woke. We bring people together with shared values and similar passions."
Co-founder Daniel Huff, who worked in Trump's Department of Housing and Urban Development, told The Hill that such an app "has really not been done before."
"It's an important, underserved market," Huff said. "Liberals own the education, media corporations, and we can't let them control our personal relationships."
In an advertisement video, Ryann McEnany, the app's spokesperson and sister to the Trump administration's White House press secretary, says, "We're sorry that you've had to endure years of bad dates and wasted time with people that don't see the world our way, the right way."
While the app will be free to use, women will never have to pay, according to the promotional video, because they will receive "premium subscriptions" if they invite a "couple" of friends. Men will have to pay to gain access to the premium, as McEnany stated: "that's on you."
The online dating industry is enormous. According to Grand View Research, the market was valued at $7.5 billion in 2021 and is expected to grow at a compound annual growth rate of 5.5% from 2022 to 2030.
Billionaire, openly-gay tech investor and PayPal co-founder Peter Thiel saw the potential in the conservative-only dating app and has invested $1.5M in seed funding. Thiel's support for the app was first reported by the New York Times as part of a larger effort to fund "hard-right" candidates. Thiel, one of the largest individual donors to the US Republican Party, has also previously invested in Rumble, a conservative YouTube alternative.
Here's a look at the pitch deck that was used to raise $1.5M in a Seed round led by Peter Thiel.
Browse the exact example slides from the pitch deck that The Right Stuff used to raise $1.5M.
A well-crafted pitch deck will, at its most basic level, answer some fundamental questions about the startup and the industry and (depending on the circumstances and audience), will include some appropriate supplementary information. The most important questions the pitch deck should answer:
What problem do you solve? (Problem Slide)

Why should the investor care (Market Opportunity)

How are you different? (Competition Slide)
The Right Stuff pitch deck nails all of these key topics:
1. Problem Slide
The Right Stuff pitch deck's problem slide uses facts but accompanies them with the relatable emotional angle of dating being "still hard" and difficulties in finding "someone compatible". This is significant because potential investors must believe that a specific problem exists in order to be interested in the solution. On the design side, the slide (and the pitch deck, in general) follows Guy Kawasaki's 10/20/30 rule. The slide is built on the company branding and color guidelines; the large heading font emphasizes the key takeaways to get the point across. 
A big part of creating a pitch deck is understanding the audience and The Right Stuff pitch deck's problem slide manages to hit the right emotional and factual notes for the right audience (in this case, conservative investors like Thiel).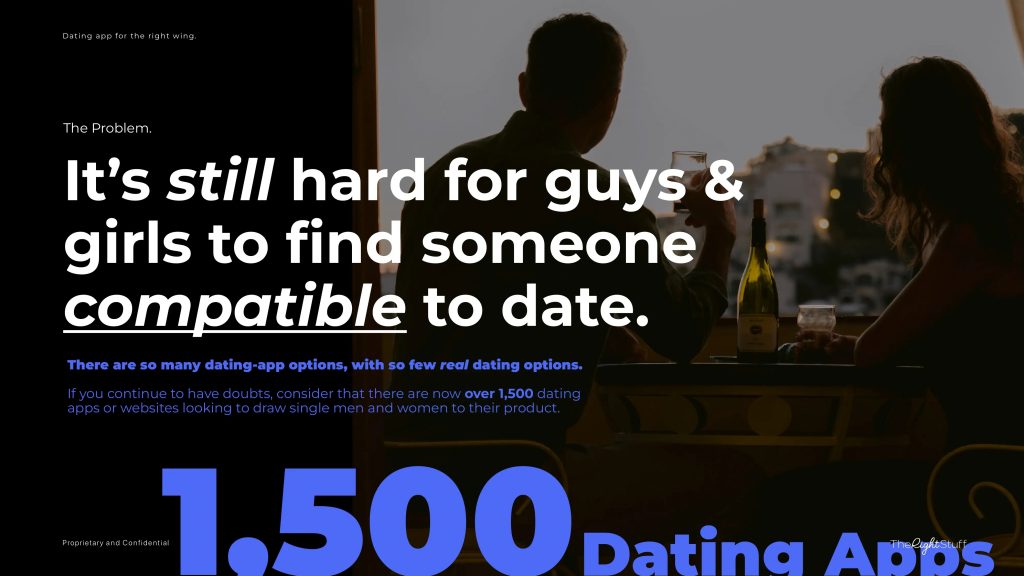 2. Market Slide
The market size is perhaps the best (and often only) way for investors to gauge the potential return on investment. If the market is large enough, capturing a small portion of it will be sufficient for a sizable return on investment. When we consider that the nature of VC investments is asymmetric, and many of the investments are risky and will fail, market size becomes even more important.
VCs seek opportunities that are so large that even if the majority of their portfolio fails, they will still receive sufficient returns to compensate for all losses. This means that most VCs expect the startup to be worth at least $1 billion.
The Right Stuff pitch deck's market slide argues that because "more & more people are looking to meet online", the market is expanding: a scenario always welcomed by the investors. The design is consistent with the rest of the deck in its use of large, eye-catching headlines and numbers. The slide, however, makes the rookie mistake of presenting overall market figures rather than the more relevant / targeted information (ie. the est. conservative singles market, which could be easily extrapolated with some fairly rudimentary math).
Nonetheless, the slide manages to demonstrate that there is a large enough opportunity to warrant investment.
While talking about the feasibility of the market, McEntee told Insider:
"We talked to our other conservative friends and then looked at it from the business standpoint that dating apps are super popular," he said. "They've only been growing and all of these different markets are being served, but one that's being underserved, obviously, is one that caters to conservatives. It hasn't been really tried before, so we're really excited about it."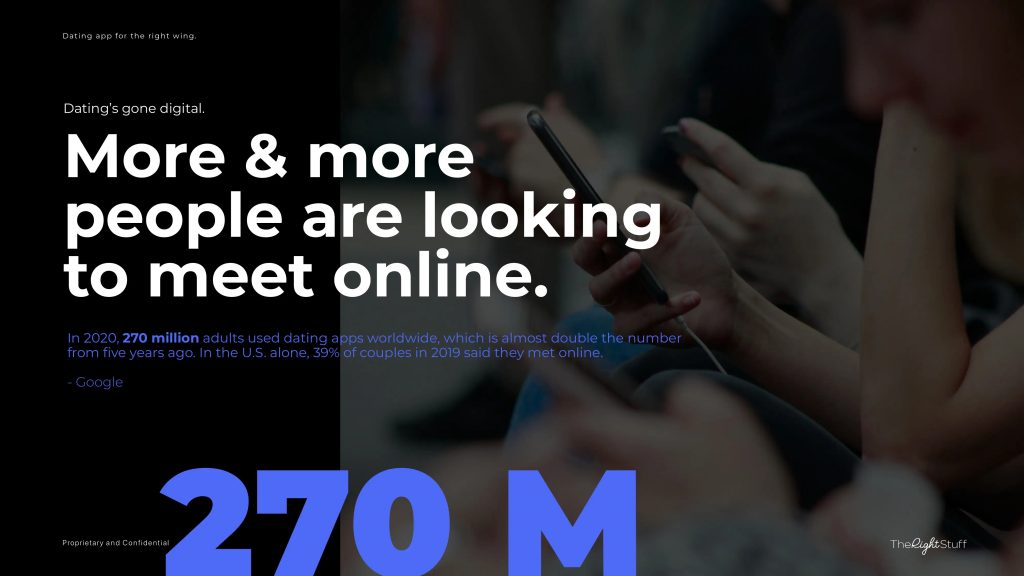 3. Competition Slide
From the perspective of an investor, one of the most important factors driving investment decisions is the competitive edge. If you attempt to enter an industry dominated by a behemoth, such as Google, you are almost certain to fail. However, if you have proprietary technology that gives you a competitive advantage over incumbents, you have a real chance of entering and staying in the market. Having a significant moat is a key determinant of startup success (and longevity).
Hence, the completion slide will aim to answer the following question:
What current alternative solutions are people using today to deal with this problem? 

What gaps does the existing solution have?

What makes your solution better than the current alternatives?

Do you have anything proprietary and unique?
When elaborating how you will be superior to the incumbents, you must explain how geographic, cultural, or strategic advantages benefit you.
Indeed, the cultural advantage is what The Right Stuff pitch deck's competition slide goes for. After highlighting the competition, the slide argues that "there's not a single that is exclusively made for the conservative market". To keep things simple, the slide uses logos of the competition and minimal text: enough to make a point without overexplaining.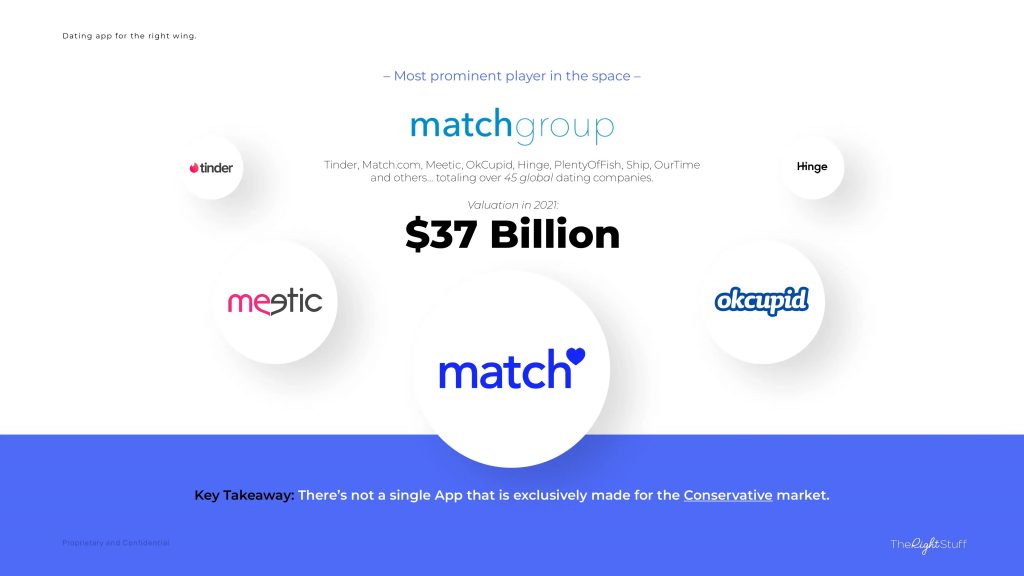 How-to create your own pitch deck like The Right Stuff
We hope you learned something from The Right Stuff pitch deck, and that you are able to use these insights for your own business.  If you'd like to, you can bookmark it at bestpitchdeck.com/the-right-stuff
Although it probably goes without saying that having a successful business (outside just their pitch deck) was integral to their success, it is critical for any startup to ensure your vision is portrayed properly. That's where crafting the perfect pitch deck comes essential: 
You might find our other resources on how-to create a pitch deck helpful, or benefit from using one of our expert-designed templates:
Our team has helped create decks that have closed over $100M+ in deals & funding for leading startups and even VC firms. You can leverage this experience and get a jumpstart on your pitch with one of our easy-to-use presentation templates, one-pagers, or financial models.
Every pitch requires a unique approach tailored to its audience. Our team of experts has created pitch decks for different industries, as well as funding stages: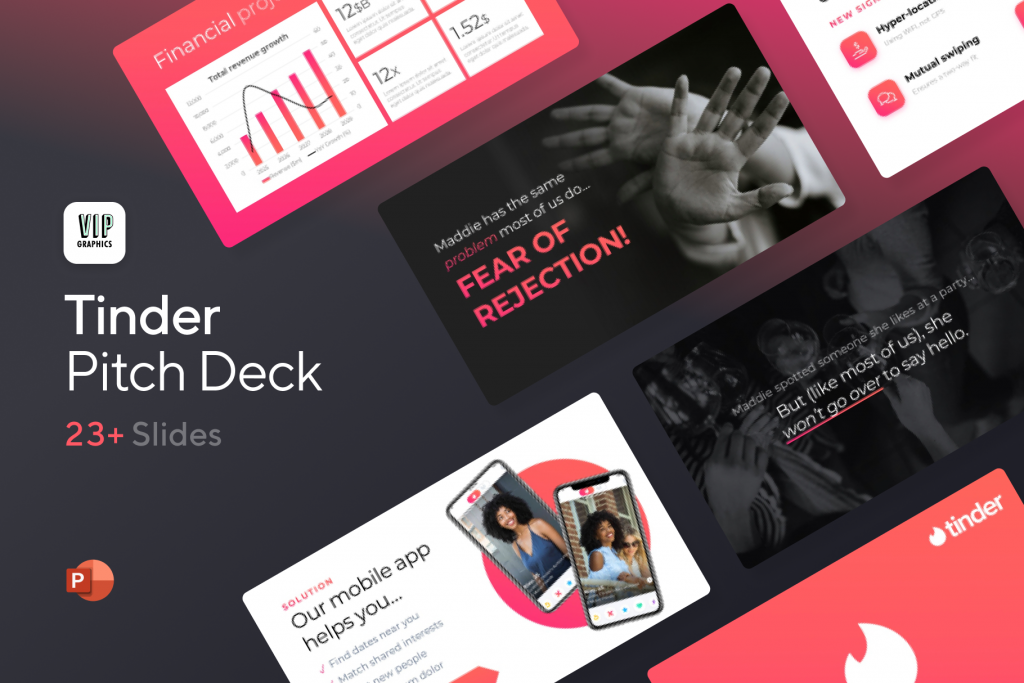 Tinder Pitch Deck Template — You might be interested in the popular Tinder Pitch Deck designed by our team of experts at VIP.graphics: cutting-edge slides based on decks that closed millions in deals & funding. This template is perfect for startups in the dating / social media app space!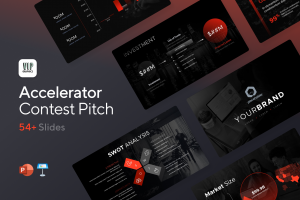 Accelerator Pitch Deck Template — The Accelerator Pitch Deck template was crafted for early-stage founders seeking to win funding &/or investment from pitch contests, accelerators, incubators, and angels or VC firms. Winning a pitch contest or being accepted to a prominent accelerator program requires a unique strategic approach to an investor pitch presentation.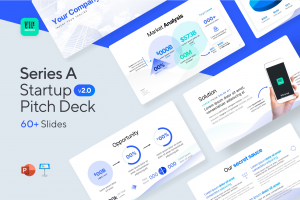 Series A Pitch Deck Template — A pitch deck template for startups and founders raising funding: Smart, actionable slides that work. This is a pitch deck template built specifically for startups, entrepreneurs and founders raising their first seed or Series A round of institutional capital.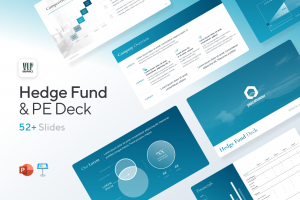 Mergers & Acquisitions Pitch Deck Template — Perfect Pitch Deck™ is a template crafted for later-stage businesses entering more sophisticated discussions such as mergers & acquisitions (M&A), late-stage investment (Series C+), or other partnerships & financing opportunities. Our team of experts created this presentation to empower founders to present with confidence to investment banks, private equity (PE) groups, and/or hedge funds (and vice versa).