Having trouble understanding what a pitch deck is & why you need it? This blog will help you understand the purpose of a pitch deck and provide you with tips for creating your own.
What is a pitch deck?
A pitch deck is short, concise presentation that offers an overview of your business plan to potential investors or partners. Pitch decks are often used as an initial introduction to an idea or proposal, before being followed up by more detailed documents such as financial models or business plans. Think of it as an elevator pitch on steroids. It's the document that outlines all the key points you want to cover in a meeting, giving your audience everything they need to know about your business in one compact slide deck.
A pitch deck is typically used by entrepreneurs, start-ups, and non-profit organizations to create an overview of their business strategy or product. It typically consists of 10-15 slides that display your value proposition, customer benefit, product, competition, financials and startup costs.
Each slide should have no more than 5 sentences so that it can be read in 3 minutes or less. Your goal is to ensure your audience understands your business model after only spending less than ten minutes with you. You want them excited enough about your product so they will want to talk to you further and invest in what you are doing. Remember: presentation matters, regardless of how amazing your startup or idea is!
Why do I need a pitch deck?
A pitch deck is an investment presentation that will help to get your business plan noticed by investors. Investors are inundated with business plans, so you need to make yours stand out by clearly & succinctly summarizing what you're going to do. A good way to do that is by using visuals such as images, videos, and graphs in your investor pitch presentation. There's usually no more than 15 slides in pitch decks for early-stage (ie. Angel, Series A) startups and even later-stage/M&A.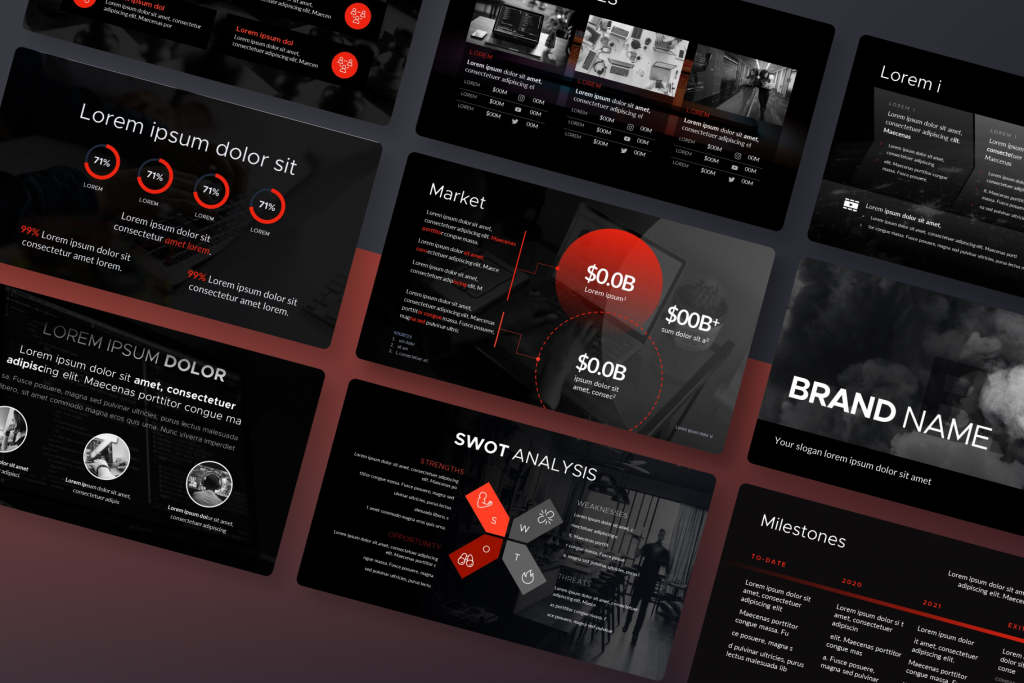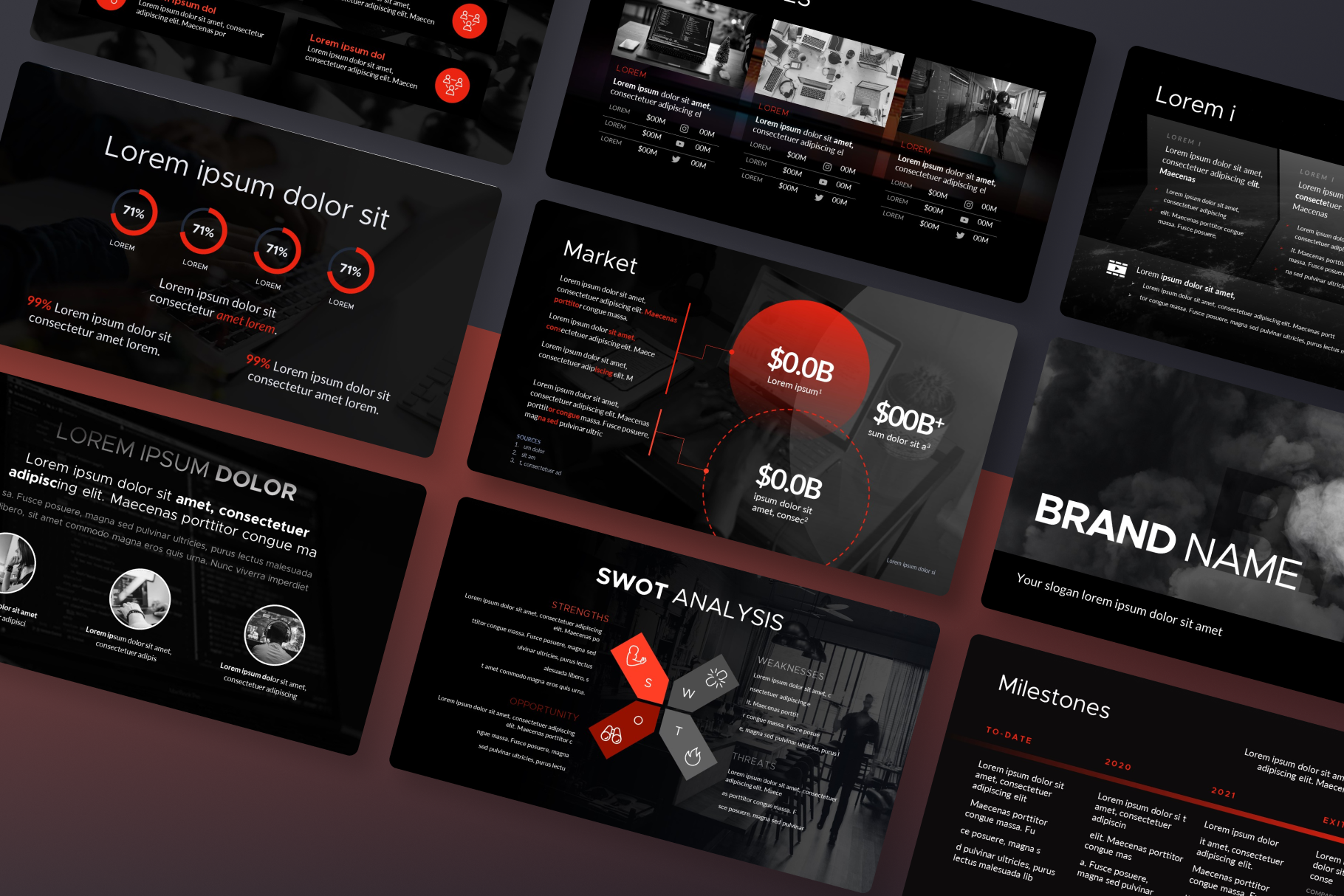 What should a pitch deck include?
A pitch deck should be concise; there shouldn't be any fluff or filler in it. Think about all of your potential investors: why would they invest in your company over others? What is it about you that sets you apart from others? Make sure to highlight these points throughout your presentation.
As a general rule of thumb, any compelling pitch deck should identify (at least) the following key topics:
1. Cover
Introduce who you are: your brand name, slogan, and perhaps the presenter &/or purpose of this pitch.
2. Problem
What is the problem or pain point you are trying to solve for your audience? Why does this matter?
3. Market
Describe your target market in both quantitative terms (size and growth of the overall market), and qualitative (trends & demographics) . This slide is where you often see phrases like "addressable vs. serviceable market" and "CAGR" (annual growth rate).
4. Solution
Perhaps the most important slide: where you highlight your solution the problems introduced in the earlier slides. Focus on how you solve & why this matters, rather than features & technicalities.
5. Advantage
What is your secret sauce? Outline what makes your solution different & superior from the alternatives available in the market today.
6. Competition
Investors will be particularly interested in how you will outpace your competition (and who they are). Think of this slide as answering for why you are the best positioned to execute on this market opportunity ("why us?"), whereas the former Advantage slide is specific to the benefits of your product or service in the eyes of the consumer.
7. Traction / Experience
Showcase the milestones you have achieved already: ie. logos of partners & customers or key performance indicators (KPIs) such as customer acquisition cost, year-to-date (YTD) revenue, or total # of users.
8. Team
Any investor will want to know the people behind the idea; this is a good idea to highlight any notable qualifications, experience, press &/or advisors
9. Revenue
How will your business make money? Break down your business model in simple visual terms to demonstrate how your business is a cash flow machine
10. Investment
The investment slide not only covers how much money you're looking to raise, but also any specific terms such as the vehicle (ie. convertible note, SAFE), valuation, &/or discount.
11. Use of Funds
Every investment ask slide should accompany a rough schedule of your planned budget, and the broad categories (ie. G&A, R&D, Sales) for funds allocation.
12. Roadmap
A strong pitch deck will paint a clear picture of where you're going and how you got here (both past & future milestones).
* * *
A great pitch deck will usually include 10 – 15 slides detailing the topics outlined above, in order to convince potential investors. Any more, and your likely to bore your audience, and less slides may portray too little planning. Some presentations end with a call-to-action or contact information, to stimulate next steps.
How should I start creating a pitch deck?
To help you get started in building your own pitch deck:
Think about what makes you different: your product design, technology innovation, marketing strategy, distribution plan. Figure out what needs to be communicated and what you have that others can't copy. List all of these things as key points that need to be communicated before jumping into too much detail. Brainstorm headings and subheadings that will allow you communicate effectively with as little as one sentence per slide.
If you need help with design or organizing your ideas, you might find one of our pitch deck templates a helpful starting point to create a visually engaging & consistent pitch presentation.
Tips for creating a perfect pitch:
When building your pitch deck, don't focus on text-based information or clutter. Make sure there is enough spacing between words and sentences to ensure readability without any jumbles of letters. Another important thing when building your PowerPoint for potential investors is making it seem like an easy-to-understand report or document they would use every day at work. This means avoiding confusing jargon but not compromising on content quality!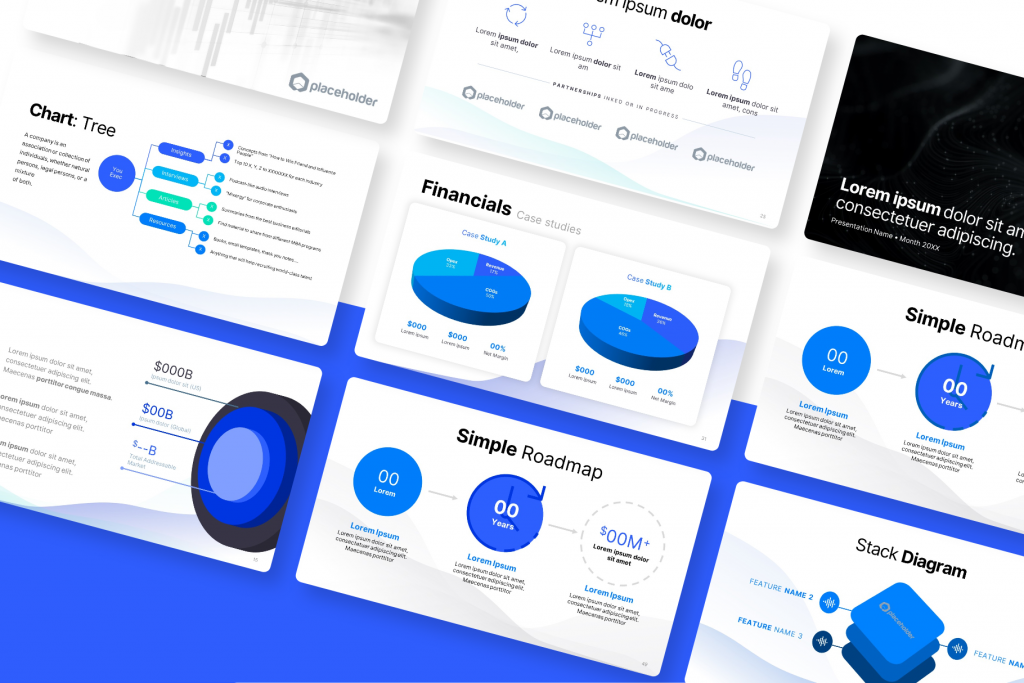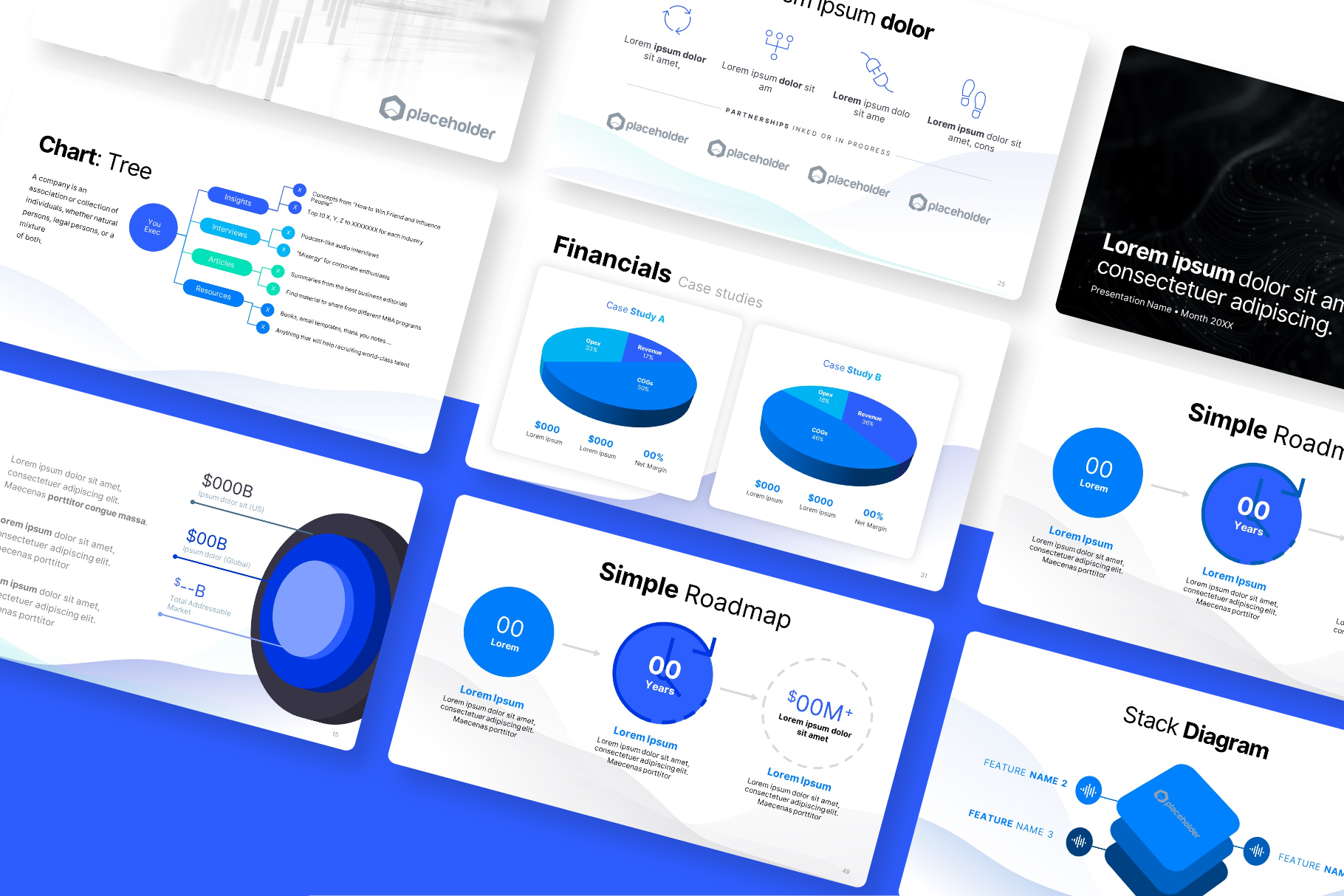 What is a pitch deck template?
A pitch deck template is a pre-designed presentation that can be customized by founders to fit their specific business. Pitch deck templates are presentation slides for businesses that already include all the key elements of pitch decks so you can effortlessly customize, change, add, or remove the contents of the slides according to their preferences. Startups are often best-suited to choose a pitch deck template that is specifically tailored to your specific industry, business model, or funding stage (ie. Angel, Seed, Series A, later-stage/M&A).
Key tips for a winning pitch deck
Regardless of what industry or business model your startup operates within, there are a few guiding principles that define any successful pitch presentation—
Focus on opportunity & ROI:
In your pitch deck, emphasize the opportunities rather than the problems. Additionally, investors will pay attention to Return on Investment (ROI) because this is where they will gain benefit. It would be better to focus on these slides rather than the features and the technical aspects.
Under-promise & overdeliver:
In this strategy, service providers go above and beyond what they originally promised to do to provide better service to the customer. Investing in this can thrill investors and yield good results.
Use less text:
Investors (like any human) tend to lose interest in too many blocks of text. Your audience is more likely to pay attention to visuals instead of text. Instead of only using text to explain your ideas and business, rely instead on using more graphs, pie charts, images, or videos to provide as much information as possible in a visual manner.
How to create a pitch deck?

Every pitch requires a unique approach tailored to its audience. Our team of experts has created pitch decks for different sectors, as well as various the stages of startup maturity & funding: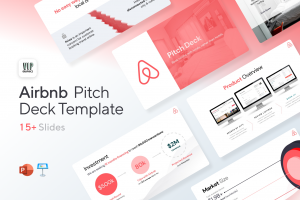 Airbnb Pitch Deck — Every field has a standard or a reference to guide our work; in the case of pitch decks, the Airbnb Pitch Deck is has become most popular and widely referenced models. . The simple and basic design of the pitch deck has made it the most commonly-used presentation formats. We tore down & recreated the Airbnb Pitch Deck Template so that you can easily create your pitch deck presentation based on this trusted resource.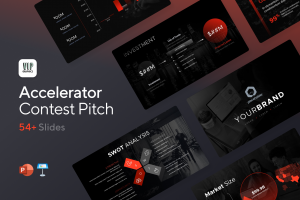 Accelerator Pitch Deck Template — Accelerators help startups by providing advice, resources, and most importantly, funding. Getting funds from the accelerator is tricky and usually requires multiple rounds of interviews. This is a multi-step process and the first and most important step is creating your pitch deck presentation. This pitch deck template for early-stage startups will surely help you win pitch contests and accelerators.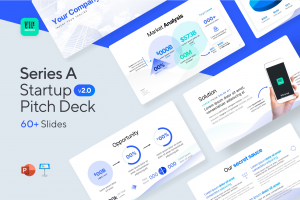 Series A Pitch Deck Template — Different types of pitch decks are used for different purposes: there are some for winning the next meeting, some for winning funds, etc. The Series A pitch deck is designed specifically to convince institutional investors to invest in your startup. This is a pitch deck template crafted just for startups, entrepreneurs and founders raising their first seed or Series A round of venture capital.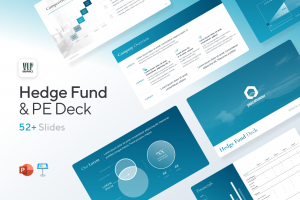 Mergers & Acquisitions Pitch Deck Template — This template is designed for later-stage businesses entering more sophisticated discussions such as mergers & acquisitions (M&A), late-stage investment (Series C+), or other partnerships & financing opportunities. Our team of experts created this presentation to empower founders to present with confidence to investment banks, private equity (PE) groups, and/or hedge funds (and vice versa).
Alternatively, feel free to browse our growing selection of pitch decks tailored for specific industries and businesses.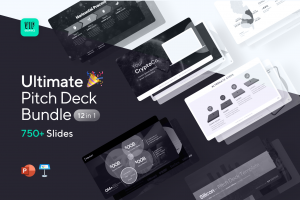 The popular Ultimate Pitch Deck Template designed by our team at VIP.graphics might be of interest to you: it's a selection of over 750+ cutting-edge slides, based on decks that closed millions of dollars in deals and investments for companies of all sizes, from high-growth startups to Fortune 100 companies. This simple yet powerful PowerPoint & Keynote pitch deck template bundle offers you ready-made elements & all the slides you need to make your business stand out: it only takes minutes to create and share this professional deck with your stakeholders & investors.