Finding the right balance between content, design, and timing is a difficult challenge that every presenter faces: whether you're creating a keynote speech or drafting an investor pitch deck.
Although I have made countless PowerPoint in my life, I have always wished there was some "magic rule" to design an effective presentation.
Early Apple employee & Silicon Valley VC expert, Guy Kawasaki, conceived just that, with his now famous "10/20/30" rule.
Marketers are well acquainted with the fact that engaging creative must inspire audiences to take a specific action, yet many PowerPoints conclude on a dull, bleary-eyed note.
The 10/20/30 rule is an effective principle to design captivating and effective presentations:
What is the 10/20/30 rule by Guy Kawasaki?
Guy Kawasaki's 10/20/30 rule is a simple but powerful paradigm for creating captivating presentations, with 3 straightforward requirements:
Every PowerPoint presentation should be…
no more than 10 slides,
no longer than 20 minutes,
and no fonts smaller than 30pt size.
By following this best practice, you can be sure to avoid overwhelming your audience by presenting information in a bite-size, easy-to-grasp format. The Guy Kawasaki pitch deck template has become a trusted tool for presenters across industries: from startup founders to keynote speakers!
Who is Guy Kawasaki?
As one of Apple's early employees, Guy Kawasaki used the title 'brand evangelist' to describe his position. During his time at Apple, he was primarily responsible for marketing their Macintosh computer line starting in 1984. Today, he is known for his work as a leading Silicon Valley VC, as well as Brand Evangelist for Canva.
Given that Kawasaki has extensive experience giving presentations that engage audiences, it's no surprise that the 10/20/30 rule works. Kawasaki introduced the concept in his book "Art of The Start," in which he explained how it works.
10 Slides
Kawasaki feels that audiences have difficulty comprehending more than ten concepts during a presentation. Therefore, one should aim for PowerPoint presentations with no more than ten slides, i.e., ten points to explain. Your audience will gain a better understanding of concepts if you use fewer slides and focus on the key points. The goal is creating slides with clear, concise information.
20 Minutes
Once your 10 slides are ready, you'll want to practice limiting your presentation time to 20 minutes. By knowing that you have only 20 minutes, you can plan and structure your talk better, so you can briefly & thoroughly address all the important points.
Kawasaki acknowledges that presentations can take longer than anticipated, but by saving time in your presentation you will have more time for questions and/or technical issues.
30 Points
You are probably familiar with the difficulties of reading small font on slides as an audience member during presentations.
Kawasaki's final rule is that no font should be smaller than 30 points in your presentation. With his background as an Apple employee (and the hallmark Keynote style they are known for), this is a natural rule of thumb.
You should be able to display your key points on your slides in a large enough font that users can read. Limiting the amount of text on a single slide to the character count of a tweet is a similarly effective strategy.
* * *
Each element of the rule works in tandem: the 10-slide limit forces you to select the most important points for your audience to see. Making use of a 20-minute timeline ensures that you contextualize the slides as you speak, so you don't go into unnecessary detail. As a final rule of thumb, the 30-point fonts minimum prevents any large blocks of text in your slides.
In combination, by considering slide count, text size, and presentation length, you can rest assured that audiences will be captivated by your words as you explain your work.
How-to create your own 10/20/30 presentation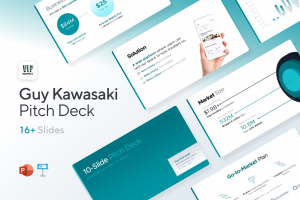 Get a jumpstart on your next presentation and download the Guy Kawasaki Pitch deck template — easy-to-edit PowerPoint & Keynote slides based directly on the Silicon Valley veteran's 10/20/30 rule. Raising institutional capital from accredited investors requires a unique strategic approach to an investor pitch presentation, and Guy Kawasaki perhaps knows this best: this template was crafted to give you the tools to nail your next presentation.
You might find our other resources on how-to create a pitch deck helpful, or benefit from using one of our expert-designed templates:
Our team has helped create decks that have closed over $100M+ in deals & funding for leading startups and even VC firms. You can leverage this experience and get a jumpstart on your pitch with one of our easy-to-use presentation templates, one-pagers, or financial models.
Every pitch requires a unique approach tailored to its audience. Our team of experts have created pitch decks for different industries, as well as funding stages: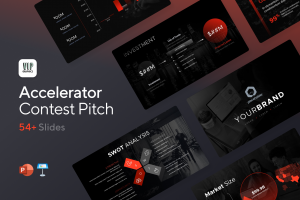 Accelerator Pitch Deck Template — The Accelerator Pitch Deck template was crafted for early-stage founders seeking to win funding &/or investment from pitch contests, accelerators, incubators, and angels or VC firms. Winning a pitch contest or being accepted to a prominent accelerator program requires a unique strategic approach to an investor pitch presentation.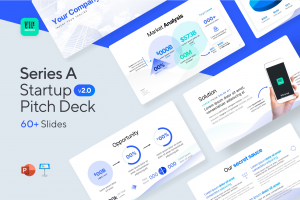 Series A Pitch Deck Template — A pitch deck template for startups and founders raising funding: Smart, actionable slides that work. This is a pitch deck template built specifically for startups, entrepreneurs and founders raising their first seed or Series A round of institutional capital.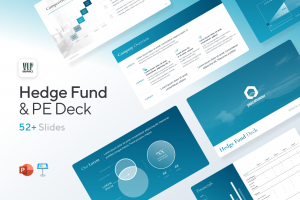 Mergers & Acquisitions Pitch Deck Template — Perfect Pitch Deck™ is a template crafted for later-stage businesses entering more sophisticated discussions such as mergers & acquisitions (M&A), late-stage investment (Series C+), or other partnerships & financing opportunities. Our team of experts created this presentation to empower founders to present with confidence to investment banks, private equity (PE) groups, and/or hedge funds (and vice versa).
Alternatively, feel free to browse our growing selection of pitch decks tailored for specific industries and businesses.