Aisera uses artificial intelligence to auto-complete actions and workflows by integrating with existing enterprise apps, like Salesforce and ServiceNow. The company was founded in 2017 by Muddu Sudhakar, who previously launched e-discovery vendor Kazeon (which was acquired by EMC in 2009), big data startup Cetas (acquired by VMware in 2012), and cybersecurity firm Caspida (acquired by Splunk in 2015).
When a request comes in via email, phone, ticket, or chat, Aisera tries to undertsand it by analyzing it with a language-learning algorithm. The platform then uses customer data from sources like ServiceNow, Salesforce, Oracle, Confluence, and SharePoint to customize its responses to the request. Following that, Aisera generates a list of actions that must be done in order to fulfill the request, which it then presents to a "workflow management" engine.
"AI has become necessary to support employees in today's highly inflationary, work-from-anywhere environment and customers who expect to get the help they need expeditiously," said Muddu Sudhakar, founder, and CEO, of Aisera. "Advances in conversational AI deliver better experiences than traditional support solutions like legacy ITSM [information technology service management] and customer support providers."
Aisera's technologies can be integrated into existing tools and are easily scalable to any size corporation. Whether it's a small software company or a big corporation, Aisera will relieve employees of less important inquiries while also assisting consumers in resolving their issues as fast as possible.
"Our customers have seen exceptionally good results in the areas of improving user experience, employee productivity, and decreasing costs. Our customers are achieving over 60% auto-resolutions and self-service for an improved experience, 70% improvements in user productivity, and overall average cost savings of 80%." Sudhakar explained. 
The pandemic has been a blessing in disguise for Aisera and led to unprecedented growth for the company. In addition to achieving year-over-year growth of over 300% and expanding its customer base to more than 75 million users: the company has secured federal, state, military, and defense agencies several Fortune 1000 customers, including Grant Thornton, Zoom, Workday, McAfee, Chegg, Carta, Dave, and others.
"We thought [the pandemic] would be a problem, but Aisera's technology does very well in remote environments. Customers wanted AI and automation to drive user engagement and adoption," Sudhakar said "Now in the current market downturn, we're seeing the need for cost reduction on licenses and people. This is driving demand for Aisera as we're able to help organizations reduce costs for IT and business services."
This impressive growth has led to a $90M Series D funding round led by the Growth Equity business within Goldman Sachs Asset Management (Goldman Sachs) and Thoma Bravo, with participation from True Ventures, Menlo Ventures, Norwest Venture Partners, Icon Ventures, World Innovation Lab (WIL), Zoom Ventures, Khosla Ventures, First Round Capital, Maynard Webb (Webb Investment Network), Ram Shriram (Sherpalo Ventures), and Silicon Valley Bank.
"ITSM revolutionized how organizations deliver services to their customers and employees, but these services have been commoditized and have often been hamstrung by human intervention," said David Campbell, Managing Director, Goldman Sachs. "With the advent of conversational AI technology, the market is ripe for disruption, and we invested in Aisera because we believe it is one of the only companies in this space poised to deliver end-to-end experiences that align with the needs of modern users."
Here's a look at the pitch deck that was used to raise $90M in a Series D round led by Goldman Sachs Asset Management.
Browse the exact example slides from the pitch deck that Aisera used to raise $90M.
1. Problem Slide
Human brains are drawn to stories and have an innate need for narrative, whether it is in the form of schemas, scripts, cognitive maps, mental models, or metaphors. To leverage this psychological need, a pitch deck should be focused around a narrative-based flow to engage investors. Much like how a startup's journey revolves around the problem it solves, the pitch deck's narrative will center on the problem too: why it exists, how it can be solved, and why this team is best placed to solve it.
A well-crafted pitch deck will use the problem slide to introduce the story while captivating the investors, similar to how movies, TV shows, or books always include hooks that make you flip the page, and remain on the channel through the commercial or keep you in your theatre seat.
The problem part of Aisera's pitch deck includes numerous slides that illustrate the challenges organizations encounter and how they affect users and businesses (another essential role of the problem slide). The slides are simple and clean, with contemporary iconography and vibrant colors. Overall, the problem section does an excellent job of explaining the problem and its seriousness.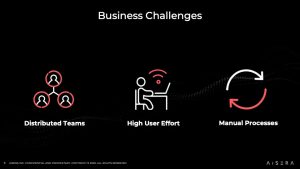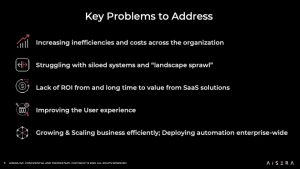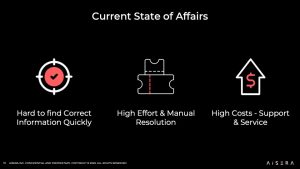 2. Why Now Slide
DocSend research on what makes a successful pitch deck found out that the "Why Now" slide showed up nearly 54% of the time in successful decks versus 38% of the time in unsuccessful decks. Additionally, among the decks that did include the "Why Now" slide, investors spent 36% more time on this section for decks that ultimately received funding.
The purpose of the "Why No?" slide is to explain to potential investors why now is the right time to pursue this specific market opportunity. Shrewd entrepreneurs use the timing of a startup to highlight the venture's potential for success by articulating "why now" is the ideal moment to launch.
There can be many reasons why now is the perfect time for your startup:
The market is ready for the solution because of some shift.

The technology has finally matured enough.

Your startup has the first-mover advantage.

The first-mover primed the market and now you can move in with a better solution and/or lower price point.
The Aisera pitch deck's Why Now slide uses basic but powerful economic metrics to demonstrate why utilizing AI to decrease costs and enhance productivity is the right approach. It can be argued that the slide could've utilized better graphics instead of the first two Google search images, Nonetheless, the content is on point, and astute investors would recognize that shifting market conditions justify the growing demand for AI and, thus, the Series D investment round.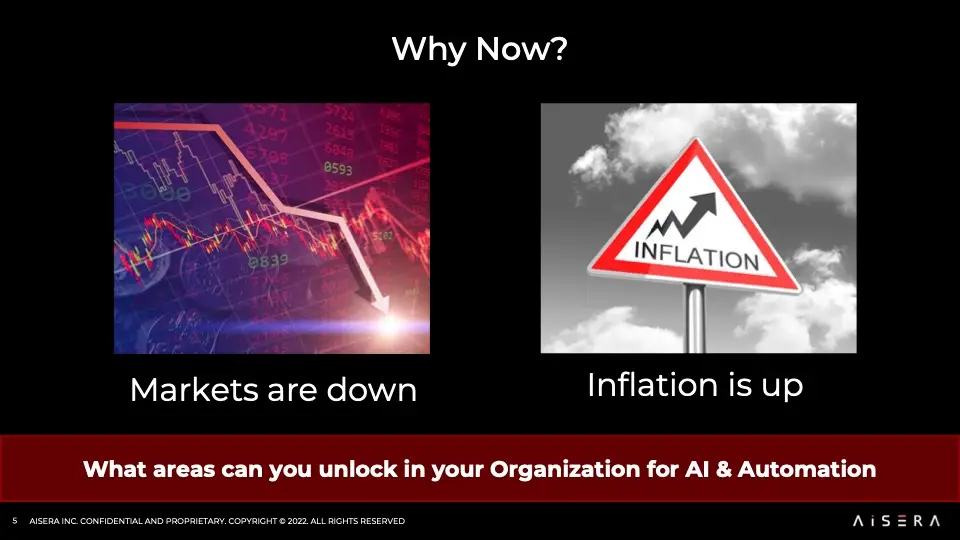 3. Traction Slides
You can have a terrific team, be in a large/exciting market, and have an excellent product/vision for creating a better world, yet still be met with investor skepticism and disagreement. Traction is one thing that can help dispel these mists of doubt. By citing traction metrics, you can demonstrate that your firm has established the product-market fit (PMF). Arguably, your startup's traction has the greatest impact on your financing outcomes (value, quality of investors, conditions, etc.) than any other KPI.
In addition to receiving numerous awards, Aisera has several Fortune 100 customers and has accumulated exceptional traction. Recognizing the significance of these accomplishments, the pitch deck includes a number of traction slides, ranging from the most prominent client names to awards & accolades. Overall, the traction slides provide a compelling case for the viability of Aisera's products and business model.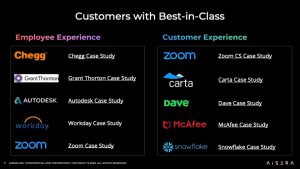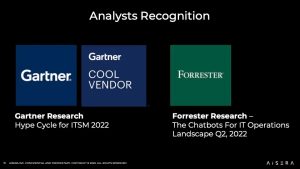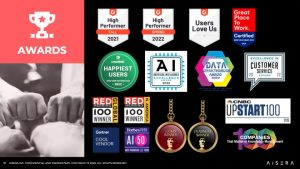 How-to create your own pitch deck like Aisera
We hope you learned something from the Aisera pitch deck, and that you are able to use these insights for your own business.  If you'd like to, you can bookmark it at bestpitchdeck.com/aisera
Although it probably goes without saying that having a successful business (outside just their pitch deck) was integral to their success, it is critical for any startup to ensure your vision is portrayed properly. That's where crafting the perfect pitch deck comes essential: 
You might find our other resources on how-to create a pitch deck helpful, or benefit from using one of our expert-designed templates:
Our team has helped create decks that have closed over $100M+ in deals & funding for leading startups and even VC firms. You can leverage this experience and get a jumpstart on your pitch with one of our easy-to-use presentation templates, one-pagers, or financial models.
Every pitch requires a unique approach tailored to its audience. Our team of experts has created pitch decks for different industries, as well as funding stages:
Software & SaaS Pitch Deck — You might be interested in the popular Software Pitch Deck designed by our team of experts at VIP.graphics: cutting-edge slides based on decks that closed millions in deals & funding. This template is perfect for startups in the software space: from AI/ML startups to SaaS applications!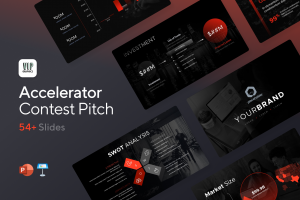 Accelerator Pitch Deck Template — The Accelerator Pitch Deck template was crafted for early-stage founders seeking to win funding &/or investment from pitch contests, accelerators, incubators, and angels or VC firms. Winning a pitch contest or being accepted to a prominent accelerator program requires a unique strategic approach to an investor pitch presentation.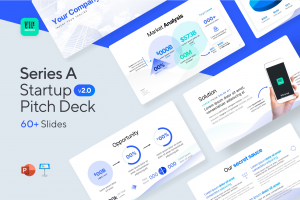 Series A Pitch Deck Template — A pitch deck template for startups and founders raising funding: Smart, actionable slides that work. This is a pitch deck template built specifically for startups, entrepreneurs and founders raising their first seed or Series A round of institutional capital.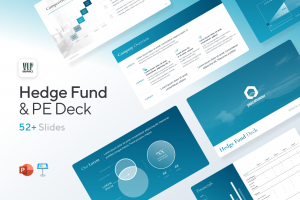 Mergers & Acquisitions Pitch Deck Template — Perfect Pitch Deck™ is a template crafted for later-stage businesses entering more sophisticated discussions such as mergers & acquisitions (M&A), late-stage investment (Series C+), or other partnerships & financing opportunities. Our team of experts created this presentation to empower founders to present with confidence to investment banks, private equity (PE) groups, and/or hedge funds (and vice versa).