Founded by Brazilians Henrique Dubugras and Pedro Franceschi on January 3, 2017, Brex started as a Virtual Reality company. The duo had previously created and sold Pagar.me, ​​a payment processor system, providing a full payment service for merchants who want to accept payments online. After completing the Y Combinator program in 2017, the entrepreneurs became aware of the challenges that companies encounter while seeking investment from banks.
"When Pedro and I originally joined Y Combinator, we assumed the payment system problems Pagar.me was solving in Brazil were already solved in the U.S., so we entered the accelerator with an idea to build a VR business. […] When we saw no one in YC could get a corporate card, we realized that the payments industry here needed to be shaken up too, so we started Brex", Henrique told in an interview.
Henrique and Pedro scrapped their original plan and built a business credit card startup that looked at how much money a company had raised, existing cash balances, and income in addition to credit scores. Brex was the fastest U.S. business-to-business startup to be valued at over $1 billion, raising $215 million in three rounds in its first 22 months.
Since then, the company has progressed from simply providing credit cards to becoming a one-stop finance shop for its customers. In April 2021, Brex announced that it has consolidated credit cards, company cash accounts, and new spend control and bill pay software into a single dashboard as part of Brex Premium, a $49-per-month subscription.
"Before we thought it would be more like a platform layer in which we build a credit card, banks and software companies would integrate with us, and it would be more like Android. The more time passes, Brex has evolved to be more like the iPhone, in which it's more of a vertically integrated closed system."  Henrique told the Takeoff.
In August 2021 the company announced Brex Venture Debt which provides a less dilutive, more founder-friendly source of capital that gives companies the financial tools to scale quickly. It differs from traditional bank offerings by providing customers with longer terms and a faster diligence process. Brex Venture Debt is offered to certain high-growth, venture-backed customers with scalable, recurring revenue business models including companies in the SaaS software, fintech, B2B marketplace, and B2C subscription sectors.
Because of their unique product offering, Brex is experiencing steller growth. The company said that it grew its total customer figure by 80% in the first quarter of 2021, "with total monthly customer additions increasing by 5x."
"The number of premium subscribers that we now have definitely blown away our expectations," Dubugras told Techcrunch. This growth has led to multiple funding rounds, the latest one being as recent as Apr 26, 2021.
| | | | |
| --- | --- | --- | --- |
| Date | Funding Round | Money Raised | Pre-Money Valuation |
| Mar 20, 2017 | Pre Seed Round | $120k | N/A |
| Apr 1, 2017 | Series A | $7M | N/A |
| Jun 19, 2018 | Series B | $50M | N/A |
| Oct 5, 2018 | Series C | $125M | $975M |
| Apr 16, 2019 | Debt Financing | $100M | N/A |
| Jun 11, 2019 | Series C | $100M | $2.5B |
| Dec 11, 2019 | Debt Financing | $200M | N/A |
| May 19, 2020 | Series C | $150M | $2.9B |
| Apr 26, 2021 | Series D | $425M | $7.4B |
Here's a look at the pitch deck that was used in to raise $50M for Series B:
Browse the exact example slides from the pitch deck that Brex used to secure $50 million in a Series B funding round.
1. Team Slides
One of the most crucial variables influencing venture capitalists' investment decisions is the team. Investors recognize that a groundbreaking idea, attractive product, or powerful business model alone will not propel a startup to success; instead, it will take a dedicated and experienced founding team to guide the company through different hurdles.
The importance of the team slide is likewise acknowledged in Brex's pitch deck, which places it right after the cover slide. Despite their importance, team slides are fairly simple: primarily consisting of avatars, titles, and previous experiences. The Brex slide supplements this information with logos of their investors, as well as team members' former affiliations.

2. Problem Slide
The purpose of the problem slide, as the name implies, is to explain the problem that your startup is attempting to solve. Before getting into how your company is planning to solve the issue, the problem itself is essential since it gives investors key information such as the severity of the problem, how it affects the masses, current solutions, and what kind of market is affected.
The Brex pitch decks dives into the problem across multiple slides, incorporating numerous images & clippings to highlight the real-world issue, drawing on a "show don't tell" approach.
Given that investors deal with startups and funding regularly, they can easily relate to the problem.

3. Product Slides
The product slide usually shows your startup's solution in action. Series B funding is all about expanding the company into new markets, which requires having an innovative product that has already gaining significant traction. It's always a good idea to use images, screenshots, and diagrams to show how your products actually works.
The product slides in the Brex pitch deck kill two birds with one stone: showcasing the product features, as well as highlighting traction (by featuring logos of companies that are using their products).

How-to create your own pitch deck like Brex
We hope you learned something from the Brex pitch deck, and you are able to use these insights for your own business.  If you'd like to, you can bookmark it at bestpitchdeck.com/brex
Although it probably goes without saying that having a successful business (outside just their pitch deck) was integral to their success, it is critical for any startup to ensure your vision is portrayed properly. That's where crafting the perfect pitch deck comes essential: 
You might find our other resources on how-to create a pitch deck helpful, or benefit from using one of our expert-designed templates:
Our team has helped create decks that have closed over $100M+ in deals & funding for leading startups and even VC firms. You can leverage this experience and get a jumpstart on your pitch with one of our easy-to-use presentation templates, one-pagers, or financial models.
Every pitch requires a unique approach tailored to its audience. Our team of experts have created pitch decks for different industries, as well as funding stages: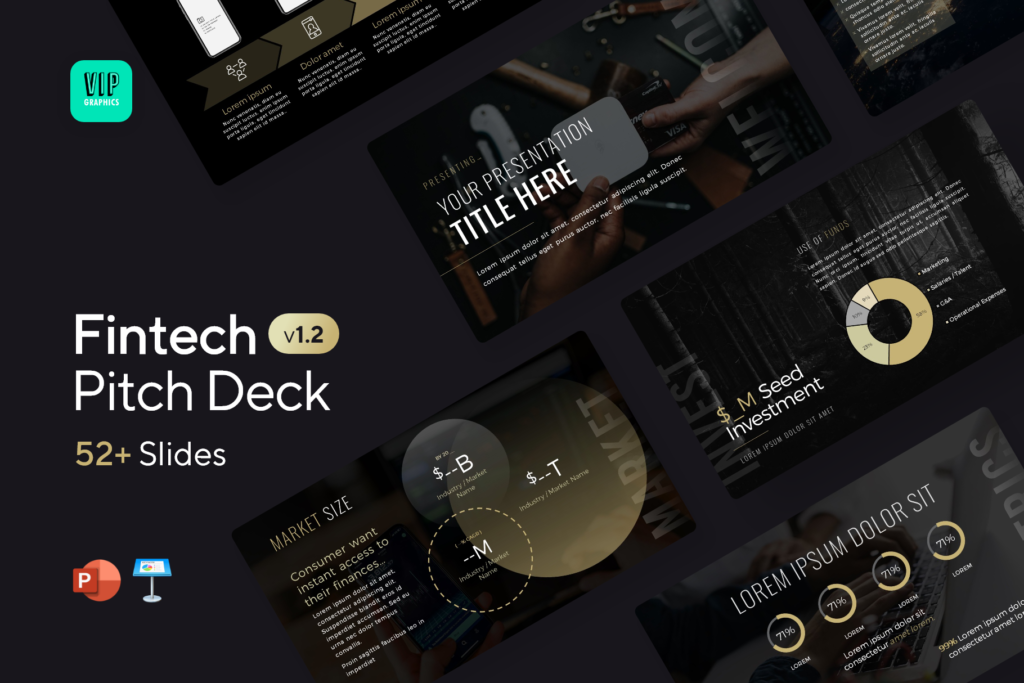 Fintech Pitch Deck Template — You might be interested in the popular Fintech Pitch Deck Template designed by our team at VIP.graphics: cutting-edge slides based on decks that closed millions in deals & investments for orgs of all sizes: from high-growth startups to Fortune 100 corporations. This easy-to-customize template for PowerPoint & Keynote offers you ready-made elements & all the essential slides to help your fintech startup stand out.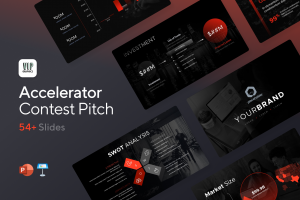 Accelerator Pitch Deck Template — The Accelerator Pitch Deck template was crafted for early-stage founders seeking to win funding &/or investment from pitch contests, accelerators, incubators, and angels or VC firms. Winning a pitch contest or being accepted to a prominent accelerator program requires a unique strategic approach to an investor pitch presentation.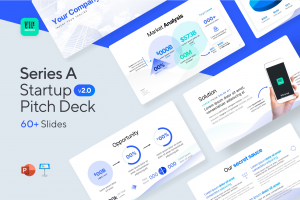 Series A Pitch Deck Template — A pitch deck template for startups and founders raising funding: Smart, actionable slides that work. This is a pitch deck template built specifically for startups, entrepreneurs and founders raising their first seed or Series A round of institutional capital.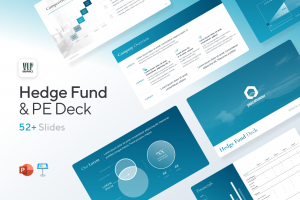 Mergers & Acquisitions Pitch Deck Template — Perfect Pitch Deck™ is a template crafted for later-stage businesses entering more sophisticated discussions such as mergers & acquisitions (M&A), late-stage investment (Series C+), or other partnerships & financing opportunities. Our team of experts created this presentation to empower founders to present with confidence to investment banks, private equity (PE) groups, and/or hedge funds (and vice versa).
Alternatively, feel free to browse our growing selection of pitch decks tailored for specific industries and businesses.