Amagi Media Labs is an Indian cloud broadcast and targeted advertising startup that helps content owners build their own channels and distribute them to Ad-supported video on demand (AVOD) platforms like Samsung TV Plus, The Roku Channel, and Pluto TV.
They also offer 24×7 cloud-managed services bringing simplicity, advanced automation, and transparency to the entire broadcast operations for traditional TV networks.
"Video is a complex technology to manage — there are large files and a lot of computing," Subramanian, the CEO of Amagi Labs said. "What Amagi does is enable a content owner with zero technology knowledge to simplify that complex workflow and scalable infrastructure. We want to make it easy to plug in and start targeting and monetizing advertising."
Amagi Media Labs started as a small SaaS startup in India in 2008, with its sights set on the rapidly growing streaming sector. Initially, the company focused on broadcast, assisting brands in geotargeting their messaging at the hyper-local level in India's various areas. Focusing on the broadcast, however, was mainly an effort to bide time until TV streaming ramped up.
"We were waiting for streaming TV to 'happen,'" Subramanian said, and "around 2014, we saw the writing on the walls," which is when Amagi pivoted from geotargeting to a wholly cloud-based business with technology for monetizing targeted video inventory across channels.
Currently, Amagi works with 500+ content brands, managing 2000+ channel deliveries, with deployments in over 40 countries. They have a presence in New York, Los Angeles, Toronto, London, Paris, Singapore, New Delhi, and Bangalore.
The company recently announced a $95 million funding round that brings the total funding raised to date to $150 million. Accel, Avataar Ventures, and Norwest Venture Partners joined existing investor Premji Invest and Nadathur Holdings in the funding round, which included buying out stakes held by Emerald Media and Mayfield Fund.
According to Subramanian, the company plans to use the new funding for sales expansion, R&D to invest in the company's product pipeline, and potential M&A opportunities.
Here's a look at the pitch deck that was used in this latest funding round:
Browse the exact example slides from the pitch deck that Amagi Media used to secure $95 million in a funding round by Accel, Avataar Ventures, and Norwest Venture Partners.
1. Cover Slide
It's easy to overlook the significance of a good cover slide. This can prove to be a big mistake, because the cover slide usually sets the tone for the rest of the presentation and aids the investor by establishing the first impression of the opportunity they are about to examine.
The strongest cover slides are concise, leave a lasting impact, and generate enough urgency and curiosity to keep investor's attention.
Amagi's cover slide checks all of these requirements: it features corporate branding and a logo, summarizes the business in a single statement, and has self-explanatory compelling graphics showing service in action. The bottom layout design emphasizes the company's traction in numbers, while the top-right demonstrates their global reach by listing cities.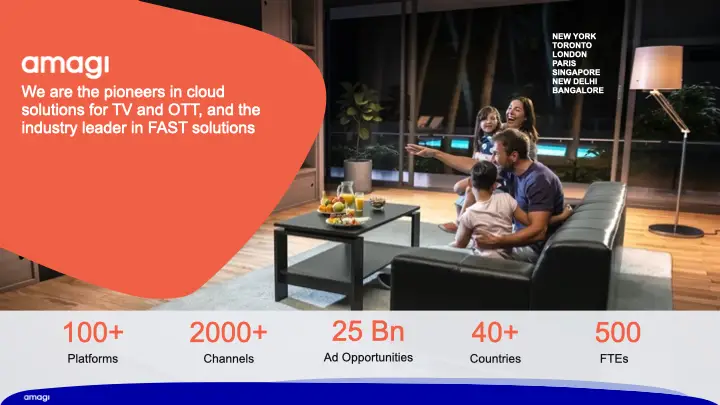 2. Value Proposition Slide
A company's value proposition statement should succinctly describe the unique benefits that it promises to deliver. In a pitch deck, the purpose of this slide is to persuade potential investors that your service or product will provide greater value to your customers than competing offerings. As a founder, you understand why your firm is successful, but will potential investors understand what makes your brand unique?
Simple designs have been shown to be easier to understand and recall than complicated ones: The value proposition slide for Amagi is so straightforward that it just takes 2 seconds to comprehend how Amagi may benefit your company. Even if you are unfamiliar with the company, you can see how Amagi's service can be used to establish channels, distribute content, and generate revenue.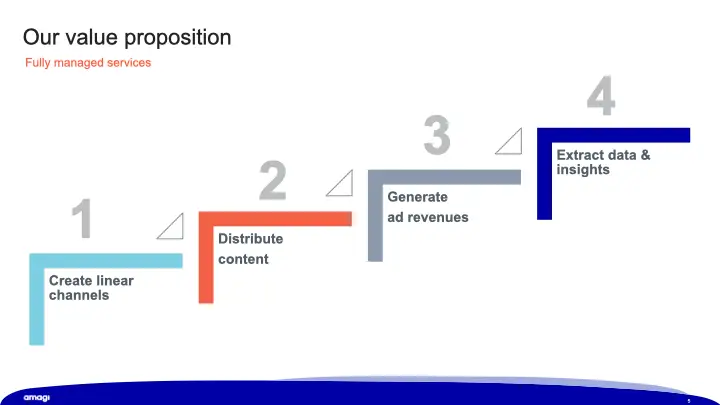 3. Product Slides
The product slide is used to describe the core offering in detail. Generally, this page will feature screenshots, mockups, videos, and/or callouts highlighting the essential features of your product. The product slide is usually an extension of the solution slide and expands on why your service is better than the competitors and incumbents.
In the case of the Amagi pitch deck, we find several product slides, each explaining a different component of the Amagi platform. Each slide highlights the various benefits and features, accompanied by a real-life screenshot of the product in-action.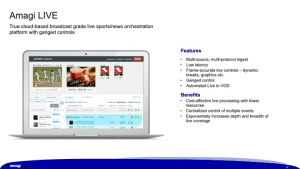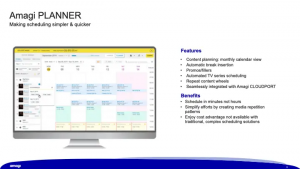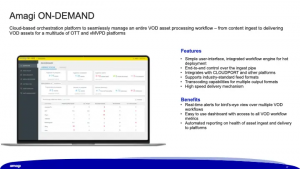 How-to create your own pitch deck like Amagi Media
We hope you learned something from the Amagi pitch deck, and you are able to use these insights for your own business.  If you'd like to, you can bookmark it at bestpitchdeck.com/amagi
Although it probably goes without saying that having a successful business (outside just their pitch deck) was integral to their success, it is critical for any startup to ensure your vision is portrayed properly. That's where crafting the perfect pitch deck comes essential: 
You might find our other resources on how-to create a pitch deck helpful, or benefit from using one of our expert-designed templates:
Our team has helped create decks that have closed over $100M+ in deals & funding for leading startups and even VC firms. You can leverage this experience and get a jumpstart on your pitch with one of our easy-to-use presentation templates, one-pagers, or financial models.
Every pitch requires a unique approach tailored to its audience. Our team of experts have created pitch decks for different industries, as well as funding stages:
Film & TV Pitch Deck Template — You might be interested in the popular Film & TV Pitch Deck Template designed by our team at VIP.graphics: cutting-edge slides based on decks that closed millions in deals & investments for orgs of all sizes: from high-growth startups to Fortune 100 corporations. This easy-to-customize template for PowerPoint or Keynote offers you ready-made elements & all the essential slides to help your video-on-demand (VoD) business stand out in the competitive television & streaming industry.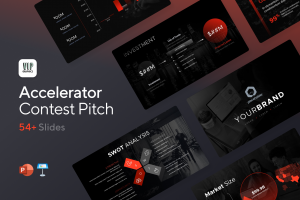 Accelerator Pitch Deck Template — The Accelerator Pitch Deck template was crafted for early-stage founders seeking to win funding &/or investment from pitch contests, accelerators, incubators, and angels or VC firms. Winning a pitch contest or being accepted to a prominent accelerator program requires a unique strategic approach to an investor pitch presentation.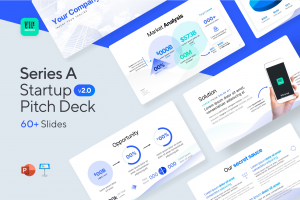 Series A Pitch Deck Template — A pitch deck template for startups and founders raising funding: Smart, actionable slides that work. This is a pitch deck template built specifically for startups, entrepreneurs and founders raising their first seed or Series A round of institutional capital.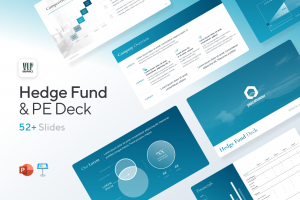 Mergers & Acquisitions Pitch Deck Template — Perfect Pitch Deck™ is a template crafted for later-stage businesses entering more sophisticated discussions such as mergers & acquisitions (M&A), late-stage investment (Series C+), or other partnerships & financing opportunities. Our team of experts created this presentation to empower founders to present with confidence to investment banks, private equity (PE) groups, and/or hedge funds (and vice versa).
Alternatively, feel free to browse our growing selection of pitch decks tailored for specific industries and businesses.