Secureframe is a provider of compliance automation software that streamlines SOC 2, ISO 27001, PCI DSS, and HIPAA compliance to help businesses become enterprise-ready. Secureframe provides continual compliance monitoring in addition to automatic compliance, ensuring that service providers securely manage data to safeguard the organization's interests and the privacy of its clients.
"When I was at Lob, we dealt with a lot of issues around security and compliance because we were sometimes dealing with very sensitive data, and we'd hop on calls with customers, had to complete thousand-line security questionnaires, do exhaustive security reviews, and this was a lot for a startup of our size at the time. But it's just what our customers needed. So I started to see that pain," Shrav Mehta, CEO said.
The company's annual recurring revenue increased by 10x in 2021, while its customer base increased by 7x. Some of the customers include Stream, Dooly, Lob, Ramp, Instabase, Slab, and Doodle, among others.
Secureframe's growth can be credited to the platform's ease of use, which connects with over 100 major business applications to scan for compliance-related issues; procedures that could take up to eight weeks can be reduced to days or even shorter with its capabilities.
"Because Secureframe is basically adding a lot of automation with our software — and making the process so much simpler and easier — we're able to bring the cost down to a point where this is something that a lot more companies can afford," Mehta explained. "This is something that everyone can get in place from day one, and not really have to worry that, 'hey, this is going to take all of our time, it's going to take a year, it's going to cost a lot of money.' […] We're trying to solve that problem to make it super easy for every organization to be secure from day one." he said.
Secureframe announced that it has raised $56 million in a Series B funding round and tripled the $18 million it raised as part of a Series A round last year. The latest round was backed by Silicon Valley mainstay Kleiner Perkins and Google-owned Gradient Ventures.
Secureframe is spearheading the drive to modernize security compliance, according to Josh Coyne of Kleiner Perkins. "Secureframe is turning the industry on its head by automating compliance certifications end-to-end, serving as the single source of truth for commercial compliance," he said.
Here's the pitch deck used in Secureframe's $56M Series B round:
Browse the exact example slides from the pitch deck that Secureframe used to secure $56 million in a Series B round by Silicon Valley mainstay Kleiner Perkins and Google-owned Gradient Ventures.
1. Problem Slide
The purpose of a problem slide is to explain the 'why' behind your startup. As a founder, you probably understand the answer to this question all too well; however, being able to convey it to others effectively (especially investors) will make all the difference in your startup's success.
Secureframe's pitch deck includes everything a good problem slide should have: a strong title, verifiable facts, and visual proof. The graphic with the news clippings is clever since it depicts how major businesses are struggling with compliance. Any savvy investor can see that existing solutions are failing and the compliance industry is ready for a better offering.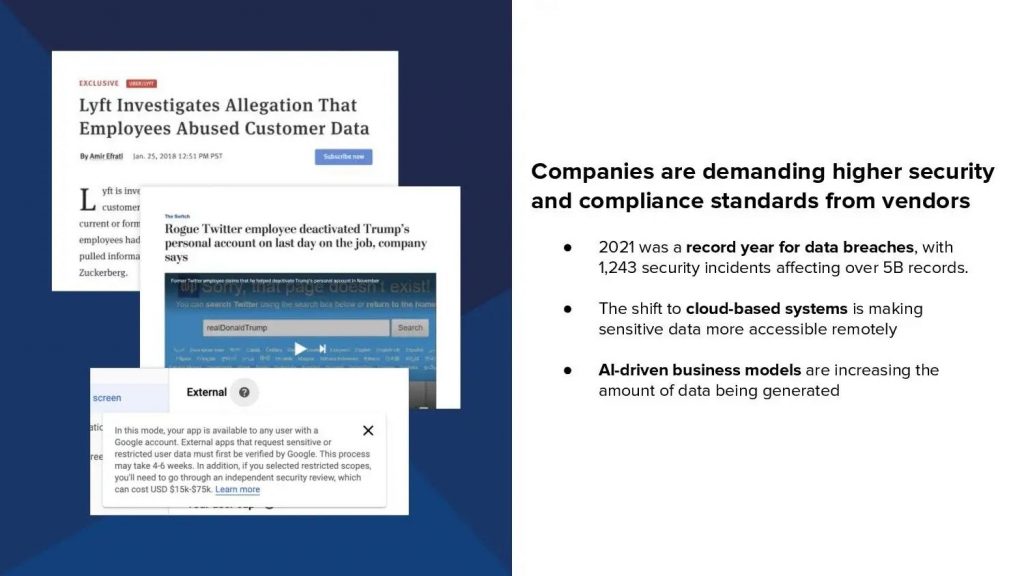 2. Market Slide
VC's particularly care about the market because it determines the company's upside potential. The total addressable market (TAM) is important as the investors are trying to look six years down the road, not six months — and it's impossible to build a billion-dollar business if the TAM is $100 million.
Market slides generally share various industry-related statistics and growth trends to demonstrate the opportunity is large (billions of dollars) and growing quickly (double-digit CAGR).
Secureframe's market slide does an excellent job of not overloading the slide with numbers. The current TAM is presented in large, bold text with just five supporting bullets highlighting trends driving market expansion. Emphasizing the different security breaches involving several well-known companies helps to illustrate the necessity for a higher quality compliance automation system in the industry. A simple bar cart is used to visually demonstrate the rapid growth of the security compliance market.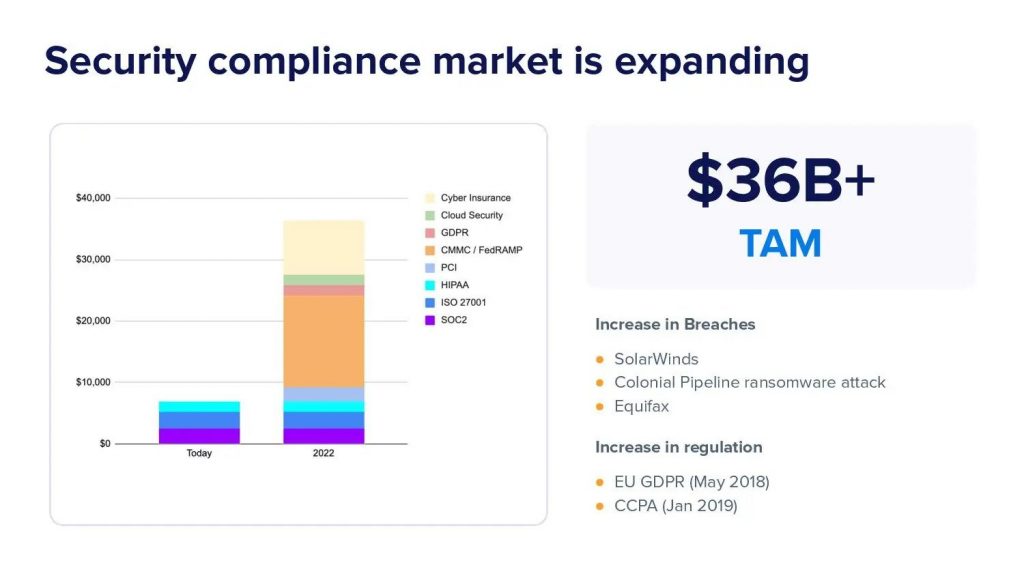 3. Traction Slides
The traction slide is just as critical for multibillion-dollar corporations as it is for early-stage startups. This slide generally showcases the big brands that trust the product being sold, and any relevant quantitative metrics demonstrating traction. Being able to reference a portfolio of well-known corporations as customers can work wonders for a startup pitch, and boost investors' confidence.
The Secureframe traction slide is made up of minimalist grid of logos from top clients, along with a few testimonials. It's a simple but powerful way to demonstrate to investors that you have a legitimate operational product with a promising future. On a separate slide, Secureframe laid out some of the key numbers behind their growth (80+ employees, 100+ integrations, and $78M in funding).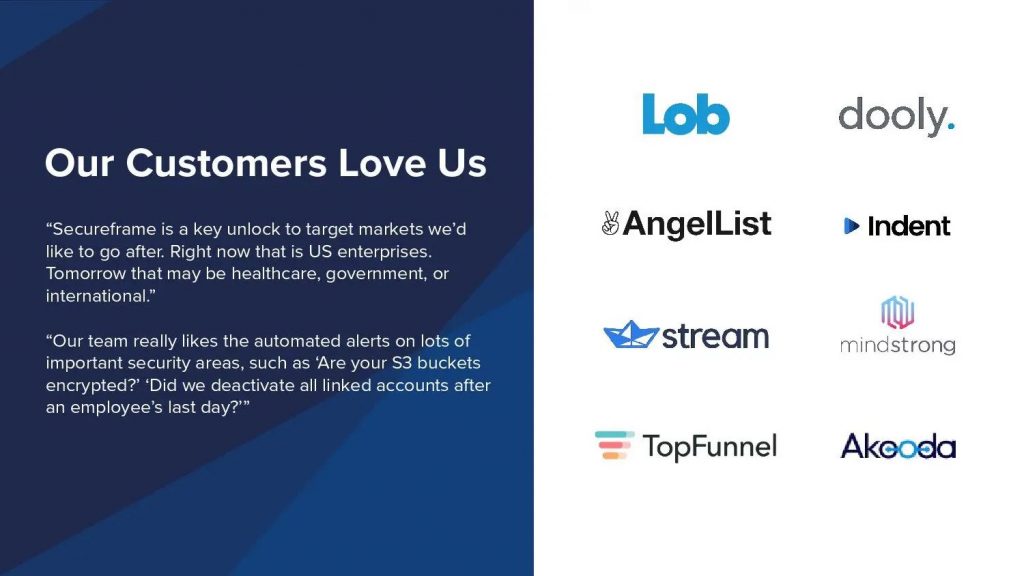 How-to create your own pitch deck like Secureframe
We hope you learned something from the Secureframe pitch deck, and you are able to use these insights for your own business.  If you'd like to, you can bookmark it at bestpitchdeck.com/secureframe
Although it probably goes without saying that having a successful business (outside just their pitch deck) was integral to their success, it is critical for any startup to ensure your vision is portrayed properly. That's where crafting the perfect pitch deck comes essential: 
You might find our other resources on how-to create a pitch deck helpful, or benefit from using one of our expert-designed templates:
Our team has helped create decks that have closed over $100M+ in deals & funding for leading startups and even VC firms. You can leverage this experience and get a jumpstart on your pitch with one of our easy-to-use presentation templates, one-pagers, or financial models.
Every pitch requires a unique approach tailored to its audience. Our team of experts have created pitch decks for different industries, as well as funding stages: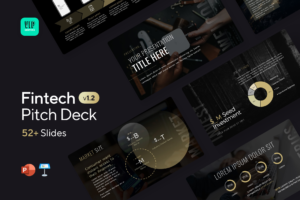 Fintech Pitch Deck Template — You might be interested in the popular Fintech Pitch Deck Template designed by our team at VIP.graphics: cutting-edge slides based on decks that closed millions in deals & investments for orgs of all sizes: from high-growth startups to Fortune 100 corporations. This easy-to-customize template for PowerPoint or Keynote offers you ready-made elements & all the essential slides to help your video-on-demand (VoD) business stand out in the competitive television & streaming industry.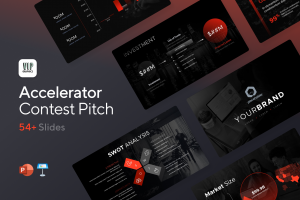 Accelerator Pitch Deck Template — The Accelerator Pitch Deck template was crafted for early-stage founders seeking to win funding &/or investment from pitch contests, accelerators, incubators, and angels or VC firms. Winning a pitch contest or being accepted to a prominent accelerator program requires a unique strategic approach to an investor pitch presentation.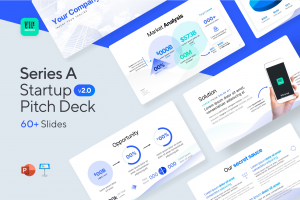 Series A Pitch Deck Template — A pitch deck template for startups and founders raising funding: Smart, actionable slides that work. This is a pitch deck template built specifically for startups, entrepreneurs and founders raising their first seed or Series A round of institutional capital.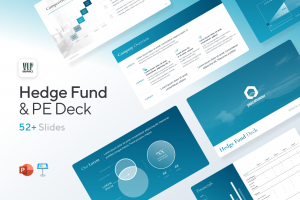 Mergers & Acquisitions Pitch Deck Template — Perfect Pitch Deck™ is a template crafted for later-stage businesses entering more sophisticated discussions such as mergers & acquisitions (M&A), late-stage investment (Series C+), or other partnerships & financing opportunities. Our team of experts created this presentation to empower founders to present with confidence to investment banks, private equity (PE) groups, and/or hedge funds (and vice versa).
Alternatively, feel free to browse our growing selection of pitch decks tailored for specific industries and businesses.