Ark Kapital is a data-driven precision financing company that helps early-stage startups thrive by providing long-term loans while keeping founders in control and lowering the risk for investors.
The Swedish-based startup, which was launched in 2021, analyses the financial health of early-stage tech businesses using AI and machine learning and provides precise loans based on their performance.
"Any founder will tell you how difficult fundraising can be: retelling your story and hoping to convince the other side really adds up […]. We believe that entrepreneurs should retain more ownership of their companies and more transparency is needed throughout the fundraising process. […] This is where the power of an AI-driven approach becomes clear: companies can benefit from tailored financing options based on their potential, backed up by data. […]". CEO and co-founder Oliver Hildebrandt explained the idea behind the startup.
Henrik Landgren, CPTO and co-founder, added "Ark Kapital was born from the belief that connecting to companies' raw data and applying state-of-the-art AI modeling enables both the best possible financial products and instant access to AI-powered growth analytics tools for founders. We believe we can enable many more founders to grow way faster with data-driven growth tools and smarter finance products."
When taking equity-based finance during the seed stage, founders generally give up 20-25 percent of their company. Loans, on the other hand, are short-term and must be returned within two years, leaving early-stage firms with insufficient time to expand. Ark is a long-term provider with loans ranging from one to seven years and tailored to each business. This is accomplished by analyzing the company's business health and providing a suite of AI-powered financial solutions using Ark's artificial intelligence platform, the Ark Intelligence Machine (AIM).
Alternative to traditional venture funding such as venture debt has been on the rise in Europe, where founders raised a record $11 billion last year.
"We think it's fantastic to see the rollout of debt products to a larger cohort of companies in Europe. We see ourselves as the next generation of that," Axel Bruzelius, Ark's co-founder said in a recent interview. "Products like revenue-based financing are often paid back in less than a year, which helps companies to their next hurdle, but most companies are focused on growth and profitability over a longer-term," he continued.
Ark Kapital announced that it has raised $182 million in a mix of debt and equity funding. The round was led by Local Globe, with participation from Creandum and angel investors including Supercell CEO Ilkka Paananen, iZettle founder Jacob de Geer, and EQT Ventures founding partner Hjalmar Winbladh.
According to the company, the new capital will be used for investing in promising companies, R&D, and doubling the 20-person team within 2022.
Here's a look at the pitch deck that was used in to raise $182M for Ark Kapital:
What were the slides in the Ark pitch deck?
Browse the exact example slides from the pitch deck that Ark used to secure $182 million in a funding round by LocalGlobe, Creandum, and Hjalmar Winbladh.
1. Problem Slides
The problem slide is the soul of any pitch deck. This is where you explain the problem that your startup is trying to solve. You can also highlight why is this problem important, what the existing solutions are (and how they fall short), and why should the investors care.
Instead of cramping everything into one slide, Ark Kapital's pitch deck breaks up the problem into multiple slides that take the audience on a journey — together, these slides mesh to answer the above-mentioned questions while telling a cohesive story.
Per the recommendation of Guy Kawasaki, the slides use large text with the company branding & high contrast to make the slides appealing to the reader's eye.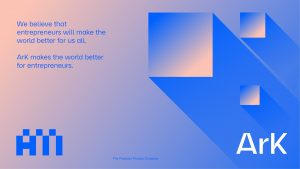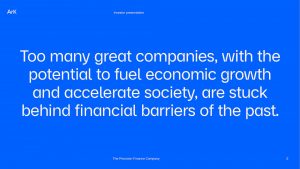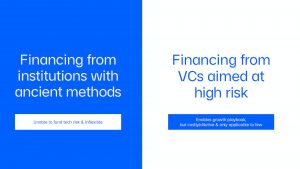 2. Solution Slides
Successful problem slide(s) should pique the curiosity of potential investors, so they are interested to hear about the solution. The following slide(s) should describe your proposed solution in simple & relatable terms — elaborating how it works and how it is superior to competitors & incumbents.
Following the flow of the Ark Kapital pitch deck, the solution component consists of multiple slides. The slides use a combination of simple visuals and statistics to build the solution story before presenting the product. Notably, the icons, images and graphics are all designed to match the Ark Kapital brand guidelines: a small but highly impactful design touch.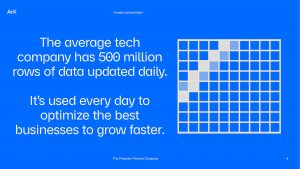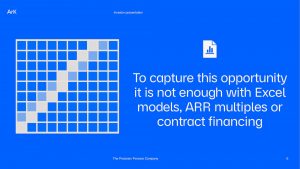 3. Team Slide
According to the Stanford study, "How Do Venture Capitalists Make Decisions?" the abilities of a founder and management team are the most important factor driving investment decisions — often more important than even the product or technology itself. Startups must show they have the leadership talent to unleash their potential in order to convince investors. 
Ark Kapital's team slides include what every simple and effective team slide should have: headshots, title, and a snapshot of the experience.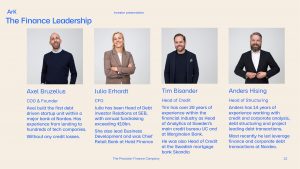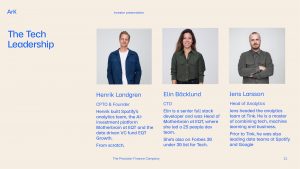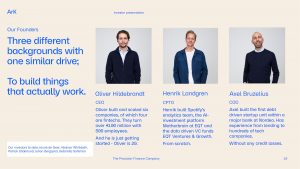 How-to create your own pitch deck like Ark Kapital
We hope you learned something from the Ark Kapital pitch deck, and you are able to use these insights for your own business.  If you'd like to, you can bookmark it at bestpitchdeck.com/ark
Although it probably goes without saying that having a successful business (outside just their pitch deck) was integral to their success, it is critical for any startup to ensure your vision is portrayed properly. That's where crafting the perfect pitch deck comes essential: 
You might find our other resources on how-to create a pitch deck helpful, or benefit from using one of our expert-designed templates:
Our team has helped create decks that have closed over $100M+ in deals & funding for leading startups and even VC firms. You can leverage this experience and get a jumpstart on your pitch with one of our easy-to-use presentation templates, one-pagers, or financial models.
Every pitch requires a unique approach tailored to its audience. Our team of experts have created pitch decks for different industries, as well as funding stages: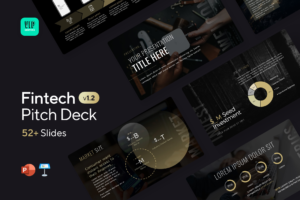 Fintech Pitch Deck Template — You might be interested in the popular Fintech Pitch Deck Template designed by our team at VIP.graphics: cutting-edge slides based on decks that closed millions in deals & investments for orgs of all sizes: from high-growth startups to Fortune 100 corporations. This easy-to-customize template for PowerPoint or Keynote offers you ready-made elements & all the essential slides to help your video-on-demand (VoD) business stand out in the competitive television & streaming industry.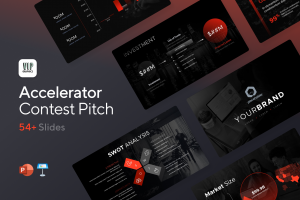 Accelerator Pitch Deck Template — The Accelerator Pitch Deck template was crafted for early-stage founders seeking to win funding &/or investment from pitch contests, accelerators, incubators, and angels or VC firms. Winning a pitch contest or being accepted to a prominent accelerator program requires a unique strategic approach to an investor pitch presentation.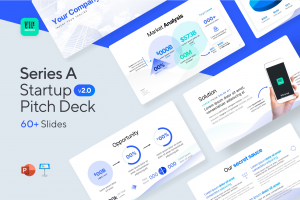 Series A Pitch Deck Template — A pitch deck template for startups and founders raising funding: Smart, actionable slides that work. This is a pitch deck template built specifically for startups, entrepreneurs and founders raising their first seed or Series A round of institutional capital.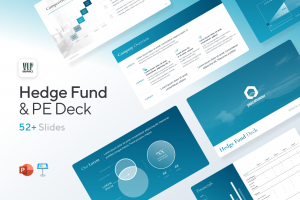 Mergers & Acquisitions Pitch Deck Template — Perfect Pitch Deck™ is a template crafted for later-stage businesses entering more sophisticated discussions such as mergers & acquisitions (M&A), late-stage investment (Series C+), or other partnerships & financing opportunities. Our team of experts created this presentation to empower founders to present with confidence to investment banks, private equity (PE) groups, and/or hedge funds (and vice versa).
Alternatively, feel free to browse our growing selection of pitch decks tailored for specific industries and businesses.