Nanonets is a deep learning-based optical character recognition (OCR) software that helps organizations digitize PDFs, receipts, and other documents. Businesses can use the platform to scan documents and add the retrieved data to their system.
Companies frequently lack both the data and the data scientists to train a machine learning model using state-of-the-art techniques on their own. Nanonets' machine learning API takes only a tenth of the data and no machine learning knowledge to train a model, hence addressing both of these issues for businesses.
The platform supports a wide variety of documents, such as invoices, ID cards, tax forms, income proofs, and more. By establishing or adding categories of text for detection, uploading and annotating photos for each category, and training developed models, organizations can streamline the OCR process.
"Automation induces a better way of connecting information across documents — quick implementation, execution, and arrangement of the large volume of data in less time than mechanical procedure with the reduced overhead expense and improved experience for enterprises," Sarthak Jain (the company's co-founder and CEO) told VentureBeat via email.
Nanonets has grown from strength to strength, building a superb team and an excellent product with very little funding. "We are using it for automating the KYC Onboarding process for our customers, and filling in address details and other information is a time-consuming process. But this platform has improved our users' onboarding experience, and we are happy to integrate it into our system." – a Nanonets customer review on Software Advice.
The company has raised three total rounds of funding: a $120,000 seed round was held in 2017, followed by a $1,500,000 seed round the same year. The company's earlier investors included Ashton Kutcher, Y Combinator, SV Angel, and Soma Capital.
In Feb 2022, Nanonets announced it has raised $10 million in a Series A investment round which was led by Elevation Capital. "The Series A funding is a critical next step in bringing Nanonets' world-class document workflow solutions to customers across the globe. Nanonets operates with a customer-obsessed approach to doing business. We're constantly asking ourselves how to make the experience of document management easier for our customers and their end users." Jain said.
Let's take a look at the pitch deck that was used in the latest funding round:
Browse the exact example slides from the pitch deck that Nanonets used to secure $10 million
1. Problem Slide
One of the most fundamental and standard slides in any fundraising pitch deck is the Problem slide. This page should work as a powerful hook for the reader or investor, drawing them into the rest of the deck (if crafted appropriately). Designing an effective problem slide is all about understanding the target demographics' pain points and desires, and how to make these problems as understandable as possible.
The problem slide from Nanonets hits all these points in one statement that almost everyone can relate to: anyone who has ever worked in a business knows how difficult it is to deal with document formats, record-keeping, reconciliation, and so on. The image used is a brilliant addition, depicting people drowning in paper and pleading for assistance.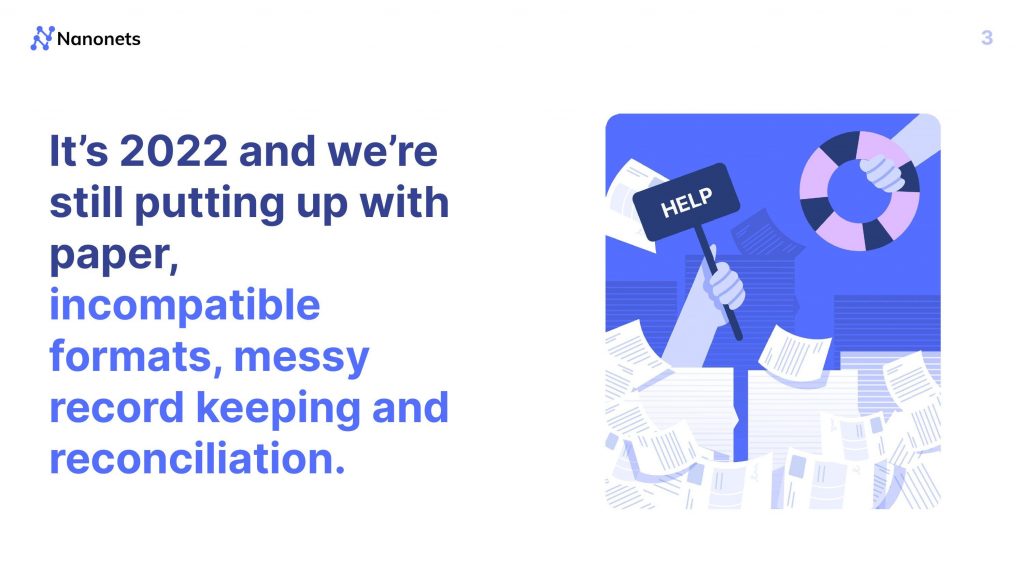 2. Solution Slide
The purpose of the solution slide is to show how your startup solves the problem mentioned in the problem slide and how it is different/new from the competition in a clear and straightforward manner. A successful solution slide will show how your solution is practical, superior, and cost-effective. Some investor decks separate the solution into a "What We Do" and a "Product" slide: the former focuses on value proposition, whereas the latter details how exactly it works.
Returning to the Nanonets' pitch deck, the solution page checks every box. It's detailed, concise, specific, and visual. Most notably, the solution slide takes a broader approach and demonstrates how machine learning may be utilized to automate difficult operations (in addition to what the company is doing right now i.e OCR). Mukul Arora, Co-Managing Partner, Elevation Capital, emphasized this 'blue ocean' vision in his comments: "We were also really inspired by Sarthak's vision of using document extraction as a wedge to build a much deeper process automation platform."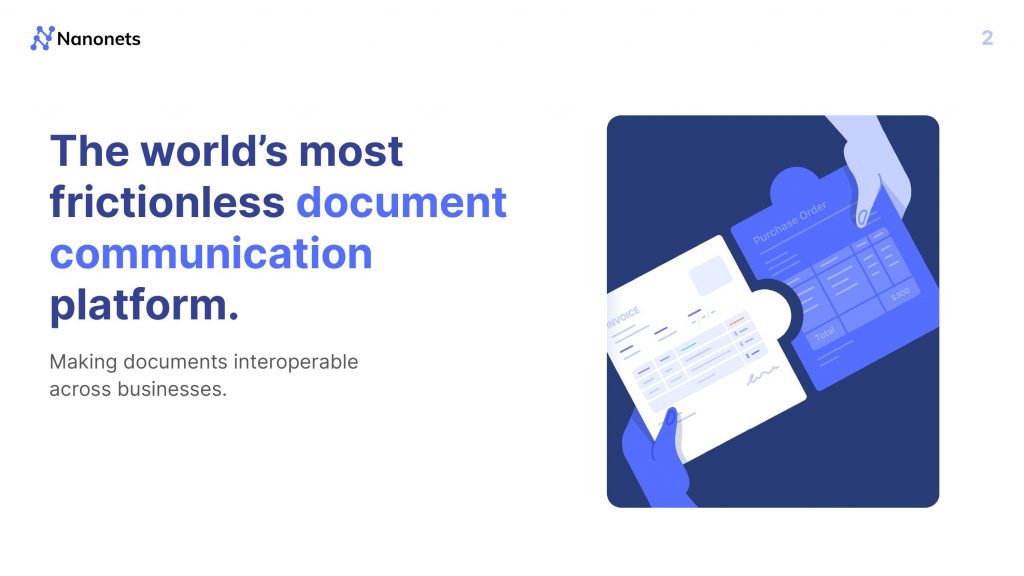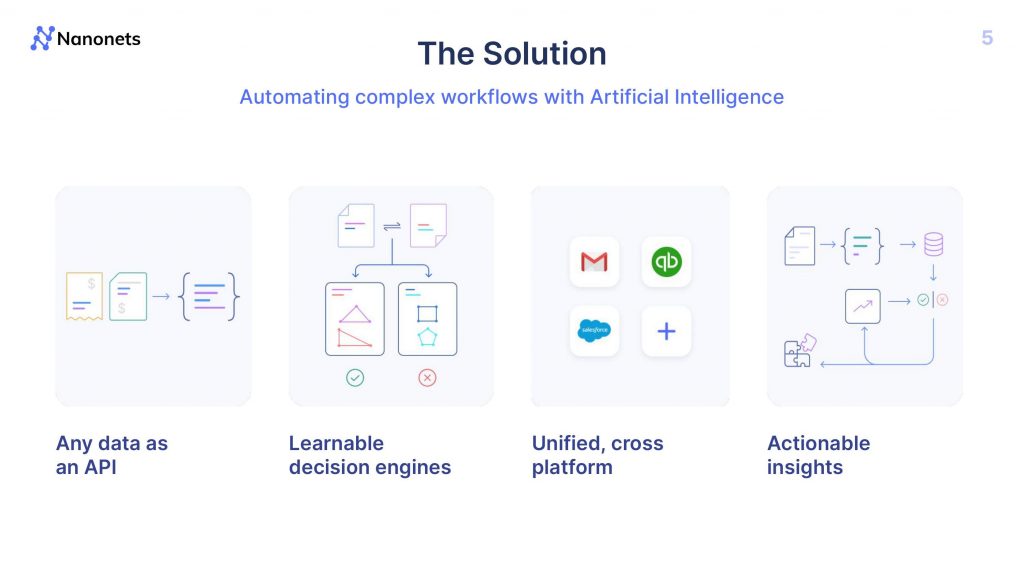 3. Business Model Slide
Ultimately, every investor is most interested in how your company gets paid. The business model slide will show the investors how your business operates and earns money. Every startup or business needs a viable business model and a scalable product to grow profits & win customers in a competitive market.
The business model slide for Nanonets is as simple as it gets. The largest text on the slide is a straightforward explanation of their volume-based model: $0.10 for each page parsed by the Nanonets OCR platform. Although some sensitive information has been redacted, the overall approach of the slide is self-evident: by using typography to emphasize key numbers and metrics, the Nanonets pitch deck delivers data in a convenient, easy-to-scan form.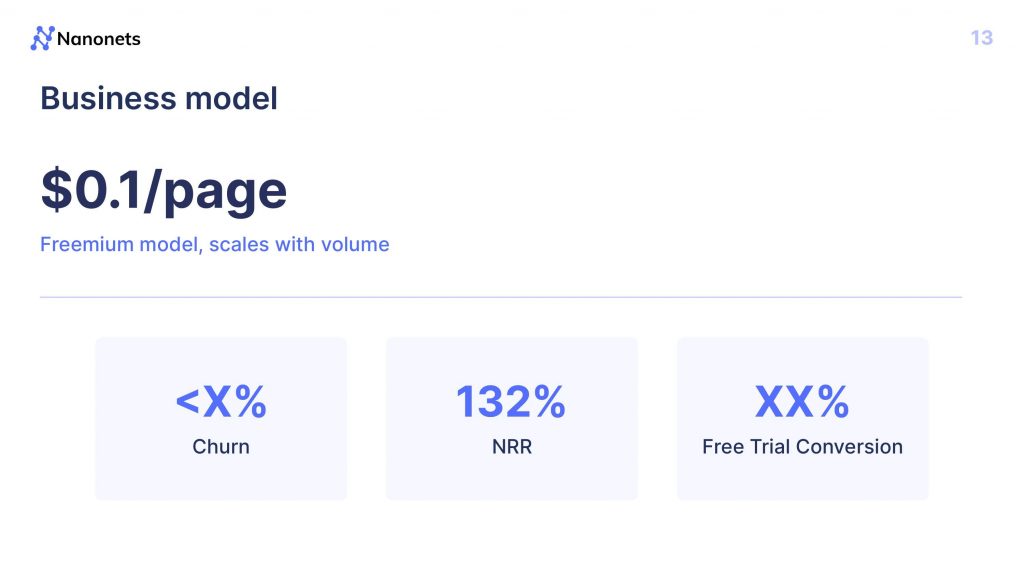 How-to create your own pitch deck like Nanonets
Hopefully, you learned something new from this article, and it has encouraged you to create your own pitch deck. If you'd like to, you can bookmark all the slides at bestpitchdeck.com/nanonets
Although it probably goes without saying that having a successful business (outside just their pitch deck) was integral to their success, it is critical for any startup to ensure your vision is portrayed properly. That's where crafting the perfect pitch deck comes essential:
You might find our other resources on how-to create a pitch deck helpful, or benefit from using one of our expert-designed templates:
Our team has helped create decks that have closed over $100M+ in deals & funding for leading startups and even VC firms. You can leverage this experience and get a jumpstart on your pitch with one of our easy-to-use presentation templates, one-pagers, or financial models.
Every pitch requires a unique approach tailored to its audience. Our team of experts have created pitch decks for different industries, as well as funding stages: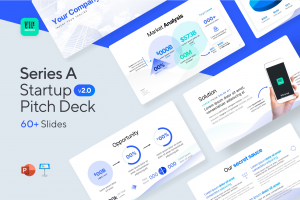 Series A Pitch Deck Template — You might be interested in the popular Series A Pitch Deck Template designed by our team at VIP.graphics: With this creative presentation template, you can easily create an incredible, professional-grade pitch deck to raise early-stage funding your startup. Just open it in PowerPoint or Keynote and start editing.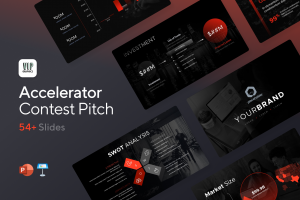 Accelerator Pitch Deck Template — The Accelerator Pitch Deck template was crafted for early-stage founders seeking to win funding &/or investment from pitch contests, accelerators, incubators, and angels or VC firms. Winning a pitch contest or being accepted to a prominent accelerator program requires a unique strategic approach to an investor pitch presentation.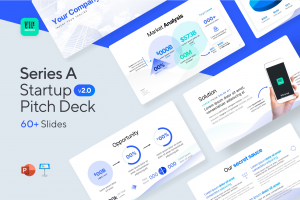 Series A Pitch Deck Template — A pitch deck template for startups and founders raising funding: Smart, actionable slides that work. This is a pitch deck template built specifically for startups, entrepreneurs and founders raising their first seed or Series A round of institutional capital.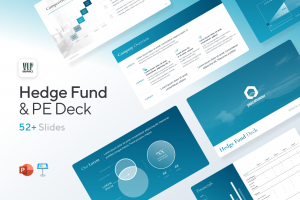 Mergers & Acquisitions Pitch Deck Template — Perfect Pitch Deck™ is a template crafted for later-stage businesses entering more sophisticated discussions such as mergers & acquisitions (M&A), late-stage investment (Series C+), or other partnerships & financing opportunities. Our team of experts created this presentation to empower founders to present with confidence to investment banks, private equity (PE) groups, and/or hedge funds (and vice versa).
Alternatively, feel free to browse our growing selection of pitch decks tailored for specific industries and businesses.